Wild morning, pretties! I haven't published any DIY skincare recipes with natural ingredients for quite a while. That's why I present to you this post, which is all about making bentonite face mask recipe for acne.
Because we've all fought acne. And I won! I want to share my secret recipe with you so that you can win too! This homemade clay mask contains only natural and organic ingredients, super beneficial for the skin.
*Some of the links in this post might be affiliate links. Affiliate links come at no extra cost to you. These links allow me to share the products I authentically recommend (and use) and support Wild for Nature by receiving a small commission.
Bentonite clay love story
Oh, I swear by this brand of clay (and so do 14,000 other people). And I have written about bentonite clay and my love for it here, here, and here already. And I will, most likely, write about it again in the future, because it's one of those natural and organic ingredients that I just cannot get enough of. It's perfect for detox, either internal or external, and its benefits have saved my skin numerous times in the past.
(grab the book that helped me get started with bentonite clay here)
Vegan homemade bentonite clay mask for acne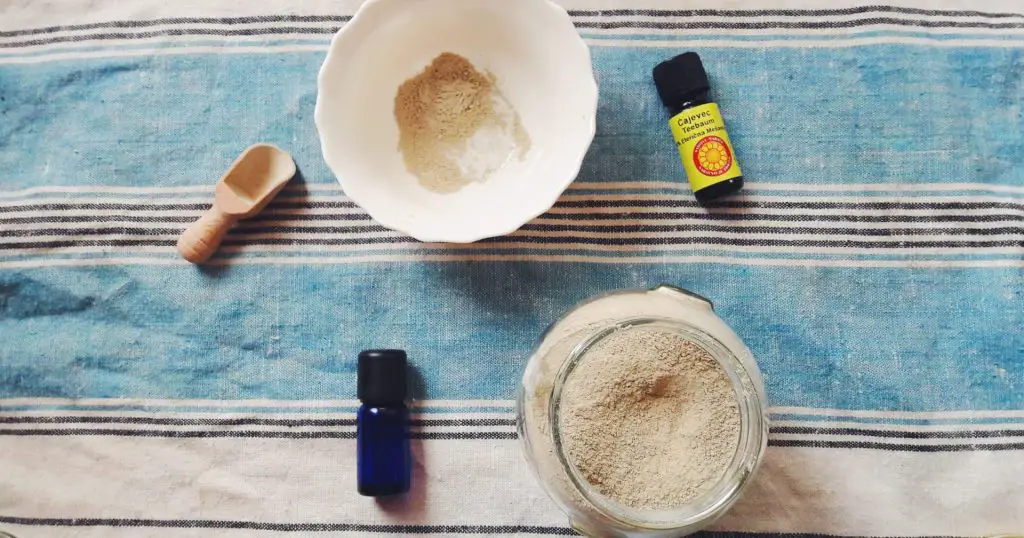 There are 3 ingredients in my homemade bentonite face mask recipe for acne if I want it to work wonders. And it does work wonders!
The thing is, bentonite clay is already powerful by itself, but with an extra kick of tea tree essential oil health benefits and lavender essential oil which are already an acne gospel, this homemade clay mask should be the answer to your acne problems (it worked for mine!).
Make sure to follow the instructions carefully. Don't use the mask too often (every second day should be enough) or your skin my become too dry.
Bentonite clay
Bentonite clay is that natural remedy that has the ability to eliminate toxins and heavy metals from the body. It boosts the immune system, skin health, has a beneficial effect on the gastrointestinal system.
With a regular use of this bentonite face mask, clay should improve the appearance and overall health of your skin, because when removing the mask, you also remove the toxins that clay pulled from your skin. I swear by clay, making it one of my all-time favorite natural and organic ingredients to use for my skincare or health.
Moreover, clay unclogs your pores and shrinks them at the same time. It can also control the sebum (excess oil) on your skin and what's most important: clay is safe for all skin types. It gives an even tone to your skin and helps to reduce the appearance of scars.
Read more on bentonite clay tips here!
Tea tree essential oil
I used to have a face mask with tea tree oil to fight my teenage acne. That was one of the best masks ever! That's why I regularly add tea tree essential oil into my skincare routine for any inflammatory or acne-like problems I've faced.
Tea tree essential oil is one of the natural and organic ingredients I cannot imagine my life without. It is anti-inflammatory, antibacterial, antiviral, antiseptic, antimicrobial. Its benefits cover a large range; acne, and skin health are just one of them.
Because of tea tree oil's powerful antioxidants, the oil itself improves the skin, reduces signs of scars and blemishes. It can even aid in reducing the appearance of wrinkles. Primarily used in topical applications (this oil can be toxic if consumed internally), it eliminates the toxins, cleans the skin of all impurities, and minimizes the symptoms of acne (swollen pores).
Lavender essential oil
Lavender essential oil is one of the most popular natural and organic ingredients to treat acne. It is used in many commercial products as well as DIY cosmetics. Lavender in itself has calming effects; it relieves stress and anxiety; you can add dried lavender flowers to your tea and to your bath. As an essential oil, it's even more potent.
I apply it to my scalp whenever it becomes itchy because lavender oil is both anti-inflammatory and boosts blood circulation. Apart from its antiseptic and antimicrobial properties, lavender oil has the power to detoxify the skin since it contains strong antioxidants that can prevent skin damage.
Lavender oil will not clog your pores but it will destroy the harmful bacteria on your skin instead, balance the sebum (excess oil on your skin), and can even reduce the signs of scarring (along with this amazing oil).
Vegan homemade bentonite face mask recipe for acne
As you can see, it's very easy to make this homemade bentonite face mask for acne; you only need 4 completely natural and organic ingredients (one of which is water anyway) and you can even drop out lavender essential oil if you have none. It should take 3 minutes to make this clay mask and another 15 to heal your pretty face!
A quick note: don't overdo the suggested 15 minutes to leave the bentonite mask on. It can be irritating afterward and dry out your skin too much. In case your skin is sensitive and dry already, I don't recommend using bentonite clay at all.
Also, the mask might cause redness of your skin. It's normal, this only means the magic of bentonite clay is working. Your acne situation may get worse before it gets better. That's now bentonite works.
A simple DIY: homemade bentonite clay face mask for acne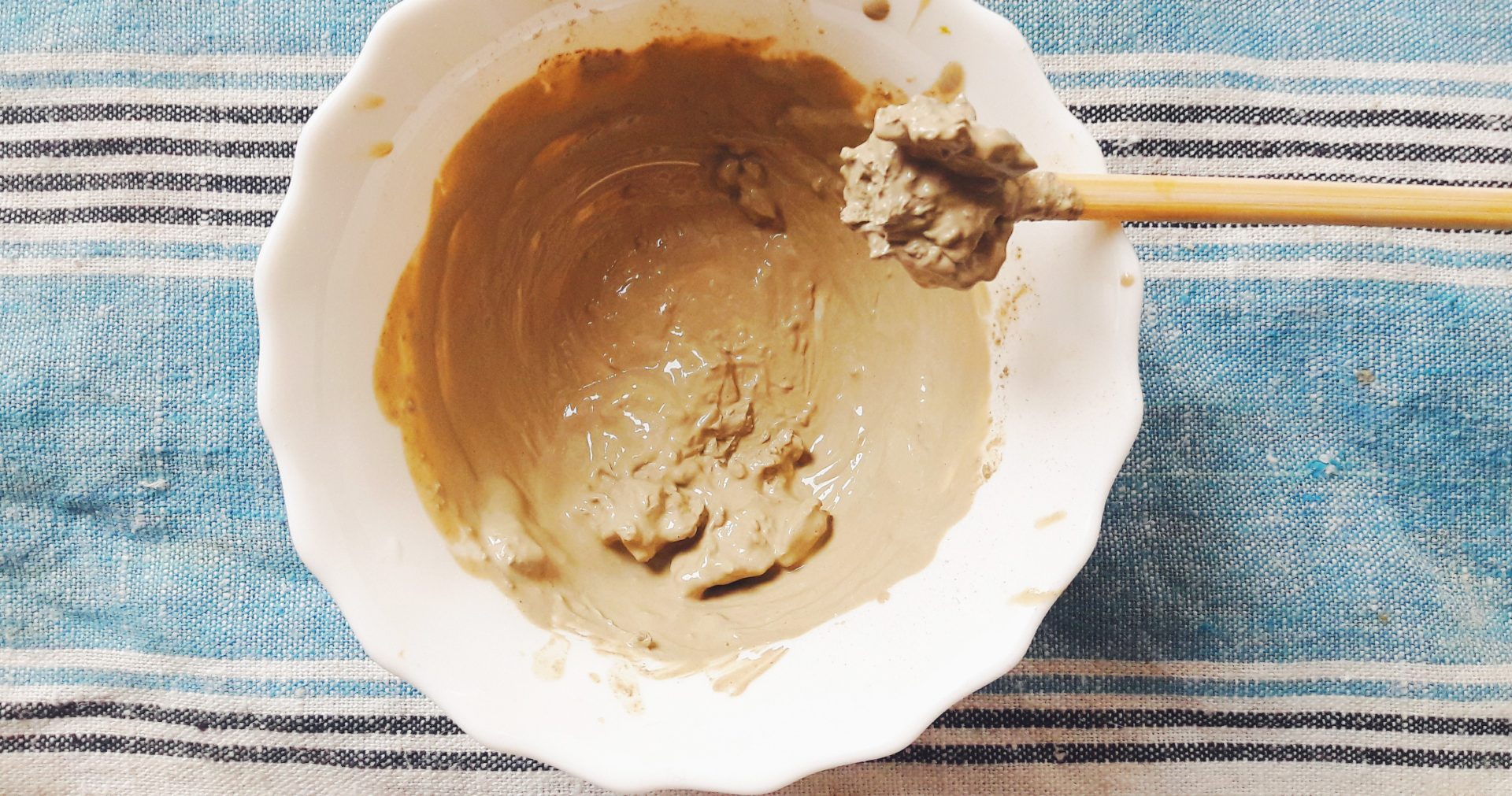 Ingredients
Instructions
Add bentonite clay and water in a cup
Mix thoroughly until you get a thicker paste
Add essential oils, mix well
Apply to your face and leave on about 15-20 minutes
Rinse with lukewarm water and enjoy!
Notes
1. Clay should not come into contact with any metals. Use a wooden, a plastic, or a ceramic spoon and bowl when working with clay.
2. Since clay eliminates toxins out of the body, it may happen that your acne situation will get worse before it gets better. This is a normal procedure, just stick with it and in the long run, clay should aid in removing them.
3. You can always substitute water with distilled water (or hydrosol), but if you're making the mask right before using, tap water is perfectly okay.
4. Make sure to test both lavender and tea tree essential oils for any allergies you might have.
5. Lavender EO has a strong smell; I added only 1 drop, otherwise, it irritates my eyes while I keep the mask on my face. You can add one more drop if your eyes don't mind lavender.
6. This bentonite clay mask for acne is acne oriented; if you change the essential oils you change the purpose of the mask to an extent 🙂
https://www.wildfornature.com/2018/01/homemade-bentonite-clay-mask-for-acne/
Have you tried bentonite clay face mask before? I want to hear about it!
Stay Wild!