There is one thing that I've never really managed to make, but it's been a necessity in my bathroom forever. No, I'm not talking about a toothbrush, I'm talking about simple good old natural vegan makeup remover wipes. This combo is my all-time favorite and since I've been a bit lazy lately, it's high time for vegan DIY cosmetics project: homemade aloe vera makeup remover wipes.
*Some of the links in this post might be affiliate links. Affiliate links come at no extra cost to you. These links allow me to share the products I authentically recommend (and use) and support Wild for Nature by receiving a small commission.

Why should I make my own makeup remover wipes?
Before we get to the actual recipe of my vegan homemade makeup remover wipes, I just wanted to take a few moments to talk about the reason I made my own wipes. To be honest, I was used to pure coconut oil on a cotton ball forever, until I realized that not only I could experiment a bit, but some people's skin doesn't react the best way in relation to coconut oil on a long-term basis. So, I got creative.
The normal makeup removers we buy in a random store are usually expensive. I myself may spend a bit more money when it comes to tasty body washes, fragrant mists, or a good quality night cream, but makeup remover is just over my budget that I'm willing to spend on a makeup remover. Plus, these removers usually contain a lot of ingredients that are either not vegan or that I just simply wish to avoid, because they might damage my skin in the long run:
Vegan homemade makeup remover wipes
These vegan homemade makeup remover wipes take more or less no time to make and some (if not all) of the ingredients may already be in your pantry. As I mentioned before, you can always use coconut oil and avoid the whole fuss of making something on your own, but just wanted an alternative to the (oh, mighty) coconut oil. Anyway, here are the ingredients:
Aloe Vera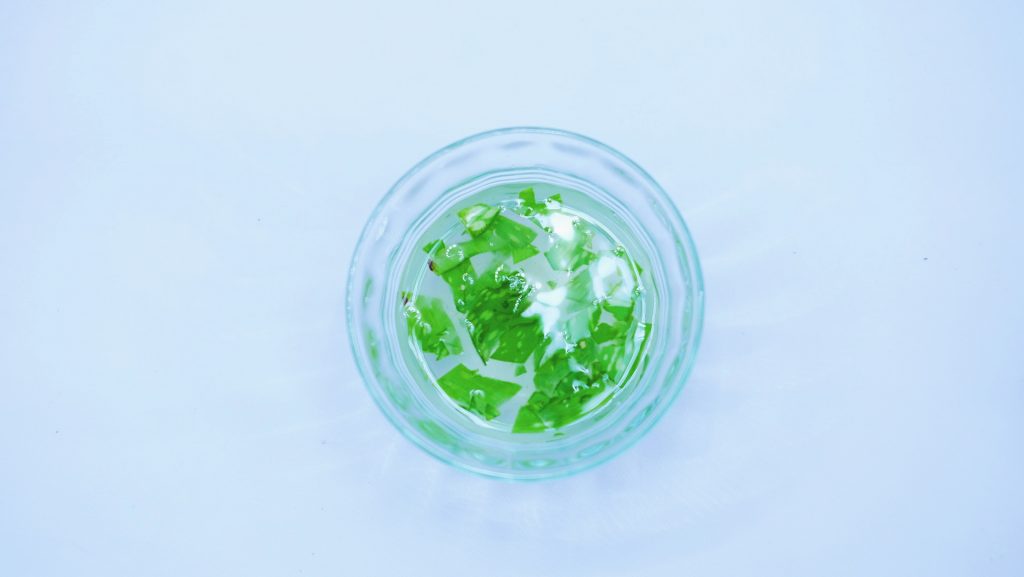 My personal favorite when it comes to the natural and organic ingredients that nourish the skin (and hair). I've mostly used aloe vera for skin problems; I actually discovered its magical properties after a bad sunburn. After that, my trust is with aloe! It has anti-inflammatory properties, and it is even a natural aid in anti-aging. Aloe vera is a natural remedy for acne, wounds, rashes, and stings; its soothing effect on skin is something most precious when suffering from a bad burn. As a moisturizer at the same time, it's pretty much perfect for any skin type.
Witch hazel
One of the best (if not the best) natural and organic ingredients to fight acne. Witch hazel is anti-inflammatory, it decreases oil, and at the same time boosts the healing process of scars and infections. Moreover, witch hazel slows down the oil production and it also nourishes dry skin. And, a winner for me (lately anyway), it also manages to reduce my pretty yet puffy eyes.
Olive oil

Olive oil has been a staple in my kitchen as long as I can remember, and a must in my vegan homemade make-up remover wipes. Its uses spread far and wide, from a salad dressing to a hair mask, natural tanning oil, and a body scrub. This is one of those natural and organic ingredients that I use on a daily basis, and I'm lucky enough to get it freshly pressed from homegrown olive trees. Olive oil gives my skin beautiful soft feel, it moisturizes it and improves the overall health of the skin because it contains vitamin E and it is also anti-inflammatory. Moreover, it is also a natural support in the anti-aging area. Read more about olive oil skin and hair benefits here.
Frankincense essential oil
Let me name only a few properties of this rich essential oil, highly praised by Ayurveda: sedative, tonic, antiseptic, astringent and disinfectant. Frankincense essential oil is a natural remedy when it comes to reducing scars and scar marks (of acne), because this oil is cytophylactic (meaning it boosts the production of new cells), which is why it is one of the natural and organic ingredients, popular in the anti-aging section of skincare. It tones and tightens the skin, removes fine lines and wrinkles.
Homemade aloe vera makeup remover wipes
Now that you're familiar with the incredible benefits of each ingredient that goes into my vegan homemade makeup remover wipes recipe, you can get to work. The following are the approximate proportions what I usually need for 10 wipes. It also depends on the thickness of the wipes, so you can add more of the ingredients or more of the wipes.
Vegan Homemade Makeup Remover Wipes (no coconut oil)
Ingredients:
– 2 tablespoons of aloe vera gel
– 3 tablespoons of witch hazel
– 4 tablespoons of olive oil
– 3 drops of frankincense essential oil
– 2 tablespoons of distilled water
Instructions:
Mix all the ingredients well (I usually add all the ingredients to a smallish bottle and shake them well, as if I were making a cocktail)
Place 15 cotton pads in a mason jar
Pour the mixture over the cotton wipes in your mason jar
Keep a lid on at all times so that the wipes don't get dry
Notes:
1. You can store this vegan homemade makeup remover wipes in the fridge. I don't because it's winter here and I just feel it's unnecessary for the time being. If you live in a warmer area, you might want to put the jar in the fridge.
2. I always use distilled water when it comes to recipes that require it because I believe it prolongs the shelf life of the products.
3. You are free to omit the essential oil or replace it with something to your preference (either lavender or tea tree oil).
Have you ever made vegan homemade makeup remover wipes?
Stay Wild!