Running a small business can be rewarding, exciting, and self-fulfilling.
But it can also be stressful, tiring, and overwhelming.
Let's face it; as a small skincare business owner, you'll want to do as much as you can by yourself. Mostly, because there's a budget you need to stick to. Naturally, you can't afford to outsource tasks right away. And even when you do, you want to get the best value for money.
Content is one of these tasks. Content is king and you'll need a good one to engage customers, rank in Google, and attract sales. If you're not a writer, this part may be particularly challenging.
Well, what if I told you there's a tool that can help you take care of the content-related part of your business? That means all your blog posts, product descriptions, Instagram posts, emails, and Facebook ads are all taken care of in the shortest amount of time.
No more lousy product descriptions, no more wasting time or money on copywriters that just don't work for your brand. Get ready to make your copies sing for your brand just the way you want them to. And you can do all that with one little tool: Hypotenuse.ai.
In the last year or so, AI tools started popping up everywhere. One of the most famous ones that you've probably heard of is Chat GPT.
People use these tools to generate ideas and write content for blog posts, product descriptions, newsletter campaigns, social media posts, Amazon listings, and much more.
And today we'll talk about one such tool.
I've had a chance to test Hypotenuse.ai for the past few months and here are my results in this detailed review below!
What is Hypotenuse.ai?
Essentially, Hypotenuse ai is an AI text generator that helps users to produce engaging, unique texts for different types of copywriting needs:
Blog articles and other website content

eCommerce content – product description

Email marketing

Social media marketing and paid ads

AI-generated images and artwork

General Business content

Post content ideas

Video scripts
Stop wasting your precious time.
Hypotenuse ai Review: Pros and cons
I've been working as a copywriter for years. And it's a struggle, churning out articles, social media posts, Facebook ads, and email newsletters all the time.
Let's be honest – we're just human. And inspiration doesn't always come easy.
On top of that, if you have minimal experience with copywriting, it can take a lot of time to write quality copies. Sure, you can pay someone to do it for you, but hiring a good copywriter can be pricey. Depending on where you are in your small business journey, you may not have the budget for that just yet.
That's where these AI tools can come in extremely handy. They can generate a ton of content fast. All you have to do is check the content, do a quick rewrite or a touchup, add in your brand's tone, and you're good to go. I mean, I'm not saying you will use an AI copywriter forever. But it's a great tool that can help you get started and do all the things you've been postponing because writing just isn't your thing.
The good news is that plenty of these tools have a free trial available. That way, all you need is a bit of your precious time. There isn't any other investment – if anything, you'll discover that this writer is the missing puzzle that will help you progress in your skincare business journey. Test it, and see how it works for you. If it doesn't, cancel the trial.
Hypotenuse ai, like many of these tools, comes with a subscription, but you don't have to use it all the time. Opt in for a monthly subscription, pay for a month or two and get all your website material ready. Feel free to cancel the subscription when you no longer need it. That's what I used to do with a number of online tools – it helps to save a bit of money. When you're running a small business, keeping strict track of all your expenses is crucial.
But these tools help you to make space and time for the part of your business that truly matters: making sales.
Hypotenuse Pros:
Produces versatile content: blog posts, product descriptions, social media posts, and newsletters…

Free trial available

 

Easy to use with a user-friendly interface

 A fast

 and efficient tool that generates content in seconds

 

Different templates to choose from: writing templates, storytelling, SEO, conversational

Personalize content and choose a tone for each copy

AI image generator
Hypotenuse Cons:
All copies require rewrites
But let me explain this quickly.
Consider the first copy you get from the tool as the first draft.
And the first draft is never the final version.
Every copywriter will tell you the same.
So it's the same here.
Read the copy.
Then finely tune it with your brand's voice.
Change it up and polish it a bit until you get the copy you're happy with. Paste it on your website. Publish it. Move on to the next one! 
ps: Hypotenuse.ai allows you to create content in bulk! 
Let's have a look at how this ai tool works.
How does Hypotenuse ai work?
How to sign up?
The process to sign up for the free 7-day trial of Hypotenuse is very straightforward.
When you click the button Try For Free, you get transferred to a login site. Enter your email and your name.
That's it! You'll receive a confirmation email in your inbox. Open it, click on it, and your account is ready to use!
What I really love about the signup process is that they don't require a credit card. That way, even if you forget and never use the free trial, the platform will not charge you anything. They'll simply inform you that your free trial is up and that you can upgrade your account if you wish to use it.
For me, this is a huge plus because keeping track of all the subscriptions that are about to expire on top of everything else that I have on my plate is just too much sometimes. And I tend to forget. Sue me.
How to use Hypotenuse.ai?
The first thing you want to do is log into your dashboard.
Next, choose a template to get started.
Just to give you an idea of how it works, I went with the product description. I found this to be soo important when you're setting up an online shop. There are so many factors that can make or break a product – and description is definitely one of them.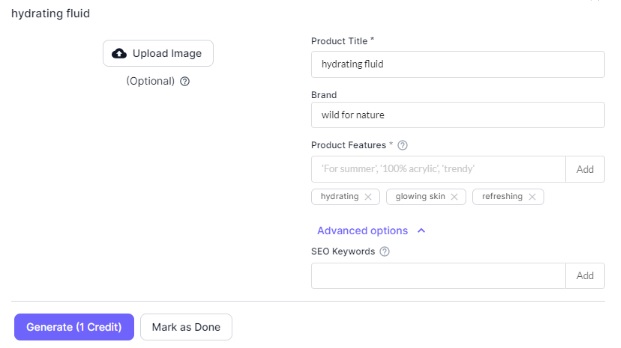 Here's what I did:
I wrote a product title: hydrating fluid – just the most basic name for one of the products that I have. By all means, write the full product name, just the way it'll be listed on your website and labels.
I skipped the image upload, but be sure to do it so that you get a complete overview of how the final version would look like.
Under the brand, write the name of your brand. Mine is wild for nature, just like this website 😉
Next, list the features of your product. This step is super important because these are the things you'll want to emphasize about the product. I went with hydrating, glowing skin, and refreshing. Again, I was feeling lazy, but it would do for starters.
Last but not least, add SEO keywords under the Advanced options. The tool uses these to include them in the description copy and make SEO-friendly text that will help your product rank in search engines. I left this one out, but if I were to add these words, it would be hydrating fluid, antiaging skincare, or something similar that I would like the product to rank for.
That's it!
When you're done with the description, hit Generate button and within seconds, I received two options: Fresh and Creative.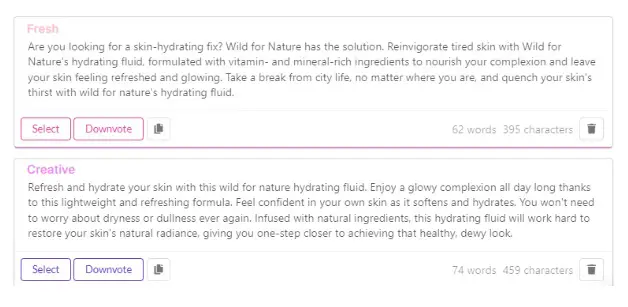 I'm not sure about you, but I think this is pretty darn cool.
All I had to do is think about the features of my product, SEO keywords, and a title. The ai tool then did all the rest!  
Go back for a second and read both options again.
What do you think? If I had to choose one, I'd go with the Creative option, simply because I feel that it resonates with my brand a bit more.
Would I use this product description to add to my online shop?
Yes, I would. To be honest, it needs a bit of work, but it's given me a great startup point.
If we analyze it closely, we can see that the text seems to repeat the work refresh and fresh a lot. I'd definitely throw that out and change it up a bit to avoid any repetition.
Refresh your skin with our juicy and thirst-quenching fluid. Its lightweight and oil-free formula ensures a glowy complexion all day long! Forget about dry and dull skin – our serum works hard to restore the natural radiance of your skin, bringing you one step closer to that dewy timeless look.   
Something like this. I'm not perfectly happy with it, but it's definitely somewhere around here that I would use it. Optionally, you could also take both copies and combine them together. 
Top tips to produce quality copies for your business with hypotenuse.ai:
1-      Consider all texts from the tool as first drafts. The tool will give you the foundations, but you have to take a bit of time to adjust copies to match your brand voice.
2-      Some texts it produces can be too generic. Narrow them down by adding your brand voice to it
3-      The longer the text, the more time it'll take to perfect it
4-      Use content creation in bulk to save time on creating different copies for different social media channels and blog 
Hypotenuse ai Pricing
Like I said in the beginning, make sure to sign up for a free 7-day trial first, to get a feel of the program, especially if you've never used an IA copywriter before. 
Once the trial period is up, you can choose from a monthly or annual subscription. Even then, the tool is very affordable given all the features it has to offer.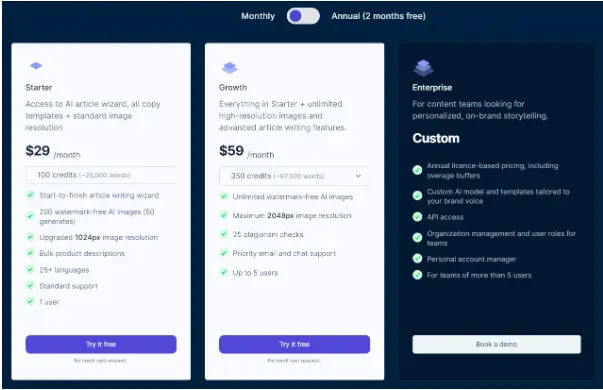 After the free trial, which is after 2000 words, there's a Starter or a Growth subscription service available. 
Starter is more than enough to help you get started with churning out copies for your business.
Here's what you get:
Start-to-finish article writing wizard

200 watermark-free AI images (50 generates)

Upgraded 1024 px image resolution

Bulk product descriptions

25+ languages

Standard support

1 user

Credits roll over from month to month
What's my take on Hypotenuse.ai? Let's sum it up…
You've made it this far. Congrats and thank you 🙂
Hypotenuse.ai is a great AI copywriting tool that can help you speed up writing different copies for your business in no time. Forget about writer's block or hours pouring over your competition's Instagram posts waiting for inspiration. Hypotenuse can help you stay on top of your copies; quickly, effectively, and affordably.
While it comes with its flaws, it can be of great help to anyone creating content. With a few tips and tricks, you can easily get a hang of it; take the first copies it produces as drafts. Rewrite them, change them slightly, and change them to match your branding. Check grammar and generate photos. 
Choose the subscription plan that works best for your copywriting needs and budget, but start with a free 7-day trial first.
Take advantage of AI technology. These tools are not just for the programming geeks you see on Big Bang Theory. AI is here to stay and it only makes sense to take the best advantage of it as soon as possible.
Even if you're a small business owner. Especially if you're a small skin care business owner. Simplify your content creation process and take control of your brand from the very beginning.