Want to grow your skincare business but don't know where to start?
Honestly, I've been in the online world for 5 years now and it can get bloody. Sleepless nights struggle at every step, insecurity, and most importantly – I've always felt like I was running out of time.
The good thing is that you can automate some of the processes in your business. To save time, to save money, and catch up on your competition.
Today, I'm sharing with you the top 5 online tools I have used to build my business from the very beginning.
Are you ready to grow yours? Let's get started!
We've already talked about the tools you need to start making skincare at home. You know, equipment for your DIY lab. But there are other types of tools that can be incredibly helpful as well, and by these, I mean online tools.
Before we get started I have to say that you don't have to use all these tools, but they can be incredibly helpful in the long run, especially if you're serious about building and growing your business.
And some of these tools cost money. Since you're investing in your business, consider these as startup costs and investments. You invest in tools to save time and money.
I explain everything in detail below – how and why to use the tool, how it can help you, and the cost. That way you can plan how to divide your budget accordingly.
Top 5 Online Tools That Can Help You Grow Your Skincare Business
1. Canva (free / paid) – brand design
Let's start with the very basic and, in my experience, the most helpful tool on this list.
Canva is an online editing tool. What I love about it is that everyone can use it. You don't have to be a designer to use it. There's no need to know Photoshop, adobe illustrator, and other advanced design tools. Canva is very straightforward and you can use it to make beautiful graphics for your business – for online and offline use.
I based my entire skincare brand design in Canva and regularly design the following:
Product labels
Thank you cards
Gift cards
Random stickers for packages
Product brochures
Invoices
Brand printables
Workbooks, formulation sheets, and more
Pinterest graphics
Graphics for social media and Etsy
Paid or free?
With the free account, Canva allows you to do a lot. And I mean A LOT. You can design all the items listed above with the free tool, and much more.
But, I like to pay for Canva because the subscription unlocks dozens of thousands of additional graphics, giving me a much better choice and variety when it comes to design and standing out from the crowd.
For example, the paid version enabled me to upload fonts, use graphics that fit perfectly with my labels, and resize the labels, among other things.
Naturally, you don't have to pay for a Canva subscription. You can use the free version, test it out, and see how it works for you before you opt-in to their Pro version.
2. Keywords Everywhere (paid) – keyword research
Convenient. Accurate. Extremely affordable.
That's KW Everywhere for you.
This is a Google Chrome and Mozilla Firefox extension. Not free, unfortunately, but very affordable.
Why is it so awesome? Because it pulls information from different websites and gives you very accurate data.
You may think this is an exclusively SEO tool for people who know those things, but you're wrong.
You can use KW Everywhere to get data for
Etsy
Youtube
Amazon
Ebay
Google Trends
Google Analytics
Google search console
And much more. That means you can research keywords, their trends, search volume, related keywords, and more for any search engine/website from the list above. How awesome is that?
Free or paid?
As I said, there isn't a free option for this tool available, but it's very affordable and an excellent value for money.  You can get free credits to get started with KE below.
To use the tool, you have to install Chrome or Firefox extensions. Find how to do that here. When you turn on the tool, it'll automatically pull data every time you type something in the Google search box.
3. Mangools- KW Finder (paid) – SEO reserach
When you have a website, you'll want to bring traffic to your website. And there are three ways to do that:
Organically
Paid
By referrals
Referrals is the traffic that comes from links sprinkled around the internet; from social media, Pinterest, newsletters, and other places where people click on the link that brings them to your website.
Paid traffic is the traffic you receive when you pay for it – these are usually ads; FB, google, and other ads. You can set up your own ads or hire a marketing agency to do it for you.
Organic or free traffic is the traffic that most businesses aim for because, well, it's free. That means that you create content on your website that helps to drive visitors to your website and help you rank higher in search engines like Google and ideally surpass your competition.
There are plenty of online SEO tools that can help you do that. Semrush and Ahref are two of the most well-known ones, but there are others out there that are more affordable and do the job just fine. Mangools is one such tool.
I've mostly worked with Semrush and Ahref, but their price point can be a turnoff for many, especially if you don't want to do a part of/the entire SEO of your website. In fact, if you don't know SEO and don't have time to learn, outsourcing it to someone who does may be a logical step here.
However, I still think that you should understand SEO a bit even if you won't do it yourself. That way you can ask your SEO expert for reports and understand what exactly they're doing you're your website.
4. Tailwind (free/paid) – schedule Pins
Tailwind is a Bible for Pinterest. It's a powerful tool that can turn painful and tiresome posting to Pinterest into a lightweight no brainer. In other words, schedule your posts ahead of time to cut back on wasting time and energy every day, worrying about what to write and when to post.
Essentially, TW allows you to schedule posts in bulk for Pinterest and Instagram, suggesting the best time to post while providing you with all the necessary analytics. Use the data it gives you to analyze your best-performing posts, user profile, clicks, and much more.
Paid or free?
Tailwind App comes with 4 different plans. Read through and discover what would work best for you: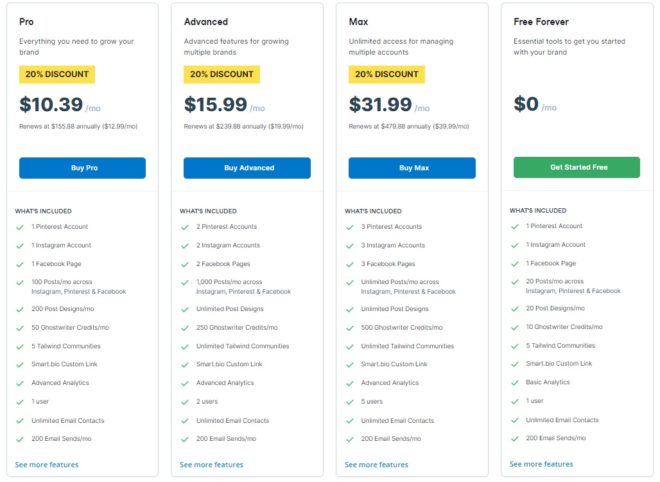 When you've set up your Tailwind account, you're ready to get pinning!
With TW you can prepare and schedule multiple photos and posts, lead your audience to your shop, or helpful blog posts. Since Pinterest is all about videos, you can use it to schedule that as well. Use it to create your own pins, repin other pins, create carousel pins, and much more.
To be honest, compared to other online scheduling tools (but not for Pinterest since this is the only one to be used with Pinterest), Tailwind is not intuitive; it looks like it's been in a development stage for years, and I don't find it too easy to use. But it's all we've got and it makes posting much more effortless.
5. Linktree (free / paid) – add links in bio
Linktree is a handy and affordable tool that allows you to add links in bio. In other words, it's perfect for platforms where you're allowed to have only one link, like Instagram or Tiktok.
Linktree enables you to create several links and lead customers to your special offers, shop, landing pages, and products. I'm sure you've seen a few of these links already – see mine below. You can design the linktree page in line with your branding. This is a paid version feature and it costs about 3 € a month.
Alternatively, you can use a free version instead and choose from the limited options they offer.
Help support Wild for Nature
Many of you have asked if there's a way to help support Wild for Nature. I've signed up for Buy Me Coffee. If you love what I do, learn from me, sell anything you made from my recipes, and want to see Wild for Nature grow even more, I'd be thrilled if you'd consider buying me a coffee! It works as a one-time or monthly donation of $3. You can also get beautifully designed PDFs with a series of recipes and other resources I publish there, to help you learn and get creative at home! I can then use that money to further develop and grow Wild for Nature and you can help me continue with wild creations and resources!