Worried about wrinkles but can't find the right product for your budget? Did you know you can make homemade wrinkle cream yourself?
Why spend a ton of money on antiaging ingredients that don't suit your skin, your budget, and provide no results? Many commercial creams are loaded with fillers and harmful ingredients. But it doesn't have to be this way!
Today, we're making a lovely luxy Green Tea & Cucumber natural anti-aging cream. Are you ready to take your DIY skin care to a whole new level?
Let's get crafty!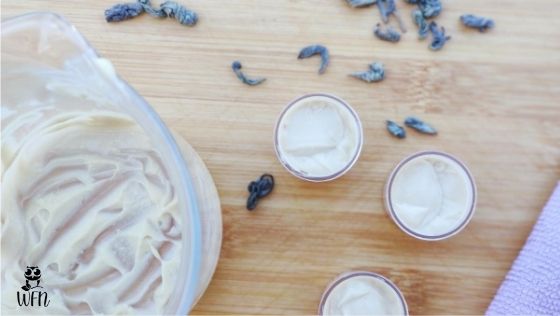 You're worried about wrinkles. So am I. I hate waking up to a new fine line that wasn't there the night before (or was it?!).
I decided to take control of my anti-aging skincare and begin adding homemade face recipes for wrinkles on my to-do list.
This is one of the first anti-aging recipes, so I hope you'll join me for this crafty journey.
My face loves this cream because
it's lightweight
makes the skin smooth and soft
has a pleasant yet gentle scent
can make a lovely gift
has a ton of gorgeous ingredients
Let's have a look at a few anti-aging basics first, before we head off to the recipe!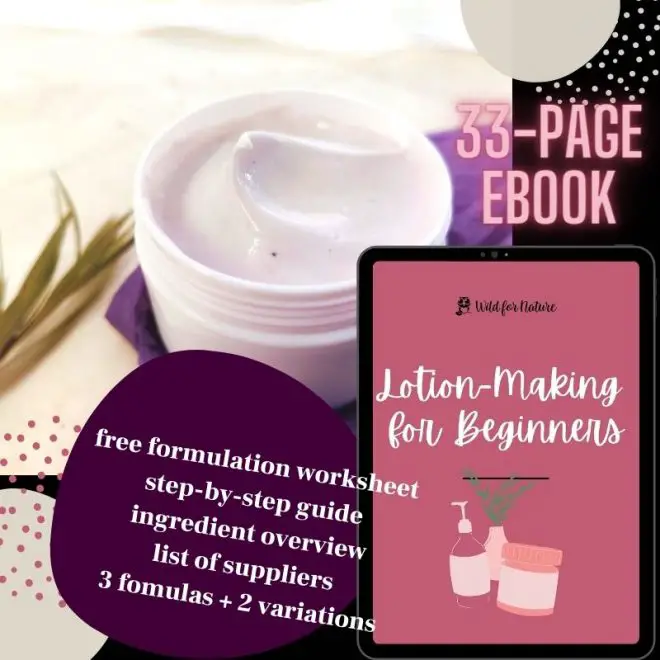 Want to master lotion & cream making? Learn how to formulate lotions independently from scratch with my detailed guide to lotion making. Beginner-friendly, super detailed, with 3 different formulations and 2 variations. Bonus! Formulation worksheet.
What is the best ingredient for anti-aging?
There are plenty of different ingredients with anti-aging benefits for the skin. I've already written extensively about these and you can find the whole list of scientifically backed up anti-aging ingredients here.
In general, the majority of ingredients in the recipe we're whipping up today, have anti-aging effects and soothing properties for the skin. We'll go over these ingredients in short below, just to give you an idea of why I decided to use them in the recipe.
What are some of the best anti-aging natural products?
Now, if you're not a DIYer or find this recipe too difficult to make (let's face it, it's really not beginner-friendly), you can have a look at some of the top anti-aging products that I've written about a while back. I've tested all of the brands mentioned on the list; to find them, head over to this article on anti-aging ingredients, and go to the section on What are the best anti-aging products with effective ingredients. Hopefully, you'll find something for yourself there!
What ingredients to use in our natural anti-aging cream?
Let's have a look at the ingredients we're using in this cream before heading over to the recipe!
Hyaluronic Acid
Let's face it; numerous anti-aging products contain hyaluronic acid. And we're not any different. After all, hyaluronic acid is a humectant (keeps the skin hydrated) and promotes plump and glowing skin. It can rejuvenate and regenerate it, while it helps to minimize the signs of aging.
Cucumber Extract
Cucumber is hydrating and helps to improve complexion. It's quite refreshing and soothing for the skin; what's more, it helps to minimize free radical damage and it's excellent to use in post-sun skincare products.
Green Tea Extract
Green tea has potent antioxidant properties. It's rich in a number of components with hydrating, toning, stimulating, rejuvenating benefits, and much more. It's a common anti-aging ingredient, so it made sense to include it in this recipe. Plus, it has a lovely green tea-like scent that both I and my skin love.
Grapeseed Oil
Grape oil is a lightweight oil that absorbs into the skin easily. It nourishes it without any irritation or oily residue. What's more, its compounds help to restore collagen and minimize the signs of aging since it has firming and smoothing properties.
Grapeseed oil is antioxidant, emollient, antibacterial, and astringent. It helps to tone the skin and protect it from UV damage.
Rosehip Seed Oil
Oil of Youth, rosehip seed oil is a pretty obvious choice if you're looking for an effective anti-aging carrier oil. We're adding it to the cool-down phase as we don't want to ruin its potent components for the skin. It's great for oily skin, it can help minimize scars, as well as fine lines and wrinkles.
Rosehip seed oil is rejuvenating and regenerating. Plus, it contains nourishing fatty acids and provitamin A; suitable for all skin types, it improves skin elasticity, making the skin soft, smooth, and supple.
Dragon's Blood Extract
I discovered dragon's blood about a year ago and immediately it turned into one of my go-to ingredients whenever my skin needs a bit of extra love and care. It's a potent little potion. It can help minimize stretch marks, and it has powerful skin-regenerating properties. What's more, it improves skin elasticity and collagen production!
Other Ingredients
For the emulsifier, I used Phytocream2000 (INCI: Potassium palmitoyl, Hydrolized wheat protein, Glyceryl stearate, Cetearyl alcohol), but you could use Olivem1000 instead. I've tested the recipe with both emulsifiers and they give very similar results.
Vegetable glycerin is another humectant in the recipe that helps to keep the skin soft, smooth, and hydrated. It's a common ingredient in emulsions since it's easy to use, versatile, and doesn't irritate the skin.
A thickening and softening agent, Cetyl Alcohol is a fatty acid-derived alcohol that doesn't dry out the skin. On the contrary, it keeps the skin soft and smooth. Plus, it makes the emulsion creamy and improves its texture. If you never tried it in a recipe, I suggest you give it a go. It's very versatile; I've used it in a number of recipes and it's one of my DIY staples (such as this Emulsified Cleansing Balm and this Shea&Hemp Facial Cream)
Since this is an emulsion, the recipe can't do without a preservative. I've used a broad-spectrum preservative Cosgard (INCI: Dehydroacetic acid, Benzyl alcohol), but you can use any other preservative if you so wish. Keep in mind that you'll probably have to adjust the recipe a bit if you change up the ingredients.
Last but not least, the essential oil in the recipe is up to you. I've used a few drops of ylang-ylang essential oil which I believe pairs lovely with the grassy cucumber scent and fresh green tea. But you can use whatever suits your nose! If you need more ideas, feel free to have a look at my post on the top anti-aging essential oils.
How can I make my own anti-aging cream?
If you've made any kind of emulsion before, you should find this recipe quite easy to pull off. However, if lotion-making is something completely new for you, I recommend you to have a look at the basics first, which you can do in my guide on how to make lotion from scratch. Lotions aren't too complicated, but they're difficult to make without any knowledge of the basics.
Now, let's see how to make this anti-aging cream at home:
Weigh the water phase and oil phase in separate beakers.
Weigh the beaker with water phase (and write down the number, you'll need it later to substitute the evaporated water once all the ingredients melt)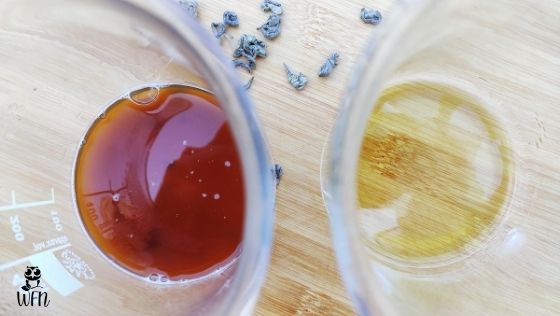 Place them in a water bath on the stove to melt the ingredients
When melted, replace the evaporated water (in my case I had to add 4g additional distilled water- I've already included the lost water into the recipe formulation below)
Pour the water phase into the oil phase and begin blending the mixture with an immersion blender. Then, leave the cream to cool down before you can add the cool-down ingredients.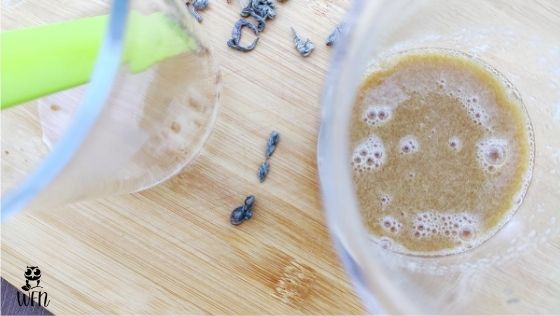 Stir the emulsion well after you add each ingredient. Next, pour the cream into a container!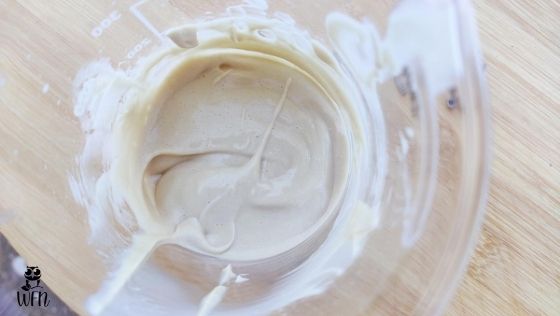 To store this lotion, I used a 50g plastic jar.
This anti aging cream pairs nicely with my Rosehip glowing oil facial serum, if your skin needs a bit of extra love. What's more, you can also combine it with this Green Tea Hyaluronic acid serum (in this post you can also find how to make a 1% hyaluronic acid solution which you'll need for this recipe).
Green Tea & Cucumber Natural Anti Aging Cream Recipe
Ingredients
Water phase
Oil phase
Cool-down phase
Process
Prepare a water bath: add 3cm/1" of water to a wide pan. Bring the water to simmer (low-medium heat).
Weigh water phase ingredients in a heat-resistant glass measuring cup and note the weight of the beaker with the ingredients inside
Weigh the oil ingredients in a second heat-resistant glass measuring cup
Place both beakers in a pan to melt all the ingredients (about 15-20 minutes)
Next, take both beakers from the water (all ingredients should be melted and dissolved fully by this point).
Weigh the water phase again and top up with distilled water to reach the original weight you noted down at the beginning (I've already included the evaporated water into the recipe above)
Pour the water phase into the oil phase. Take your immersion blender and begin blending the lotion. Blend for about 5 minutes and leave the lotion to cool down. You'll want it to be below 104F/40C degrees before you continue with the last, cool down, phase. The emulsion has to be below 40C or the heat can damage the final few ingredients.
Once your lotion has reached the desired temperature, add ingredients from the cool down phase; stir well after adding each one.
Add cosgard (preservative) as the final ingredient. Stir with a spatula well for a minute or two, until it's evenly incorporated into the anti-aging cream.
Transfer the cream to a clean, dry 50g container.
Pack it and apply as needed!
Notes
Substitute ylang-ylang oil with essential oil of your choice
Substitute Phytocream2000 emulsifier with Olivem1000; I have tested the recipe with both and it should work well
Have you made this? Tag us on Instagram #wildfordiy
Help support Wild for Nature
Many of you have asked if there's a way to help support Wild for Nature. I've signed up for Buy Me Coffee. If you love what I do, learn from me, sell anything you made from my recipes, and want to see Wild for Nature grow even more, I'd be thrilled if you'd consider buying me a coffee! It works as a one-time or a monthly donation of $3. You can also get beautifully designed PDFs with a series of recipes and other resources I publish there, to help you learn and get creative at home! I can then use that money to further develop and grow Wild for Nature and you can help me continue with wild creations and resources!