Want to bring aromatherapy into your shower? Today, you'll learn how to make DIY shower steamers without citric acid. These are budget-friendly, beginner-approved, and smell divine. We're bringing a crisp autumn scent into your home!
Ready to get steaming? Let's begin!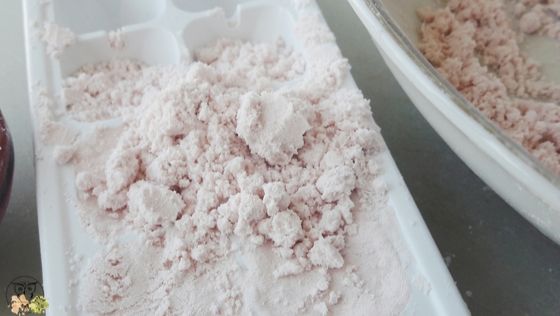 Today, we're continuing with the shimmering series. I decided to name it so because we're going to use some of the same ingredients that appear in this decadent cardamom shimmering body butter. And since I have more shimmering projects coming up, we're using the same ingredients for those as well.
You may remember me talking about my current obsession with shower steamers during the past few months, which is how these woodsy shower fizzies came to be. As soon as September hit the calendar, I was all about aromatherapy, pumpkin spice, apple pies, butternut squash soups, and all fall-color related.
That's how these little lovelies came into being. I wanted cinnamon but I also wanted to give you another recipe where you can use some of the left-over ingredients from that shimmering body butter. And you can use half of the ingredients from that recipe for this one as well. Talking about budget-friendly, huh?
If you already have the essential oils to make these, these homemade shower steamers are dirt cheap to make. Besides that, they're
Very easy to make
Vegan
Great gift material
Fall-scented
Perfect rainy day project
How do you make a shower melt without citric acid?
Making shower steamers without citric acid is even easier and more affordable than making them with citric acid.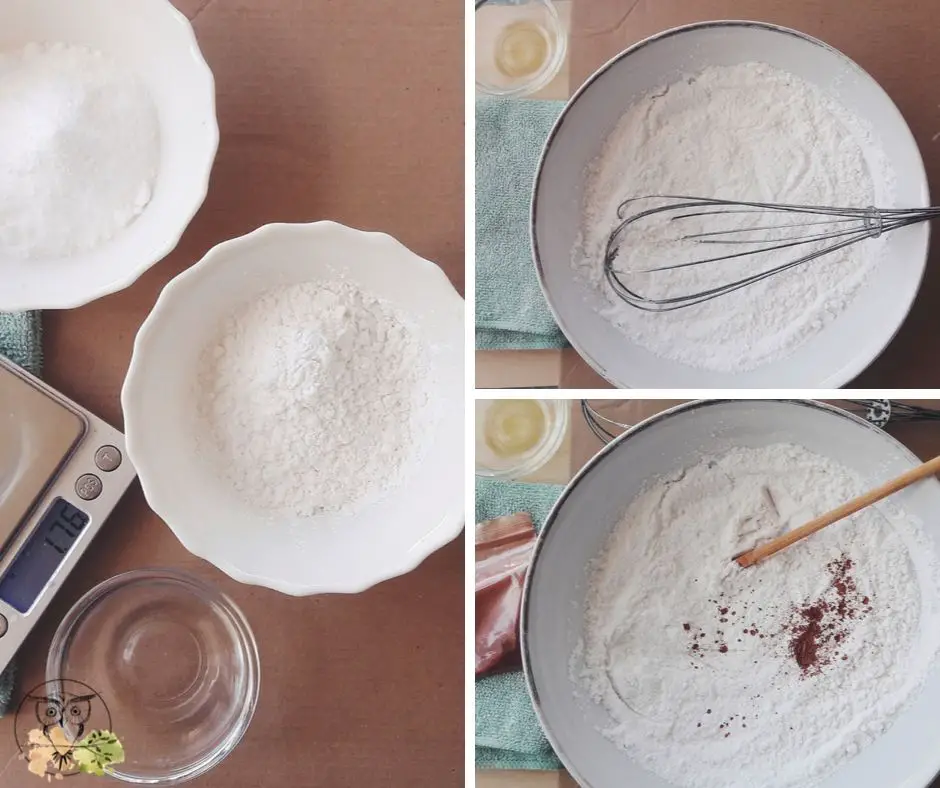 First of all, you only need three ingredients to make them:
Baking soda
Tapioca powder (or a different type of starch)
Water
You blend all these together, add essential oils and there you go, shower steamers are ready!
Talking about essential oils; I used my crisp autumn blend that you can find originally in that cardamom shimmering body butter. If you already have the ingredients for that recipe, you can easily use 6 of them to make these steamers!
Use 1 part baking soda to ½ part tapioca starch. Then, weigh water and essential oils, and slowly add them as you mix the "batter". I also included a bronze mica powder to make them autumn-like. With all that combined, they make a perfect Christmas gift!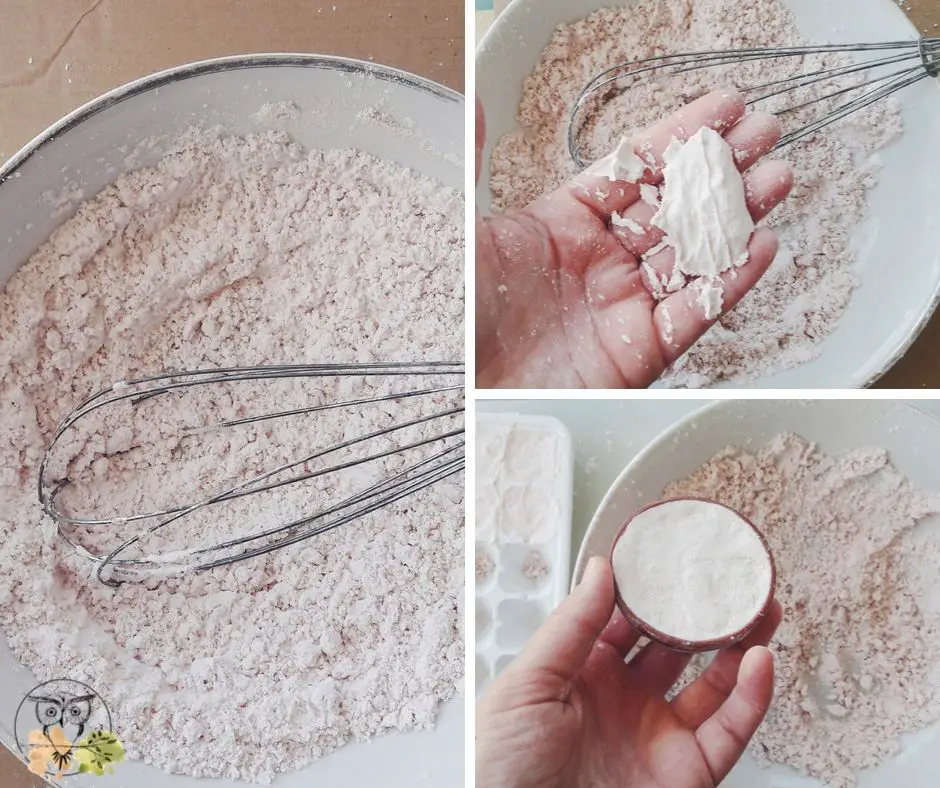 After some brainstorming, I decided that this year, I'm separating my gifts into these series that we're making on the blog. A shimmering series for my girly friends, a woody series for the nature lovers, etc.
Why am I doing it so, you wonder? Because I pulled out a calculator and a (never-ending) ingredient shopping list and combining the two together, this is (according to my maths, but mind you, I may be wrong) by far the most affordable way to keep everyone happy, myself and my wallet included!
Anyway, with the amounts provided below, I made:
1 large steamer that weighs about 55g
9 smaller steamers that weigh about 9.7g
Fall Scented DIY Shower Steamers Without Citric Acid
Ingredients:
Process:
Weigh all the ingredients
Combine baking soda with tapioca starch in a bowl with a whisk.
Stir slowly but thoroughly; you don't want to inhale any of these powders, it's not pleasant!
In a small beaker weigh water and essential oils together
Slowly add the liquid mix into the dry mix, whisking the mixture well every time
When the mix is moist enough, it will stay uniform when you compress it in your hand (see photos)
Pack the molds tightly and let the mixture set and dry for about 30-40 minutes
After that, take all the steamers from the molds and let them air-dry for another hour
Pack them into a dry, clean container. Store away from humidity.
To use, take one steamer and place it into your shower, away from direct water stream. As you splash it, the steamer will release scents, transforming your shower into a DIY spa experience!
Notes:
If you don't have cardamom essential oil, you can also make the recipe without it. just add more of other oils instead.
You can use any type of mold to make these steamers. You can see on the photos, I used an ice-cube tray and a smaller cup that fits one steamer perfectly. Optionally, you can also buy molds if you want the steamers if you're gifting them.
Mica powder is optional, but it won't stain your shower floor. Also, it gives a lovely autumn shade to the whole concept. But, apart from it looking nice, it doesn't do anything important in the recipe.
You could substitute tapioca starch with arrowroot powder or cornstarch.
Why are my shower steamers cracking?
The only problem you may have with these shower melts is that they crack. Now, I provided the recipe with the exact amount of water per "batter" ratio and they should be fine. However, if you change something about the recipe and they do start cracking, it's most likely because you haven't added enough liquid.
I noticed one of my beginner's batches getting cracks and it was because the mixture wasn't moist enough when I began stuffing it into the molds. It packed nicely and dried well, but after a day, small cracks appeared on all steamers. I added more liquid next time and the cracks were no more.
If you happen to be making shower steamers with citric acid, be super careful when adding more liquid (especially if using water) as the citric acid easily gets too moist and starts blooming from the molds like a little fluffy cloud. Once that happens, your steamer is pretty much useless.
Have you made these? Tag on Instagram #wildfordiy
Stay Wild,
Kat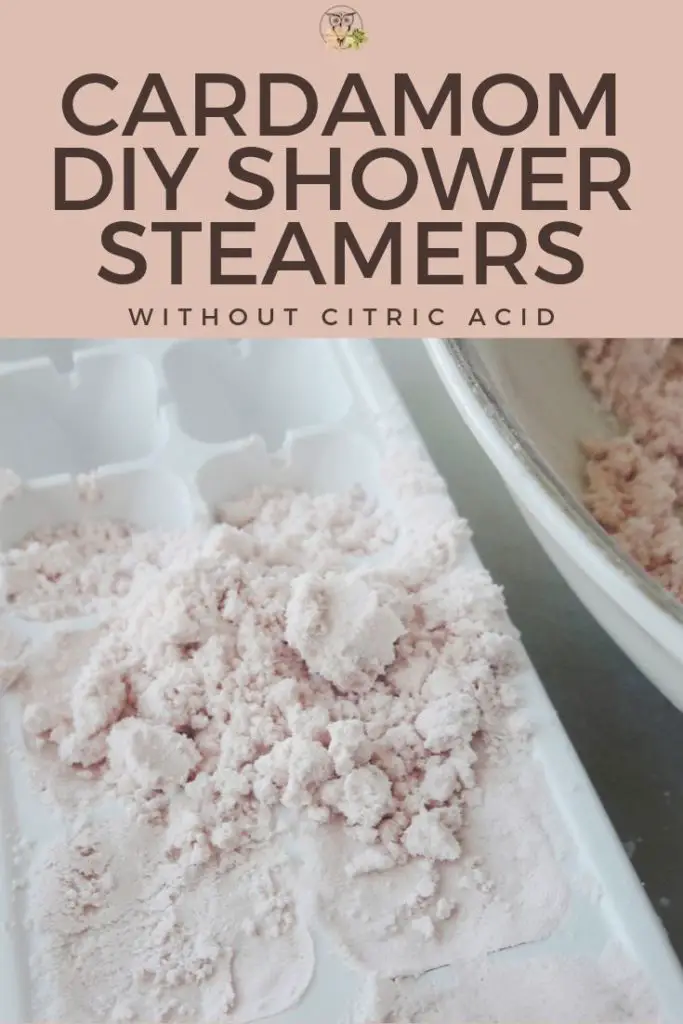 Help support Wild for Nature
Many of you have asked if there's a way to help support Wild for Nature. I've signed up for Buy Me Coffee. If you love what I do, learn from me, sell anything you made from my recipes, and want to see Wild for Nature grow even more, I'd be thrilled if you'd consider buying me a coffee! It works as a one-time or a monthly donation of $3. You can also get beautifully designed PDFs with a series of recipes and other resources I publish there, to help you learn and get creative at home! I can then use that money to further develop and grow Wild for Nature and you can help me continue with wild creations and resources!