A long-awaited recipe is finally here: today, we're making woodsy DIY shower steamers! These look absolutely lovely and they smell wonderfully in the shower. It's as relaxing as it gets and the process is very easy!
Remember that woodsy beard oil many of you loved (the scent! oh!)? Well, today we're adding another woodsy recipe to that collection. That way you can reuse your ingredients for more than one product. Talk about saving money, huh!
These steamers are unisex, but they are 1000% man approved! I've already added them to Christmas gift ideas for this year, but I use them all-the-time already!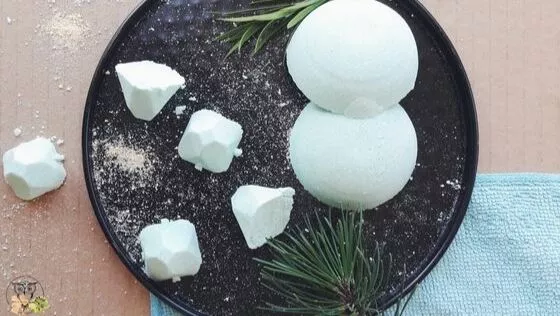 So, woodsy shower steamers…
I've had my eye on shower steamers for a while now, but I just never got around to making them for some reason. I'm a huge fan of long, bubbly, sparkly baths and all sorts of bath bombs, but I don't have a bath (and it pains me so!). I believe it was my new set of mica powders that finally convinced me to get creative with the colors and take it away from shimmery lotions and tinted lip balms for a while.
Other similar projects you may like
That's how these homemade shower steamers came to be! They are…
Easy to make
Very cheap
Vegan, yes!
Fizzy, so fizzy!
Positively autumn-like!
Great gift idea!
Are you ready to get all aromatherapy in your shower?
What does a shower steamer do?
The thing is, essential oils boost the aromatherapy experience and promote their incredible benefits. And, essential oils are the most important part of any shower steamer. With these, you create an aromatherapy steam shower. Who has ever said that showers have to be boring?
And it's more than just a shower that smells nice. You can add all sorts of essential oils to these steamers and create any aromatherapy effect that you need at the time. You can use these steamers for a number of reasons:
To help with cold, flu, congestions
To soothe your mind, help you relax, and improve your sleep
An uplifting scent to help you wake up in the morning
Mood-lifting oil blends
Add a splash of color to your steamers and they make a great gift as well! My batches are gone as soon as I make them as I made the mistake of introducing them to my friends.
Can shower steamers be used as bath bombs?
No, one thing to keep in mind is that these fizzies shouldn't be used as bath bombs. They contain high levels of essential oils that could potentially irritate the skin. Plus, since these shower melts are pretty basic, they'd just fizz and be gone quite quickly in a bath.
How do you make DIY shower steamers?
There are a few ways that you can get about making your own steamers. I used both citric acid (I love the fizz) and baking soda.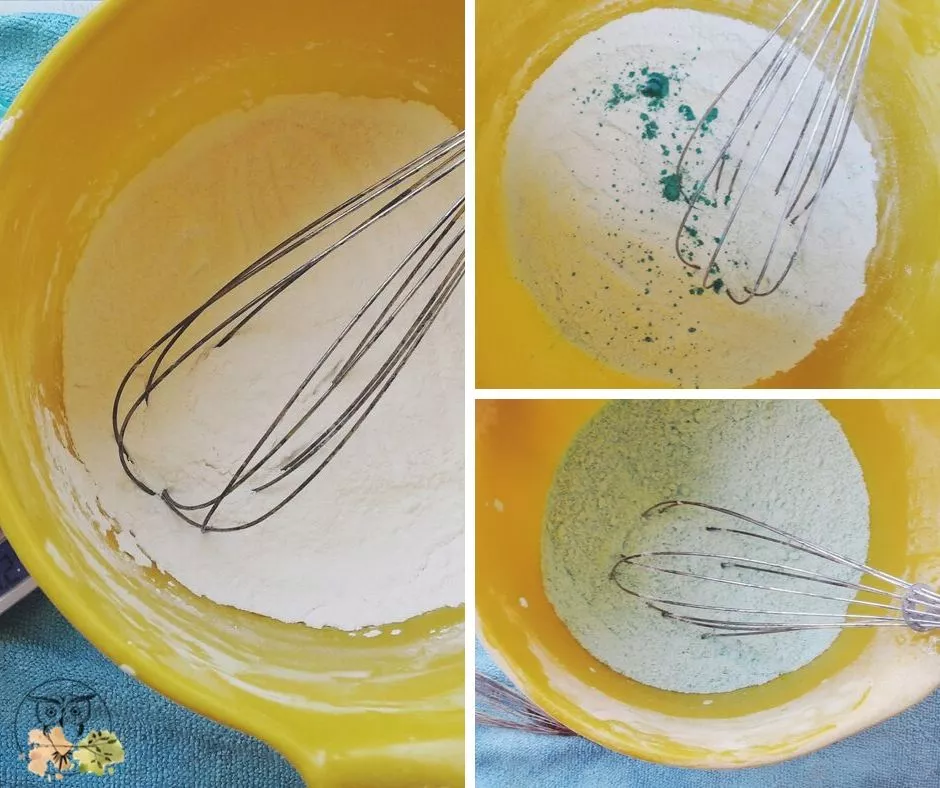 Since I had no cornstarch, I replaced it with tapioca flour, and it works great in the recipes! If you have no tapioca, use cornstarch instead.
When it comes to coloring, the mica powder is optional. You can omit it but it gives these a pretty color that makes them even more desirable, hehe. From experience, the amount of mica used in the recipe won't stain your shower floor. I've done some testing, and there are no signs of rainbow anywhere on the shower floor!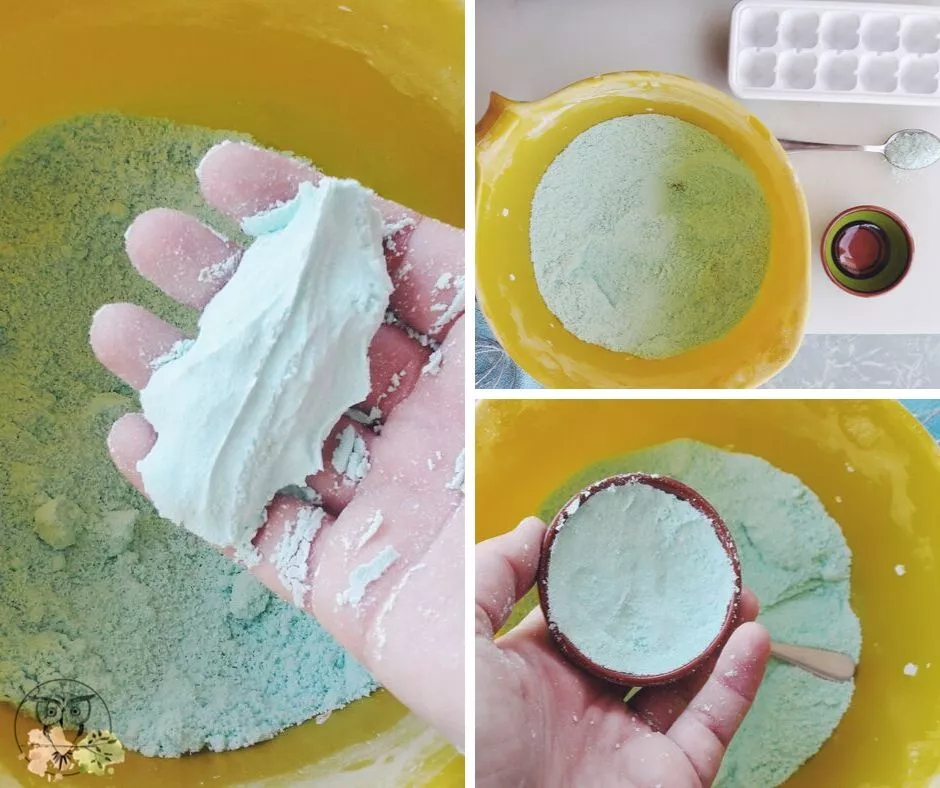 Essential oils are based on my woodsy beard oil recipe. I love the fir and orange combo together and I believe the amount of oils gives enough scent to do what steamers are supposed to do. If you believe these aren't strong enough, feel free to add a drop or two more on the fizzy just before you place it into the shower.
Since we're trying to keep this recipe to a minimum in terms of expenses, let's say a few words about the molds. If you don't have any molds on hand, feel free to use any smallish cups or containers that you have in your kitchen. I used glass and ceramic cups (which are pretty tiny) and an ice cube tray. You can buy lovely molds online or you can make do with whatever's in your kitchen. I wouldn't recommend using a silicone mold as they tend not to listen when you're stuffing all that mixture in them and they tend to bend too much in all directions.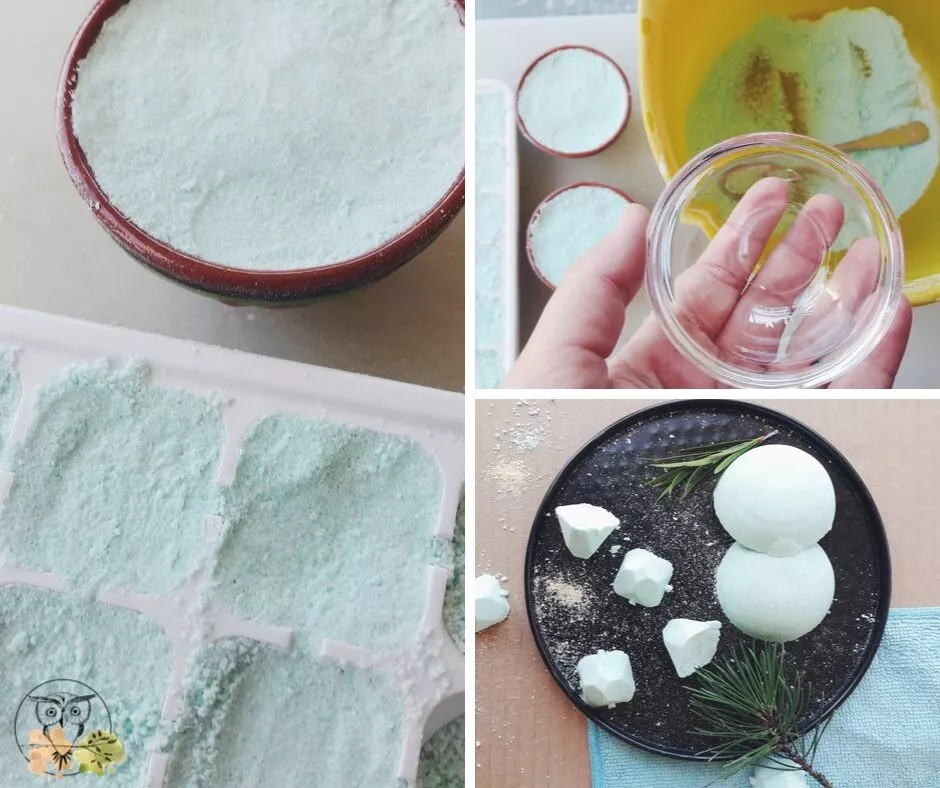 Keep these fizzies away from humidity or they will set off and fizz away wherever you keep them.
When you want to use them, place them in your shower, away from a direct water stream. As you shower, you'll splash them with water and they'll slowly release the fizz, the color, and the lovely woodsy scent!
And there you go! Pack these nicely, add them to your Christmas gifts list…anything you want! They would pair nicely with my recent fluffy sugar body scrub or this decadent body butter for glowing skin.
Have you made this recipe? Tag me on Instagram: #wildfordiy
Stay Wild,
Kat