Wild morning pretties and I wish you a great weekend! Today we're making something for the male population of this blog and of your life.
Beard season is here! And so are simple DIY beard oil recipes!
I went hiking the other day and the pines gave me an idea for a woodsy beard oil recipe! That's right, I decided to bring woody feeling into my apartment because I'm such a sucker for autumn (colors, pumpkins, chestnuts) and deep fragrant woods.
Apart from being wood and autumn inspired, this beard oil contains some beautifully nourishing ingredients that make the beard healthy, soft, and rich! It's manly and it's simple, and it's vegan, and it's completely natural!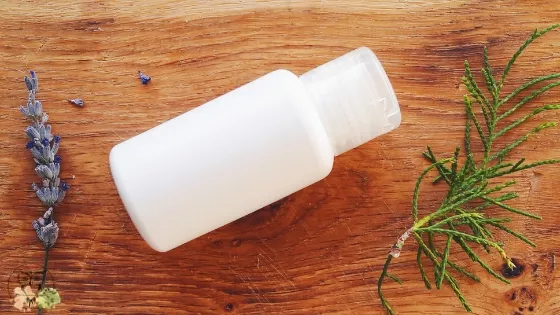 While doing some research on a good homemade manly beard oil recipe (after my hike and with a large cup of steaming lemongrass green tea by my side) I decided to base this woodsy DIY beard oil on some online recommendations that men swear by (which are all three carrier oils I use) and the choice of essential oils of my own male friends.
The result? Some very happy customers among my friends!
What I'm trying to say is that if you're looking for an idea of how to make beard oil at home, you've come to the right place! But before we get to the actual recipe, have a look at the other essential oils with woody aroma (in case your males are allergic/very disliking to the oils in the recipe).
Best essential oils with a woody aroma
Let me say a word or two about the best essential oils with a woody aroma. I've made a blend to my taste in this woodsy beard oil recipe myself, but if it doesn't smell to your liking, feel free to mix it up a bit.
Ideally, the following oils fall into the wood-scented category, apart from the few in my blend:
Atlas, Himalayan, and Texas cedarwood
Peru balsam
Frankincense
Sandalwood
Cypress
Ho Wood
Spruce
Cinnamon leaf
Pine
Siberian fir
I've also written an extensive post on best oils for beard growth here (you can find a long list of carrier and essential oils in there).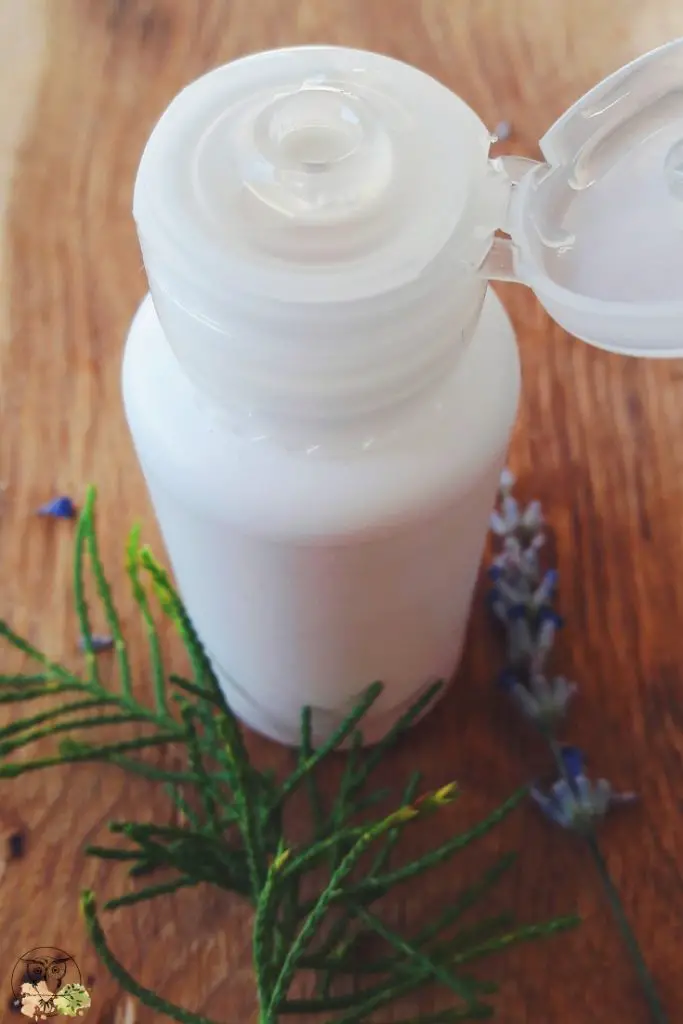 DIY Woodsy beard oil recipe
The recipe is basically a simple beard oil recipe with a rich addition of essential oils and a few base oils. For extra moisture, I've added vitamin E oil, but overall, this beard oil fulfills all the expectations of being woody and earthy.
Well, not through and through because I had to add a kick of orange in there!
Anyway, this beard oil is nourishing, beautifully fragrant and gentle. It's moisturizing enough but I recommend using it only in the night-time because the orange oil is phototoxic and you'll want to avoid the sun after applying the oil (or it can further damage the skin).
Overall, the oil absorbs nicely. It's not too greasy, but it's just rich enough to protect the beard, making it softer. It gives it a nice appearance. The scent is light, nutty, but fresh; I'd say it's uplifting (that's the orange and white fir in there) and very pleasant.
Have a look at what is beard oil made of or more specifically, what is this woodsy beard oil recipe made of!
Jojoba oil
The first oil on the list will take care of the appearance of your facial hair: jojoba oil makes the hair shiny and gives them groomed appearance. What's more, it softens the hair, nourishes the skin beneath, and is actually a natural conditioner. It shouldn't cause any skin irritation but strengthen the hair instead.
Castor oil
By deeply hydrating the hair and nourishing the roots, castor oil is a good choice in this woodsy beard oil. Your hair will appear well-nourished and become thicker with time. I wouldn't suggest to use it on its own because it's highly viscous and sticky when applying it.
In a combination with other carrier oils, castor is also easier to apply, as it becomes more spreadable as a part of a beard oil.
Castor oil boosts the circulation and maintains the skin below hydrated and beardruff free!
Argan oil
Argan oil penetrates the hair and helps repair the damaged follicles. When you think argan, think healthy, hydrated, and softened beard.
Argan helps to repair split and damaged hair. While it is a good source of vitamin E, I've added a few additional drops on top of all these oils to boost its regenerative properties even more.
What's more, argan oil also nourishing for the facial skin as well.
Cypress essential oil
Lemony, fresh, and uplifting, cypress is great for those with oily skin because it improves the appearance and reduces the shine. Cypress has a cleansing effect for the skin, it renews it.
Cypress completes this recipe with astringent, antiseptic, anti-inflammatory, and deodorant properties. It boosts the healing process of the skin (for razor burns and cuts) as well as circulation.
Orange essential oil
As an anti-inflammatory and cleansing oil, orange can soothe dry and irritated skin, moisturize it, eliminates bacteria, and boosts collagen! It leaves the skin soft and hydrated.
What's more, it improves blood flow and gives a radiant and healthy appearance to the skin (and the beard)! Orange oil can also control the production of oil on the skin. Apart from that, orange oil promotes shiny and soft hair!
Siberian fir essential oil
Another anti-inflammatory oil, Siberian fir soothes the irritated skin ( in case of minor cuts, wounds), boosts skin healing, and it adds the fresh woody fragrance to this beard oil blend.
Sandalwood essential oil
With a distinct woody scent that's great for men DIY skincare, sandalwood adds a balsam-like touch to this oil blend.
Vitamin E oil
As an antioxidant, vitamin E nourishes the beard, the skin beneath, and prolongs the shelf life of the woodsy beard oil. It keeps the whole package moisturized and protected from any potential damage (of free radicals and itchy skin)
Let me know how your male-friend is satisfied with this woodsy beard oil! I'd love to know!
Stay Wild!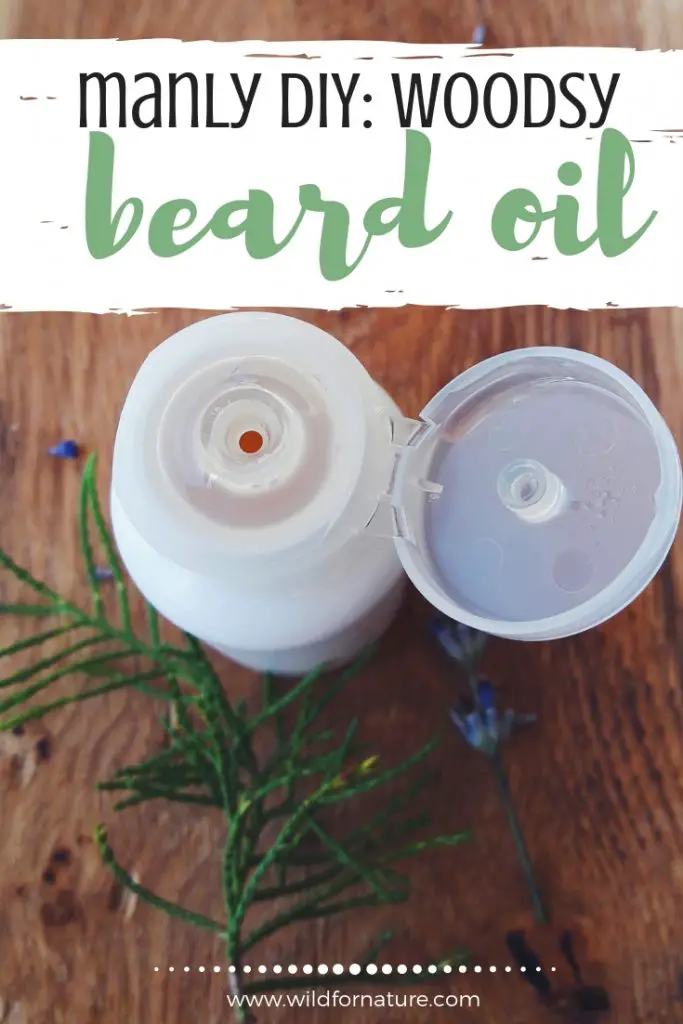 Have you made this recipe? Tag us on Instagram #wildfordiy
Help support Wild for Nature
Many of you have asked if there's a way to help support Wild for Nature. I've signed up for Buy Me Coffee. If you love what I do, learn from me, sell anything you made from my recipes, and want to see Wild for Nature grow even more, I'd be thrilled if you'd consider buying me a coffee! It works as a one-time or a monthly donation of $3. You can also get beautifully designed PDFs with a series of recipes and other resources I publish there, to help you learn and get creative at home! I can then use that money to further develop and grow Wild for Nature and you can help me continue with wild creations and resources!