Hello guys! Today we're talking about camellia oil! Wondering about camellia oil benefits? We'll get there and I'll also tell you whether camellia oil is good for acne!
This gorgeous oil deserves a special post just because it's so special but not as popular yet. There are numerous skin benefits and it's very easy to include it in your homemade skincare recipes. Whether you're looking for camellia oil for face or camellia oil dry hair, dig in and prepare to be impressed!
Camellia seed oil love story
This oil soaks into the skin slowly; definitely more slowly than grapeseed oil, but it also leaves the skin amazingly soft and smooth. Ever wondered why the Japanese ladies have such beautiful hair? Well, the answer to that eternal question is the Tsubaki oil! Just look at their skin and you can understand just how many camellia Sinensis skin benefits there are!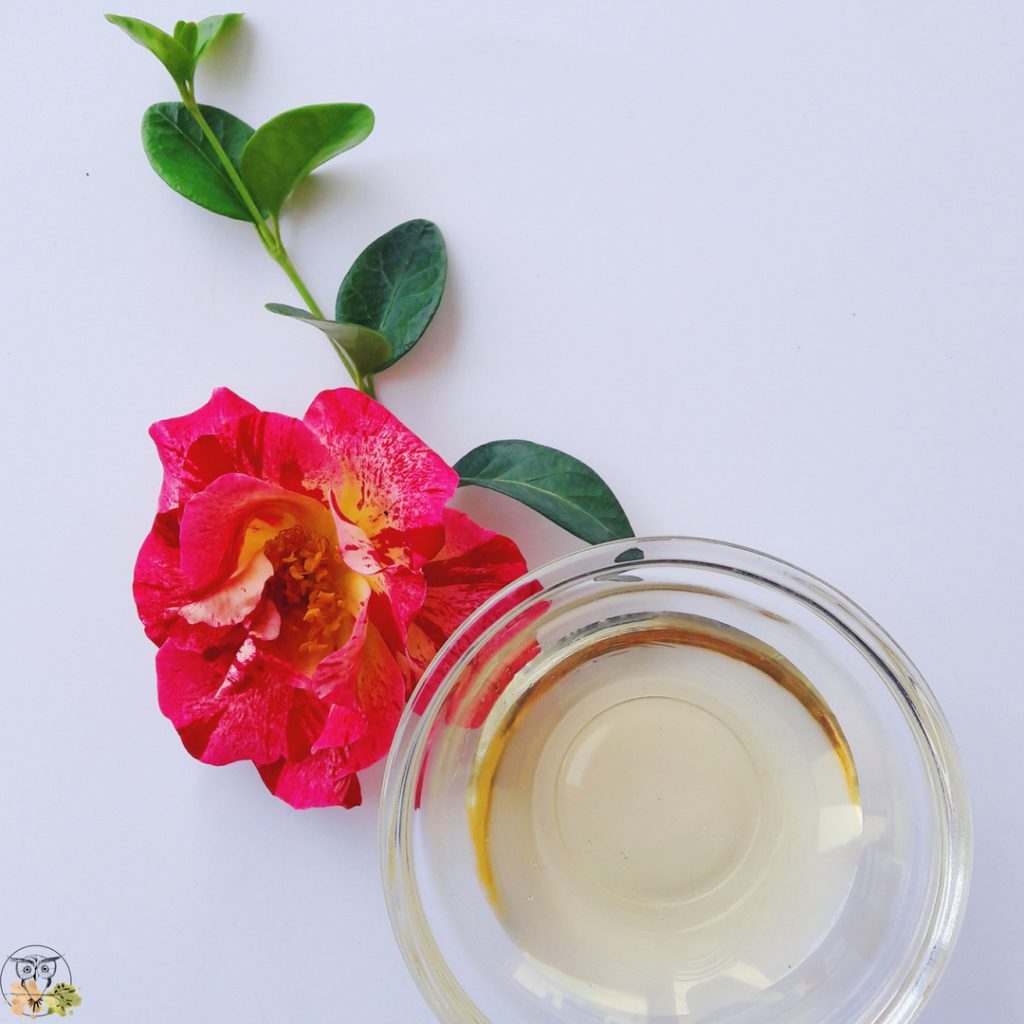 Native to China and Japan, camellia has been an important natural and organic ingredient in many aspects of their lives. But, there are actually different types of camellia oil and hopefully, I can clarify that for you a bit:
What is camellia oil?
Japanese long-kept secret or camellia seed oil is a very beneficial oil that is obtained from different species of camellia tree; in other words: it comes from the tea plant.
Camellia oleifera (Oil Camellia)
Camellia oleifera is an important source of edible oil, also known as tea seed oil or camellia seed oil. It can also be used in skincare.
Make sure not to confuse tea seed oil (camellia seed oil) with tea tree oil, which comes from Melaleuca alternifolia tree, native to Australia (and completely unrelated to camellia).
Camellia sinesis (Tea Camellia)
This type of camellia plant is used to produce tea oil. The plant is used to produce tea, such as green, white, yellow tea, and others. This oil is used as cooking oil as well as a beneficial addition to skincare.
Camellia japonica (Japanese Camellia)
The oil coming from this type of camellia is also known as Tsubaki oil. It has a mild soft scent and it's on the more expensive side. This is not the oil you use for cooking. It has been a very popular natural ingredient for Japanese women. It made their skin velvety and soft, and their hair healthy, strong, and shiny (they still have gorgeous hair, don't they?)
Camellia oil nutrition
This exotic oil has antioxidant, anti-microbial, astringent, anti-inflammatory properties (source). At the same time, it's also rich in nutrients: vitamins, unsaturated fats, and minerals, which makes an excellent excuse to start using camellia oil for skin and its health.
While it has been mostly used in Asia, it is slowly becoming popular in the rest of the world as well.
High vitamin E content
Rich in fatty acids
What's more, it has a high content of monounsaturated fatty acids, such as oleic, and linoleic acids. This is where its beneficial properties stem from. According to From Nature With Love, it contains: Palmitic Acid: 6.0-15.0%, Stearic Acid: 0.8-2.0%, Oleic Acid: 72.0-87.0%, and Linoleic Acid: 5.3-14.3%.
A good source of polyphenols
A natural antioxidant, polyphenol protects the skin from the damaging UV radiation and the free radicals that can cause damage to the skin cells.
Contains other vitamins (A, B) as well as minerals (potassium, phosphorous)
Camellia oil skin benefits: what is camellia seed oil good for?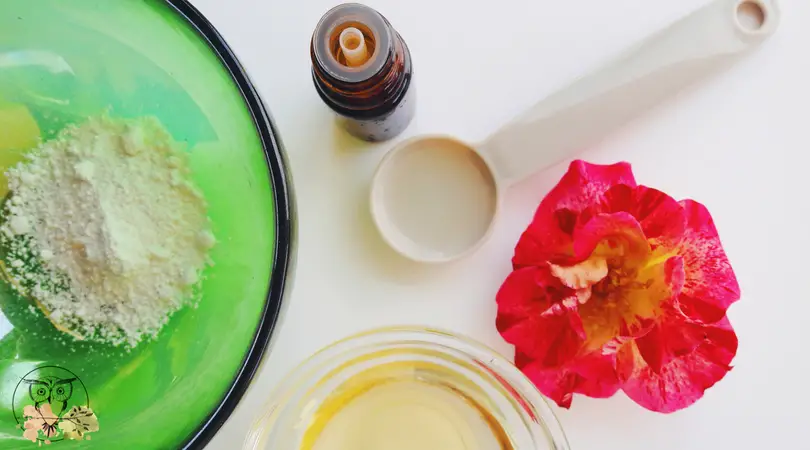 Camellia oil benefits for skin include reducing the oxidative stress and providing natural protection from the free radical damage.
With its emollient and antioxidant properties, camellia seed oil has become a must in my (and your) DIY vegan cosmetics recipes. Whether you're looking for a rich lotion or a makeup remover, it is what you need.
A natural moisturizer
Positive tsubaki oil skin benefits stem from the rich nutrients it contains. It's easily absorbed into the skin, which makes it a great ingredient for all of you who hate the greasy feel on the skin that lingers (especially in summer!). Due to its high oleic acid content, this oil is a great natural moisturizer. It leaves the skin soft and smooth!
Even if you have some rough skin patches on your body, such as elbows or heels, apply a few drops of the oil on the area; it should help you smooth the skin.
Anti-aging properties we love
As one of those natural and organic ingredients with anti-aging properties, camellia oil skin benefits extend all the way to minimizing the appearance of wrinkles and fine lines.
A natural boost to wound healing
With its anti-inflammatory properties, tea seed oil offers natural protection to the skin, boosting its healing process. With high vitamin E content, it is great for the skin.
A natural sunscreen ingredient
There are some oils that naturally contain an SPF factor. You can read more on that here (where you also get a recipe for a homemade tanning oil).
For that reason, some recommend adding it to your DIY sunscreen recipe. With its antioxidant properties, it can fight the free radicals and reduce the signs of damage caused by the sun.
I do not advise you to make a sunscreen oil with oils only. They are not strong enough to protect your skin from the harmful sun rays. Sunscreen is to this day one of the products that I continue to buy as it's incredibly difficult to make DIY sunscreen at home.
Restores hair moisture
Tsubaki oil is famous for incredible hair benefits, so it's a common ingredient in hair products as it's very beneficial to use camellia oil for hair health.
While it feels quite similar to olive oil, you can apply it to your hair directly with your fingers. It restores the hair moisture, aids with fizzy hair, and conditions it.
For a smooth and healthy hair, you can apply the oil neat, or combined with other essential oils for the maximum benefit. There is an old traditional way of how to apply this tea seed oil to your hair:
Dip a wooden comb in the oil for a few hours and use it to comb the hair. This way, the oil gets nicely and evenly spread on your hair. At the same time, it makes the combing process easier because you untangle the hair along the way. (I don't know about you, but combing is one my personal terrible nightmares!)
Itchy scalp with dandruff
If you're suffering from itchy scalp or dandruff, camellia seed oil is the one to go for. There are many other natural itchy scalp remedies (look here for a whole list), but applying tea seed oil to your hair care can greatly improve not just the overall health of your hair, but of the scalp as well.
Best Camellia Oil for Face
According to online reviews, I've found the following three to be the best tsubaki oil you can find!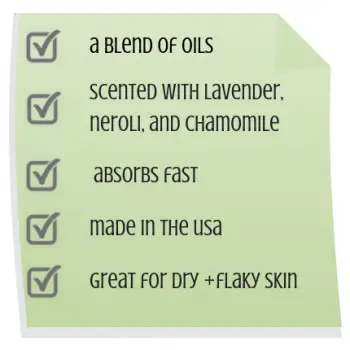 A soothing and hydrating blend of oils promises no more flaking and tired skin. I've included it here because it's got amazing ratings on Amazon but it's not for the hardcore DIYers, as it already contains a blend of oils. Still, this is a high-quality oil that easily beats high-end oil at $120 per bottle!
Ingredients: camellia seed oil, rice bran oil, sunflower seed oil, jojoba oil, argan oil, vitamin E oil, neroli flower oil, chamomile, and lavender oil
Who is it for?
Anyone who's suffering from dry and flaky skin. The smell takes some time getting used to, but the oil is reasonably lightweight, it's not too thick and greasy, also great for combination skin.
Pros:
Soaks in easily
Can be used day and night
Nourishing ingredients that work
Promotes smooth skin
Cons:
Not a raw ingredient for DIY skincare recipes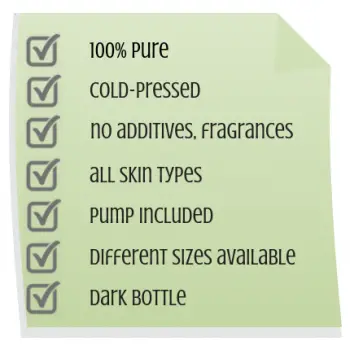 If you've been around for a while, you know my devotion to Plant Therapy and their products. They're not only my fave (and one of the best) essential oil brands, but also make good quality hydrosols, and well, carrier oils.
Ingredients: pure camellia seed oil
Who is it for?
For all of you who're looking for either good-quality carrier oil as a base for essential oils and DIY recipes or for camellia seed oil, you can use it on your own. It's a thicker oil and a little goes a long way as this oil is conditioning, moisturizing, and revitalizing for the skin.
Pros:
100% pure camellia oil
Cold-pressed
Excellent for sensitive and dry skin
Pump included
Cons:
Not organic
Stored in a BPA plastic bottle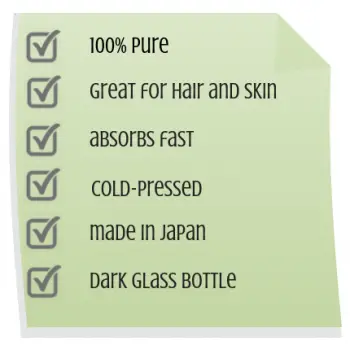 This luxurious pure camellia seed oil, also known as tsubaki oil in Japan, helps to restore moisture with its silky texture. While the oil is organically grown, it lacks the USDA label; but a little goes a long way and it helps to improve the overall glow, health, and tone of your skin with regular use.
Ingredients: pure camellia (tsubaki) seed oil (camellia japonica)
Who is it for?
For anyone looking for a luxurious bottle of pure camellia oil for face and maximum care. According to dozens of online reviews, this oil doesn't cause any breakouts and it's incredibly moisturizing. A little goes a long way, but I wouldn't be adding this one to any DIY skincare recipe unless it's a facial serum.
Pros:
Hydrating and anti-aging
Restores elasticity
Unrefined and cold-pressed
Cons:
Pricey for DIY skincare recipes
Not USDA certified
Where to buy Camellia oil?
When looking for the best camellia oil for face, it all depends on what you're looking for. Do you want a pure oil which will serve you as an ingredient for your DIY skincare, or do you want something that's ready to use right away?
You can get it through many online retailers when you browse for terms such as camellia oil Amazon. If you're specifically looking to buy it for your projects, you can also look into online shops that sell raw ingredients for homemade skin care, such as New Directions Aromatics.
What's more, you can also grab a bottle of the oil at local beauty shops, but make sure to double-check the ingredients in the bottle. In any case, you'll want a reliable supplier that provides high-quality oils without any nasty ingredients, such as preservatives, artificial ingredients, and fillers.
How to use camellia oil?
You can find a simple facial oil with camellia here. Otherwise, camellia oil can be added to your regular skincare recipes just as any other oil; it adds rich and nourishing kick into any recipe, be it a serum, facial lotion, or a DIY hair oil.
Before you start adding it to your vegan DIY recipes, I have to tell you that there are different claims on camellia seed oil comedogenic level. Some say it has 1, others claim the exact rate hasn't been yet established. In any case, if you have oily and acne-prone skin, avoid it.
Is camellia oil good for acne?
Camellia oil for face is an amazing thing when you don't have problems with oily skin and acne. While it can soothe inflammation and reduce redness, I'd not recommend it for acne prone skin.
We've talked about the best non-comedogenic oils, and camellia is sadly not on the list. It is, however, awesome from dry and normal skin, especially during the winter months. You can find my recipe for nourishing facial oil with camellia here.
Stay Wild!
Help support Wild for Nature
Many of you have asked if there's a way to help support Wild for Nature. I've signed up for Buy Me Coffee. If you love what I do, learn from me, sell anything you made from my recipes, and want to see Wild for Nature grow even more, I'd be thrilled if you'd consider buying me a coffee! It works as a one-time or a monthly donation of $3. You can also get beautifully designed PDFs with a series of recipes and other resources I publish there, to help you learn and get creative at home! I can then use that money to further develop and grow Wild for Nature and you can help me continue with wild creations and resources!