Wild morning! Are you ready to make a gorgeous DIY shimmering body butter? Yes, I have a lovely non greasy body butter recipe stored in for you! It's warmly fragrant, spiced, and a creamy nourishing solution, perfect for cold autumn days!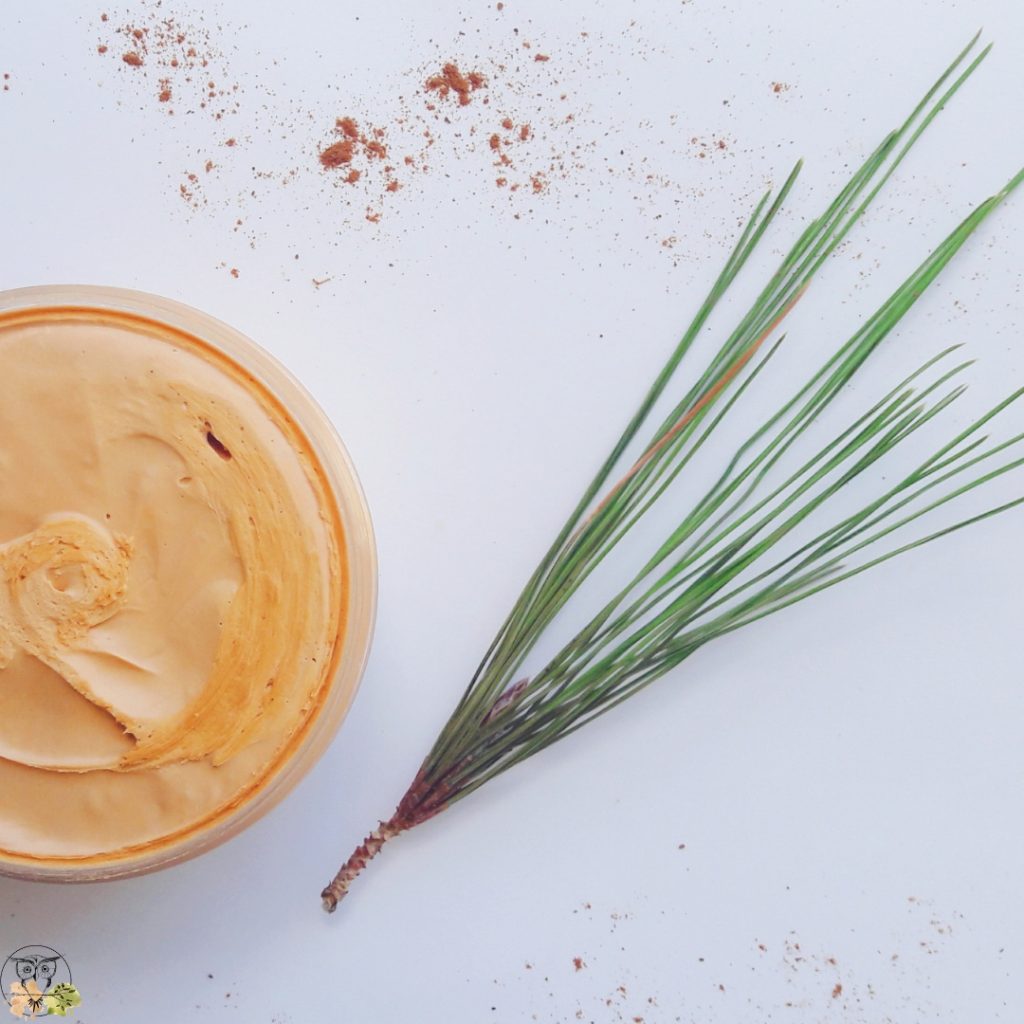 I had cardamom and cinnamon bark oils, along with mica powder and I wanted to make something fluffy but nourishing. Also, some of you have been wondering how to make body butter less greasy, so I decided to cover that question as well.
This lovely DIY shimmering body butter is easy to make.
With a long shelf life.
It's perfect for the upcoming holiday season!
100% vegan.
Makes a great gift!
Now, let's have a look at the elephant in the room here!
How to make body butter less greasy?
There is one simple trick that will turn any homemade body butter into its less greasy version. If you're like me, you don't like the film some butters leave on the skin. Yes, some take ages to absorb and it's just plain annoying at times, pulling tights or jeans over the greasy residue on the skin.
I've done some research a while ago, trying to find the perfect DIY whipped body butter that would be less greasy. But there isn't such a thing unless you help it with specific ingredients that will tone down the greasiness.
Using oils that are less greasy is an option, but the butter will still end up greasy, because they're, well, oils. And it's their job to be greasy. We love 'em for that, but still, the solution?
Yes! Tapioca starch or arrowroot powder!
I haven't used arrowroot powder myself just yet, but I stick tapioca into the body butters all the time. In general, it's recommended to add max 5 gram of tapioca per 100-gram butter. It all depends on your preference of greasiness. You can use less than this or more. With time, you'll figure out your ideal ratio. Mine is listed in the recipe below.
Your body butter will spread nicely on your skin also with tapioca in the recipe. It's able to absorb the greasiness. The butter absorbs quickly into the skin. It makes it soft and leaves a trace of shimmer and fragrance!
Okay, now that we've got this covered, let's get to the ingredients!
Luxurious DIY Shimmering Body Butter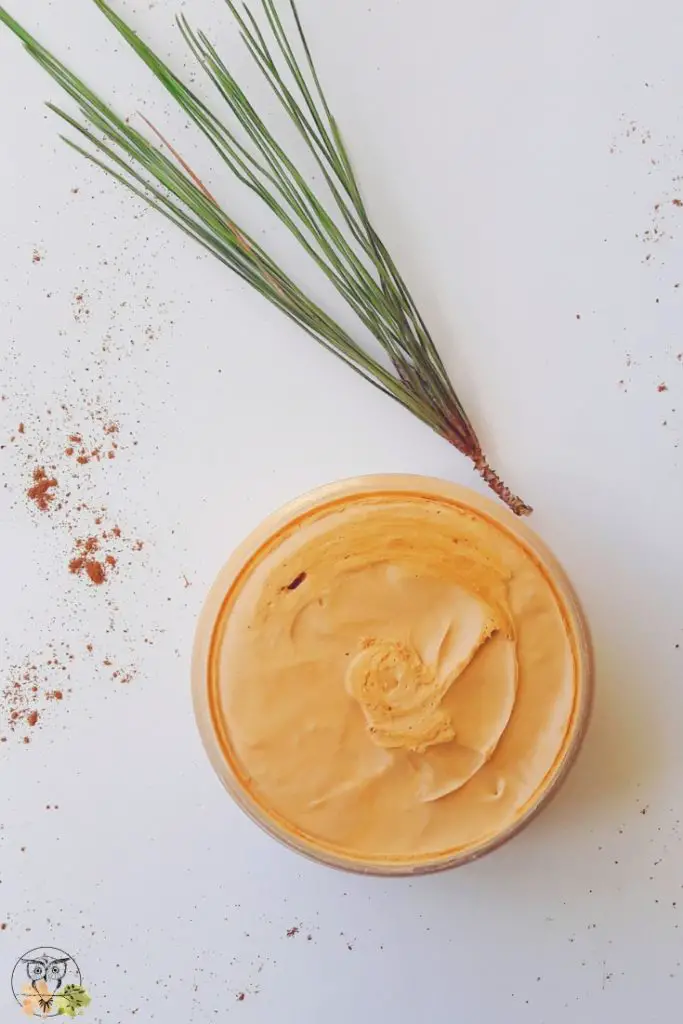 This whipped body butter is a lovely creamy and fluffy combination of nourishing butters and lighter oils.
The mica power makes it extra shimmering and shiny. You know those days when you just want to glitter? Well, today is the day!
Shea butter
Yes, this is pretty much a must in any body butter that I make (also in my first whipped butter recipe). My skin loves shea butter and apparently, it loves my skin back. It's a mutual love relationship. Anyway, let me tell you why I'm such a fan.
Shea butter is very nourishing. It provides the skin with a ton of nutrients (provitamin A, vitamin E and F, allantoin, and fatty acids), it keeps it hydrated, healthy, glowing, and ridiculously soft.
That's right, if you're yearning for a soft smooth skin, try shea butter! I prefer to get it unrefined because I love its nutty smell. However, some people severely dislike it. If that's the case with you, just change for the refined option instead.
This exotic butter is not like coconut or cocoa. When melting it, make sure not to overheat the butter as it loses its nutrients and you're left with a grainy melted yellow oil minus the benefits.
Grapeseed oil
Grapeseed oil is recommended for oily and combination skin on its own. It's not as greasy and it soaks into the skin relatively quickly and nicely. I've included it into the recipe to balance out the greasy shea butter a bit. And because it's loaded with unsaturated fatty acids that are good for our skin's health anyway.
Grapeseed oil is a good source of vitamin E and it is an excellent moisturizer. It may even help to reduce stretch marks! It's both, anti-inflammatory and antioxidant. While it may be better used as a facial oil, I use it in all possible recipes as I love how it feels on my skin.
Just like shea, make sure not to overheat it.
Mango butter
I love mango butter. It's not as greasy as shea butter and it makes the skin super soft but absorbs quite quickly. I've started using it only this year but it's readily become one of my favorite butters to use in DIY skincare.
It's great for dry skin, it gives it a healthy look and it's even appropriate to use if your skin is sensitive. It helps to regenerate the skin, protects it, and supposedly even helps for wrinkles (obviously, not in this recipe).
Mango rejuvenates your skin, has soothing properties on sunburnt skin, and it hydrates and softens rough patches of skin
Safflower oil
Only a little. Seriously, there's only a little of this beauty in this whipped body butter, but it feels like it works its magic no matter the quantity!
Safflower oil helps to keep the skin soft, hydrated, and healthy with its antioxidant properties. It's very light and non-greasy in texture and it heals inflamed and irritated skin. It promotes skin healing and even boosts collagen production!
A crisp autumn essential oil blend
I love autumn crisp mornings and I love the color palette of the trees and woods! I wanted to recreate that scent somehow while still using the oils to maximally benefit the skin.
Cardamom essential oil gives the skin a radiant look, naturally tones it, and helps with skin infections. It's very versatile oil (and spice) and it has a spicy resinous scent, which goes great with grapefruit!
Cardamom oil helps to keep the skin healthy, promote skin elasticity, and remove toxins from the skin.
Cedarwood oil can reduce dryness of the skin, soothe irritation and redness. It helps to protect the skin from toxins and pollutants from the environment. It's both antiseptic and antibacterial. Above all, it adds a nice woody fresh but autumn-like scent to the overall blend in this whipped body butter.
Another oil used in the blend is cinnamon bark. I love the smell of cinnamon and I love the spice itself in my smoothies, desserts, cookies, drinks, teas, you name it! Because cinnamon is antibacterial, antimicrobial, and it adds the kick of spice into this blend. According to New Directions Aromatics,
Cinnamon Essential Oil is reputed to calm dry skin and to effectively alleviate aches, pains, and stiffness experienced in the muscles and joints and in the digestive system.
Last but not least, I had to give a hint of freshness into this whipped body butter recipe. If you're a regular around here, then you know about my eternal love (maybe obsession?!) with citrus-scented essential oils. That's why the grapefruit essential oil!
It smells lovely, soothing, and uplifting. It adds a kick of autumn into this recipe! Otherwise, grapefruit oil is known to minimize cellulite, reduce oily skin, and boosts the circulation of the lymphatic system.
Cardamom DIY Shimmering Body Butter
Ingredients:
– 45g shea butter
– 25g mango butter
– 15g grapeseed oil
– 5g safflower oil
– 5g tapioca starch
– 4 drops vitamin e oil
– 3 g bronze mica powder
– 5 drops cardamom essential oil
– 15 drops grapefruit essential oil
– 10 drops cedarwood essential oil
– 5 drops cinnamon bark essential oil
Instructions:
Melt mango butter in a double boiler (on medium-low heat)
Add shea butter and stir until melted (it doesn't take long)
Remove the bowl from heat and wait for it to cool down
Once the mixture is warm but not hot any longer, add grapeseed oil, safflower oil, mica, and essential oils. Stir well
Add tapioca starch and stir until tapioca has dispersed completely
Place the mixture into the fridge for 20 minutes
Whip the oils until you get a fluffy consistency
Set aside for another 10 minutes and repeat the whipping
Notes:
1. Vitamin E oil helps to preserve the final product, giving an extra antioxidant boost and longer shelf life
2. Substitute bronze mica with a silver one
3. Don't substitute mango butter with cocoa butter (it'll make the butter more difficult to apply)
4. This recipe makes a little more than 100 ml
5. If you want more shimmer, add a gram or two more of mica powder
Have you ever made a DIY shimmering body butter? What's your favorite shimmer? Let me know!
Stay Wild!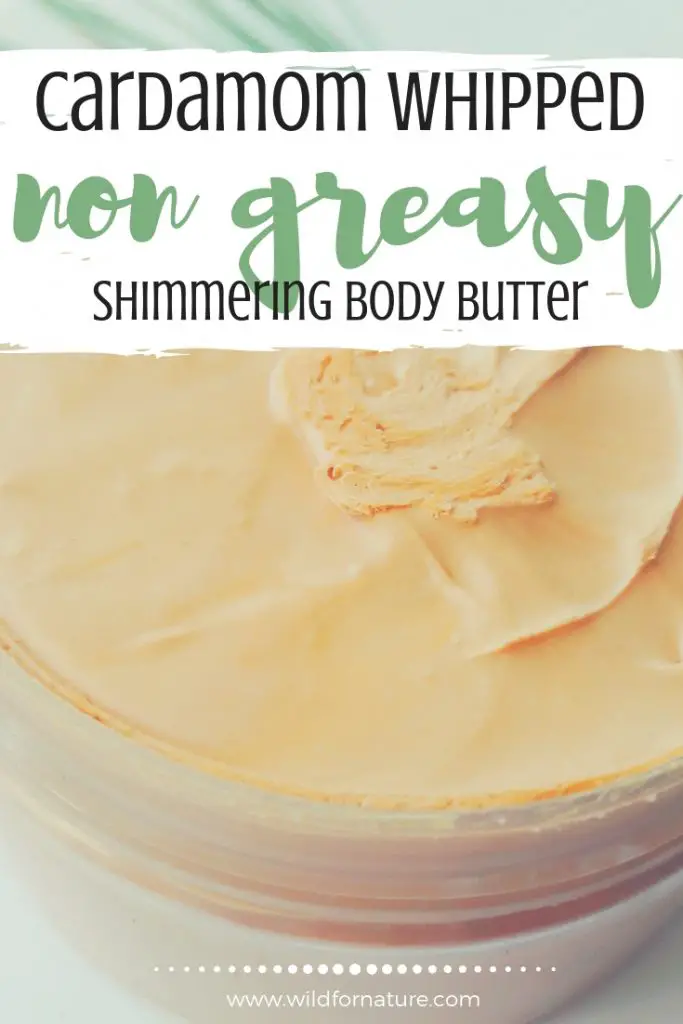 Have you made this recipe? Tag us on Instagram #wildfordiy
Help support Wild for Nature
Many of you have asked if there's a way to help support Wild for Nature. I've signed up for Buy Me Coffee. If you love what I do, learn from me, sell anything you made from my recipes, and want to see Wild for Nature grow even more, I'd be thrilled if you'd consider buying me a coffee! It works as a one-time or a monthly donation of $3. You can also get beautifully designed PDFs with a series of recipes and other resources I publish there, to help you learn and get creative at home! I can then use that money to further develop and grow Wild for Nature and you can help me continue with wild creations and resources!