Looking for a Halloween-inspired DIY skincare project that's easy yet effective? Now, creepy costumes and facial masks may be all about scars, blood, and tears for those most devoted to Halloween, but I made something of the exact opposite:
We're making Aztec Healing Clay Acne Scars Oil Cleanser. In other words, a DIY mask for acne scars! In other words, a clay oil cleanser!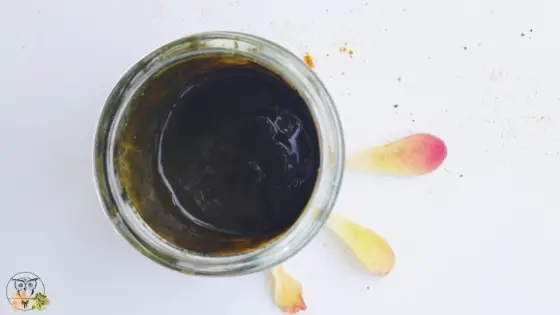 Not sure why, but lately I'm all about oils. Must be because the cold winds on the street always make my face suffer more than it deserves! And my face is big on oils as well-lately it soaks it all in no matter what I feed it!
That's why I decided to make another clay cleanser that's basically a DIY face mask for acne when it's actually the Aztec Healing Clay Acne Scars Oil Cleanser.
It's water-free (doesn't need any preservative)!
Yes, all vegan.
Easy to make, free of waxes.
It's a facial mask and an oil cleanser in one!
I made a clay cleansing bar a few weeks ago and I'm seriously and continuously in love with it! That one is definitely not a Halloween-themed DIY project, but hey! It smells beautiful and you'll love it nonetheless!
Halloween Aztec Healing Clay Acne Scars Oil Cleanser
This clay oil cleanser is creamy and oily. It has a pleasant floral and uplifting scent and I cannot get enough of it!
I apply it to a moist skin and leave it on for 10 minutes, but you can rinse it after two or three minutes if that's all you've got.
This mask leaves my skin soft, but the clay still manages to suck out the impurities no matter the oil in it! I wouldn't say the skin is hydrated after the use, I normally apply a light moisturizer after I'm done with using this mask/cleanser.
In any case, the skin looks happy, evenly-toned, and cleansed! Let me know in the comments below, how you feel about it!
Ps: the ingredients look very Halloween-like but once you thoroughly mix everything, it will look green. But don't let the swamp look put you off from trying it still!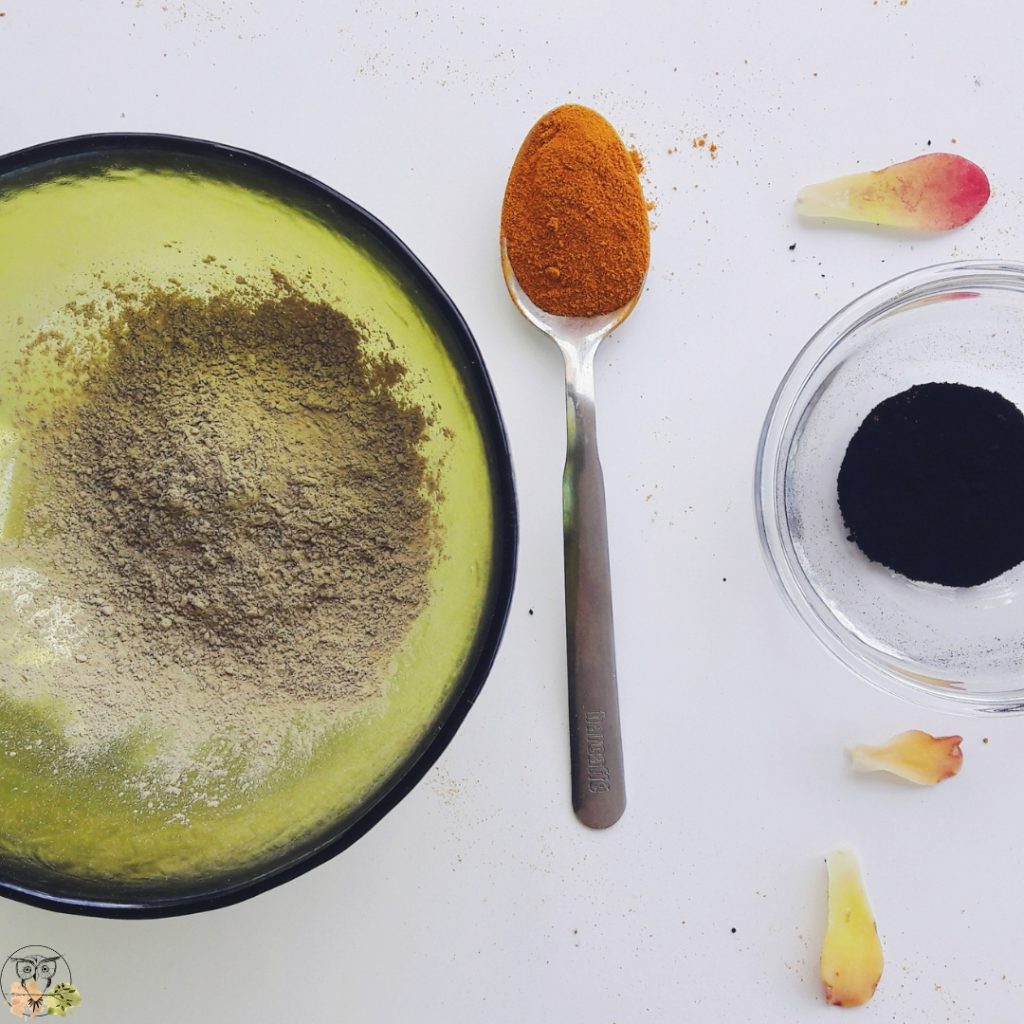 Bentonite clay
Yes, It does! If you thought bentonite clay was only great for acne and oily skin, you were wrong! It's also a natural remedy for acne scars! This is the first time I've used clay in a DIY mask for acne scars, but it only made sense because other posts on acne scars are very popular!
Anyway, there are a lot of online before-after photos, claims, and praises to bentonite clay (check these Aztec Healing clay reviews for proof!). Some people even claim the bentonite clay helped to clear their skin in as little as five days!
Bentonite clay can smooth and balance the complexion and soft the skin! The magic of bentonite clay comes from the fact that clay creates a negative electric charge when it comes into contact with water. And that's how it can bind the (positively charged) nasties to it- toxins, impurities, sebum, dirt, pollution…
Anyway, bentonite clay can help with acne scars. It heals the skin, removes the toxins, removes inflammation, and helps the skin to heal in the process. Depending on the severity of the scars, you should be able to see the difference within a couple of weeks!
I haven't found any official research on bentonite clay for acne scars, but as I mentioned, there are a dozen online reviews that confirm the incredible benefits.
Rosehip oil
Originally I wanted to include argan oil into this Aztec Healing Clay Acne Scars recipe, but I decided to go with rosehip oil instead. Why? Well, argan oil is beneficial for acne and acne scars, but I wanted something that's properly loaded with goodies and just boosts your skin in all possible ways!
Rosehip oil for acne scars is a natural remedy. You can find photos, research, and photos that all support this claim online. My skin loves it; ever since I've been using rosehip oil, it has successfully evened out my skin tone, given my skin a healthier and smoother appearance.
The power of rosehip oil lies in the fact that it's an excellent source of essential fatty acids, linoleic acid (see the full list of non-comedogenic oils for face, high in linoleic acid, and why this acid is great for acne-prone skin).
Apart from fatty acids, rosehip oil also great for your acne scarred skin because it contains provitamin A. it works excellently for the acne scars on the surface, namely the superficial scars. Studies have shown that topical application of provitamin A can improve early acne scars.
Activated charcoal
The main reason for the charcoal to show up in this recipe is because it gives a nice contrast to the bright yellow turmeric. After all, it's a Halloween themed recipe but that doesn't mean it should be left without its potential and healing powers!
Activated charcoal can be used to heal acne scars. It's good for acne, and it has mild exfoliating properties. The actual effects and results of charcoal's effects on the skin haven't been yet widely (or at all) researched. Still, it doesn't irritate skin and it is a strong natural detoxifying agent.
It's able to absorb toxins, impurities, and dirt from your skin, leaving it cleaner and healthier.
Turmeric powder
And the last treat in the recipe, turmeric powder that can give excellent results! In short, the active compound in turmeric called curcumin is the little beast that is capable of doing magic on the skin! It's a powerful antioxidant that boosts the regeneration of the skin, helps to lighten the scars naturally, and even boosts the healing process of the skin!
While many swear by turmeric latte to heal the skin from the inside, there are those who swear by a good old face mask. I'm definitely one of them, even though there's nothing better than a spicy ginger tea with cinnamon and turmeric!
Turmeric has antibacterial and antiseptic properties that should be completely safe for a topical application. It was only logical to add this powerful ingredient into this DIY face mask for acne scars recipe!
Acne scars essential oil blend
When preparing a blend for this DIY face mask for acne scars, I combined what smelled lovely and what in fact is beneficial and healing for the skin. Helichrysum essential oil helps to even the skin tone and boost the healing properties of the skin. It is a common oil used for acne scars!
I chose geranium essential oil because it helps to reduce the production of excess sebum on an already oily skin (that's why it's great also for acne-prone and combination skin). Apart from that, it's powerful benefit lies in the fact that geranium oil is a natural a powerful antioxidant. In other words, geranium oil can heal (acne) scars and even the tone of the skin!
Last but not least, bergamot essential oil has powerful cicatrizant properties that can improve the overall health of your skin. These two are the reason I added it to the recipe (apart from the lovely smell). It can heal and regenerate the skin, but be careful since bergamot oil can be photosensitive.
Don't apply bergamot and expose your skin to the sunlight at the same time. Make this mask an evening/rainy day type of mask!
Powerful Aztec healing clay: acne scars solution
Ingredients:
– 2 TBSP bentonite clay
– 1 TSP activated charcoal
– 3 TBSP rosehip oil
– 1 TSP turmeric powder
– 3 drops helichrysum essential oil
– 5 drops geranium oil
– 3 drops bergamot essential oil
– a few drops vitamin E oil
Instructions:
Combine bentonite clay, charcoal, and turmeric powder in a bowl
Add the oils and stir well until you get a runny yet creamy paste
Put the oil cleanser into a dry container
To use: take a small scoop with your hands and gently massage the mask to a damp face
Leave for a few minutes
Rinse with lukewarm water
Tap dry and apply other cleansers, serums, or creams
Tips on using this DIY mask for acne scars:
Clay shouldn't come into contact with metal. Make sure to use plastic/ceramic/wooden utensils!
This oil cleanser works as a mask as well. Massage it on your face and leave it on for a couple of minutes before rinsing it off
Turmeric should be safe to use, but make a test patch first
This Aztec Healing Clay Acne Scars Cleanser is meant to do just that: help to clear and minimize acne scars. Changing the ingredients will change the purpose of this face mask
This mask doesn't contain any water, that's why it doesn't require any preservatives. To use, simply take a bit of the mask with clean dry fingers (or a non-metal spoon) from the container and apply to the face
Have you tried oil cleansing with clay before?
Stay Wild!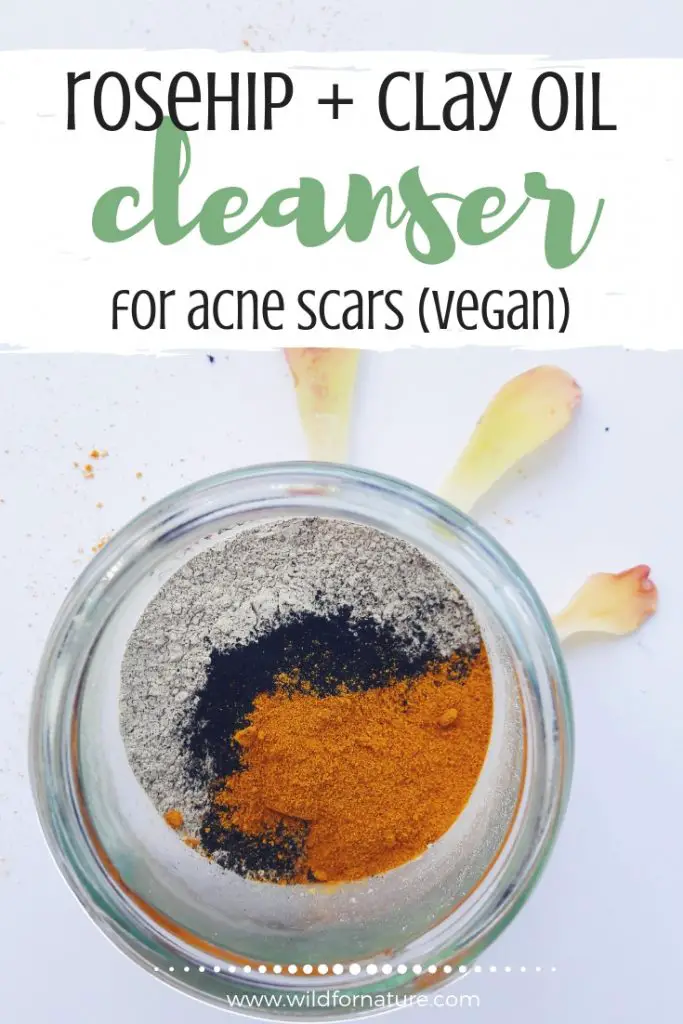 Have you made this recipe? Tag us on Instagram #wildfordiy
Help support Wild for Nature
Many of you have asked if there's a way to help support Wild for Nature. I've signed up for Buy Me Coffee. If you love what I do, learn from me, sell anything you made from my recipes, and want to see Wild for Nature grow even more, I'd be thrilled if you'd consider buying me a coffee! It works as a one-time or a monthly donation of $3. You can also get beautifully designed PDFs with a series of recipes and other resources I publish there, to help you learn and get creative at home! I can then use that money to further develop and grow Wild for Nature and you can help me continue with wild creations and resources!