Are you frantically looking at the ingredients in your skin care products? Do you always double-check the oils you're using? Do you have problems with acne and oily skin?
Well, I'm here to ease some of those struggles! Because I've prepared a list of best non comedogenic oils for face!
Between you and me, I know what it means to go through dozens of reviews, ingredient lists, and comments before I find what I'm looking for. There is a ton of information on the Internet but not all are trustworthy.
That's why I decided to dig deep, get high on coffee, and make a thorough research as possible to find the everlasting question we all want to answer:
What are best carrier oils for face when you're struggling with oily skin and acne? What oils can we use freely without a serious worry?
Let's start with the basics!
(A word of recommendation- oils may be oily skin approved, but oils still may clog pores. Suffering from a serious acne condition, only natural oils are not enough to cure the problem. You also want to consider oil free products. Still, these oils can improve, soothe, and reduce the problematic condition.)
*Some of the links in this post might be affiliate links. Affiliate links come at no extra cost to you. These links allow me to share the products I authentically recommend (and use) and support Wild for Nature by receiving a small commission.
What is comedogenic rating?
A comedogenic rating tells you whether the oil is likely to clog your pores or not. If your skin is prone to breakouts, I'd recommend you to stay away from anything with comedogenic rating 3 or higher. The oils are rated according to the following scale:
0 – Will does not clog pores
1 – Low likelihood of clogging pores
2 – Moderately low (it won't clog pores for most people)
3 – Moderate (you may break out or you may not; it all depends on the skin type)
4 – Fairly high (clogs pores for most people)
5 – High likelihood of clogging pores
What about fatty acids and comedogenicy?
The word has it (and some actual evidence as well) that oils that are rich in linoleic acid are the best choice for those who struggle with acne-prone and oily skin.
There are a number of important essential fatty acid levels that we can find in various carrier oils, but I'll focus only on the two that are relevant form the acne point of view. These two fatty acids are normally the main acids found in natural oils:
Linoleic acid (doesn't clog pores)
Oleic acid (clogs pores)
Linoleic acid for acne-prone skin
In general, oils that are high in linoleic acid, are normally more appropriate for acne-prone and oily skin. These oils are very often lighter and absorb more easily.
Studies have shown that people with acne have low levels of linoleic acid on their skin. In order to find the ideal oils for your skin, you have to look for the amount of linoleic acid in oils for acne. That's the same filter I used to base my list of non-comedogenic oils for oily skin on (among other criteria).
Another source claims that
There was a significant effect of topically applied linoleic acid on the size of follicular casts and microcomedones, an almost 25% reduction in their overall size being achieved over a 1-month treatment period.
A primary choice for those with oily skin, the linoleic acid helps to nourish your skin, restore its health and rejuvenate it at the same time. Oils, rich in linoleic acid have a shorter shelf life and can oxidize if not stored properly (in other words, keep them in the fridge or combine them with vitamin E oil for additional shelf-life).
Oleic acid for dry skin
For those with dry skin, oils high in oleic acid should be the oils of choice. These are much heavier and greasier on the skin. It takes time for these oils to absorb and they can clog pores as well.
Apart from that, oleic acid has anti-inflammatory properties. These oils normally have a longer shelf-life and seal in moisture very well!
Additionally, other oils that have anti-acne properties contain lauric acid. Some of these oils are babassu, palm oil, coconut, and date seed oil. Still, coconut and palm oil are known to clog pores. It's sort of a win-lose situation with these oils so I'd suggest you avoid them instead. (Acne Mantra website seems to have the same opinion).
Below, I've provided an extensive list of oils that are high in linoleic acid and are approved to use for oily and acne-prone skin. These oils should be safe to use for acne-prone and oily skin.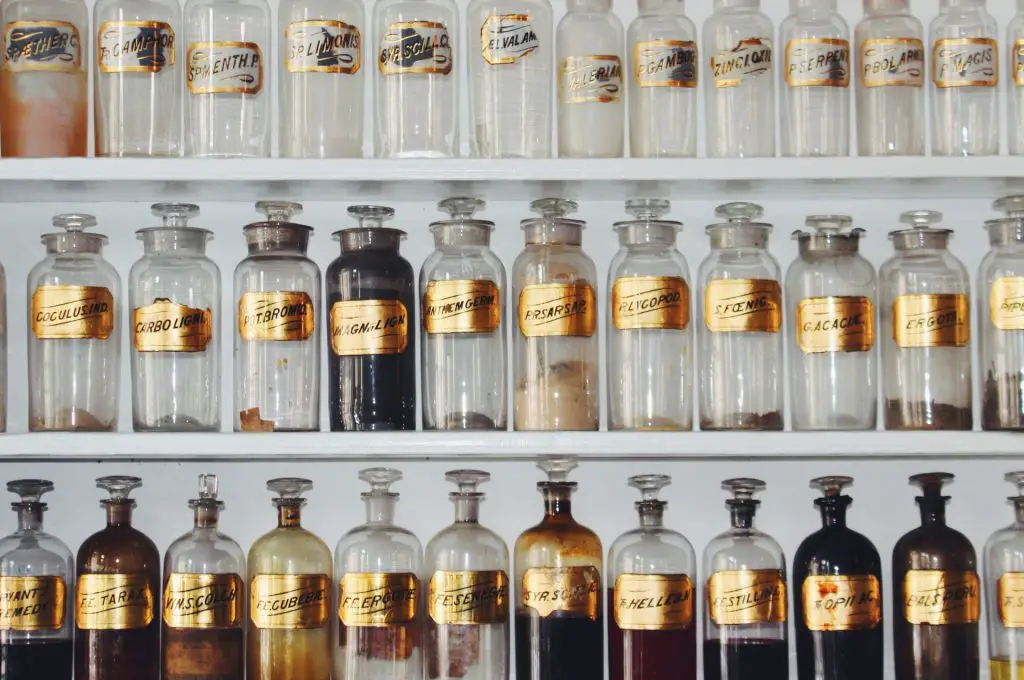 Best non comedogenic oils
Have a look at which carrier oil is best for acne prone skin. In other words, we'll have a look at oils that won't clog pores.
What's more, the majority of the oils on the list are high in linoleic acid, but the absolute top 5 are hemp seed oil, evening primrose oil, grapeseed oil, black cumin seed oil, and safflower seed oil.
Before you go all shop-frenzy on these oils, keep in mind that oils, rich in linoleic acid are likely to oxidize and go rancid much more quickly than the oils rich in oleic acid. That's why I'd recommend you store them in a fridge.
Another thing I'd recommend is to use these oils in the evening (and not during the day). Since they're prone to oxidation, they can cause further damage to the skin when exposed to the direct sunlight (rosehip oil is one of them).
Now, here's the list of carrier oils comedogenic rating:
Linoleic acid: 37%
Oleic acid: 43%
Comedogenic rating: 0
Skin type: most skin types
Linoleic acid: 59%
Oleic acid:30%
Comedogenic rating: 0-2
Skin type: most skin types
Rich in oleic acid, shea butter is one of a kind. Its comedogenic rating is low and it somehow doesn't seem to cause breakouts for the majority of people. Some of you may find it horrible and a no-no oil for acne-prone skin, but most should handle it very well. I suggest you try before you dive all in!
Linoleic acid: 3-8%
Oleic acid: 40%
Comedogenic rating: 0-2
Skin type: normal, dry
Linoleic acid: 56%
Oleic acid: 11%
Comedogenic rating: 0
Skin type: most skin types, also oily and acne-prone
Linoleic acid: 70-80%
Oleic acid: 10-20%
Comedogenic rating: 0
Skin type: most skin types
Linoleic acid: 44%
Oleic acid: 23%
Comedogenic rating: 0-1
Skin type: most skin types, especially oily and acne-prone
Linoleic acid: 62.7%
Oleic acid: 15%
Comedogenic rating: 0-1
Skin type: dry, acne-prone, and combination skin
Another one of my favorites, I love how fast grape seed oil absorbs into the skin. Oh, and the soft and smooth skin it leaves behind, just beautiful!
Linoleic acid: 63-72%
Oleic acid: 21%
Comedogenic rating: 01
Skin type: most skin types
For best results, mix castor oil with another carrier oil. It's very thick and difficult to spread on the skin evenly.
Castor oil is popular in OCM, but see my guide on oil recommendations for acne-prone skin in the oil cleansing method.
What's more, castor oil is a rich source of ricinoleic acid (90%) which makes it a very drying oil.
Linoleic acid: 4%
Oleic acid: 4%
Comedogenic rating: 1
Skin type: oily, acne-prone, and other skin types
Borage oil is a good source of GLA or gamma-linolenic acid. It nourishes, soothes, and regenerates the skin, inflammation, and it's excellent to use for various skin conditions (acne, eczema, and psoriasis).
Linoleic acid: 39%
Oleic acid: 18%
Comedogenic rating: 2
Skin type: oily, combination, and sensitive
This is one of my all-time favorite oils. I have combination skin and my skin loves rosehip and rosehip loves it in return! It's rich in color and components that nourish and feed the skin! PS: it also has  anti aging and many other properties!
Linoleic acid: 44%
Oleic acid: 14%
Comedogenic rating: 1
Skin type: oily, acne-prone
Linoleic acid: 77%
Oleic acid: 12%
Comedogenic rating: 1-2
Skin type: oily, acne-prone
Linoleic acid: 60%
Oleic acid: 22%
Comedogenic rating: 1-2
Skin type: combination and oily skin
I know, it's another strange oil on the list. Rich in oleic acid, it's nonetheless recommended for acne-prone skin. Keep in mind that neem oil has a strange smell! You might not like the smell, but then again, there are many that don't!
It's on the non comedogenic list because it has strong antibacterial and anti-inflammatory properties. It protects the skin, but combine it with other non comedogenic carrier oils for best results. Read this post on neem oil skin benefits for more info!
Linoleic acid: 13%
Oleic acid: 50%
Comedogenic rating: 1-2
Skin type: acne-prone and dry skin
Linoleic acid: 75%
Oleic acid: 6%
Comedogenic rating: 2-3
Skin type: combination, oily, and acne-prone
Oils I don't recommend for oily and acne-prone skin
Cocoa butter (comedogenic rating: 4, best for body skincare. It's not recommended for acne-prone and oily skin. It's rich in oleic and stearic acids)
Coconut butter (comedogenic rating: 4, recommended for dry skin in body skin care. It's high in oleic and stearic acids)
non comedogenic coconut oil (nah, not really. Coconut oil comedogenic rating: 4. If you have oily/acne-prone skin and worry about breakouts, avoid this oil at all costs. Coconut is best for dry skin and body skincare products. It's rich in oleic, palmitic, and stearic acids)
Palm oil (comedogenic rating: 4, best used for very dry skin, in body products. It's high in oleic acid)
Wheat germ oil (comedogenic rating: 5, recommended for very dry, sensitive skin and for spot treatment. It's rich in linolenic acid)
Olive oil may also clog pores
Avocado oil is a tricky one; it may or may not clog pores but that depends on each person individually. You can try it but use with caution
What oil is good for acne scars?
There are a number of natural remedies you can find online for acne scars. I haven't tried any of those, but I have written about three things that could potentially heal acne scars (one has whole scientific research to back it up)!
Rosehip seed oil for acne scars
Argan oil for acne scars & acne
Bentonite clay face mask (recipe follows)
Other oils that have healing properties and could also help heal acne scars are:
Hemp seed oil
Jojoba oil
Castor oil
Tamanu oil
I haven't tried any of these. Whether they actually help or not is either up to you to find out. Let me know in the comments below what do you think of these four oils for acne scars (are they really effective?)!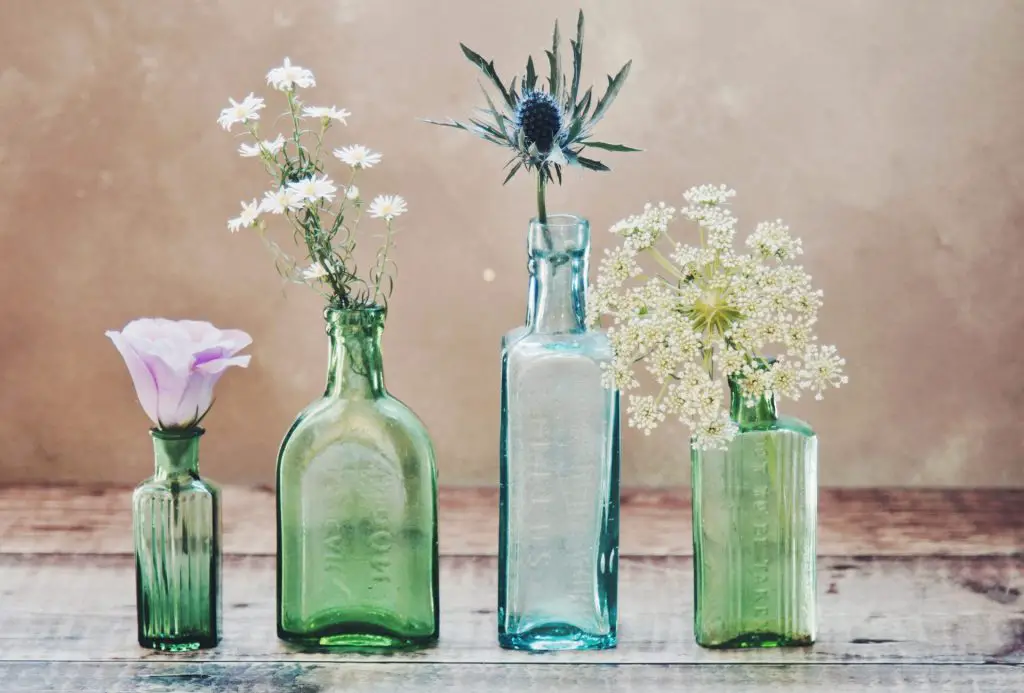 What is the best essential oil for oily skin and acne?
Essential oils are potent natural remedies that can alleviate and help with a number of skin and health conditions (think a sore throat, sunburn, and even dark circles). It's only understandable that they may aid in dealing with acne as well.
They can soothe stress, improve the overall health of the skin, and prevent breakouts, bacteria that causes acne, and help to balance the sebum production on our skin.
Overall, essential oils are non-comedogenic and you can freely add them to your DIY skincare. Below, you can find the best ones for oily skin.
How obvious, huh? The always-present tea tree oil truly is one of the most powerful natural remedies for acne. It's all you could need in such a battle: antibacterial, antiseptic, and anti-inflammatory. It helps to unclog pores and eliminate the bacteria, impurities, and dirt.
According to this study on acne and tea tree gel,
Applying a 5% tea tree oil gel appears to be as effective as 5% benzoyl peroxide (Oxy-5, Benzac AC, and others) for treating acne. Tea tree oil might work more slowly than benzoyl peroxide but seems to be less irritating to the facial skin. When applied twice daily for 45 days, tea tree oil reduces several acne symptoms, including acne severity.

A smaller study published in the Indian Journal of Dermatology, Venereology and Leprology in 2007 involved 60 people with mild to moderate acne who were treated with either a gel containing 5 percent tea tree oil or a placebo for 45 days. Researchers found that the tea tree oil was more effective than the placebo in reducing the severity of acne and the total number of acne lesions.
Another natural acne remedy, clove oil can also be used to soothe this skin condition and heal it long-term. It has anti-inflammatory, analgesic, and antibacterial properties. It's a very potent oil that may cause some skin irritation, so a test patch before using is a must! Also, don't use this oil undiluted on your skin.
Otherwise, clove oil can prevent breakouts, kill bacteria, and numb the hurt area with its anesthetic properties. It is very powerful and it can soothe and solve a problem quite quickly!
Another savior on the list, lavender is such a versatile oil that it just had to find its way to this list. Its numerous properties can help take acne problem under control, soothe breakouts, clear clogged pores, and improve blood circulation.
Lavender oil has antibacterial, anti-inflammatory, and astringent properties. It's even more potent when used in combination with tea tree oil (as in my facial mask), and this study confirms these facts:
Both the total number of Propionibacterium acnes and the number of inflammatory lesions were significantly reduced in the treated subjects. These results indicated that aroma oils have antimicrobial effects and improve in vivo acne lesions. Thus, tea tree and lavender oils may be alternative treatments for patients who do not prefer to use existing antibiotic treatments for their acne.
This floral essential oil can help regulate and balance the sebum production of the skin. It's an excellent remedy for oily, acne-prone, and combination skin. It also helps to tighten the skin, but it's amazing benefits lie in the following properties: antibacterial, antifungal, antiseptic.
In connection with these properties, geranium oil can also help with eczema, skin rashes, and breakouts.
Ah, yes. Peppermint essential oil is here to the rescue! It promotes healthy skin, it has cooling properties and improves skin complexion.
Yes, it improves the overall appearance of the skin and its health, it has antiseptic, antibacterial, and antifungal properties and it's one of the best essential oils to treat acne problem.
Eucalyptus has proven its worth in a number of researches on acne. It can balance and decrease the sebum production on the skin, it prevents more acne to pop up, and it also heals scars that are caused by acne.
According to this study from 2011
The eucalyptus oil, obtained from Eucalyptus globulus Labill. (Myrtaceae) was chosen and its biocide action on various bacterial strains was established using agar-well diffusion technique to prove its efficacy in controlling the secondary infection condition i.e. worsening of acnes. The in vivo rat sebaceous gland model was chosen to show the effectiveness of eucalyptus oil in decreasing the sebum production by reducing the size of sebaceous glands to control the spread of acne. The results were found to be promising for eucalyptus oil in controlling the sebum protection and thus establishing the other pathway for the management of acne
Apart from the lovely smell, lemongrass oil has antibacterial, antioxidant, and anti-inflammatory properties. Due to these characteristics, lemongrass oil may be useful in treating acne problems in topical application.
Antiseptic, anti-inflammatory, antibacterial, and astringent properties of rosemary oil make it one of the very helpful oils to keep in your collection of natural remedies for acne.
Rosemary oil helps to kill the acne-causing bacteria, naturally detoxes the skin, and removes the excess sebum, impurities, and pollution. It's not the best when it comes to acne fighting, but then in this study, it was compared to neem, tea tree, and cinnamon oil. Still, its properties are beneficial and healing nonetheless!
Do you want the acne-causing bacteria dead? Thyme's here to do just that! It has become a popular substitute of Benzoyl Peroxide (which has been shown to cause skin irritation, more inflammation, and could not be considered as a long-term solution).
Thyme oil, however, can destroy acne and is a completely natural remedy. This abstract claims that thyme was one of the most effective essential oils when it comes to Propionibacterium acne!
Okay, not everyone is a fan of lemon oil. To me, it smells like a bathroom freshener, and I've never used it. But! The research done on lemon-acne connection seems to oppose my belief.
Lemon oil is antibacterial, antimicrobial, and astringent oil that helps to fight and reduce bacteria that causes acne. What's more, it reduces excess sebum and removes dirt from your pores.
Which essential oil is best for acne scars?
Frankincense
Bergamot
Lavender
How do you use essential oils for acne?
There are a few different ways in which you can use essential oils for acne problems. I swear by topical application and a face mask but to each their own. Some of the most common essential oils application practices are:
Dilute with a carrier oil
The safest and probably most popular way of using the essential oils is by diluting them in a carrier oil. Apart from the neem and castor oil (which should be diluted with other oils), you can use the oils from the list directly on your skin. That way you can make your oily skin-approved moisturizer!
Add a few drops of essential oil into one of the carrier oils from the list. Gently massage the mixture on your face or apply only to the problematic area of the skin.
The ideal ratio should be 3-4 drops of essential oil to 1 TBSP carrier oil.
Topical application of pure oils
As a general rule, you shouldn't apply essential oils undiluted to your skin. I may be guilty of doing just that. The direct topical application works great when it comes to treating individual pimples. Still, this is my experience only. I've never had any allergic reaction to the essential oils I use.
Add a drop or two of essential oil to a cotton pad and pat a pimple with it. Before doing that make sure you've tested your skin for potential allergic reactions to that essential oil. What's more, some essential oils shouldn't be used when you have/are in a certain condition (pregnancy, breastfeeding, etc.)
For complete essential oil safety, check out this book. It's quite thorough when it comes to dealing with essential oils.
Facial steam
Facial steams are becoming a thing, yet they are not. They're always in the background but that doesn't mean you should neglect them as well!
Steaming your face now and again can benefit it in the long run, also for people with acne-prone skin! After all, acne are caused by bacteria, sebum, and dead skin cells. A steam helps to open the pores, releasing these nasties from your skin by clearing it and unclogging the pores.
What's more, by steaming your face, your skin becomes more permeable. That means that it's able to absorb any acne treatment you use afterward better than it would normally.
Facial steaming also improves the circulation of the skin, hydrates it, and helps you relax.
And the most important question: how do you use essential oils in steam? Well, you add a few drops of the essential oils, but not more than 2 or 3 drops to a bowl of hot water. Place the towel over your head and the bowl, and bend over the bowl (keep your face at least 6 inches above the bowl). Stay under the towel for 10 minutes (with breaks if necessary). For oily skin, I'd recommend you do this twice a week and no more than that.
Face wash
I haven't made any recipes that would primarily target acne-prone skin, but you can either go with an oil cleansing method (see point number 6) or find a simple and light cleanser that isn't strictly based on oil. Feel free to go with my micellar water recipe as well!
Face mask
A face mask can be very effective when it comes to treating acne. By combining ingredients that help to fight, reduce, and eliminate acne, you can reap amazing results.
One of my all-time favorite ingredients is definitely bentonite clay with the addition of essential oils. Some of the recipes that are made with an intention to help with acne problem are
Bentonite clay face masks (this post contains amazing and easy masks you can make to soothe acne; I'd recommend #2, #3, #5, and #6, but feel free to try any other from the list as well!)
Oil cleansing method
Last but not least, you can always try and fight acne with an oil cleansing method. Because oil dissolves oil. It's a strange philosophy, but it seems to work for a number of people. It may not work for you, but it still is worth giving it a try. Make your own non comedogenic oil cleanser with the help of my post on the oil cleansing method for a complete guide.
Best non-comedogenic oils- can they help?
When it comes to acne, you have to understand there are different reasons for their appearance. Poor diet and unhealthy lifestyle also have an influence on the health of your skin.
But in short, while oils are not the only solution to the oily and acne-prone skin, they can still play an important factor. Make sure to pay attention to the following:
essential oils can be very beneficial but don't forget to test for allergies
linoleic acid is good, oleic acid isn't as welcoming for acne-prone skin
oils, high in linoleic acid can go rancid quickly (keep them in the fridge or prolong their shelf-life with a few drops of vitamin E oil)
don't use oils (high in linoleic acid) on a sun-exposed skin; for best (and safest effects) apply them to your face in the evening, before you go to bed
always check carrier oils comedogenic rating before applying if you're not sure that it's safe to use
What do you think of these natural oils for acne-prone and oily skin? Have you tried any? Let us know in the comments below!
Stay Wild!

Summary

Article Name
Which Carrier Oil Is Best For Oily Skin? Find Out With Detailed Guide...
Description
The ultimate list of non comedogenic oils for acne-prone and oily skin. Have a look at complete carrier oils comedogenic rating and essential oils with tips on how to use them!