Wild morning to you, pretties! Itchy scalp? Yes, it happens! There are many different causes of it and they range somewhere between stress and poor nutrition to allergic reactions.
No matter the cause, irritated scaps is annoying and irritating. That's why today I've prepared a list of top 10 natural remedies to treat that itch and short descriptions of how to get rid of itchy scalp.
Ready? Let's find you the right itchy scalp remedy!
This problem is more common than you might thing. Above all, it's an annoying thing and there's no doubt about it. I suffer from it now and again, the worst is normally during summer, just above my neck. It's hot, humid, and my hair, my scalp and I are not taking that combo all too well.
So I started digging to discover what that soothing remedy that would work and not be too time-consuming to make. So, after a long time of testing and trying, here are the natural ingredients you can use in your homemade itchy scalp remedy.
Coconut oil is very beneficial for a lot of skin or hair problems. I regularly use it for oil pulling as well, but that's another topic for another time.
Coconut oil is very beneficial for my hair; I've been using it for quite a long time (even though not as regularly as I would want) and my hair is always extremely grateful since it's curly, prone to breaking and dry ends.
Coconut oil benefits
Contains loads of fatty acids that possess antibacterial and antimicrobial properties
Rich source of lauric acid which works as an antibacterial and antifungal agent
Improves skin and hair moisture
Heals and restores hair health
Gives a shiny look to the hair
How to use coconut oil for an itchy scalp
Apply on the scalp and on your hair. Massage the scalp so that the oil is well absorbed. Coconut oil has also anti-inflammatory properties. It can help treat the itchiness and provide your scalp with moisture. I made this simple coconut hair mask that I massage onto my scalp and hair every once in a while whenever my scalp starts to irritate me.
Tea tree oil is a very effective natural remedy. It has been used in Australia for centuries, plus I love the smell; relaxing yet fresh: I've mostly used it as an essential oil in my essential oil diffuser; it was only recently that I've discovered that the use of essential oils goes well beyond that.
Tea tree oil benefits
Antibacterial, antifungal properties
Helps to unclog hair follicles
Helps fight and reduce dandruff
Very hydrating for the hair
Boosts hair growth
How to use tea tree oil for an itchy scalp
Apply a few drops of tea tree oil to one tablespoon of carrier oil (coconut, for instance). Mix the two oils well and apply to the scalp. Massage it for a few minutes and leave it on your scalp overnight. Rinse your hair in the morning. Tea tree oil helps to nourish the scalp and to eliminate the dryness.
Learn to bring this staple kitchen ingredient to a new level; apple cider vinegar is a remedy that is useful all around and probably already is in your possession. Easy, cheap and on the reach of your hand!
Apple cider vinegar benefits
Naturally rich source of acetic acid
Antifungal, antibacterial properties
pH level of ACV is similar to that of human hair, which is why the vinegar can restore the acidity of your scalp and hair, especially if you have oily hair
Prevents dandruff and further flaking
A perfect natural cleanse for your hair (from all the gels, sprays, serums and other masks)
Prevents hair to detangle
How to use apple cider vinegar for an itchy scalp
Mix the apple cider vinegar (1/4 cup) with water (1 cup) and apply to your scalp. Massage the mixture well and repeat the procedure twice a week.
Commonly referred to as liquid gold¸ it was traditionally used to treat skin diseases. On the culinary side, argan (food) oil is used on salads, couscous or for dipping bread in Morocco, a country of origin or argan oil. The argan tree is also known as the tree of life by the Moroccans.
 Argan oil benefits
A very rich source of vitamin A and E
Loaded with antioxidants
Rich in Omega 6 and Omega 3 fatty acids
Hydrates and softens skin
Aids with acne, eczema
Slows down the aging process
Repairs split ends
Nourishes hair, gives them a shiny look
Reduces and tames hair frizz
Protects and heals damaged skin
Reduces stretch marks
How to use argan oil for an itchy scalp
Apply argan oil on your scalp and massage well for a few minutes. Leave it overnight and rinse your hair in the morning. Argan oil has nourishing properties and is very hydrating and beneficial for the hair and the skin.
Native Americans used jojoba to treat and heal skin conditions and damaged dry hair. It is very popular in the cosmetic industry; it is used for various skin problems, such as sunburns, acne. Jojoba oil hydrates and moisturizes your skin, some people use it as a make-up remover.
Jojoba oil benefits
a very rich source of vitamins E and B-complex
contains a good amount of minerals
Antioxidants in jojoba oil regenerate skin
Hydrates skin
Anti-inflammatory and antiseptic
Used for treating acne
Boosts hair growth
Gives healthy shine to your hair
Works as a natural hair conditioner
How to use jojoba oil for an itchy scalp
Massage the jojoba oil directly onto your scalp and leave overnight. Rinse your hair in the morning. Jojoba oil is very beneficial for the hair as well as the skin.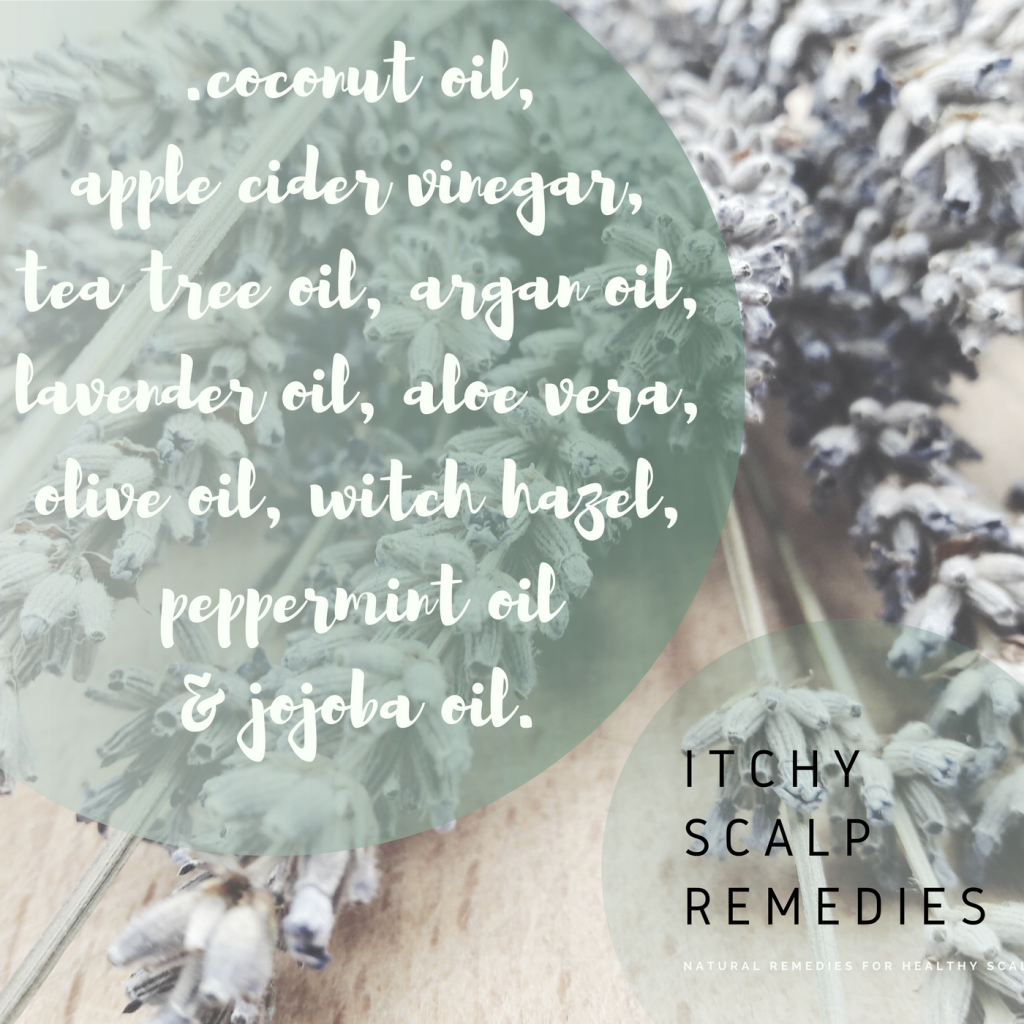 With its various uses, lavender oil is a well-known natural remedy for a number of things: a relaxing bath, a perfume, a dandruff solution, an acne treatment or a skin detox therapy.
Lavender oil benefits
Contains a good amount of phytochemicals (chemicals found in plants; they protect cells from damage and aid to prevent diseases)
A powerful antiseptic
Reduces stress and anxiety; it has a strong calming effect
Boosts hair growth
Helps reduce dandruff
A great relief for dry scalp
How to use lavender oil for an itchy scalp
You can either combine lavender oil with other essential oils (eucalyptus or rosemary) for a better effect or add 5 drops of lavender essential oil to a tablespoon of carrier oil (coconut, olive or jojoba) and apply to your scalp twice a week. Leave in for about an hour, then wash as you normally would.
Keep in mind that essential oils are very potent, so they may cause irritation if applied by themselves. That's why it's better if you mix them with a carrier oil.
Used as a remedy for hair loss, peppermint essential oil has a lot of powerful properties that are highly beneficial for our skin, hair, and health. It is a perfect remedy to soothe irritated skin.
Peppermint oil benefits
Contains loads of minerals (copper, potassium, magnesium…)
Rich source of omega 3 fatty acids
Antifungal, anti-inflammatory, antibacterial properties
Menthol (in peppermint) has numbing and cooling properties
Boosts circulation of the scalp
A great remedy to soothe scalp affected by dandruff
Stimulates hair growth
How to use peppermint oil for an itchy scalp
Mix peppermint oil (as with lavender oil, 5 drops) with a tablespoon of carrier oil (olive, jojoba, coconut) and apply directly on the scalp. Massage well and leave well for an hour before rinsing your hair.
Aloe vera has become increasingly popular; also known as the plant of immortality, it is used as a natural remedy for various skin damage and conditions, such as sunburn, cold sores, and burns. Some people use it as a hair moisturizer. The uses of aloe vera, however, go well beyond that.
Aloe vera benefits
A rich source of vitamin C, E, beta carotene and vitamin B12
Rich source of minerals: calcium, magnesium, zinc, iron, manganese, sodium
Anti-inflammatory and antimicrobial properties
Reduces cholesterol
Regulates blood sugar levels
Great for oral health
Aids with hemorrhoids
A perfect natural moisturizer
Speeds skin healing process (in case of wounds, burns, cuts)
Boosts hair growth
Prevents dandruff
Maintains the pH balance of the scalp
Nourishes the hair and the scalp
A great natural hair moisturizer
How to use aloe vera for an itchy scalp
Apply aloe vera gel on your scalp. Leave it for 15 -20 minutes and then rinse with lukewarm water. Aloe vera is a natural moisturizer and it has soothing properties.
I love olive oil! the smell, the texture and it is a great addition to basically anything I make in the kitchen. However, while using olive oil daily, very few people would actually think of its uses spreading farther than the kitchen cupboard. Olive oil has, in fact, plenty of benefits in terms of our health, skin and hair care.
Olive oil benefits
A good source of vitamin E
Contains omega 6 and 3 fatty acids
Rich source of monounsaturated fat
Loaded in antioxidants
Anti-inflammatory
A natural skin moisturizer
A natural make-up remover
Anti-aging properties
Boosts skin health
Helps fight hair loss
Boosts hair growth
How to use olive oil for an itchy scalp
Massage the oil onto your scalp and hair. Leave it overnight and rinse your hair in the morning. Olive oil offers a relief from the itchiness and heals the scalp.
Popular with native American tribes, witch hazel has numerous benefits for the skin. It has astringent properties, it contains volatile oils and flavonoids amongst others. Witch hazel helps fight free radicals that damage skin cells, due to its antioxidant properties. It also helps to slow down the aging signs and boosts the healing process of infected and irritated skin.
Witch hazel benefits
Anti-inflammatory and antioxidant
Aids with dandruff
A great remedy for a scalp irritation
Boosts blood circulation
Soothes dry, irritated skin
Useful as a make-up remover
A great natural acne treatment
Offers relief in case of insect bites, eczema
Aids with sunburns and razor burns
Nourishes dry skin
Heals bruises and minimalize them
Aids with oily skin
How to use witch hazel for an itchy scalp
Mix 1 part witch hazel with 1 part water and apply it to the scalp. Massage well and leave on for about 10 minutes. Rinse with water afterward. Witch hazel reduces the inflammation and helps treat the infection.
Tips on how to prevent an itchy scalp:
wash hair with lukewarm water or cold water
stop washing your hair every day
avoid blow dryers, hot irons, as they cause additional damage
massage scalp a few times a week
avoid harmful ingredients, use natural and organic shampoos and hair products instead
What are your favorite remedies? Let me know below!
Stay wild!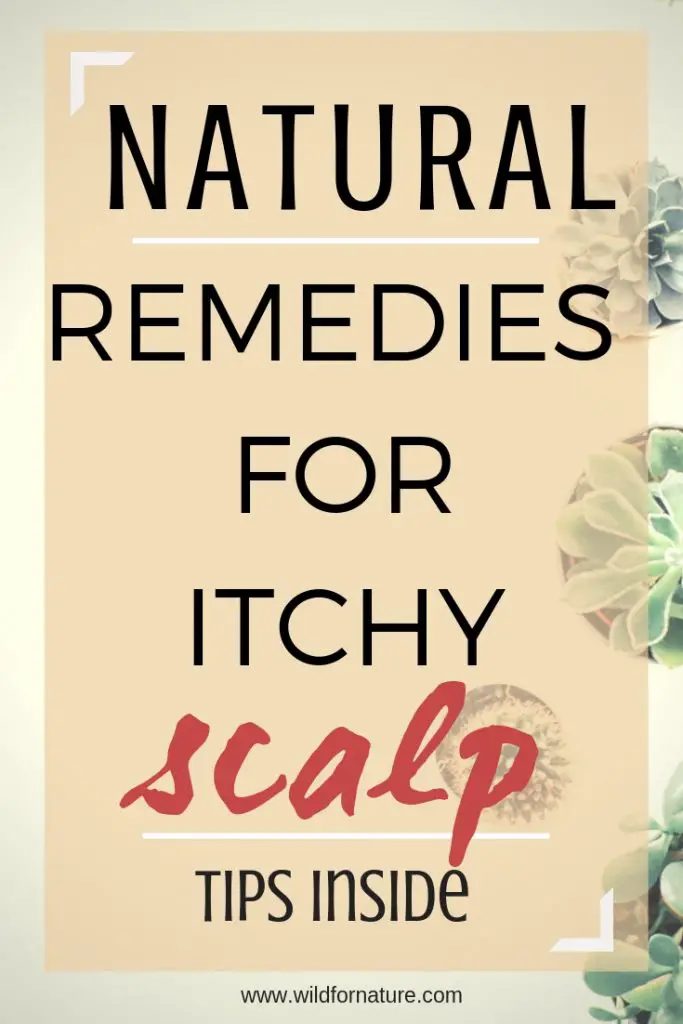 Save
Save
Save
Save