Wild morning to you, pretties! I had to make my own coconut oil hair mask for itchy scalp the other day because the weather combined with my hair dryer leaves my scalp in a terrible state.
Trying this mask, however, made me very happy; the anti-inflammatory properties of these lovely ingredients combined with two essential oils really had a positive effect and the itch is no more. Well, down to a minimum, at least.
Ready? Let's make it!
I've been a fan of coconut oil ever since I've tried it in my first body butter. Well, even before that, when I first started cooking with it. Now, don't worry, this post won't be an ode to coconut oil, I'm sure you've heard it all before.
The more I used coconut oil, the more I've come to appreciate its benefits and despite its flaws. Yes, it has those and you may have learned about them already, the hard way. Coconut oil isn't the cure-all ingredient that's suitable for everyone and everything.
It can clog pores and cause breakouts, so don't use it on your face. There are plenty of other oils that will do your face and skin justice!
It's great for oil pulling if you can bare oil in your mouth first thing in the morning.
It's great for cooking curries (I love me a homemade Thai curry with lemongrass and coconut milk, yyuuum!)!
It doesn't necessarily sink into the skin the way it should when you use it as a body oil. It leaves greasy traits and shiny appearance. Very shiny appearance.
But as much as I love it in my curries, I also love it on my hair. Now, coconut oil may not be best for all hair types. If you try it and it doesn't give you the smooth soft shiny locks (or whatever type you have), it may not be your thing.
Also, if you're totally over coconut oil, and looking for more diversity, have a look at this deep-conditioning hair mask instead.
If you still want to know about this hair mask, read on!
Coconut oil hair mask for itchy scalp
There are various reasons as to why I make these kinds of masks myself; basically, having control over what goes onto my skin and hair is most definitely the most important one. By creating my own products, I can use only natural and organic ingredients, which basically means ingredients that are toxin-free, without any harmful chemicals or fillers.
I've collected four ingredients for this DIY coconut oil hair mask, of which argan oil is definitely one of my personal favorites when it comes to hair care. All these ingredients are nurturing for the hair and scalp. They make my hair shiny and soft and the one rule I have when it comes to this mask: always-leave-it-overnight.
Have a look at the ingredients:
Coconut oil
Everyone loves coconut oil, and I am definitely no exception to an extent. Coconut oil has antibacterial, anti-inflammatory, antifungal and antiviral properties. It is a natural moisturizer and it boosts skin recovery. I've tried it with oil pulling, many-a-time made a coconut oil hair mask as one of those natural remedies for an itchy scalp, and it soothes irritated skin as well.
Argan oil
Liquid gold, as it is also called, argan oil is the elixir for the hair, as far as I know. I use it now and then and nothing leaves my hair as soft and smooth as argan oil because it's just one of those natural and organic ingredients that are a must if you're going DIY cosmetics. It is very nurturing, it soothes itchy scalp and repairs split ends, aids with damaged skin because it is loaded with antioxidants. It even supposedly helps if you're dealing with acne, and it's lovely in a facial serum or DIY moisturizer.
Cedarwood essential oil
Cedarwood has a soothing effect on the mind and the body. I've bought it because it supposedly has a beneficial effect on the scalp and hair, but it's beneficial for the skin as well. It aids in acne, and eczema, due to its anti-inflammatory and antibacterial properties. With its antifungal properties, cedarwood protects the scalp. It also boosts blood circulation, which means it aids and influences hair growth and health.
If you were wondering how to use cedarwood oil for hair, now you know. Add a few drops in a hair mask and you're good to go. Easy!
Sweet orange essential oil
The uplifting and happy smell, sweet orange is anti-inflammatory, and in this mask, it also serves as a natural perfume. Apart from that, it aids with oily skin and my scalp really likes it because apparently has a soothing effect on it.
Nourishing coconut oil hair mask with essential oils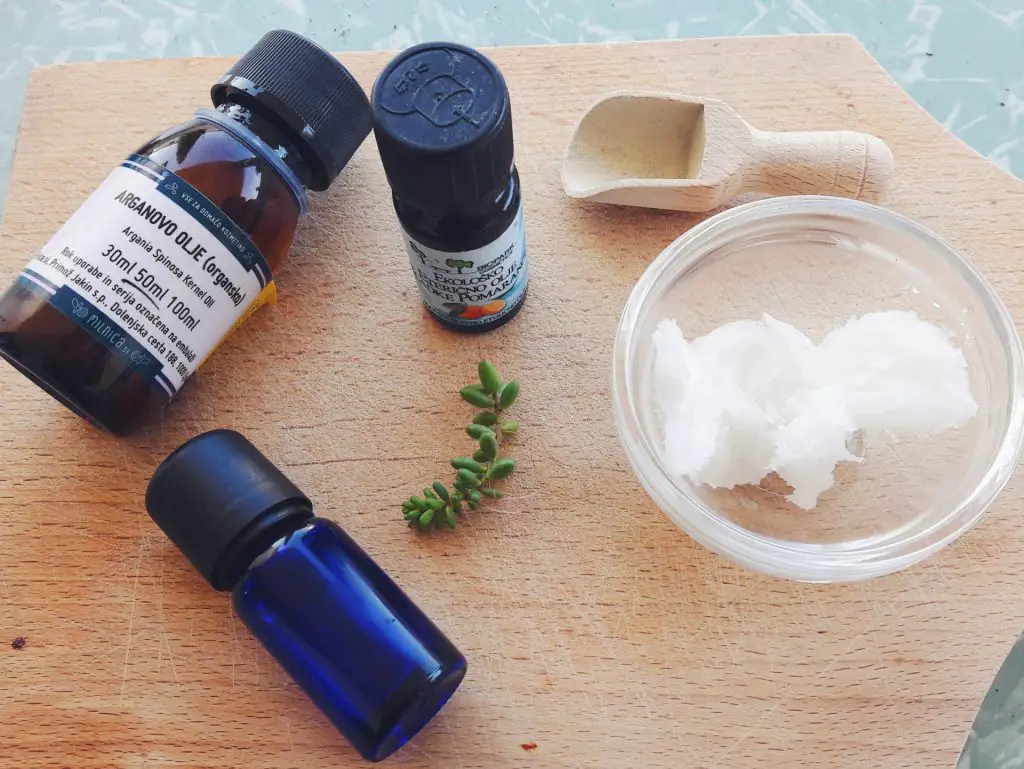 In order to make this DIY argan oil hair mask with coconut oil, a cocktail for itchy scalp, you only need four ingredients and the mask should be ready in 5 minutes (depends on the melting time of coconut oil).
After that, feel free to slather it on your scalp and hair, massage it as you progress and enjoy your fresh and soft hair.
Cedarwood + Coconut Oil Hair Mask for Itchy Scalp
Ingredients:
– 2 tablespoons coconut oil
– 1 tablespoon argan oil
– 3 drops sweet orange essential oil
– 3 drops cedarwood essential oil
Instructions:
Melt coconut oil in a double boiler if necessary. If it's already soft, mash it with a fork a bit and mix all the ingredients together.
Set aside and add the rest of the oils
Stir well
Apply to dry scalp and hair
Massage the scalp thoroughly
Cover your head with a towel
Leave the mask on your hair from 1 to 3 hours
Rise with lukewarm water
Wash as you normally would
Notes:
You can also double or triple the ingredients and make a larger batch in advance. Just make sure that you don't touch the mask with wet hands.
Do you apply a hair mask to wet or dry hair?
For best effects, apply your mask on dry hair. The longer your hair, the more time you'll need to apply, but it'll be worth it. I need about 15 to 20 minutes and my hair and scalp are very grateful.
 Is it OK to leave coconut oil in your hair overnight?
Based on my experience, it's more than well to wear a hair mask overnight. I normally go to sleep with this specific one and I love the results. Those 8 hours always give time to the mask to really sink in. the hair and the scalp soak up the oils, making it also easier to wash my hair the following morning.
What I do is apply the mask, cover my head with a shower cap, and top that with a towel. That way I don't make a mess of my pillow and bed.
If you're short on time, you can wash it out after an hour or so.
Can coconut oil help repair damaged hair?
Again, I'd say that definitely. Coconut oil has improved the overall health of my hair; and I've dyed it, apart from the fact that it's also curly and therefore naturally dry. it loves oil masks and it soaks them right up.
With all the benefits of coconut, it can help repair the hair.
Can coconut oil ruin your hair?
And then there are those who claim that coconut is a bad thing for you. Well, coconut oil isn't appropriate for all hair types. If you try it and see there's no serious effect (or your hair feels worse), simply stop using it.
According to Wellness Mama, coconut oil
helps the hair retain its natural protein, it can be helpful for those who lack enough natural protein in hair follicles. Studies have even confirmed coconut oil's benefits for certain types of hair, but it isn't for everyone!

Typically, those with fine to medium shiny hair will see good results from coconut oil and notice stronger, shinier hair with more volume. Those with coarse or dry hair may not struggle with low protein at all and coconut oil may lead to more brittle hair and hair loss. These people may benefit more from other types of oil like marula oil or argan oil.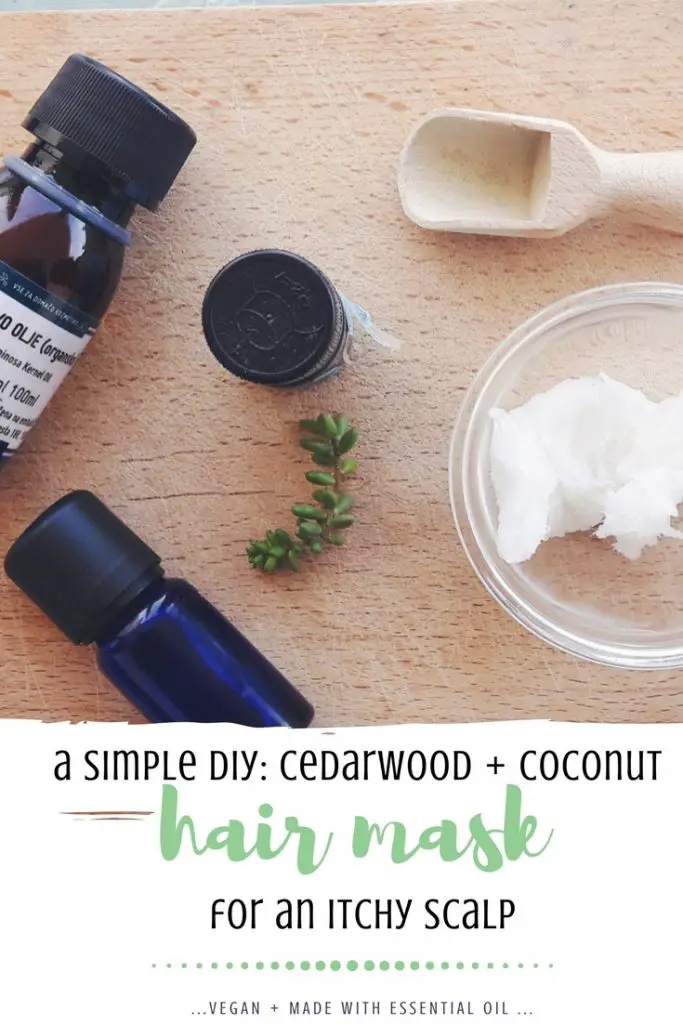 Have you made this recipe? Tag us on Instagram #wildfordiy
Help support Wild for Nature
Many of you have asked if there's a way to help support Wild for Nature. I've signed up for Buy Me Coffee. If you love what I do, learn from me, sell anything you made from my recipes, and want to see Wild for Nature grow even more, I'd be thrilled if you'd consider buying me a coffee! It works as a one-time or a monthly donation of $3. You can also get beautifully designed PDFs with a series of recipes and other resources I publish there, to help you learn and get creative at home! I can then use that money to further develop and grow Wild for Nature and you can help me continue with wild creations and resources!