The fact is that most of us use makeup all the time. And there is one product that is a must-have. It's a makeup remover. Even if you only use a little makeup and you're not the one for youtube tutorials on how to smokey eyes, 50 shades of lipstick, and all that, you still need the remover to wipe off the day from your face.
But these removers can be costly or filled with nasty ingredients. The thing is, you can easily save a few bucks with just a few tricks and an easy DIY makeup remover.
Let's have a look at how you can save money and effectively remove those layers of color from your face!
Today, we'll have a look at a list on how to effectively make your own makeup remover, but before we get there, let's talk about why should you make your own:
Affordable and right down cheap
Safe ingredients
Customizable
Easy to make
Require little time (if any)
Can be made with only a few ingredients
Many commercial products contain ingredients I generally want to avoid. So I figured I can show you how you can as well. After all, many of these are full of fillers and nasties such as mineral oil, SLS, Diazolidinyl Urea, among others.

What can I use instead of makeup remover?
There is an effective alternative you can try to use instead of a store bought makeup remover: oils. Plain natural carrier oils can be a great option. You can choose from many of them, they are affordable, and you can easily blend them together or even use a few drops of essential oils in there.
I love using plain oils because they're effective and they easily remove even the most stubborn makeup (including that waterproof mascara).
A bit of carrier oil goes a long way and that bottle lasts a long time. If you're wondering How can I remove makeup at home naturally, this is your best option. Surely, you can make a more advanced DIY makeup remover at home if you're a more experienced crafter. But the thing is, oils work great for beginners and everyone else!
What is a good homemade makeup remover?
Essentially you're looking for something that's effective when it comes to removing makeup from your face: lipstick, foundation or eye makeup. A good product is something that does the job but doesn't destroy your skin at the same time.
I mean, it shouldn't excessively dry your skin, irritate your eyes, and all that bad stuff. For me, having a good eye makeup remover is important because the area around the eyes is sensitive. The skin is thinner and the eyes, well…getting anything in the eyes can burn, make you cry, and cause redness. So for me, a remover that doesn't cause any of that is a good one!
That's why I'm a big fan of oils; they effectively remove stubborn eye makeup in a few tries, they're completely natural, I only need a small amount, and they're affordable. They don't cause any side effects and I can also use them for other DIY skincare, so they're a versatile product to keep at home.
Which oil is best for removing makeup?
Basically, you can opt for anything that's inexpensive. Forget about rosehip oil, we're talking about carriers that are affordable and can be found easily almost anywhere.
For oily skin, check these carrier oils instead. Otherwise, the following natural oils can be used to remove makeup naturally. You can blend them together or use them separately. For recipe ideas, see below.
Can you remove makeup with soap and water?
Yes if it's a cleanser- foaming, lathering soap meant as a face wash. I made a foaming cleanser for the face but it's not too effective in removing makeup and waterproof mascara. I normally use it after I've removed my makeup.
Soap (which we use to wash hands) can dry out the skin so it's not the best option. Neither are baby shampoo and castile soap, no matter what the Internet tells me. I've tried them both and they leave the area around my eyes unpleasantly dry.
Believe me, there were times when I was too lazy to use anything and I tried removing makeup with plain old water. If you've been there, you know it doesn't work. You just end up with a black mess running down your cheeks, looking like a rockstar singer (which I wouldn't mind on a Friday night, but Monday is a whole new story).
But soap stings eyes so I wouldn't use that either. And since I'm all against castile soap, it's well, the same blimey thing.
Are makeup remover wipes bad for your skin?
Makeup removing wipes can never effectively enough remove makeup, dirt, oils, and grime. They can cause your pores to clog. The wipes are effective to remove oil and sweat during the day, and they won't irritate the skin if they're as natural as possible.
DIY makeup remover recipes
Let's have a look at a few basic recipes on how to make makeup remover in no time. They're pretty straightforward to make and to use!
Coconut oil makeup remover
I have effectively removed makeup with coconut oil, but I do it now and again when I'm out of any other oil. I have oily skin and I really don't want to cause any breakouts. If you have acne-prone skin, stay away from coconut oil and move to the next section.
There are two ways to use coconut as a remover:
Plain out of the jar (fractionated works just as well)
Combine it with another oil of choice, using equal parts of both oils.
Combine both oils in a clean jar (or dropper bottle if using fractionated coconut) and apply on a cotton swab. Gently massage the remover into the skin and wipe off. You can follow with your usual cleansing routine.
Optionally, you could add a drop of essential oils into the mixture, but the eye area is super sensitive and the EOs may irritate it.
DIY eye makeup remover
You'll find a lot of oil and witch hazel blends online, claiming to be the best eye makeup removers. They may be effective but using a water-based product in your recipe means you also need a preservative. I wrote about preservatives here, and since we're trying to keep these recipes easy, we'll skip water in this recipe.
I have tried a few different things when it comes to removing mascara and all that, and the best by far has always been oil. My favorite at the moment is sunflower and almond oil. And using oils to remove eye makeup is a great way to use those bottles that are approaching the expiration date!
So how do I use these oils? I use a dropper bottle, add a few drops to the under-eye area and then gently massage the oils into the skin. I wipe the oils off with a warm washcloth.
This is one of the easiest methods as it doesn't sting or irritate the eyes. You can use whatever oils you have on hand that suits your skin.
Olive oil makeup remover
Same as with other oils before, olive oil can be used on its own and it's lovely since it's affordable, effective, simple, and easy to use. It's gentle on the eyes as well and it easily dissolves all makeup.
For one cleansing process you'll need:
1 TBSP warm water
A few drops of olive oil
A drop of essential oil
Combine the ingredients in a jar. Let a cotton pad soak up the mixture. Gently wipe your face with the pad, removing the makeup as you go. Essential oil gives an extra kick of relaxation; you can choose from anything you'd like. My favorite are grapefruit, lavender, cypress, cedarwood…
When buying olive oil, make sure it's of the highest quality, extra virgin, and organic.
DIY makeup remover pads
These pads take no time to make and are convenient to keep in your bathroom. I'm not the biggest fan of these as they're a bit too messy for me, but you may find them useful.
Ingredients:
2 TBSP safflower oil
2 TBSP grapeseed oil
1 TBSP olive oil
a drop or two of essential oil of choice (lavender, sweet orange, or other lighter essential oils- I don't recommend cinnamon, clove, peppermint…)
Have you ever made a homemade makeup remover with one of the DIY recipes? How does it work for you?
Stay Wild!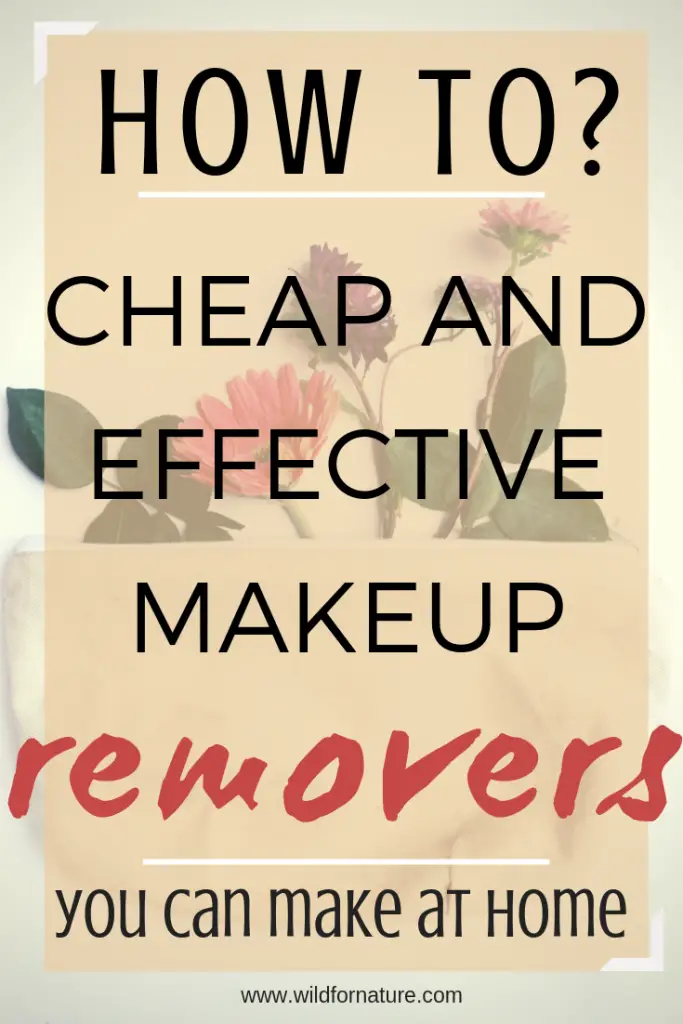 Help support Wild for Nature
Many of you have asked if there's a way to help support Wild for Nature. I've signed up for Buy Me Coffee. If you love what I do, learn from me, sell anything you made from my recipes, and want to see Wild for Nature grow even more, I'd be thrilled if you'd consider buying me a coffee! It works as a one-time or a monthly donation of $3. You can also get beautifully designed PDFs with a series of recipes and other resources I publish there, to help you learn and get creative at home! I can then use that money to further develop and grow Wild for Nature and you can help me continue with wild creations and resources!