Tired of spending money on clay masks for face that are filled with chemicals and fillers that make your skin worse? Did you know you can make affordable, effective, Aztec clay mask recipes at home without any fuss?
Bentonite clay has incredible healing properties and benefits for the skin and for hair. Sticking it into a face mask is the easiest thing ever!
I've been clay-masking for as long as I can remember (oh, the teenage acne!). I've witnessed many of its before and after results. But not everyone knows how to make a clay mask. That's why I listed all my favorite DIY clay mask recipes below!
Forget masks with two ingredients, let's get creative! Below, you can find tips on how to use Aztec clay, how to make a face mask with bentonite clay, and 10 best bentonite clay mask recipes!
And the best thing? They're all natural and vegan! Let's get messy!
Bentonite clay has been steadily growing in popularity and if you're new to the phenomenon of DIY Aztec mask recipes, I welcome you!
I love to do one clay day a week, and the weekends are usually my go-to times when I lock myself into the kitchen and make a different mask every week.
When I first started out with clay masks, my sister and I would slather them on our faces and then have a girls' night in. It was always good fun; we'd test different ingredients and grade each mask separately according to our taste (and to its effectiveness; these mud beauties leave gorgeous skin!).
Well, then we'd also binge-watch Gilmore Girls or Supernatural and eat tons of nachos with homemade guacamole. It used to be great fun!
So I wanted to share some of that fun with you; I've compiled a list of my all-time favorite masks and these are easy enough for any level of DIY; even if you're only one clay mask-a-week kind of gal!
Get together with your friends, your mom, your sisters, and have a girls' night in; it's creative, fun, and a great way to try different types of masks (and spend quality time with your friends and family); if you each bring a few the ingredients, you have an amazing choice of options on what to make!
Sounds good? Let's have a quick look at the basics before we head on! If you have any specific questions (How often should you use bentonite clay on your face? Can I use bentonite clay every day? Is bentonite clay good for skin? How do you mix bentonite clay for your face? Does bentonite clay clear acne? Does bentonite clay clog pores?), I have the answers covered in the Tips section below.
Ready to meet your new best friend? Read on!
What is bentonite clay?
Bentonite clay has been used for centuries by a number of cultures all around the world due to its anti-inflammatory, antiseptic, and antibacterial properties.
According to a study from Arizona State University, bentonite clay has proven effective in destroying MRSA, E.coli, salmonella, and many others.
The power of the bentonite clay comes from its ability to absorb the toxins, unpleasant odors, bacteria, soothe pain, restore energy, and cleanse the skin both internally and externally.
The magic of bentonite clay is that it has a strong negative electromagnetic charge. After it comes into contact with water, it turns into a magnet for all the harmful and toxic components in our bodies and on our skin. It basically absorbs the bad and eliminates it.
In short, bentonite clay is one of the natural powerful raw ingredients that has the ability to cleanse and detox. According to Mountain Rose Herbs,
Bentonite is usually collected from deposits that can range anywhere from 100 feet to several thousand feet. After being gathered from the earth, it is brought out into the sun to remove excess moisture and make it easier to work with.

Bentonite is very unusual in the fact that once it becomes hydrated, the electrical and molecular components of the clay rapidly change and produce an electrical charge. It is a swelling clay, and when it becomes mixed with water it rapidly swells open like a highly porous sponge.
Benefits of Bentonite clay mask
Because bentonite clay has such powerful cleansing abilities, it's a great ingredient to keep around for a number of things. We're exposed to toxins everyday and clay can help remove them from our skin, improving its health and complexion.
And that's not my personal opinion. You can find dozens of online reviews claiming how bentonite clay helped them cleanse their skin and hair (it has helped even for folliculitis). You can find more details on  bentonite clay skin benefits already here (you can also find the best bentonite clay in the link and potential side effects).
Here are the most important bentonite clay mask benefits:
Cleanses and detoxifies the skin
Absorbs sebum from the skin
A natural remedy for acne, blackheads, and whiteheads
Unclogs and minimizes pores
Promotes soft, smooth skin
Evens and tones the skin
Firms the skin (thanks to the mineral silica present in bentonite clay)
Promotes skin healing and regeneration
Has exfoliating properties
For me, personally, bentonite clay has been my life's companion for more than 15 years. We share a longer love story than with any other beauty product or ingredient I have ever thought of trying and it's all because of its skin benefits.
Hello there, you! Want to understand your skin better? Heal it and glow it with useful tips, free knowledge base, and fun recipes?
Join me in my Free Private Facebook Group, dedicated to natural skincare lovers and DIY aficionados! We'll discuss ingredients, tackle skin problems, and share our favorite recipes!
Join my Natural Beauty & Skincare Group HERE!
How to make a clay mask?
Making a clay mask at home is easy, even if you're not a die-hard DIYer. Here's how to mix bentonite clay mask:
The most basic recipe consists of 1 part liquid to 1 part bentonite clay. You stir the ingredients well until you get a thick smooth paste.
What to add to Aztec clay mask?
Optionally, you can also add other clays and powders into the mix. Adding different ingredients helps you to tone down the drying effects of bentonite clay and add another beneficial ingredient to the recipe.
From powders, you can use:
Other types of clay (French green clay, white kaolin clay…)
Activated charcoal
Spirulina, matcha, chlorella, moringa powders
Ground hibiscus, turmeric powder
Ground flowers and herbs (neem, nettles, calendula, lavender…)
From liquids, you can use:
Different hydrosols (rose, mint, lemon balm, lavender, helichrysum…)
Witch hazel
A few drops essential oils
Apple cider vinegar
Freshly brewed (but cooled) tea
Carrier oils (jojoba, grapeseed, sunflower, apricot kernel…)
From fresh ingredients, you can use:
Mashed avocado
Mashed banana
Pumpkin puree
Aloe vera
As you can see, these Indian clay recipes are incredibly versatile! You can combine any ingredient that you'd like and see how it works for your skin.
To give you a better idea, see below for the top 10 recipes with ingredients and instructions on how to make each mask.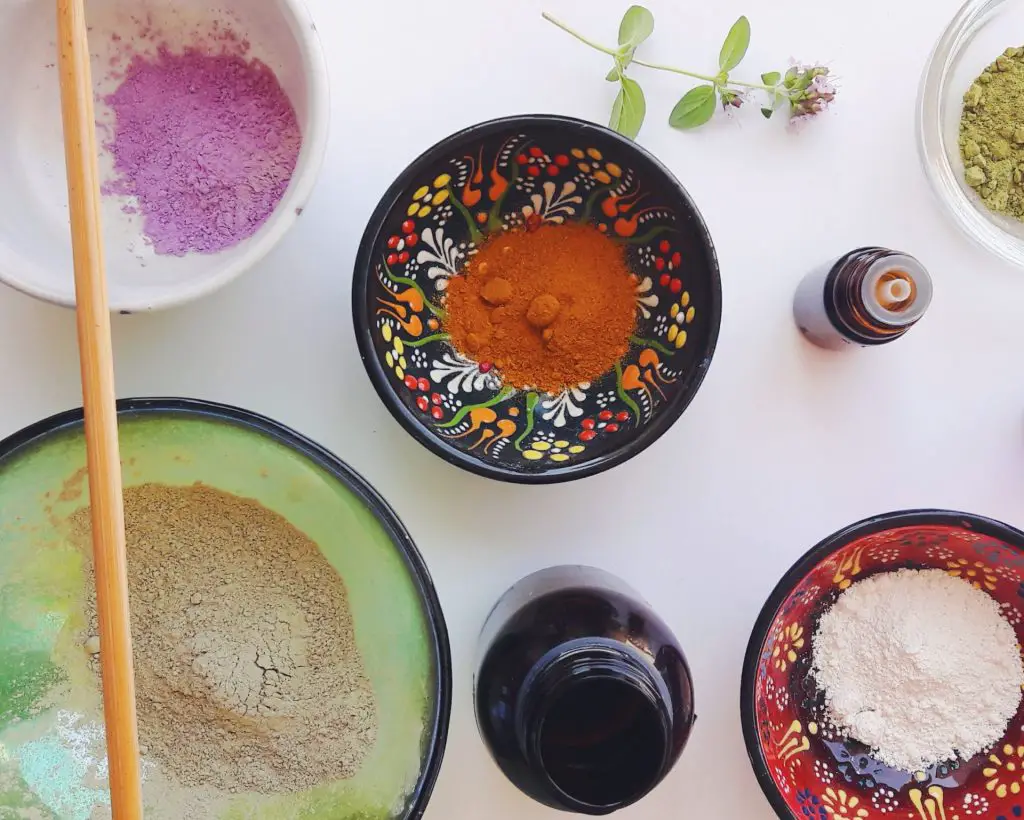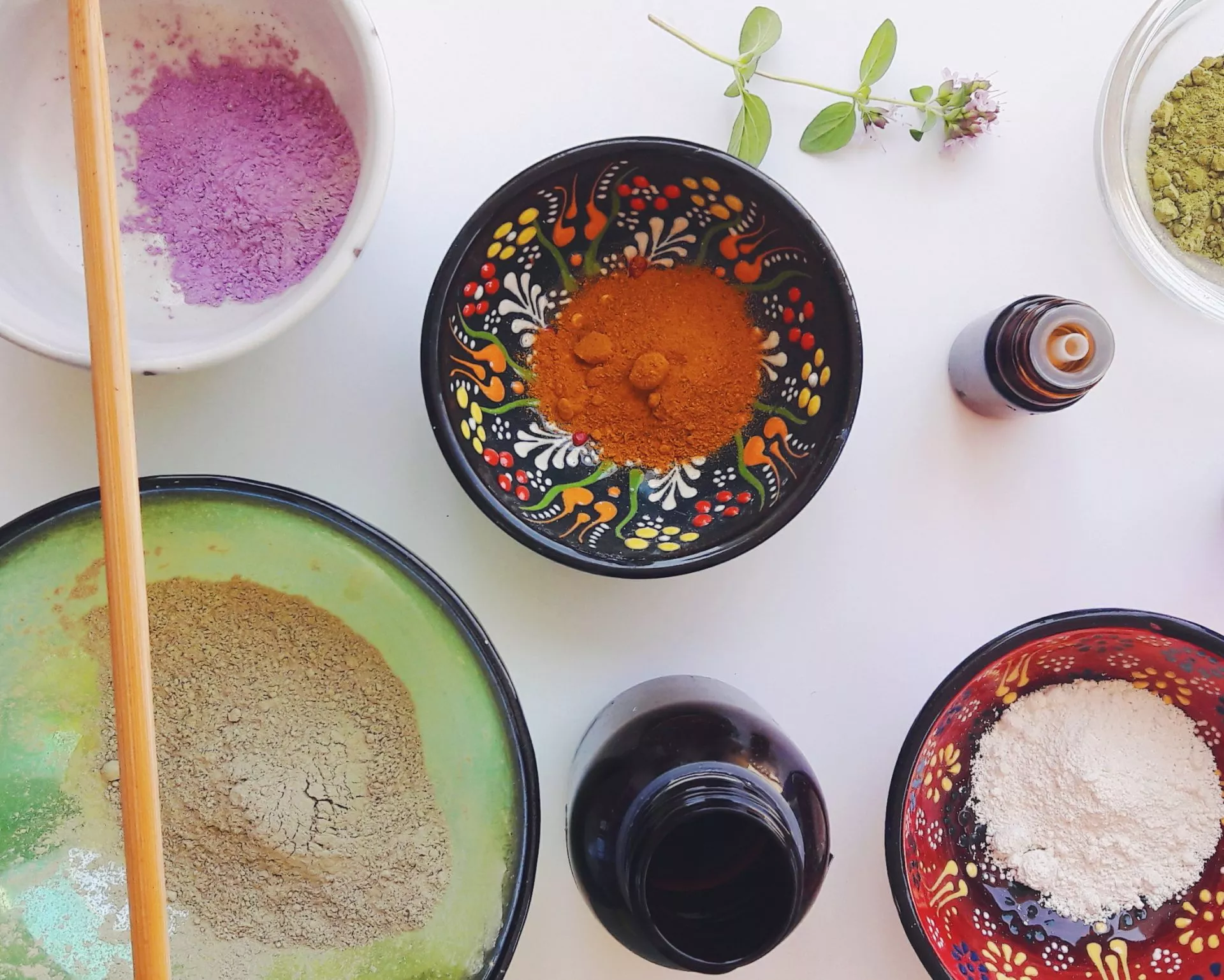 Best bentonite clay face mask recipe list
Let's have a look at DIY Aztec clay mask that works for every skin type. I'm sure you'll easily find your favorite Indian healing clay mask recipe on the list!
1.      The basic Aztec clay mask recipe
This one is the easiest clay mask on the list. You only need two ingredients and if you're a complete beginner in the homemade skincare field, feel free to begin with this mask. It might be a bit boring and I've seen online comments about this mask throwing your skin out of pH balance, but I've used it for years and apart from dry skin, I've never had any problems with it.
Ingredients:
1,5 TBSP bentonite clay
1 TBSP water
Process:
Add clay to a small bowl
Gradually add water and stir well
You should get a thick paste (see photo)
The mixture shouldn't be runny but it shouldn't be too thick as well. You should be able to smoothly apply it to your face without any hardened pieces of clay falling off.
2.      The most popular clay mask
This is probably the most popular bentonite clay face mask there are. The two magic ingredients: bentonite and apple cider vinegar can do wonders for our skin. The vinegar helps to maintain the pH balance of the skin, while the clay cleanses it!
Ingredients:
Process:
Combine clay with ACV, until you get a thick and creamy paste
Remember, no iron/metal utensils when working with clay!
3.      Refreshing anti-acne mask
One of my most popular posts on the blog, this anti-acne clay mask has been the ultimate winner (with tea tree oil), but I've decided to redo it a bit. If you're not feeling too creative, make that one.
Otherwise, have a look at the following recipe. There are more than one types of clay; that's what I decided to combine here: a beauty of two different healing clay powders.
Ingredients:
Process:
Combine all the ingredients in a clean jar
Store in a dark cool place
To use, add 1,5 TSP mixture to 1 TSP water
Stir until you get a smooth paste (add more water if necessary)
PS: you can store this mask in a clean jar. The oils and clay can last for a while in your cupboard/fridge if you don't add any water. You can also substitute argan for jojoba oil.
4.      Brightening DIY clay mask
For those who wish to brighten the complexion, boost the skin, and give it an extra lemony kick, try this bentonite clay and lemon juice mask. Easy and fast, you can use this mask a few times a week, or less.
Enjoy the fresh lemon feel!
Ingredients:
Process:
Combine all the ingredients in a bowl
Add a few drops of water and stir until you get a thicker but smooth paste
PS: you can substitute lemon juice with lemon essential oil; just use whichever ingredient you have available. If using EO, add 2 drops of lemon to the face mask.
5.      Detoxifying black facial mask
While bentonite clay is already as detoxifying as it can be, I decided to go a step further and boost it even more. While this is not my favorite on the list (I'm not the biggest charcoal fan), I still use this mask now and again.
I've added my fave essential oils that help to detox the skin, but you can add your own! I've also included rosemary hydrosol for its detoxifying properties. If you have none at hand, feel free to substitute it with either witch hazel, water, or apple cider vinegar.
Ingredients:
Process:
Combine the ingredients in a bowl
Stir until you get a thicker paste
Apply and let the clay and charcoal mask sit about 20 minutes
PS: other Eos with skin-detoxifying properties include: tangerine, juniper berry, orange, cypress, lemon, rosemary, mint, myrrh, and lime.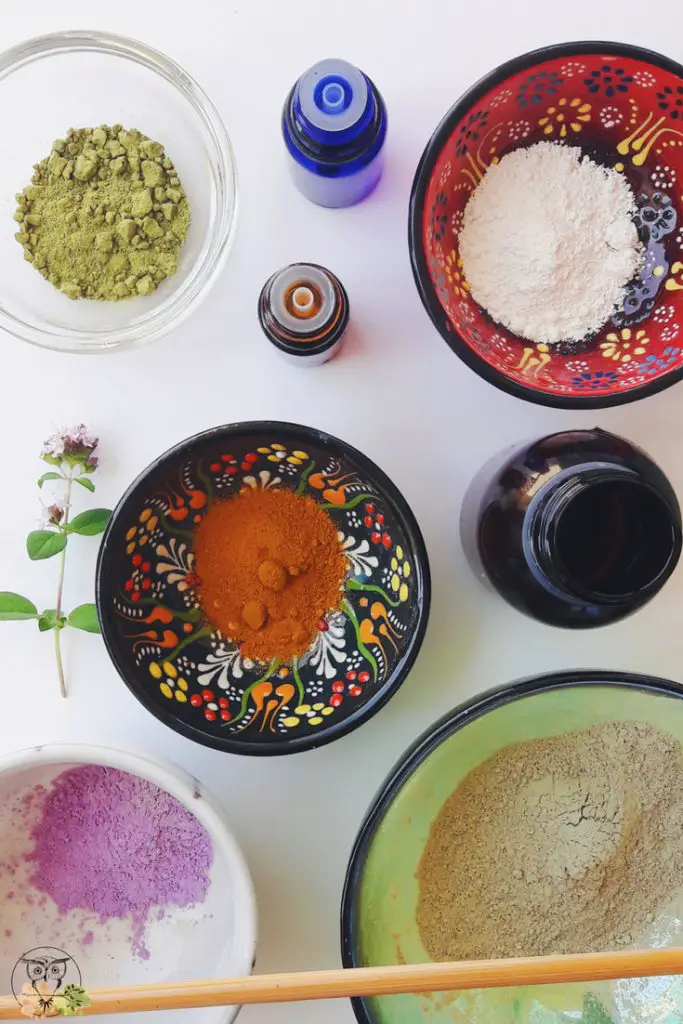 6.      Deep pore cleansing bentonite mask
In case the powerful detox mask isn't what you're looking for, try this deep pore cleansing clay mask. You can play with ingredients a bit, especially dried and ground herbs.
I've used what I believe works best, but you can substitute them with dry chamomile flowers, neem tree leaves, basil, and hibiscus. Whichever you choose, make sure to grind them before adding them to the mask!
Ingredients:
Process:
Combine all ingredients in a clean bowl. You can store them in a dark cool place in a clean glass container.
To use: add 1 TSP of witch hazel to 1 TBSP of the clay mask. Add more witch hazel if necessary, until you get a smooth mixture.
PS: you can use water or apple cider vinegar instead of witch hazel
7.      Clay facial mask for scars
Next in line is my clay mask for scars. It' also quite basic: a few essential oils, rose water (hydrosol), and a few drops of rosehip oil, which has been proved to be very beneficial for scars. I've written all about it in this rosehip oil for acne scars post!
Ingredients:
Process:
Combine all the ingredients in a bowl apart from the rose hydrosol
Store in a cool dark place, in a clean jar
To use: take 1 TBSP of the mixture and combine it with 1 TBSP (a little less, add gradually) rose hydrosol. You're looking for a thicker but smooth mask.
PS: other essential oils for scars are: rosemary, frankincense, lemon, geranium, and myrrh.
8.      DIY clay mask for dark circles
We all suffer from the annoying dark circle problem now and again. I've already written about which oil is best for dark circles but then decided to take it one step further. (I've also made a DIY serum for dark circles recipe)
And here we are, bentonite clay mask for dark circles. It's quite fragrant and it should also do the trick. Use it a few times a week whenever the dark spots emerge, otherwise only now and again when I have all the ingredients at hand.
Ingredients:
Process:
Combine the ingredients and add the hydrosol if you want to use the mask right away
In case you wish to store it, repeat the procedure with the previous mask (#7): combine all the ingredients apart from the neroli hydrosol. Add that one with 1 TBSP of clay mask mixture when you want to apply the mask.
9.      Antioxidant face mask
For an extra antioxidant kick, make a fresh clay mask with matcha powder and a few drops of essential oils!
If you drink smoothies, you probably have green powders in your kitchen cupboard already. I've made this mask with matcha powder, but any green powder would do, as they are all an excellent boost for the skin (such as this soothing spirulina face mask).
Ingredients:
Process:
combine the ingredients in a bowl
add water until you get a thick and smooth paste
you can store this clay mask in a dark and cool place. Combine it with water just before you want to use it (1 TSP water to 1 TBSP mixture)
PS: use spirulina, chlorella, wheatgrass or any other green powder that's loaded with antioxidants and chlorophyll!
10.      Soothing clay mask
Use this mask before bedtime; it contains essential oils that will soothe your skin, calm your mind, and help you relax.
Sometimes I use fresh aloe (the plant grows on my balcony), but sometimes I use aloe vera gel.
Ingredients:
Process:
Combine the ingredients in a bowl. If you have difficulties with aloe vera gel and clay, add a few drops of water or hydrosol to the mixture until you get a smooth paste.
Apply to your face and let sit for 15 minutes
PS: substitute vetiver for lemongrass, jasmine, lemon, orange, frankincense or sandalwood if you don't like the scent. All these have beneficial properties on a tired and stressed mind.
Where can I buy bentonite clay?
I've already written about the best bentonite clay powders, but in general, you can get bentonite clay from many online retailers as well as local shops. Amazon is one of the most popular places to get it, taking over the scene with this Aztec Secret Healing Clay, which is the most popular clay powder at the moment.
Tips on using bentonite clay face masks
whenever you work with clay, use only plastic/wooden/ceramic utensils. Clay should not come in contact with metal
you can substitute/omit essential oils in the recipes above. I used specific oils for specific recipes, but some people like their masks quite plain. It's up to you, but the essential oils give the mask an extra boost of whatever benefits they possess!
If you don't have bentonite clay, you can optionally substitute it with french green clay
The same goes for hydrosols. I've explained why I used each one in the recipes, but you can easily substitute them with distilled water and/or apple cider vinegar if you're all out of hydrosols
Apply any bentonite clay face mask to a clean face
Leave the mask on for about 10-15 minutes. Remove it by gently rinsing your face with warm water
Red face after bentonite clay mask? When using bentonite clay regularly, you may notice some redness on your skin which should disappear quite fast. That's normal, the clay is just working its magic
Don't use bentonite clay if your skin is (super) sensitive or dry. Try white kaolin clay instead
Can I use bentonite clay mask every day? I'd recommend you apply bentonite clay face mask a few times a week. Because it can be quite drying, make sure you have a good moisturizer and serum at hand to apply afterward. The only mask you can use a few times a month (I usually use it once a month) is the number 5, the detox face mask. It's a bit too much for me to use on a weekly basis. Plus, I'm not the biggest charcoal advocate (see here why)!
Sleeping with Indian clay mask? Absolutely not. No matter what type of clay you use (Indian, Aztec, white, pink, green…), you have to rise off the mask after 15 minutes.
The following recipes are all made to be used right away. There are no preservatives in them, so the masks can develop bacteria/mold if you store them for a longer period of time.
Bentonite clay is effective, but the healing process is long. If you're looking for today-tomorrow solutions, these masks are not what you want
Avoid coconut oil if you have oily and acne-prone skin. Bentonite clay has been said to draw even heavy metals from the system when working its magic, but coconut oil is comedogenic and it may not help improve your skin even when combined with clay in a facial mask.
Last thoughts: Best bentonite clay mask recipes list
When it comes to bentonite clay masks, the options are endless. You can easily make an effective healing mask at home for a budget-friendly price that won't break your bank.
Bentonite clay is a powerful healing clay that can benefit your skin in a number of ways since it cleanses it deeply, minimizes pores, and removes excess sebum. What's more, it tones and tightens the skin, making it look younger, firmer, and softer.
With a regular clay mask (but no more than a few times a week), you can minimize acne, get a smooth, youthful, and healthy glowing skin.
Even if you're not the most passionate and creative person, you can still make any of the masks above by simply following my instructions for any DIY bentonite clay mask recipe. They are easy to make and very versatile: you can mix the recipe to your taste, change liquids or add a drop of your favorite essential oil.
After all, it's all having fun while getting healthier. Make sure to follow my tips on how to use these masks for best results!
What is your favorite DIY clay mask? Let me know below!
Stay Wild!
Help support Wild for Nature
Many of you have asked if there's a way to help support Wild for Nature. I've signed up for Buy Me Coffee. If you love what I do, learn from me, sell anything you made from my recipes, and want to see Wild for Nature grow even more, I'd be thrilled if you'd consider buying me a coffee! It works as a one-time or a monthly donation of $3. You can also get beautifully designed PDFs with a series of recipes and other resources I publish there, to help you learn and get creative at home! I can then use that money to further develop and grow Wild for Nature and you can help me continue with wild creations and resources!