Wild morning! Today we're making best oil for dark circles under eyes. With an effective simple beauty vegan recipe, this is an easy DIY skin care project that will help reduce the appearance of dark circles under eye area. With a few drops of essential oils, this eye serum will help to soothe puffy eyes and minimize fine lines. Are you ready? Let's get to it!
I've already extensively talked about natural ways to get rid of dark circles with the carrier and essential oils. A while ago I wrote this post on what is the best oil for dark circles, where you can have a look at the causes of dark circles and tips on how to eliminate them. There, you'll also find best sweet almond oil for dark circles, the answer to whether almond oil gets rid of dark circles, coconut oil for dark circles, and much more!
Since the post turned out to be one of the most popular on the blog and many of you requested a DIY eye serum recipe, it's high time to share a recipe on how to make the best eye serum for dark circles at home.
Why the best? Because I absolutely love it. I've been testing and using it for some time and it has worked effectively to improve my skin tone, making it healthier and glowing. I don't look like a panda anymore and the ingredients gently nourish the otherwise delicate skin around the eyes.
Vegan!
Easy to make…
Nourishing and healing!
Yes, gentle yet effective.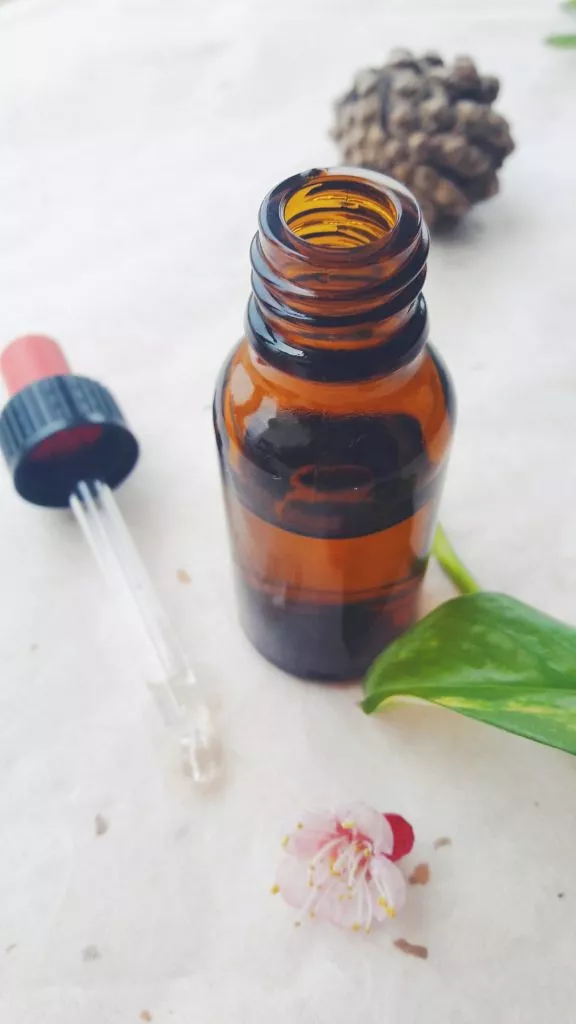 Best oil for dark circles under eyes: Homemade
If you're looking to get rid of the dark circles under eye and reduce the appearance of tired eyes, this serum can help you get there in the long run. I've been using it for about a month in combination with a hydrating toner, and I was able to notice that my skin has improved overall.
The ingredients are meant to nourish the skin, tone it, and boost it with their benefits. Rosehip oil is amazingly nourishing with its fatty acids and vitamin A. Safflower oil is a thin oil, rich in fatty acids, that excellent for hydrating. Castor oil can be very sticky when used on its own, but it works lovely in this recipe.
I've made my own essential oil blend with the oils that are effective yet gentle enough for the under eye area. I'd recommend you use only a little of them since the area around the eyes is more sensitive and the serum shouldn't irritate our eyes; it should only benefit it!
Now, here are the ingredients I've used in this eye serum recipe:
Sweet almond oil
Because the other three oils require some sort of dilution, I've decided to use sweet almond oil as the base oil, which has been said to eliminate and reduce the appearance of dark circles under eyes.
It can also soothe the skin, promote a young-looking and healthy complexion. It's appropriate for all skin types and it does a great job maintaining the skin hydrated.
What's more, almond oil also boosts collagen production. It's no hyaluronic acid, but it's better than nothing!
Rosehip seed oil
According to New Directions Aromatics, rosehip seed oil helps lighten dark blemishes (age spots, acne scars). What's more, it evens out the skin tone, making the skin healthy and glowing. I'm a fan ever since I've tried it for the first time. It truly is a luxurious oil, appropriate for all types of skin.
Rosehip oil is also astringent, and anti-inflammatory. It boosts the skin with its antioxidant properties and it absorbs easily!
Castor oil
When it comes to castor oil for dark circles, the oil is rich in fatty acids that soften, soothe, and nourish the skin. the helps to fade the blemishes, minimize dark spots, even out the skin tone, while protecting the skin from the outside factors and free-radical damage.
Safflower oil
Safflower oil helps to boost collagen production, minimize dark circles, and promotes healthy and glowing skin. What's more, its fatty acids help to lighten dark spots and boost the production of new skin cells.
This is a light, gentle, and incredible oil that I've used a few times before (also in this healing serum for dry skin) and it's one of my favorite oils for any type of facial serum.
Vitamin E oil
Along with a few other vitamins (vitamin C may also play an important role), I've included this oil in the recipe for two reasons: because of the benefits of vitamin E for dark circles. It boosts collagen production, prevents the skin under eyes to thin and also prevents dark circles. The second reason is because vitamin E oil helps to prolong the shelf-life of the serum.
Essential oil blend
I selected three essential oils that were said to help with dark circles. While there isn't enough official research, there are many online claims that support some of the benefits of the following essential oils.
Helichrysum essential oil is also known as Immortelle and it's a very common ingredient in many anti-aging products, be it eye cream, face mask, and a rich facial serum. I wanted to test this oil that's how it found its way into the recipe. My skin loves it and since it's been said that it may help reduce dark circles, so I wanted to see the effects it may have on my skin. I love it.
Next oil I decided on is Roman chamomile. It has calming effects and it soothes and rejuvenates the skin. It helps to lighten dull and tired skin. I've included it into the recipe to add a kick of healthy for my skin. What's more, chamomile boosts blood circulation- more circulation, more oxygen in the skin cells result in healthier skin.
Last but not least, my third choice was geranium oil. I'm a bit obsessed by it lately; I assume it's because it has a sweet floral scent and I seriously long for spring. But that aside, geranium oil is anti-inflammatory, it boosts circulation, and it helps to even out the skin tone. It's also astringent and helps to tighten skin and reduce sagging skin with visible results.
DIY Best Eye Serum For Dark Circles 
Ingredients:
Process:
Measure the ingredients
Combine them in a 30 ml roll-on bottle (you can also use drip bottle)
Close well and slowly roll the bottle between the palms of your hands
Use as often as you'd like!
What do you think about this DIY serum for dark circles? Let me know in the comments below how it works for you!
Stay Wild!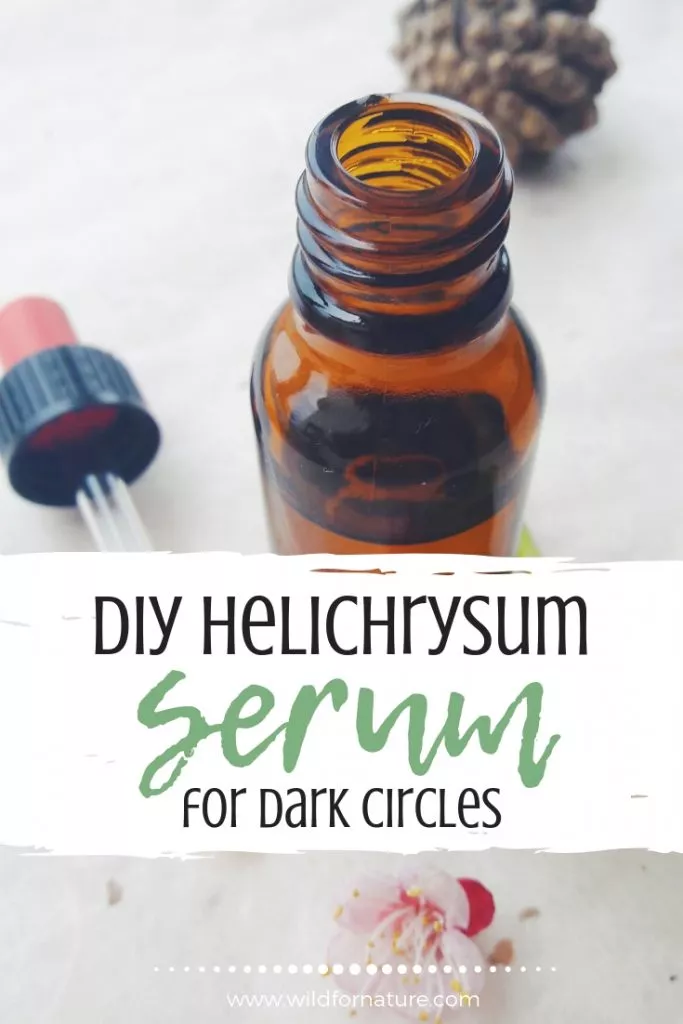 Have you made this recipe? Tag us on Instagram #wildfordiy
Help support Wild for Nature
Many of you have asked if there's a way to help support Wild for Nature. I've signed up for Buy Me Coffee. If you love what I do, learn from me, sell anything you made from my recipes, and want to see Wild for Nature grow even more, I'd be thrilled if you'd consider buying me a coffee! It works as a one-time or a monthly donation of $3. You can also get beautifully designed PDFs with a series of recipes and other resources I publish there, to help you learn and get creative at home! I can then use that money to further develop and grow Wild for Nature and you can help me continue with wild creations and resources!