Do you need a cleansing bar? Well, we're making a clay cleansing bar today and it's very simple! It's quite recently that I've fallen in love with clay bars but I think they're absolutely amazing and I'm sure more recipes will follow!
Anyway, let's make a natural and soap-free cleansing bar that you can use daily!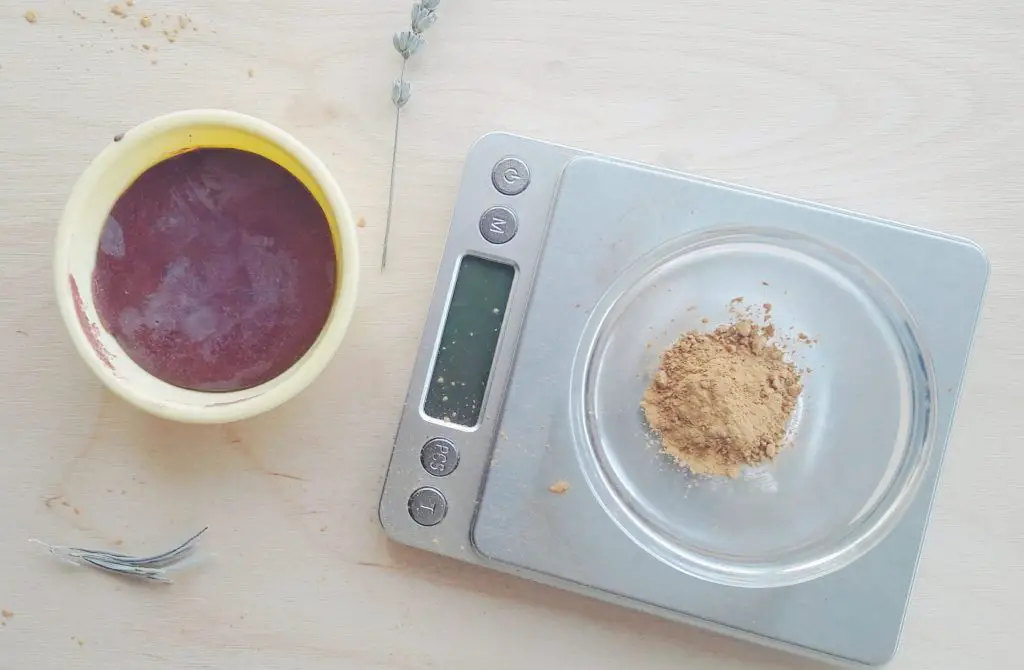 Ever since I've made this rose clay cleansing bar, I have somewhat fallen in love with clay cleansing bars. They're easy to make, easy to use, and exfoliate and nourish the skin at the same time!
I use clay on a regular basis (mostly in facial clay masks) but then I wanted to take my love for clay to another level. And I came up with the idea of making a cleansing bar! It turned out lovely, I've been using them on a regular basis.
In other words, this spicy soap-free cleansing bar is
150% vegan
Easy to make
Exfoliating
Fragrant
Cleansing (duh!)
Spicy Homemade Cleansing Bar with Clay
This cleansing bar is absolutely beautiful. Unlike this pink clay bar, it doesn't dry your skin out, on the contrary.
Cocoa butter makes sure that the bar stays firm and in one piece. Shea butter provides its incredible nourishing effects on the skin, healing it, boosting it with benefits and nutrients.
The combo of clays is there for gentle exfoliating properties as well as mild cleansing.
This mask can cleanse your skin to some extent but you'll need other products to completely fulfill the cleansing routine.
Now, this clay cleansing bar leaves your skin soft, exfoliated, and hydrated. The essential oils give it an extra boost of nourishment; they are in the recipe primarily to boost the blood circulation and improve overall hydration.
Yellow clay
More gentle than French green clay and still effective, yellow clay is great for combination skin. It helps to remove the toxins, and it boosts circulation! It's excellent as an exfoliating agent as it helps to remove dead skin cells and impurities on the surface of the skin.
I love it because it makes the skin softer, smoother, and rejuvenated!
Pink kaolin clay
This one is a very gentle type of clay. It's appropriate for all skin types, also sensitive and it has amazing soothing properties. What's best, it doesn't disrupt the pH balance of the skin!
It improves the complexion of the skin, providing it with extra softness and glow!
Cocoa butter
Nourishing cocoa butter has a dreamy and soft chocolate scent. I'm not the biggest fan of this butter as it feels too heavy sometimes. But! I've had the last few grams of cocoa to use and I figured how better than in a clay cleansing bar!
Cocoa is nutritious. It's not best for acne-prone skin though. But, it's a common ingredient in skincare (I've made a creamy body mousse with it here) and it's rich in antioxidants, vitamin E, and other ingredients that help to boost healthy skin, protect it from the free radical damage, and other negative impacts from the environment.
Did I mention it makes the skin very soft?
Shea butter
Rich in fatty acids, provitamin A, vitamins E and F, shea butter is one of my favorite natural ingredients for skin care. It can easily be used on its own or in any recipe since it gives the final product creamy texture and it makes the skin very very soft.
Shea successfully regenerates skin cells and it also has mild antibacterial properties. It's in this recipe because I wanted the richness and nutrition of oil that's thick enough to be butter at the same time. Plus, it helps to hold this bar together!
Essential oil blend
I wanted something that blends well with cocoa butter yet still boasts the nourishing qualities of this natural non-soap cleanser.
Cinnamon bark oil was my first choice. It makes the bar smell divine and it blends well with the chocolate smell of cocoa. Apart from the scent, cinnamon is a potent essential oil (I wouldn't add more than 1 drop the recipe) which is also known as a warming oil.
In other words, cinnamon boosts circulation, has antibacterial properties, and it's effective when it comes to removing impurities from the skin's surface.
The second oil is tangerine essential oil. I love all things citrus, and this one is no exception. Unlike cinnamon, tangerine is safe to use. It has a sweet and gentle scent and it boasts with antibacterial, astringent, and toning properties. These two were the main reason I added it to the recipe (well, apart from the smell).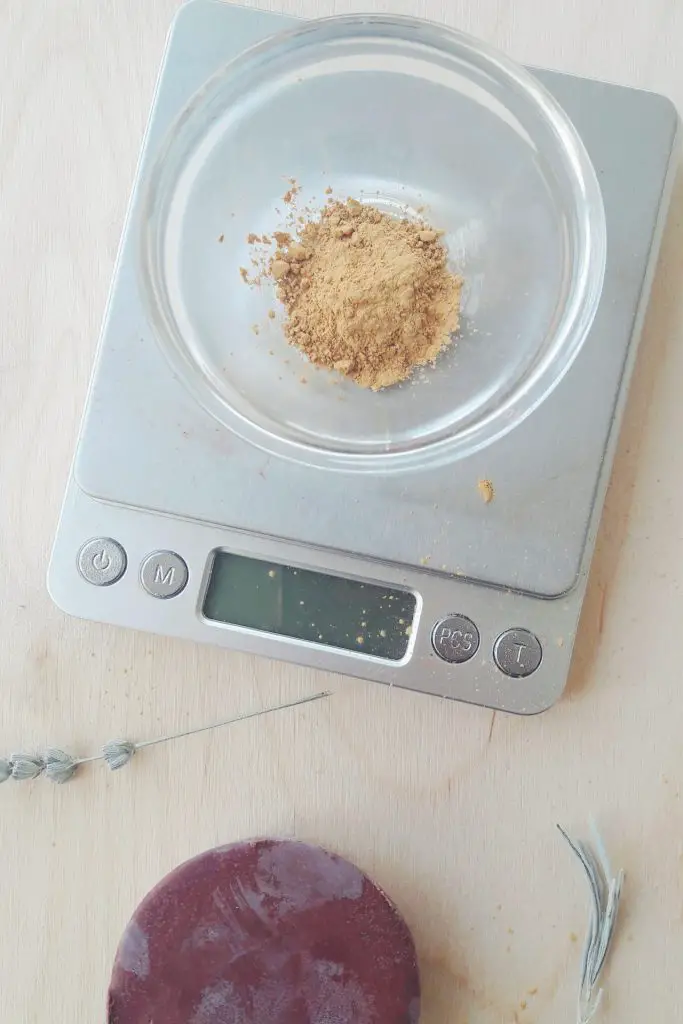 DIY Cocoa Cleansing Clay Bar
Ingredients:
Process:
Weigh and combine clays in a plastic/ceramic /glass container. Set aside.
Melt cocoa butter in a double boiler
When melted completely, remove the Pyrex cup from the boiling water
Add shea butter into the melted cocoa butter and stir until shea has melted completely. You can place the Pyrex back into the hot water for a few seconds to speed the melting process of shea
Once the mixture has liquefied, add a bit of clay mixture and stir well
Repeat the procedure until the clays are completely incorporated into the mixture; you'll need about 5 to 10 minutes; be patient and stir well to prevent any lumps in the cleansing bar
Once you get a complete mixture, add essential oils and stir again
Pour into mold and place the mold into the fridge; that way the bar will solidify quicker and you'll prevent any clay setting at the bottom of the bar
When solid (after an hour or three), take the cleanser from the fridge and start using it!
Notes:
1. If you want to make more than just one bar, you can easily double the amount of the ingredients.
2. Add essential oils that are to your liking; I used a drop of cinnamon bark and a drop of tangerine essential oils because it's cocoa and it's not easy to find appropriate oils that go well with it.
3. To use: splash your face with water. In small and gentle circular movements work through the entire facial area with the clay cleanser.
What's your favorite cleanser?
Stay Wild!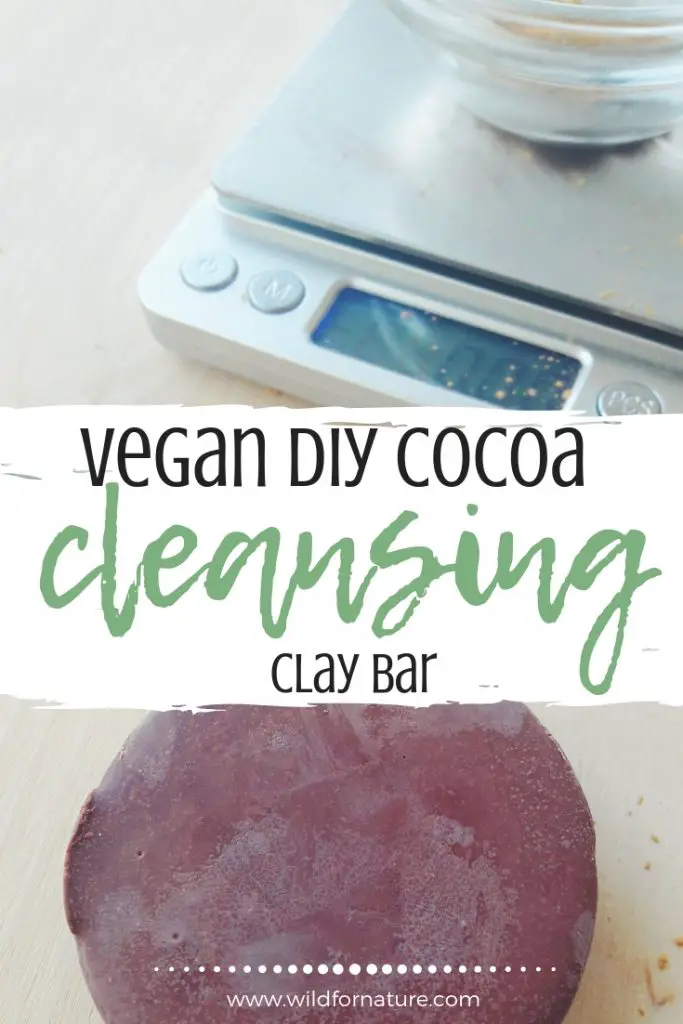 Have you made this recipe? Tag us on Instagram #wildfordiy
Help support Wild for Nature
Many of you have asked if there's a way to help support Wild for Nature. I've signed up for Buy Me Coffee. If you love what I do, learn from me, sell anything you made from my recipes, and want to see Wild for Nature grow even more, I'd be thrilled if you'd consider buying me a coffee! It works as a one-time or a monthly donation of $3. You can also get beautifully designed PDFs with a series of recipes and other resources I publish there, to help you learn and get creative at home! I can then use that money to further develop and grow Wild for Nature and you can help me continue with wild creations and resources!