It's summer. It's hot. If you're like me, you welcome all things refreshing that walk your way. That's why we're making a cooling spray for summer. Forget about heavy fragrances that leave your nose sticky.
Forget about oily and creamy, this one is all water-based!
Ready to make your own cooling spray? Let's make it now!
How many times have you found yourself staring at the pretty bottles of body mists thinking: I want them all!
Some of them I still want because the bottles are pretty, others because they smell divine.
But often, when I finally decided on a bottle, I realized not only that it's loaded with chemicals I can't pronounce (you know what I mean; the long unpronounceable codes full of y's and x's) and have no idea what they were. I know I'm not alone in this. That's why this blog came to be!
Anyway, these body mists often don't do enough in terms of skin nourishment. My skin was often dry instead of well-hydrated and the fake smell started to irritate me with time.
That's why I decided to make my own cooling body mist for summer, adapt it to my own tastes and include only the good ingredients!
And now, you can too! It's simple, healthy, nourishing, and the best part about it: flexible! If you don't like my selection of essential oils, choose your own and come up with a cooling body mist that's completely personalized!
It's just really lovely and easy to make. Even though it has a few ingredients that seem Pro, they'll easily incorporate into the recipe, making a refreshing summer concoction of scents that can easily be adapted to your taste!
You'll need a scale and a spatula. And what you'll make, is…
easy to make! Very easy!
1000% vegan
Gently fragrant.
Greatly refreshing and lightweight!
How do you make cooling spray?
This is a simple recipe that only packs the best natural ingredients. This cooling body spray for summer is a great thing to keep around. Refreshing, cooling, and soothing at the same time, this body mist became my constant companion in the past few weeks and I'm really excited to share this recipe with you!
Basically, you combine a few (or many) ingredients, dump them in a bottle, and you're good to go. This recipe doesn't require any heating phase, it's all done cool and cold under the AC in your kitchen, or a fresh breeze in your garden.
Let's have a look at the ingredients!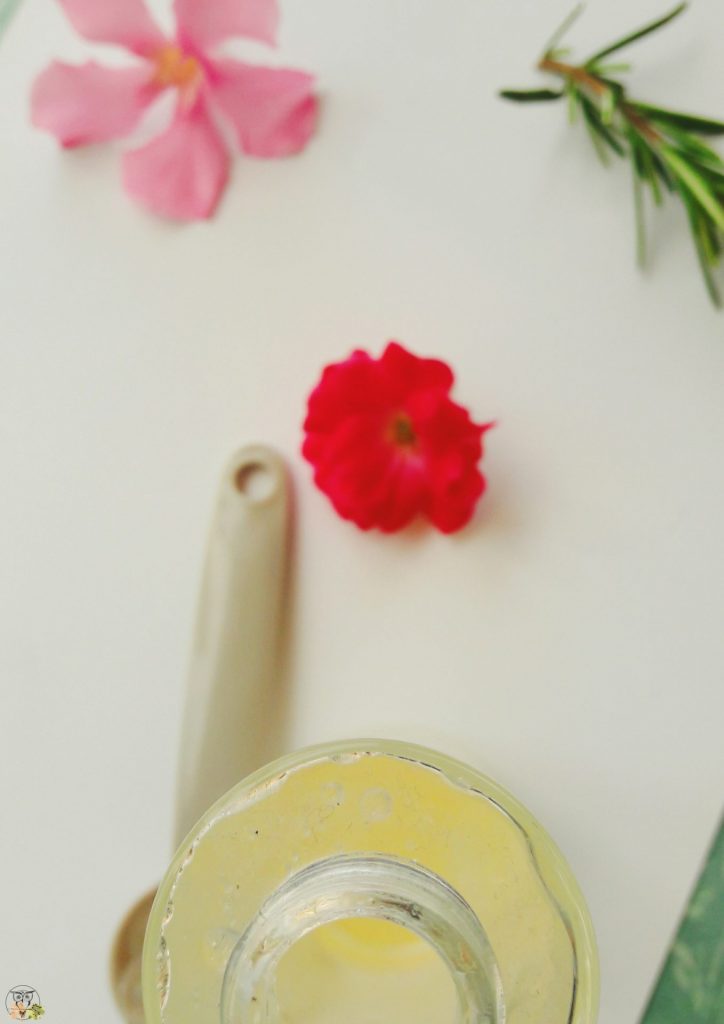 Lavender hydrosol
This is a must-have ingredient for me in any mists and sprays that I make. You can use any other hydrosol if you wish though, lavender isn't a must here.
Hydrosols are lovely. They have toning properties. They're hydrating and they manage to maintain the pH balance of your skin. They are refreshing and gentle and great for summer skincare (as they can help soothe sunburn).
Hydrosols also slow down the aging process, protect our skin from the free radical damage, maintaining healthy skin, and giving you a fresh youthful glow!
You can make hydrosols yourself! Check my post on DIY rosemary hydrosol. Still not convinced? Read more on rosewater skin benefits.
Aloe Vera
Useful for a number of things, aloe vera actually may be the first thing you think of when you think summer skin care. True, aloe is a very beneficial ingredient to keep in your natural cupboard. My favorite way to use aloe is to add it to light summer lotions and body mists such as this one.
Anyway, aloe vera slows down the aging process, it has excellent anti-inflammatory properties, reduces oxidative stress, and boosts the healing process of the skin.
Did you know that aloe vera has been supposedly used for more than 6,000 years already? Who am I to deny history! This one is a definite must in my cooling body mist.
Aloe vera is a natural moisturizer with an additional plus: it hydrates the skin but without the greasy feel, which makes it a great addition to summer skin care. Apart from that, aloe vera has powerful healing abilities that are perfect to treat skin damaged by sunburn.
Peppermint extract
It's toning, soothing, and pleasantly cooling and refreshing. That's the main reason it's in the recipe. But, peppermint extract has also anti-aging properties and it's a common ingredient in anti-cellulite creams.
Cucumber extract
It's cooling and a natural emollient. It's a new ingredient I discovered recently and I love it. It easily softens the skin and conditions it. Cucumber extract is excellent as after-sun care as it's also hydrating and slightly cooling.
Allantoin
Allantoin is an effective moisturizer; it has anti-aging properties and it doesn't irritate the skin. It can boost the healing process of the skin and it makes your skin soft and smooth. What's more, it can soothe irritated skin and it works lovely in this recipe.
DIY Cooling Body Mist for Summer
Ingredients:
60g lavender hydrosol
20g distilled water
10g aloe vera gel
5g peppermint extract
5g cumber fruit extract
2g vegetable glycerin
0.3g Xanthan gum
0.2g allantoin
0.5g cosgard
100ml spray bottle
Instructions:
Weigh the ingredients.
Dissolve xanthan in vegetable glycerin
Then, weigh in other ingredients; the hydrosol, distilled water, fruit extracts, aloe vera, allantoin. Stir well.
Add cosgard (preservative) and pour the concoction into a 100ml spray bottle. Shake, spray, and enjoy your cooling body mist!
Notes:
Using a preservative in this recipe is a must since it contains many water-based ingredients. You can read more on why to use preservatives here.
You can omit distilled water and substitute it with all hydrosol if you wish. Also, feel free to substitute lavender hydrosol for another option (rose, lemon balm…)
I don't recommend substituting cucumber extract and allantoin.
If you can't get your hand on peppermint extract, feel free to substitute it with either peppermint hydrosol, or more distilled water.
What's your favorite way to keep cool and fresh in the summer? Let us know in the comments below!
Stay Wild!
Have you made this recipe? Tag us on Instagram #wildfordiy
Help support Wild for Nature
Many of you have asked if there's a way to help support Wild for Nature. I've signed up for Buy Me Coffee. If you love what I do, learn from me, sell anything you made from my recipes, and want to see Wild for Nature grow even more, I'd be thrilled if you'd consider buying me a coffee! It works as a one-time or a monthly donation of $3. You can also get beautifully designed PDFs with a series of recipes and other resources I publish there, to help you learn and get creative at home! I can then use that money to further develop and grow Wild for Nature and you can help me continue with wild creations and resources!