Is summer in full swing and you're constantly looking for a refreshment? Are the standard perfumes too heavy? Well, how about a cooling spray with natural ingredients?
Today we're making cooling body mist for summer! Refreshing and soothing, this is a must-have! My skin loves it, the essential oils just add the extra kick!
(PS: of course aloe vera is in there! what kind of a summer spray would it be without it?!)
*Some of the links in this post might be affiliate links. Affiliate links come at no extra cost to you. These links allow me to share the products I authentically recommend (and use) and support Wild for Nature by receiving a small commission.

Why make your own cooling spray?
How many times have you found yourself staring at the pretty bottles of body mists thinking: I want them all!
Some of them I still want because the bottles are pretty, others because they smell divine.
But often, when I finally decided on a bottle, I realized not only that it's loaded with chemicals I can't pronounce (you know what I mean; the long unpronounceable codes full of y's and x's) and have no idea what they were. I know I'm not alone in this. That's why this blog came to be!
Anyway, these body mists often don't do enough in terms of skin nourishment. My skin was often dry instead of well-hydrated and the fake smell started to irritate me with time.
That's why I decided to make my own cooling body mist for summer, adapt it to my own tastes and include only the good ingredients!
And now, you can too! It's simple, healthy, nourishing, and the best part about it: flexible! If you don't like my selection of essential oils, choose your own and come up with a cooling body mist that's completely personalized!
DIY cooling body mist for summer
This is a simple recipe that only packs the best natural ingredients. This cooling body spray for summer is a great thing to keep around. Refreshing, cooling, and soothing at the same time, this body mist became my constant companion in the past few weeks and I'm really excited to share this recipe with you!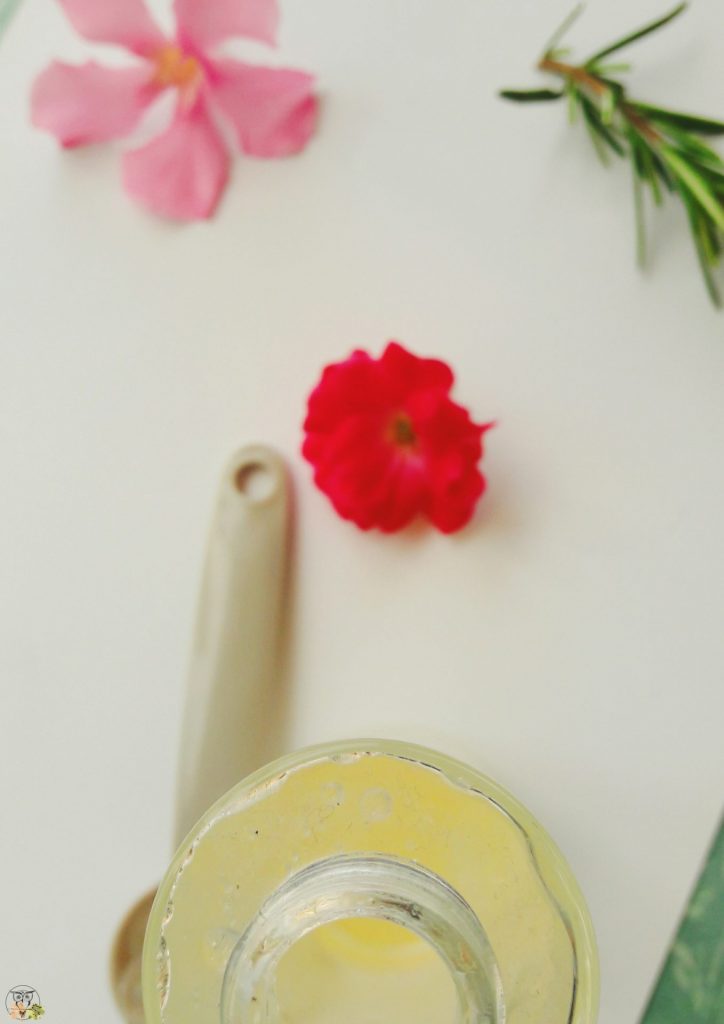 Rosewater
This is a must-have ingredient for me in everybody mist. While you can use any kind of herbal or floral hydrosol, I just love rosewater too much!
Anyway, rosewater has toning properties. It's both hydrating and it manages to maintain the pH balance of your skin. It helps refreshes the skin, which is a great benefit for summer! Rosewater may help to soothe sunburn but even if your skin hasn't been damaged, it's still very beneficial to add to your after-sun skin care.
Last but not least, rosewater also slows down the aging process. The antioxidants in rosewater help to protect the skin from the free radical damage, maintaining healthy skin, and giving you a fresh youthful glow!
You can make rosewater yourself! Check my post on DIY rosemary hydrosol. Still not convinced? Read more on rosewater skin and hair benefits here.
Aloe Vera
Useful for a number of things, aloe vera actually may be the first thing you think of when you think summer skin care. True, aloe is a very beneficial ingredient to keep in your natural cupboard. My favorite way to use aloe is to add it to light summer lotions and body mists such as this one.
Anyway, aloe vera slows down the aging process, it has excellent anti-inflammatory properties, reduces oxidative stress, and boosts the healing process of the skin.
Did you know that aloe vera has been supposedly used for more than 6,000 years already? Who am I to deny history! This one is a definite must in my cooling body mist.
Aloe vera is a natural moisturizer with an additional plus: it hydrates the skin but without the greasy feel, which makes it a great addition to summer skin care. Apart from that, aloe vera has powerful healing abilities that are perfect to treat skin damaged by sunburn.
Avocado oil
There are a lot of avocado oil benefits for health, hair, and skin. It is useful and effective for many skin conditions, inflammation, and damaged skin. Avocado oil helps to soothe the sun damage, moisturizes the skin, and nurtures it with healthy fatty acids, vitamin E, and chlorophyll, among others.
Because avocado helps to boost the reparation of the cells, it is a popular ingredient for those with dry skin. The vitamin E, which is an antioxidant, helps to reverse the UV damage. Moreover, the skin heals faster with some avocado oil. It also improves skin elasticity and prevents premature aging.
Safflower oil
Safflower oil locks in moisture and smooths your skin. Extracted from the safflower plant, this oil has been used as a cooking oil for a long time. It has been growing in popularity because it's rich in fatty acids that provide beneficial effects to our skin.
A great oil for dry skin, safflower oil is also beneficial for various skin conditions. It's a light and non-greasy oil, which make it an excellent choice for summer skin care.
Hydrating, this oil promotes healthy and glowing skin. It minimizes the appearance of wrinkles and it helps to repair the skin. It is rich in vitamin E, an antioxidant, and it's anti-inflammatory, which means it offers a natural healing boost to sun damaged skin.
Peppermint essential oil
Antimicrobial, anti-inflammatory properties, peppermint essential oil is a must when it comes to sun linked skincare. Whether you're looking for a natural relief for sunburn, or just something to reduce redness, peppermint is the one to use!
Because it boosts the healing process of the skin, this oil contains menthol that helps to numb the damaged area of the skin. It's soothing, it boosts blood circulation, and it has toning properties.
Read more on other best essential oils for sunburn here!
Lemongrass essential oil
You may be more familiar with lemongrass if you're into green teas and Thai cuisine. Since I love both, dried lemongrass is a staple in my kitchen. Gradually I got addicted to its smell and now I love it as an EO as well.
Its sweet lemony scent is uplifting, but its benefits go way beyond just that. Lemongrass has antibacterial, anti-inflammatory, and antifungal properties, it helps to reduce puffy skin and naturally tones your skin.
You can easily add it to a number of homemade skincare recipes, such as deodorants, body scrubs, or facial toners. You can find more ideas at the Little Green Dot blog on how to use lemongrass in DIY skincare!
PS: lemongrass is not phototoxic! It's not a citrus or related to one.
Lavender essential oil
The season is here! Lavender grows all around and it's such a lovely fragrance! Lavender is extremely beneficial for a number of problems. It's on my list of the best essential oils for sunburn, oils that soothe mental overload, stress, and anxiety.
Apart from that, lavender EO is very beneficial for the skin because it boosts the blood circulation. It's antibacterial, antifungal, anti-inflammatory, and I could go on with the beneficial properties. It heals chapped skin, improves complexion, and boosts the healing process of the skin.
DIY Cooling Body Mist for Summer
Ingredients:
– 4 TBSP Rosewater hydrosol
– 1 TBSP Aloe Vera Gel
– 2 TBSP Avocado oil|
– 2 TSP Safflower oil (optional)
– 6 TBSP Distilled water
– 1 TSP Vegetable glycerin
– 5 drops Peppermint EO
– 10 drops Lemongrass EO
– 10 drops Lavender EO
– A glass bottle
Instructions:
Measure the ingredients.
Combine hydrosol and aloe vera, add the preservative (if using) and glycerin
Stir well
In a separate container, combine oils
Pour the oils into the water-based ingredients
Stir well
Pour into the bottle and shake
Enjoy your cooling body mist!
Notes:
This cooling mist contains distilled water and hydrosol. It can go rancid because it doesn't contain any preservative. You can either make a small batch, store it in the fridge and use it within a few days. Or, you can make it with a preservative (I recommend this one). It's water soluble, which means you need to dilute one teaspoon of preservative in distilled water before mixing it with the oil base. Read more about this preservative here.
What do you think of this cooling body mist? Let me know!
Stay Wild!