Suffering from parched skin due to too much summer sun? You can easily nourish your skin with a simple fragrant cocoa butter lotion recipe, that combines emollient and creamy cocoa butter and juicy grapefruit essential oil.
I've been obsessed with summer skincare lately, and this recipe has turned into my go-to lotion after a shower and after sun-exposed skin. Fight tired and dried skin with this creamy lightweight lotion you can make at home with beautiful natural ingredients!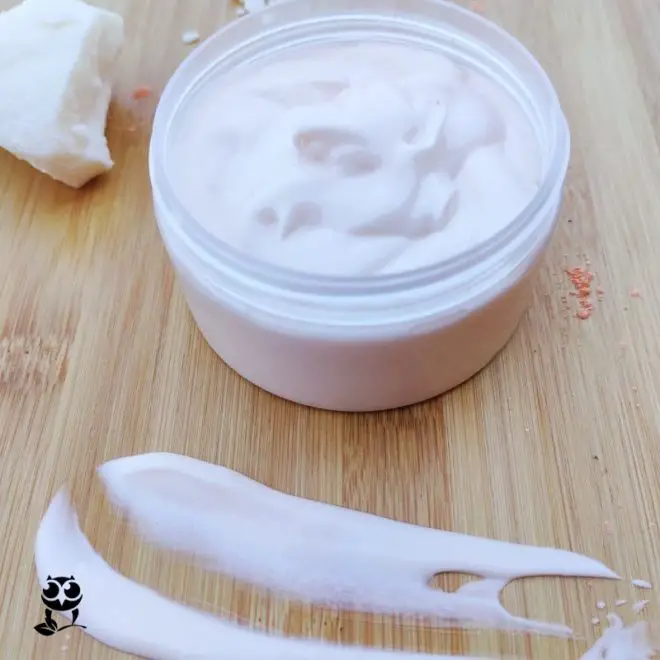 The main ingredient of this emulsified body butter recipe is cocoa butter. It's rich, creamy, and thick, and it packs emollient properties. In other words, cocoa butter helps to protect the skin from pollutants and free radical damage as it's rich in antioxidants.
It's an all-natural moisturizer, which means it can heal cracked skin and form a protective barrier oil its surface so that it prevents it from losing water (remember, hydration is key if you want supple and youthful skin).
Also, it packs anti-inflammatory, restorative properties, nourishing fatty acids, and improves the regeneration of skin cells (which is important for healthy and glowing skin).
Cocoa scent pairs nicely with citrus essential oils, so I decided to use grapefruit essential oil to boost the overall scent of the lotion. You can use a different citrus oil; tangerine and sweet orange would also work very lovely!
The mica powder adds a gentle tone of light peach color, and pairs great with a grapefruit scent. A plus? When used in larger amounts, mica powder provides a shimmery effect on the skin. Increase its amount to get your summer skin illuminating and glowing naturally, all with one recipe!
Other ingredients are macadamia nut oil, which is a lighter oil (to counterweight the heavy cocoa). Macadamia oil helps to regenerate the skin and promotes soft and supple skin. It's also rich in antioxidants and it improves skin's appearance.
From the humectants, we're only using vegetable glycerine since I wanted to keep this recipe as simple as possible. Phytocream 2000 is my go-to emulsifier; it makes lovely concoctions and lotions especially when combined with cetyl alcohol. See below for substitutions.
Overall, this cocoa body lotion smells like summer, applies easily, and absorbs into the skin quite quickly. It won't leave your skin greasy, but rather soft and smooth.
If you're looking for something heavier for your skin, try my homemade summer cocoa body mousse. Essentially, it's cocoa whipped body butter with a few ingredients that nourish the skin during summer.
How do you make homemade cocoa butter lotion?
If you've made any kind of emulsion before, this recipe should be easy. If you're completely new to lotion making, it may seem complicated, but it's really not.
Here's how we make cocoa butter lotion:
Weigh water phase and oil phase in separate beakers
Weigh the beaker with water phase (and write down the number, you'll need it later to substitute the evaporated water once all the ingredients melt; the weight of my beaker with water phase was 213g)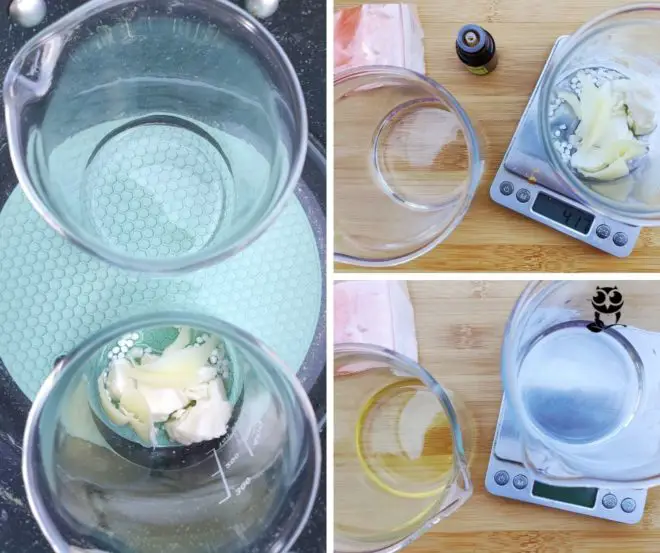 Place them on the stove to melt the ingredients
When melted, replace the evaporated water (in my case I had to add 10.6g additional distilled water- I've already included the lost water into the recipe formulation below)
Pour the water phase into the oil phase and begin blending the mixture with an immersion blender. Then, leave the lotion to cool down before you can add the last few cool-down ingredients (preservative, mica powder, and essential oils)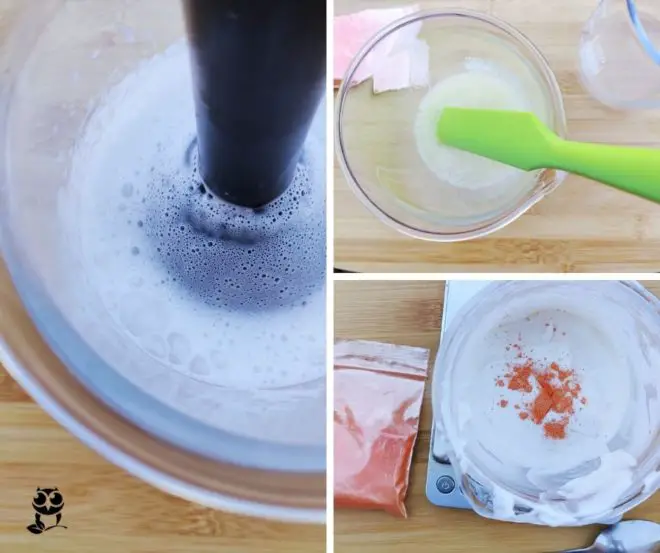 Add in the last 3 ingredients, stir well and pour the lotion into a container!
To store this lotion, I used a 100ml plastic jar.
Summer Cocoa Butter Lotion Recipe
Ingredients
Water phase
Oil phase
Cool-down phase
Process
Prepare a water bath: add 3cm/1" of water to a wide pan. Bring the water to simmer (low-medium heat).
Weigh water phase ingredients in a heat-resistant glass measuring cup and note the weight of the beaker with the ingredients inside
Weigh the oil ingredients in a second heat-resistant glass measuring cup
Place both beakers in a pan to melt all the ingredients (about 15-20 minutes)
Next, take both beakers from the water (all ingredients should be melted and dissolved fully by this point).
Weigh the water phase again and top up with distilled water to reach the original weight you noted down at the beginning
Pour the water phase into the oil phase. Take your immersion blender and begin blending the lotion. Blend for about 5 minutes and leave the lotion to cool down. You'll want it to be below 104F/40C degrees before you continue with the last, cool down, phase. The emulsion has to be below 40C or the heat can damage the final few ingredients.
Once your lotion has reached the desired temperature, add mica powder and essential oil; stir well.
Add cosgard as the final ingredient. Stir with a spatula well for a minute or two, until it's evenly incorporated into the lotion.
Transfer the body lotion to a clean (sterilized) container.
Pack it and apply as needed!
Notes
Mica powder is optional; add more for the illuminating effect on the skin (I'd recommend that you start by adding 1g into the mixture, stir well, and keep testing until you get the desired shimmery effect; you may need to use up to 4g before you reach the desired shimmer)
Substitute grapefruit oil with another citrus oil
Substitute Phytocream2000 emulsifier with olivem1000 or emulsifying wax NF; I have tested the recipe with both and it should work well
What essential oil goes well with cocoa butter?
Cocoa butter works well with
citrus essential oils (tangerine, orange, sweet orange, grapefruit, and bergamot)
spicier essential oils (cinnamon, clove, nutmeg, and ginger)
peppermint essential oil and vanilla
warm essential oils (sandalwood and patchouli)
What's more, you can also try using floral-based essential oils with cocoa butter, such as lavender and rose essential oils (but personally, I don't think they work together very well).
How to use cacao butter for skin?
Cocoa butter is a versatile ingredient for skincare. You can use it in a number of recipes as well as neat on your skin. Keep in mind that it's a brittle butter (unlike shea or mango butter it stays solid on room temperature up to 34-37 degrees and it only melts when on contact with the skin).
You can use it in
lip balm
body scrub
creamy body butter
skin cream and body lotion
body lotion bar
hand cream
Have you made this cocoa butter lotion recipe? Tag us on Instagram #wildfordiy
Help support Wild for Nature
Many of you have asked if there's a way to help support Wild for Nature. I've signed up for Buy Me Coffee. If you love what I do, learn from me, sell anything you made from my recipes, and want to see Wild for Nature grow even more, I'd be thrilled if you'd consider buying me a coffee! It works as a one-time or a monthly donation of $3. You can also get beautifully designed PDFs with a series of recipes and other resources I publish there, to help you learn and get creative at home! I can then use that money to further develop and grow Wild for Nature and you can help me continue with wild creations and resources!