Hello there! Looking for high-quality essential oil brands? I recently got my hands on a brand, and it's much more than just a brand!
Today I want to tell you about Anatta Marketplace, a new brand on the block. I got the chance to test some of their products recently and I wanted to share my experience with you!
Ready? Read on!
2021 UPDATE: Anatta Market website can't be reached, but it seems that you can connect with them on Facebook and other social media.
Anatta market review
Anatta Marketplace may be a new (essential oil) brand, but they're actually much more than just that. They sell single essential oils, floral waters, and have few other products lined up. You can't find them on Amazon, but you can find their products on their official website.
What is Anatta Marketplace?
In their own words,
"Anatta is a new global marketplace, which is reshaping traditional business practices with priority goals dedicated to purity, sustainability, and social responsibility."
So what does that mean? Well, from what I've seen and experienced, these guys work directly with the farmers. They eliminated multiple suppliers in the chain of production. They connect customers to producers and they're very transparent about it.
After all, the word "anatta" stands for inspiration, respect, and improvement of the world, our lives, and the planet as a whole. If you know anything about Buddhism, you understand the word already. If you're new to the concept, anatta is an ancient Pali word that means constantly changing (said very broadly).

And their mission?
They pay their producers well, try to improve the quality of life of the farmers and the communities. At the same time, they promote high-quality products to their customers and assist their farmers with the management of their resources. In other words, they want to improve the quality of life for everyone involved in their marketplace: from the rosebuds to drops of essential oils in your home.
They don't just fund the communities, they try to give back to them, understand them. In their own words,
"Planned Anatta Programs at our Partner Farms include: building necessary medical facilities and orphanages, piping portable water to communities, micro-financing farmers, and assistance in establishing better managed and smartly sustainable farming, harvesting, and distillation practices.
Your purchases go a long way in building self-sufficient infrastructures at these farms, which enable farmers and their families to flourish because when they succeed, we all do."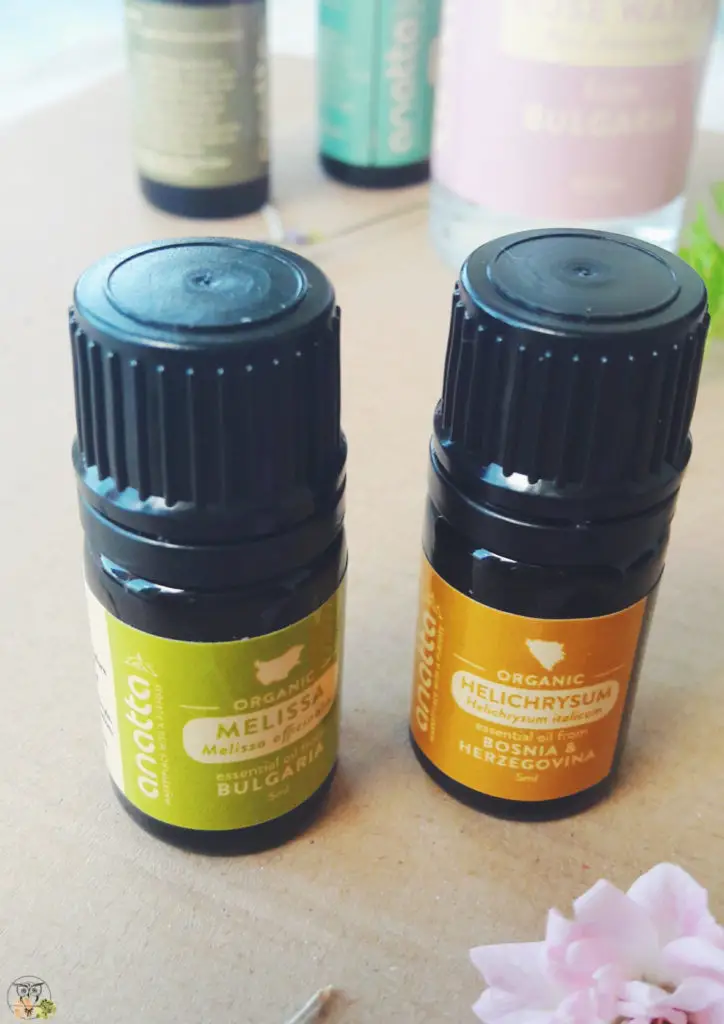 What's the best thing about Anatta Marketplace Oils?
There are quite a few things to consider: practicality, fairness, innovation, and sustainability. According to RetailDrive, Anatta
"allows customers to meet and communicate directly with the very farmers that grow the plants used in the products while paying those farmers over 50 percent higher than competitors."
Personally, I love the whole idea behind community support. I believe it's very important to give back and get high-quality products in return.
The oils I've tested have strong, potent, authentic smells. There were no chemical or fake smells to be noted in the bottles and I've smelled and tried a lot of essential oil brands by now. I always test some of the most common oils I use first (like lavender and peppermint) to be able to personally detect the difference between different brands.
Even if I'm a bit biased, the company has various methods of testing their products both at the source and then separately by third-party testing.
This was all new to me, to be honest. I now know who made my Helichrysum oil. Not only I saw some of their photos, but I also know the exact country of origin and I can even contact them directly if I have any questions. This is for me personally, a whole different approach to business.
The company isn't trying to hide information or be inaccessible. It's quite the opposite; as a user, you have all the information about your products accessible in your dashboard. You can contact the company any time you have a question. You can even contact the farmers who made your product directly!
If you want to contact the brand, you can do so on their website.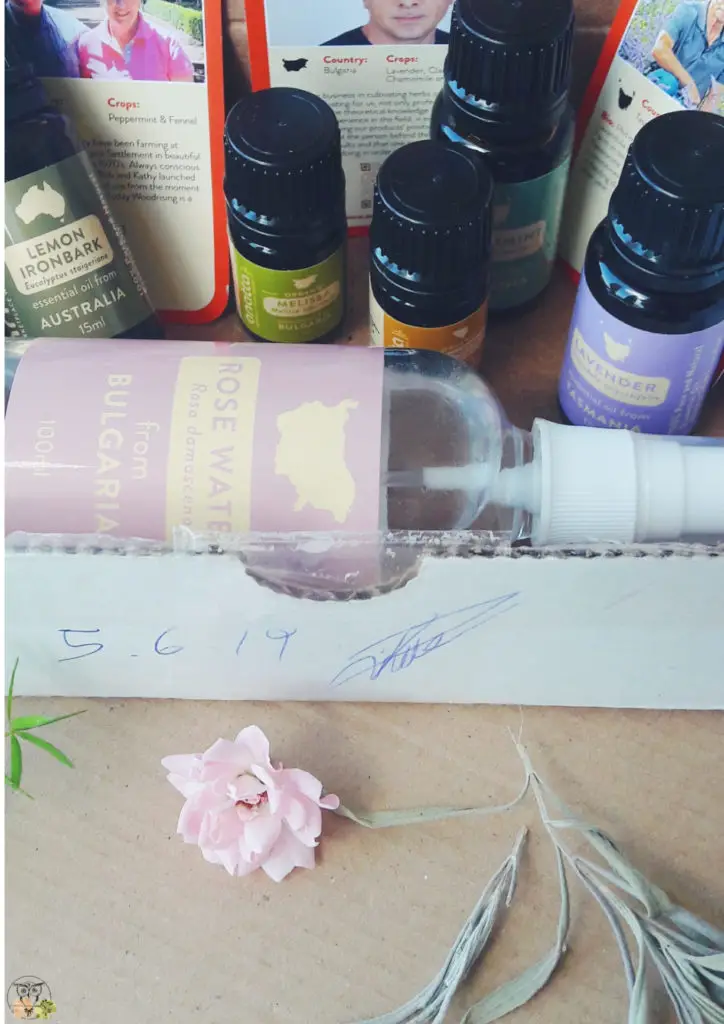 A brief history of the company
To give you an insight into the when, the how and the why of Anatta's beginnings, I've emailed its co-founder and CEO, Josh Thomerson, who was kind to answer the questions and explain it all into a bit more detail:
"I started Anatta about a year ago, it was an idea that came to me after working with so many farmers and producers that I felt this complicated supply chain made it difficult for businesses and finally the customers to get the quality they were trying to purchase."
Mr. Thomerson had worked previously as the sourcing manager of Alchemy Aromatics. He worked alongside some of the leading chemists in the industry and handled new business development for their international supply chains.
With Anatta, he wanted to change the supply chain process because that wasn't beneficial enough neither for the farmers nor for the consumers. Josh explains:
"The reality was, farmers were taking a tremendous risk in producing essential oil crops, and a broker to broker supply chain meant most of their future was outside of their hands.
After all, we all consume and produce in small quantities. Farmers are forced to send their products to multiple brokers, mixing them time and time again. First of all, that makes absolutely no sense to the farmer. What's more, it makes even less sense to the customer.
We as the customers surely want only the best we can get for our hard-earned money: it's pure quality or nothing, right? That's why Joshua explains,
"we created a lean business model that plugs farmers' products directly to customers, allowing them to access pure quality at an affordable price while compensating the farmer tremendously more than he would be paid in a broker market."
And that's one of the things that made me consider Anatta's products in the first place. That Melissa essential oil that came with the mail has a gorgeously lemony and intoxicatingly potent smell of Melissa. The little card that comes with the product is a great way of putting the face on the product. I know who made my essential oil. I know a bit about them, how they look like, and where they're from. And I absolutely love that concept.
Anatta quality assurance
Anatta Marketplace among other things also focuses on providing their customers with natural, pure, and high-quality products.
They test their products with two different methods:
A Shimadzu GCMG test which tests the products at the source (a gas chromatograph-mass spectronomy test)
Impartial third-party analysis
Since the company aims for transparency, they allow their customers to access test results as well. Now, you don't have to request any test results, it's far more simple.
Let's say you're their customer. You then login to your account where you have your own dashboard. There, you have access to all the documentation, including organic certificates. They also provide each product with clarification of the quality and professional comments.
Apart from that, their facility is compliant with organic certifications for the US market. Additionally, their farmers often have other certifications as well (fair-trade, eco-cert, and other organic certifications). The company provides these once you make a purchase. What's more, Mr. Thomerson explains:
"The current farmers who have organic on our site, their organic certificates are available with the matching name on the document, so customers can be confident this isn't some blanket certificate, and really represents that material they are purchasing."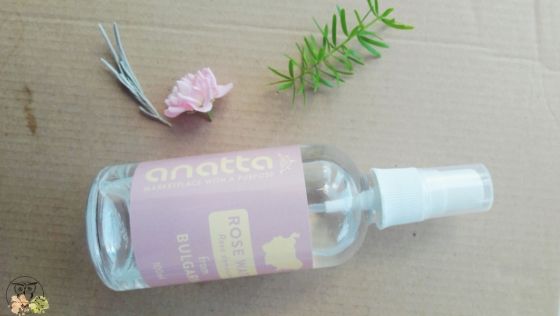 Product line-up
Let's have a look at the products Anatta Marketplace offers. At the time of writing this review (June 2019), they had the following products available:
| | |
| --- | --- |
| Lavender | Tasmania or Bulgaria |
| Frankincense | Somaliland |
| Lemon ironbark | Australia |
| Peppermint | Tasmania |
| Roman chamomile | China |
| Blue yarrow | Bulgaria |
| Blue chamomile | Bulgaria (also organic, from the same farm) |
| Fennel | Tasmania |
| Melissa | Bulgaria |
| Sandalwood | Australia |
| Oregano | Bulgaria |
| | |
[/su_table]
Their organic line consists of patchouli (Rwanda), helichrysum (Bosnia and Herzegovina), geranium (Rwanda), clary sage (Bulgaria), peppermint (Bulgaria), juniper berry (Bosnia and Herzegovina).
4 Floral Waters (all from Bulgaria): rose, lavender, blue chamomile, clary sage
Roll-ons – rose (rose + coconut oil) also from Bulgaria
Coming soon on their website are also spices and teas.
To begin with, the bottle tells you where is the product from. When you click on any product, you can look at the ratings, the farmer's biography, origin, and a link to the contact page. Yes, you can contact each farmer separately, sending them an email, asking them a question. You can also have a look at their photos.
Apart from that, you can see all the product details below: description, possible precautions, and some extra information on the extraction method, aromatic profile, and main components of each oil.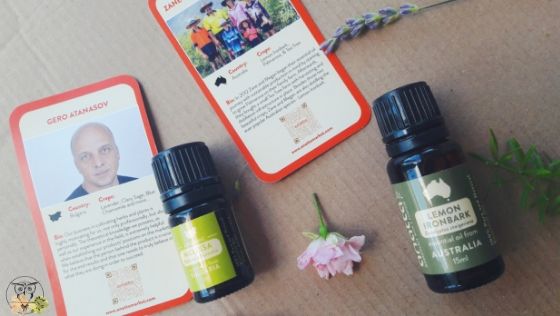 Anatta marketplace: let's sum up
Anatta Marketplace is a friendly, transparent, and innovative brand that prides itself on the quality and purity of its products. I recommend them highly to you. I've done my research and testing of many of their oils as well as rosewater, and I absolutely love all of them. The bottles are stylish and well designed and I'm happy adding them to photos since they're clean, minimalistic, and straight to the point.
Objectively speaking, some of the oils may be slightly pricey, but you're not just paying for the product. After all, Anatta is a wider concept than just an essential oil brand. They are trying to leave the world better than they found it, improving lives, and giving their users the best value for their money. Their clients and their farmers are not just meant to get money. Their farmers and their customers matter and they keep proving it every step of the way.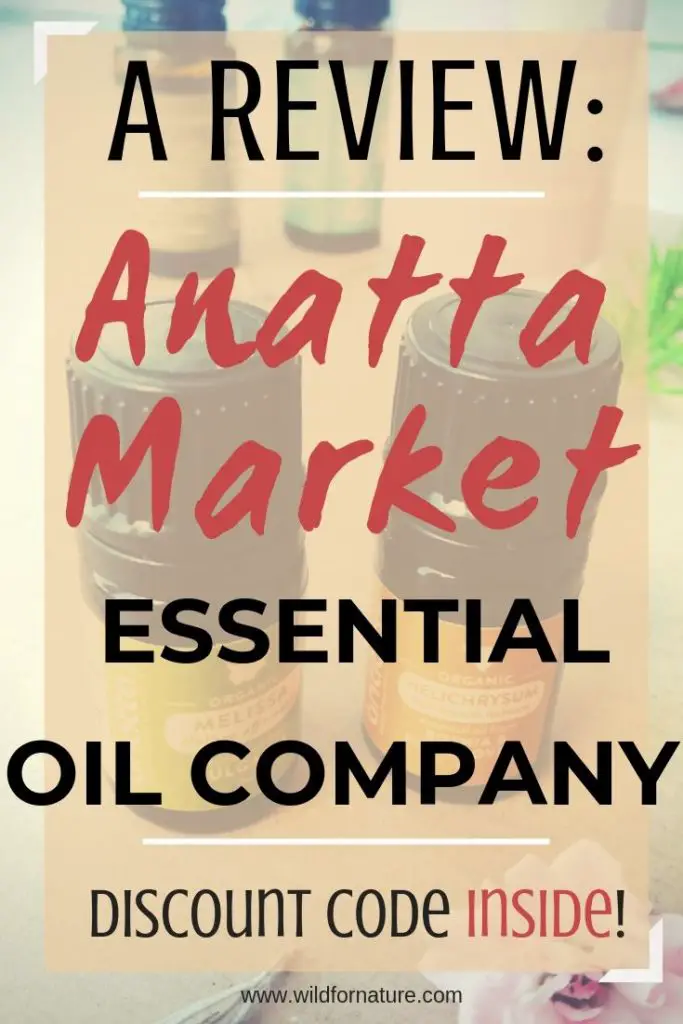 Help support Wild for Nature
Many of you have asked if there's a way to help support Wild for Nature. I've signed up for Buy Me Coffee. If you love what I do, learn from me, sell anything you made from my recipes, and want to see Wild for Nature grow even more, I'd be thrilled if you'd consider buying me a coffee! It works as a one-time or a monthly donation of $3. You can also get beautifully designed PDFs with a series of recipes and other resources I publish there, to help you learn and get creative at home! I can then use that money to further develop and grow Wild for Nature and you can help me continue with wild creations and resources!