Are you ready for something creamy, fragrant, yet effective? Something that can help tighten skin and nourish it at the same time?
Today we're making a fluffy, smooth and soft skin firming cream aka body butter for skin tightening. It's not the best firming lotion after weight loss (it's a butter!), but I've had a friend using it religiously after she's lost a lot of weight and she keeps coming back for more!
Let's see how this beauty can work for you!
Now, this is a very easy recipe; you can make it even if you're a complete beginner. It requires a bit of weighing, a bit of whipping, and mostly, a lot of slathering the butter all over you!
1000% vegan
Only natural ingredients
Creamy.
Oh, so fluffy!
Slightly greasy.
…but pleasantly fragrant!
Stuff that tightens skin
Okay, so I was debating with a friend of mine who lost weight about what kind of butter she wanted. She wanted something nourishing and diverse from what she uses on a daily basis (she's an EVOO aficionado but you can only use so much olive oil).
I sat down with my large cup of green tea and started researching and browsing the web on how to tighten skin on the belly and home remedies for skin tightening on the stomach. The oils and butters in the recipe all promise to target the skin tightening process, some even boost collagen production. They help the skin to heal and improve elasticity.
No, this is not a miracle recipe that will magically transform your skin overnight. That's not what happened to my friend. It does, however, leave the skin very smooth and soft, healthy, nicely fed and gently fragrant.
This butter is greasy even though mango butter soaks into the skin nicely, but that shea always leaves a trace of shine. If you want to make the butter less greasy, see here how to reduce the grease level.
Secondly, your body will need more than just this butter. I'd recommend you take up dry brushing routine if you haven't yet; that'll boost circulation and even out the skin tone.
Thirdly, you can optionally try to use a body mist with caffeine to additionally give your skin a boost.
Overall, this is ridiculously creamy and fluffy patchouli body butter recipe. It's as white as snow and as decadent as cake frosting. Seriously.
Let's get to the ingredients and the recipe!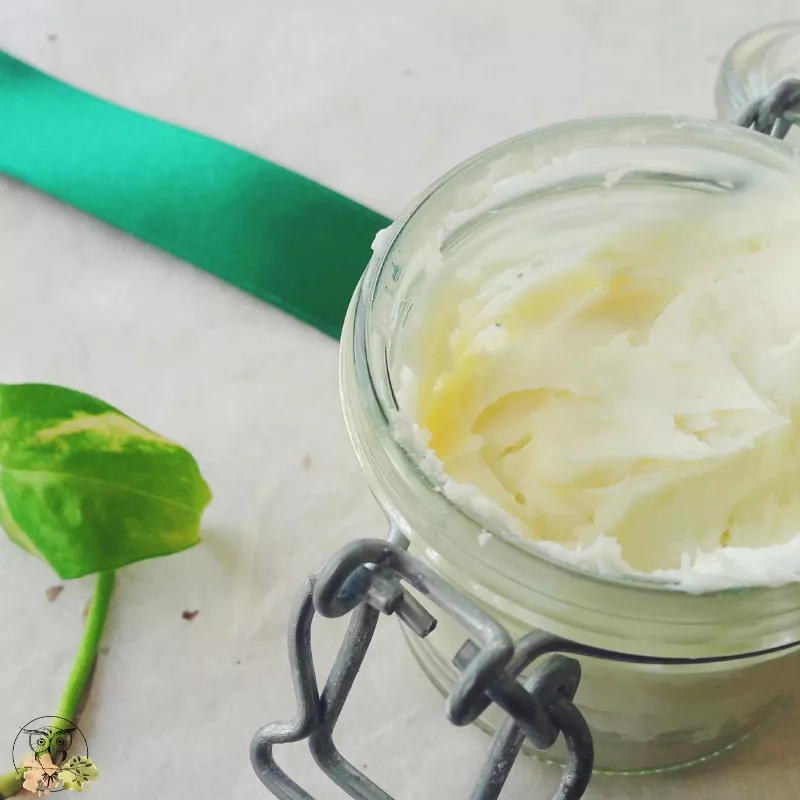 Mango butter
Apart from the fact that I'm severely obsessed with mango butter, there is one other, primary reason for using it in the recipe. According to New Directions Aromatics, mango butter
nourishes skin and boosts its elasticity as well as its suppleness, thereby reducing the appearance of fine lines and tightening skin for a firmer appearance.
I've found a few other sources that confirm its skin tightening abilities. Apart from that, mango butter is emollient and it'll make your skin smooth and very soft. It also helps with stretch marks (says NDA) and it helps to protect the skin from environmental damage and free-radical damage. It's antioxidant and anti-inflammatory and right down gorgeous!  You can read more about mango skin benefits here.
Shea butter
Yes, I know. The almighty shea. It's everywhere! It treats burns, hair, makes skin soft, and nourished, and healthy, and reduces irritation…there's nothing shea can't do! And it also helps with skin tightening. Again, NDA says that shea helps to boost skin regeneration and its
anti-aging and skin-protecting benefits are known to slow the signs and symptoms of maturing skin by supporting skin elasticity and suppleness. In doing so, it boosts collagen production and increases circulation while promoting skin cell regeneration.
You can also find shea butter in many commercial products that promote skin elasticity. There has to be something to it, right?
Camellia oil
Another gorgeous oil on the list, camellia can also tighten skin. It's the oil that's been a beauty secret to gorgeous Japanee hair and complexion and it's been a regular in my recipes as well. Camellia oil is slightly greasy for my taste but its effects are amazing. It tightens, brightens, softens, and much much more!
Read more about camellia skin benefits here!
Hemp seed oil
Apart from being a gorgeous and versatile carrier oil for any skin type, hemp oil is said to boost the elasticity of the skin since it has firming and tightening properties. It has the ability to hold water so it also promotes the suppleness and softness of the skin.
When used on its own, it's quite easily absorbed and it doesn't clog pores. It also boosts circulation, which is a very important thing if you want to nourish the cells, make them healthier, and regenerated.
Essential oil blend
The essential oils I chose all target flabby skin. There are three stars in the recipe:
Patchouli oil is a common ingredient in anti-aging products as it boosts skin tightening and toning
Geranium oil boosts skin regeneration, reduces the signs of aging (sagging skin and wrinkles) and tightens the skin
Bergamot oil: well, I read that it helps to tighten skin, but I can't say whether it's true or not. This one is in here mostly because I believe it goes great with the other two; it tones down the floral geranium and it gives patchouli a kick of citrusy. It's a must. It's just plain awesome!
Vitamin E oil
Vitamin E oil is in the recipe to merely prolong the shelf life of this butter. It has moisturizing and nourishing properties as well. NDA says that this oil also helps to reduce the appearance of stretch marks and scars.
DIY Firming Patchouli Body Butter
Ingredients:
Process
Prepare a water bath: add 3cm/1" of water to a wide pan. Bring the water to simmer (low-medium heat).
Weigh mango butter in a heat-resistant glass measuring cup
Place the cup into the water and let the butter melt
Remove the cup from heat and add shea butter. By whisking and mixing let shea melt completely (you can put the cup back into the bath for a few second while dissolving it in mango butter)- but don't overheat it.
Once melted, remove the cup from heat and let the mixture cool down
Once cool, add other ingredients (camellia, hemp oils). Take your hand mixer and begin whipping the mixture until it resembles a creamy frosting. But that's not all. You'll repeat the process a few more times:

Whip for a few minutes and set into the fridge for 2 minutes
Whip for a few minutes, set into the fridge for 2 minutes
Add essential oils and whip again. The butter should resemble whipped cream and appear glossy

Transform into a container/jar of choice and slather it on!
Notes:
Sometimes I like to place the mixture into the fridge for a few minutes; by repeating the whisking, you'll get a fluffier butter
This is an oil-based product, you don't need any preservatives
Don't overheat shea; it'll get a grainy texture if overheated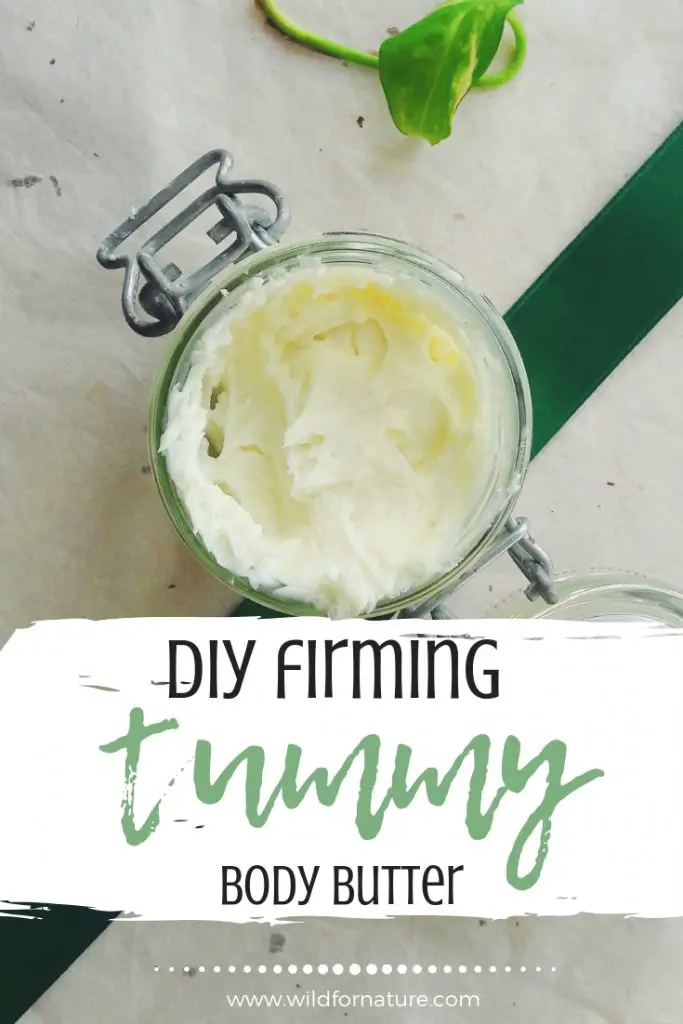 Help support Wild for Nature
Many of you have asked if there's a way to help support Wild for Nature. I've signed up for Buy Me Coffee. If you love what I do, learn from me, sell anything you made from my recipes, and want to see Wild for Nature grow even more, I'd be thrilled if you'd consider buying me a coffee! It works as a one-time or a monthly donation of $3. You can also get beautifully designed PDFs with a series of recipes and other resources I publish there, to help you learn and get creative at home! I can then use that money to further develop and grow Wild for Nature and you can help me continue with wild creations and resources!