Mother's day is near! That's why we're making a practical gift for your mom. My mom loves it. And it's easy to make (sort of) and it's rich and nourishing and fragrant.
What do you think about making your own facial moisturizer for aging skin?
Let's get started!
I don't know about you, but my mom is a fussy person to buy gifts for. Whenever I search for the best gifts for mom, I rarely find something she'd actually love or use.
Last year I made a mom's beauty box, but since she wasn't all that into it, I decided to go for something much simpler this year. I've done my homework and that's how I came up with the best moisturizer for aging skin over 60.
I wanted the gift to be in line with the more practical mother's day gifts because we're quite a practical family. But it wasn't that easy until I've had an epiphany!
The thing is, my mom is always struggling to find the best mature skin moisturizer. But most of them don't seem to work for her. Yes, she's fussy in this area as well. From what she's tried, most of them are either ridiculously pricey, not all are vegan and cruelty-free, and many don't work the way she'd want them to.
I decided to tackle the problem and I designed a recipe especially for her. She's been testing it (along with a hydrating facial toner) and she seems pretty happy with it.
That's why I decided to share the recipe; in case your mom is also fussy. Or in case you're also on the lookout for DIY best moisturizer for aging skin over 60 but you can't seem to find the ideal recipe.
In any case, this facial moisturizer for aging skin is
Gently scented
100% vegan
Nourishing
Greasier than your 20's and 30's facial lotions (duh!)
Let's get to the recipe!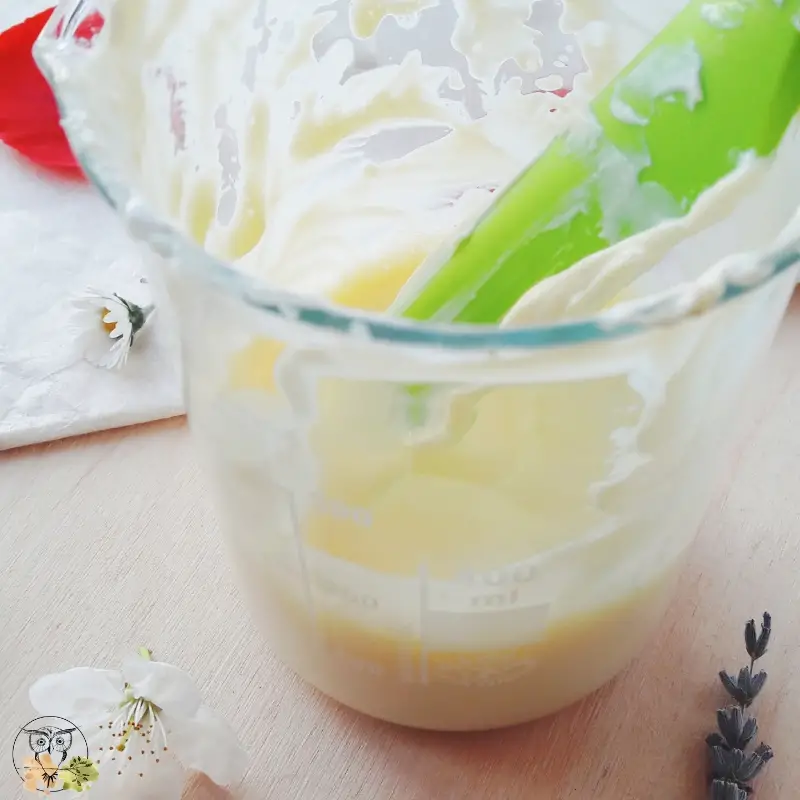 Homemade mature skin moisturizer
This moisturizer contains lovely hydrating and nourishing ingredients that will feed a dull, mature, and dry skin.
Rose hydrosol is the main ingredient in the water phase and it gives it a gentle scent. It's also excellent for hydration. You can read more about rose water benefits and uses here, but as far as hydrosols are concerned, you know how much I love them if you spend enough time around here.
Glycerin, grapeseed extract, and urea powder are in there to additionally provide the moisture, to draw moisture to the skin and keep it there. Especially urea has become a must in my formulations; I love its effects. It's completely safe to use and you can easily get it online. Caffeine merely ads a boost for minimizing wrinkles and improving micro-circulation.
In terms of the oil phase, rosehip oil is simply a must. Not only it helps with scars, it also nourishes skin with rich components and it's appropriate for all skin types. Let's say it's the luxurious part of this facial moisturizer, just as rose hydrosol is for water phase.
Mango butter has hydrating and regenerating properties. It's not greasy (in comparison to shea) and it soaks into the skin quite fast. Obviously, you won't notice that in the recipe, but it helps to lock in moisture and prevent further dehydration.
Last but not least; I went with shea because it's healing. I use it for a number of things and I love the effect it has on my skin. Camellia oil is another luxury that's easily obtainable and rich in antioxidants (read more about camellia oil skin benefits).
My emulsifier to go is Phytocream 2000 and it spreads onto the skin ridiculously well. It helps to keep together the emulsion nicely. You can substitute it for Olivem1000 easily.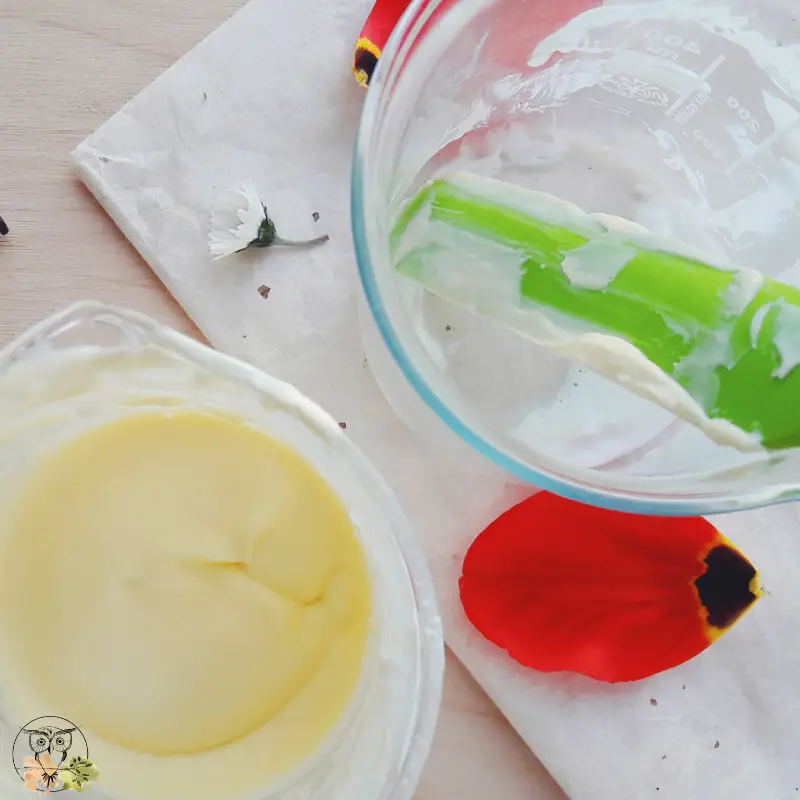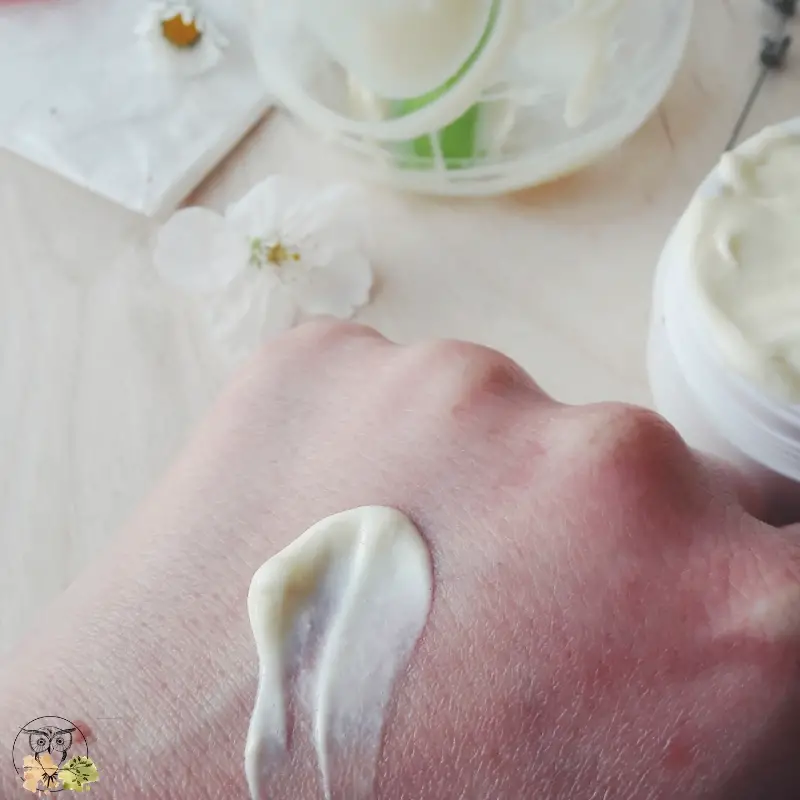 Mom's Facial Moisturizer For Aging Skin
Ingredients:
Water phase
Oil phase
Cool down phase
Process:
Prepare a water bath: add about 3 cm/1" of water to a wide pan. Bring the water to simmer (low-medium heat).
Weigh water phase ingredients in a heat-resistant glass measuring cup
Weigh the oil ingredients (apart from rosehip oil) in a second heat-resistant glass measuring cup
Place both beakers in a pan to melt all the ingredients
Let the ingredients melt and heat slowly (this should take about 15-20 minutes)
Next, take both beakers/cups from the water (all ingredients should be melted and dissolved fully by this point). Pour the water phase into the oil phase. Take your immersion blender and begin blending the lotion. Blend for about 2 minutes and leave the lotion to cool down slightly. You'll want it to be below 104F/40C degrees so that the heat doesn't damage the final few ingredients.
Once your lotion has reached the desired temperature, add rosehip oil, preservative, and essential oils.
Turn on the immersion blender and keep blending for another minute or so. The lotion should get the proper creamy consistency. It should resemble a lotion, not water. If it's too runny, keep blending a bit longer.
Once you get the desired consistency (see photos), transfer it to a clean (sterilized) container.
Pack it nicely and hopefully, your mom will love it as much as mine does!
Notes:
You can substitute camellia oil with hemp seed oil.
You can change the essential oils if your mom isn't a fan of lavender and geranium.
Written in grams, this recipe will make about 100g.
What's on your list of mother's day skincare gifts this year? I want to know!
Stay Wild
Kat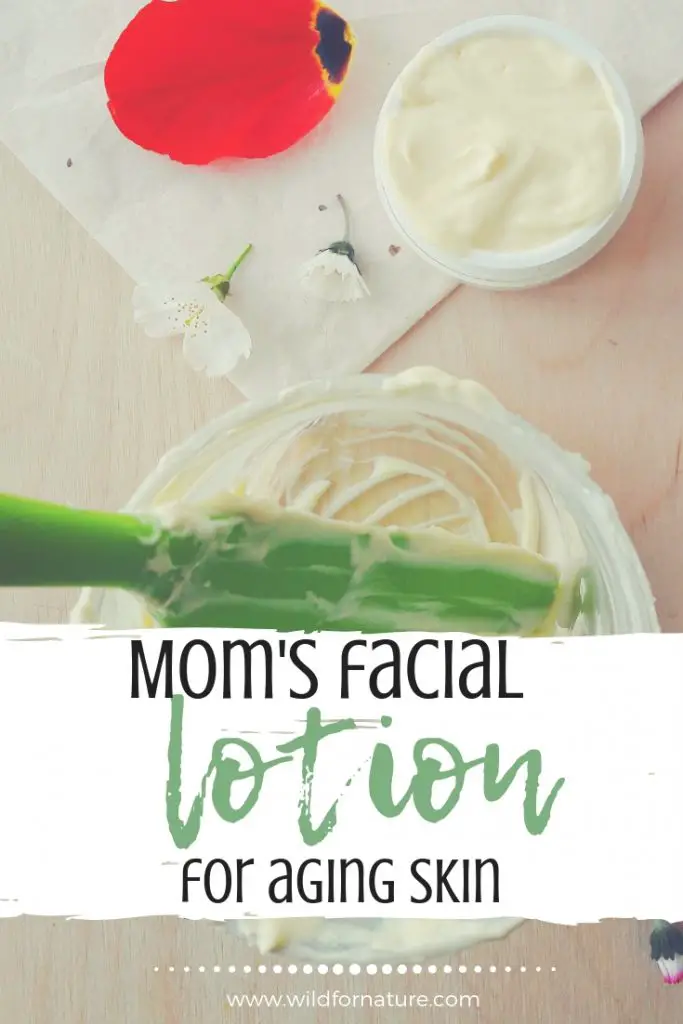 Have you made this recipe? Tag us on Instagram #wildfordiy
Help support Wild for Nature
Many of you have asked if there's a way to help support Wild for Nature. I've signed up for Buy Me Coffee. If you love what I do, learn from me, sell anything you made from my recipes, and want to see Wild for Nature grow even more, I'd be thrilled if you'd consider buying me a coffee! It works as a one-time or a monthly donation of $3. You can also get beautifully designed PDFs with a series of recipes and other resources I publish there, to help you learn and get creative at home! I can then use that money to further develop and grow Wild for Nature and you can help me continue with wild creations and resources!