Whether we want it or not, age eventually begins to show on our faces. And anti-aging products can easily burn a hole into anyone's wallet!
But the good news is, there are some affordable as well as natural options available when it comes to fighting the signs of aging. Today, we're having a look into the best essential oils for wrinkles and how to use them in a few simple steps.
These aren't by far the best solution for appearing and growing wrinkles, but they are a budget-friendly option that you can use regularly and make a bucket of!
Ready to tone your skin, get the glow, and wave fine lines goodbye?
Honestly, I think these essential oils can't be the only thing to use when fighting the signs of aging, but they're a powerful ally when it comes to minimizing them. You can easily combine them with the best carrier anti-aging oils for best effects and boost their properties and potency. They're also a great alternative to all who're looking for affordable and all-natural recipes they can easily make at home.
Apart from these oils and their antioxidant properties and other benefits, make sure to stay hydrated and keep your skin hydrated as well. If you want to further tone it, make it healthier, and appear smoother, make sure to cleanse regularly, and include some water-based products into your skincare. I have a few recipes on the blog:
This Rosewater facial toner is super easy to make and keeps the skin toned and hydrated. You can use it as often as you'd like and combine it with an anti-aging facial oil easily. It's a basic recipe, great for beginners as well!
This Hyaluronic acid serum with green tea further promotes anti-aging effects as it combines only the best ingredients that minimize fine lines, wrinkles, hydrate your skin, leave it ridiculously soft, and supple.
These both are hydrating products that make a base for a further essential facial oil application. If you want to know more about how to make these oils, have a look below for ideas and inspiration!
Now, let's have a look at why and how can essential oils help you tackle the aging process!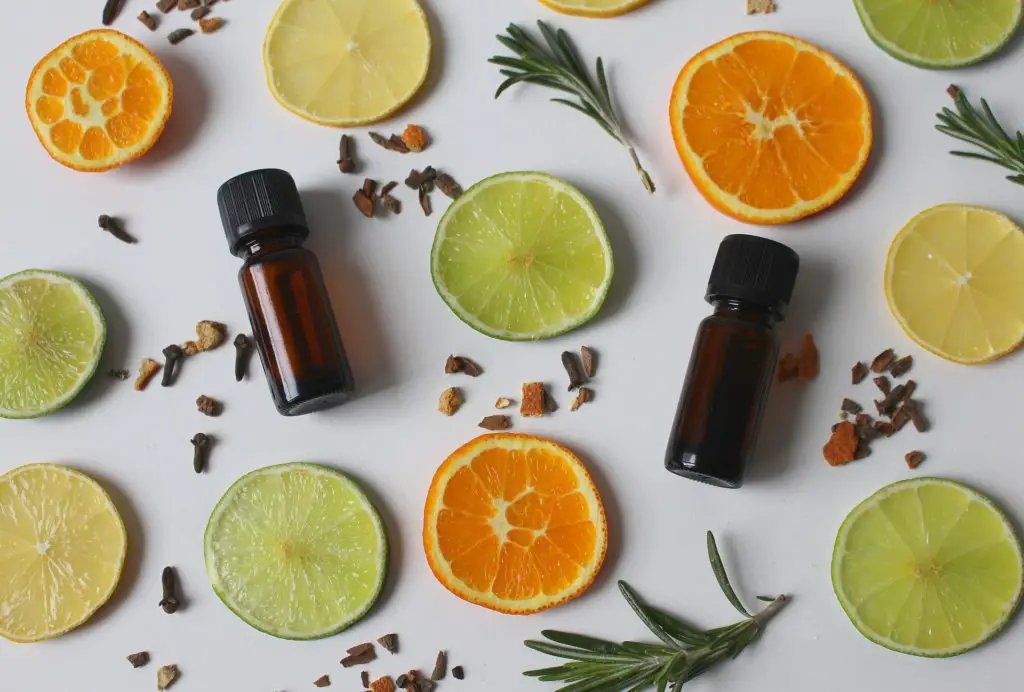 How can essential oils minimize aging?
Essential oils are powerful and potent plant extracts that have numerous properties that could help to minimize the signs of aging, such as
fine lines, wrinkles
sagging skin
tired skin without glow
uneven complexion
blemishes and age spots
Many of these signs can also appear because of free radical damage. If we minimize their damage with antioxidant properties of essential oils, we can minimize the signs of aging and help promote healthy, glowing, and smooth skin that's evenly toned.
Best Antiaging essential oils
Helichrysum or immortelle is a popular ingredient in anti-aging skin care as it has powerful properties that can minimize the signs of aging. This essential oil is one of the most expensive essential oils in the world!
It has been used as a natural remedy for centuries because of its anti-inflammatory, antifungal, and antibacterial properties. When applied topically, it improves the overall appearance of the skin, minimizes age spots, and even acne!
What's more, it helps to even out the skin tone, improve its texture, minimize fine lines and helps to rejuvenate it by promoting new cell growth and regeneration.
Cistus, Labdanum, or Rock Rose essential oil is a hidden gem among essential oils that work their anti-aging magic. It's a powerful oil with astringent properties that help to tone and tight the skin. it's a common ingredient in products that target fine lines and wrinkles.
Not only helps the skin to regenerate and rejuvenate, but it's also great for acne and other skin conditions since it's anti-inflammatory as well.
Labdanum oil helps to tone the skin, slow down the signs of aging, tighten the skin, and boost cell regeneration. Perhaps it's a less-well-known oil, but it's a powerful one nonetheless.
In this study, frankincense was shown to be effective in minimizing stretch marks and scars. Word has it, it may be equally effective when it comes to minimizing wrinkles and fine lines.
After all, frankincense helps to tone the skin, boost its regeneration and promote the growth of new skin cells by increasing circulation and tightening the skin. What's more, it also has anti-inflammatory and astringent properties. That's why it's a common ingredient in anti-aging products.
When used topically carrot essential oil improves circulation and helps to tighten the skin, as well as toning it and improving the overall complexion. It helps to prevent sagging skin and deals with fluid retention.
Apart from that, carrot oil also boosts skin healing properties, minimizing skin damage, and improving its overall health. It protects it from environmental damage with its antioxidant properties, which increases signs of aging, and it stimulates the growth of new cell tissue.
Carrot seed essential oil promotes healthy, smooth, and firm skin by revitalizing it and minimizing age spots.
Just keep in mind that carrot seed essential oil isn't the same thing as carrot carrier oil (also known as carrot seed carrier oil).
Clary sage can protect our skin from free radical damage with its powerful antioxidant properties. These radicals neutralize free radicals, minimize their damage, and prevent early signs of aging.
What's more, then used topically, it calms the skin and strengthens it. It also helps to tone the skin and stabilize sebum production to prevent breakouts.
To be honest, clary sage doesn't have the best scent on the list, but it's a powerful essential oil that can minimize skin damage as well as fine lines and wrinkles.
Myrrh is often an overlooked essential oil, but it's a real star when it comes to anti-aging. It's been used for centuries because it's beneficial for a number of skin ailments. But that's not what we're interested in today.
Now, myrrh helps to tighten the skin and consequently minimize sagging, which happens when we age. What's more, it also enhances skin by promoting a toned and glowing complexion.
It has powerful antioxidant properties; not only does it help to minimize blemishes and smooth the skin. It also cleanses pores as well and boosts circulation. The more oxygen delivered into the skin cells, the healthier the tissue. It also improves circulation and rejuvenates the skin.
It's warm, musky, and spicy, and not everyone's cup of tea. But patchouli essential oil is a potent one (we've talked about it in this skin-tightening body butter recipe) since it has antioxidant and astringent properties and a few other impressive powers: it can help with weight loss because it breaks up cellulite and deals with water retention. What's more, it boosts the growth of new skin cells and improves circulation. It improves oxygen in the skin cells, which results in a healthy, glowing, and evenly-toned skin.
Patchouli is one of the most potent essential oils for antiaging on the list; it prevents sagging skin too, as well as premature signs of aging. It rejuvenates skin cells and it's also a common ingredient in stretch mark products.
How to use essential oils for wrinkles?
And now, the fun part! There are many different ways to apply essential oils on your face to battle wrinkles, but before we get to the tips and recipes, keep in mind that all essential oils have to be diluted before applying them topically. For more information, side effects of direct dilution, and recommended dilution rates, have a look at this post on how to safely mix essential oils with carrier oils.
Now, here are some ideas on how to use the top essential oils for wrinkles:
In terms of facial oil and oil cleanser, your options are wide open.
When you'll be choosing which oil and your preferred application, take your nose, your allergies, and your skin into consideration.
An essential oil may be very beneficial, but if you hate the smell you'll hate your newly crafted product. Choose a different one with a better scent instead to enjoy your new facial oil.
Also, don't use essential oil or a carrier oil if you're allergic to it. If you don't know about it yet, make sure to do a test patch before slathering that mix all over your face.
Lastly, skin type matters when it comes to choosing the right carrier oil for your needs. So, which one to choose? You can have a look at this list of non-comedogenic carrier oils that are safe to use with oily skin. You can also read more about the most common carrier oils we use in skincare and discover their benefits and the recipes. I've also included a list of recommended carrier oils by the skin type in this post here.
Can essential oils minimize aging: A Recap
Essential oils have powerful properties that can help improve our skin's health and minimize the signs of aging, fine lines, wrinkles, and even sagging skin.
Essential oils have been around for centuries, used to treat various skin ailments, problems, and aging process effectively. They can make a difference in the skin's health when we apply them topically, but make sure to dilute them to stay safe.
What's more, it's very easy to include these oils into your DIY skincare whether you're a beginner or a more experienced DIYer. I invite you to browse around the blog to discover the best way to apply essential oils for anti-aging and get that smooth, toned, and glowing skin you've been looking for. And the best thing about it? It's all completely natural and budget-friendly!