Are you ready for a moisturizing, and divinely gentle facial lotion today?
This smooth cream has become my all-time best homemade moisturizer from day one! And it was a challenge; I wanted to replicate my recent facial cream yet keep it as little greasy as possible. It's survived the tests, it got positive comments.
Now it's time we take it to a master level and make you the best daily moisturizer for face ever!
I've been in a constant struggle to get just the right facial cream for spring because that mom's facial lotion is way too heavy for me (obviously). I wanted something lightweight, soft and gentle all around. And what I got is a hefty-price-tag-worthy facial cream that's quite basic yet it does what it was supposed to do effectively!
When combined with my De-puffing facial toner and this lightweight facial serum, my skin is just oh-so-glow!
After all, this creamy thing is
Soft and smooth.
Light!
Minimally fragrant.
Altogether vegan.
It soaks in nicely without leaving any white traces or greasiness behind!
Ready? Let's make it!
DIY moisturizer recipe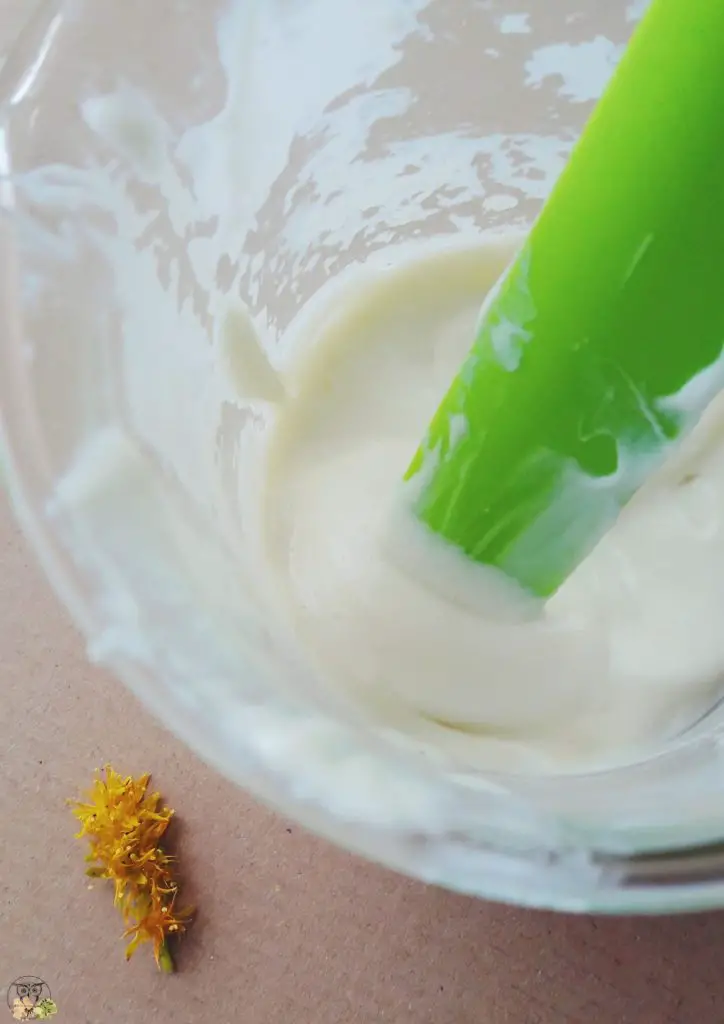 My water base consists of astringent yet toning properties of witch hazel, hydrating vegetable glycerin, and cooling peppermint extract that's quite invigorating and it adds a lovely touch in terms of scent. Well, since I've done a few recipes with caffeine, this one is no exception. I love caffeine in there! it boosts skin tightening on a micro level, and the older we get the more tightening we want to see in our products, right!
The oil phase is built on lightweight oils that bring their funk into the facial moisturizer, and are altogether combined with a rich yet velvety texture of emulsifier, the Phytocream 2000 itself. The oils are similar to those in my lightweight facial moisturizer; I really just wanted to bring those to a whole new level and not wasting the ingredients at the same time.
The only new exception is babassu oil. it's used commonly in hair moisturizers, but I've had it lying around and its benefits for the skin convinced me completely!
The last phase consists of some fragrant and minimal essential oil blend and, of course, the preservative, which is a must (read more about preservatives here).
I'll admit, this may not seem like the easiest recipe on this blog, but it's not that difficult to make either. Follow the steps below and you should be fine!
Gentle Geranium DIY Face Moisturizer
Ingredients:
Water phase
40g distilled water
39g rose hydrosol
0.1g caffeine
Oil phase
Cool down phase
Process:
Prepare a water bath: add 3cm/1" of water to a wide pan. Bring the water to simmer (low-medium heat).
Weigh water phase ingredients in a heat-resistant glass measuring cup
Weigh the oil ingredients (apart from rosehip and hemp seed oil) in a second heat-resistant glass measuring cup
Place both beakers in a pan to melt all the ingredients (it should take 15-20 minutes)
Next, take both beakers/cups from the water (all ingredients should be melted and dissolved fully by this point). Pour the water phase into the oil phase. Take your immersion blender and begin blending the lotion. Blend for about 2 minutes and leave the lotion to cool down slightly. You'll want it to be below 104F/40C degrees so that the heat doesn't damage the final few ingredients.
Once your lotion has reached the desired temperature, add rosehip oil, hemp seed oil, essential oils, and lastly, the preservative.
Turn on the immersion blender and keep blending for another minute or so. The lotion should get the proper creamy consistency. It should resemble a lotion, not water. If it's too runny, keep blending a bit longer.
Once you get the desired consistency (see photos), transfer it to a clean (sterilized) container.
Pack it nicely and enjoy your DIY moisturizer!
Notes:
Making any substitutions to the recipe will change the pH grade. If making changes, make sure to test it before adding the preservative.
Written in grams, this recipe will make about 100g.
I was gifted caffeine powder from a friend; you can find it at Ingredients to Die For. If you know about any other supplier, let us know in the comments below!
You can substitute Phytocream2000 with Olivem1000. I've tested the recipe and they both give similar results.
You can substitute peppermint extract with peppermint hydrosol 
Have you made this recipe? Tag us on Instagram #wildfordiy
Help support Wild for Nature
Many of you have asked if there's a way to help support Wild for Nature. I've signed up for Buy Me Coffee. If you love what I do, learn from me, sell anything you made from my recipes, and want to see Wild for Nature grow even more, I'd be thrilled if you'd consider buying me a coffee! It works as a one-time or a monthly donation of $3. You can also get beautifully designed PDFs with a series of recipes and other resources I publish there, to help you learn and get creative at home! I can then use that money to further develop and grow Wild for Nature and you can help me continue with wild creations and resources!