Green gold aka avocados is something to consider when you're thinking of a healthy and natural extensive care for your body.
While benefits of avocado oil for skin and hair are quite popular, one of my favorite natural and organic ingredients can do wonders in terms of health and skin complexion also when eating it.
Rich in fatty acids, antioxidants and vitamins, avocado health benefits just don't stop there. Its history goes well beyond into the ancient times of the Aztecs with healing, hydrating and nourishing. It has been considered one of nature's healthiest foods and it hasn't been called green gold for no reason.
Let's have a look at what the fuss is all about!
Avocado love story (about the plant)
Avocado is just one of those plants that took a while to get lucky with me. I was aware of its existence, but it just never crossed my mind to actually go and try it.
One reason might be that back in the day avocados were few and far between, not to mention very expensive. So this love story of ours began when I went to South America (as it did with plenty of these plants; chia is also one of them). After trying an avocado toast, guacamole, avocado salad…I was hooked.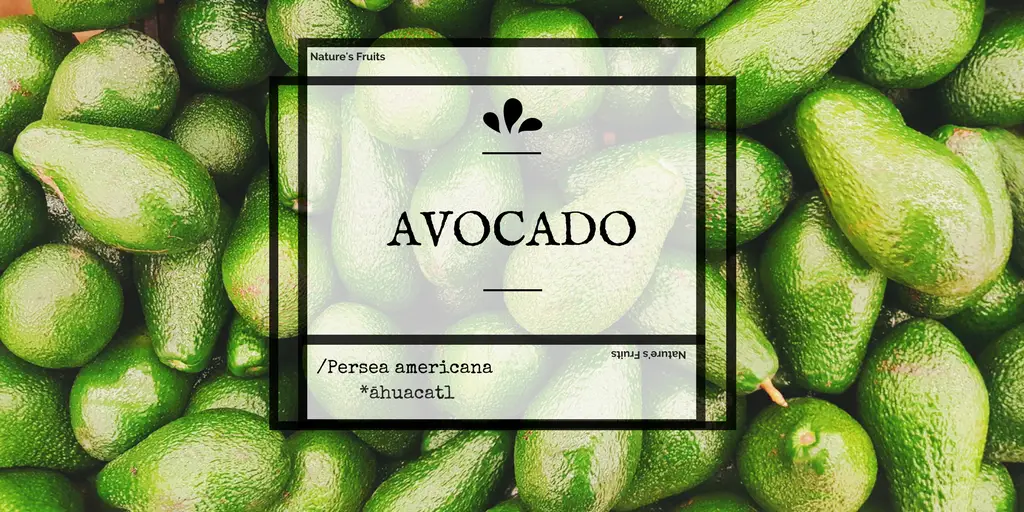 Avocado also goes by other names, such as American pear and alligator pear. It is in fact not really a vegetable, but a berry! According to botany, that is.
Otherwise, it is actually a fruit. Native to Southern Mexico, this pear-shaped well, berry, contains 25 vital nutrients (vitamins, minerals) as well as essential fatty acids. Food of the Gods? Yes, please!
Avocado is one of the healthiest fruits you can get your hands on. It contains more potassium than bananas, it aids in weight loss, skin nourishment and it slows aging.
I mean, this little green pear is rich and rich!  You can find it in the following colors: green and black, so choose your preference. (just kidding!)
Avocado as a source of nutrition
contains tons of antioxidants
rich in vitamins K and B (folate- vitamin B9)

a great source of vitamins A, C, E
loaded minerals, such as potassium, calcium, phosphorus, magnesium, iron
contains monounsaturated fats (or MOFAs, the "good fats". Other sources of MOFAs are also olive oil and macadamia nuts. These fats (in a reasonable amount) have positive effects on our health, such as reduced cholesterol level and lower risk of heart disease and stroke)
rich source of fiber
contains phytonutrients (a natural compound found in plant foods that are beneficial for our health: these nutrients give fruit and veg their wildly intense color as well as an enormous nutritional value: healthier organs, detoxification, stronger immune system. Apart from avocado, other foods rich in phytonutrients are kale, spinach, blueberries.)
contains beta-sitosterol (a substance in plants that helps lower cholesterol levels, reduces the risk of heart disease amongst others)
Avocado as a beauty product
When it comes to avocado benefits for skin and hair, this butter fruit is your answer. Even though it's getting more and more popular in the beauty industry, this fruit and its uses for skin and hair go way back.
In ancient times, the Aztecs and other populations used avocado as protection from strong sun and wind, to keep their skin hydrated. Avocado acts as an emollient and it boots elasticity of the skin with its fatty acids.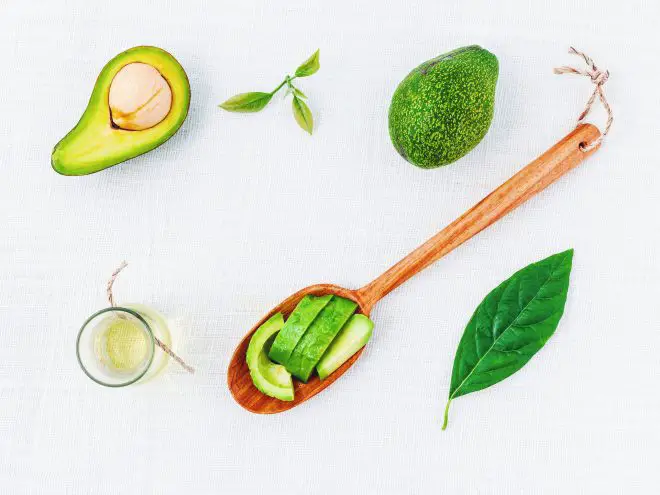 Avocado oil benefits for skin
When it comes to avocado benefits for skin and hair, this butter fruit is your answer. Even though it's getting more and more popular in the beauty industry, this fruit and its uses for skin and hair go way back.
In ancient times, the Aztecs and other populations used avocado as protection from strong sun and wind, to keep their skin hydrated. Avocado acts as an emollient and it boots elasticity of the skin with its fatty acids.
Let's have a look at how it can contribute to your skin health and what are avocado benefits for skin!
Avocado Oil Skin Benefits
You can get beautifully glowing skin that's healthy and happy at the same time when adding this oil to your regimen. Let's see why is avocado good for your skin:
potent antioxidant properties
emollient properties
reduces wrinkles
moisturizes dry skin, which is why it is used in a lot of moisturizers and lotions
it works as a natural SPF (the oil supposedly has the SPF 15 factor, but I don't recommend it; see natural oils sun safety here)
helpful with sunburns and skin regeneration
soothes irritated, itchy skin
protects against skin damage
heals chapped skin
boosts the healing process of the skin in case of wounds
Avocado oil for skin collagen + anti-aging
Since avocado oil has powerful antioxidant properties, it helps to protect the skin from the free radical damage. The antioxidants help to slow down the premature aging process, minimize age spots, and prevent any further damage to the skin.
What's more, avocado oil helps to repair the damaged skin, as well as boost its elasticity. And the best part? Some studies show that avocado oil helps to boost collagen production and rejuvenate the skin.
Can you use avocado oil on your face?
Absolutely. Avocado oil is a lovely thing to put on your face. It can be very beneficial for your skin, adding its nutrients and other beneficial components to it.
You can use it neat, add it to facial serums, oil cleansers, facial masks, scrubs, moisturizers, and many other products. Many of these are easy to make at home, which means you can start enjoying the many benefits of avocado oil right away!
Can avocado oil dry out your skin?
This thick oil can do the exact opposite to your skin; it's a rich source of monounsaturated fatty acids and it can nourish, feed, and soothe the skin, healing it at the same time. It helps to minimize skin inflammation, boost its healing process, and much much more since it has the ability to penetrate deep into the skin.
Avocado oil comedogenic rating: 2
Is avocado oil good for acne?
Ideally, if you're suffering from acne, go for oils that are high in linoleic acid.
Avocado oil is an oil, so using any type of carrier oil on acne skin can be potentially problematic as it may cause breakouts, but that depends on each skin type. You can try and test it first to see how it affects your skin.
Since it's rich in oleic acid, it may not be the best option for acne-prone skin. But, argan oil contains almost equal amounts of oleic and linoleic acids and there are dozens of happy users claiming it's done great for their skin, even acne-prone.
Can avocado oil clog pores?
Yes, it can. Avocado oil is rich in oleic acid, which is better for drier skin types that are not prone to breakouts.
Is avocado oil better than coconut oil for skin?
In my opinion, it is. If you're suffering from acne or have problems with breakouts, I'd advise you to stay away from coconut oil altogether. There are far better and superior oils to coconut oil. Now, I'm not saying that coconut oil isn't good. It's great, actually, I don't recommend using it on your face.
Can I leave avocado oil on my face overnight?
Avocado oil is a great ingredient to use in your DIY skincare. You can make a facial serum with it and apply it before you go to bed. It boosts collagen production, minimize pore size, and stimulates cell growth. Since it's a carrier oil on the heavier side, it's best to apply it overnight; that way you give it enough time to soak in and work its magic while you sleep.
Is avocado oil good for dark circles under eyes?
Among many efficient oils for dark circles, avocado may also help to minimize the unwanted zombie looks with regular use. According to MapleHolistics,
avocado oil may help lighten dark circles under eyes by controlling capillary leakage.
The nutritional components of avocado oil can help reduce dark circles around the eye area. While there are many different reasons for dark circles to appear, you can consider using avocado and other oils (listed in the link above) to help battle the panda look.
Avocado anti-wrinkle eye mask
You know that pulp inside the avocado peel? That thin green layer, darker than the rest of the meat, has the highest concentration of vitamins and oils. Don't throw it away! Scrape it off the peel with a spoon and apply it to the area under your eyes. Leave it on for 15 minutes, then rinse with warm water.
Avocado exfoliating face mask
To make this mask you need only 2 ingredients: avocado and oatmeal. Oatmeal works as an exfoliator to remove dead skin cells, while avocado nourishes and feeds your skin with the necessary vitamins, minerals, and oils. Your skin will be hydrated and cleansed.
Ingredients:
1 ripe avocado (peeled)
1 tbsp ground oatmeal
Instructions: In a bowl combine oatmeal with avocado. Mash the mixture and apply to a clean face. Massage for about a minute or two. Leave the mask on for 15 minutes. Rinse with warm water.
Avocado Benefits For Hair
works as a natural conditioner
aids to dry hair, frizzy hair, and split-ends
prevents hair breaking (according to this study)
regulates and promotes hair growth
it moisturizes the scalp and improves its circulation (no more itchy scalp!)
prevents hair loss
Avocado hair mask
Applying avocado oil to your hair is easy: combine coconut oil with avocado oil to get one rich concoction of oils and vitamins to nourish dry hair. Add a few drops of rosemary essential oil and your hair will be shiny and moisturized. Leave the mask on for a few hours or overnight!
Ingredients:
20g coconut oil
20g avocado oil
5 drops rosemary essential oil
Instructions: Combine all the ingredients well and apply to your hair. Afterward, rinse thoroughly and wash as you normally would.
Best avocado oil: which one to buy?
Let's have a look at which avocado oil is best for skin and hair. When buying avocado oil, make sure to always get the cold-pressed avocado oil, and also organic. All three oils listed below are refined. For unrefined avocado oil, go here.
Perfect for the devoted DIYers who need their ingredients in quality and quantity, the oil from Essential Depot is excellent for the skin with its moisturizing and softening properties.
You can expect this oil to be free of any nasty ingredients. It helps to repair and heal the skin after sun damage and it makes a lovely massage oil as well! The only thing to know is that this oil isn't unrefined and it has hardly any scent to it.
Color: light yellow
Great for: soap making, oil baths, DIY body and facial lotions, body butters, and much more.
Shelf-life: up to 1 year



As a trusted brand, Plant Therapy doesn't only produce high-quality essential oils. Their carrier oils are pretty good as well!
This oil doesn't contain any ingredients that shouldn't be there. It's also refined and more or less odorless. It also works great as a hot oil treatment for your hair and it promises to look after and nourish the skin in winter and summer.
This is 100% pure avocado oil without any fillers or additives.
Great for: chapped skin and dry hair. Use it neat or add it to DIY skincare
Shelf-life: up to 12 months. Store it in the fridge after opening.



This carrier oil is rich in nutrients and all that good stuff that boosts collagen and nourishes the skin. While the bottle could be bigger, the oil works great no matter how you use it. Just like other avocado oils, this one is also on the heavy side. In other words, a little goes a long way.
If you're not happy with the product, the brand offers a money-back guarantee!
Color: olive-oil like; yellowish and transparent Cold-pressed, refined, scent-free
Great for: dull, damaged hair and as a deep tissue moisturizer
Shelf-life: up to 12 months
Avocado oil benefits for skin: is it worth it?
It may not seem like it right away, but avocado oil boasts with amazing properties for the skin and hair. It's a must for anyone who wants to heal dry and damaged hair and chapped skin. What's more, it also boosts collagen production of the skin and the healing process.
It's easy to add avocado oil to your skin care regimen; its nutrients do the job of glowing the skin and hair very well! You can use it neat or add it to DIY beauty formulations and recipes, anything from a hair mask to body butter!
What are your favorite ways to use this carrier oil? Are you also a fan of avocado benefits for skin and hair?
Stay wild!