Green gold aka avocados is something to consider when you're thinking of a healthy and natural extensive care for your body.
While benefits of avocado for skin and hair are quite popular, one of my favorite natural and organic ingredients can do wonders in terms of health and skin complexion also when eating it.
Rich in fatty acids, antioxidants and vitamins, avocado health benefits just don't stop there. Its history goes well beyond into the ancient times of the Aztecs with healing, hydrating and nourishing. It has been considered one of nature's healthiest foods and it hasn't been called green gold for no reason.
Let's have a look at what the fuss is all about!
Avocado love story (about the plant)
Avocado is just one of those plants that took a while to get lucky with me. I was aware of its existence, but it just never crossed my mind to actually go and try it.
One reason might be that back in the day avocados were few and far between, not to mention very expensive. So this love story of ours began when I went to South America (as it did with plenty of these plants; chia is also one of them). After trying an avocado toast, guacamole, avocado salad…I was hooked.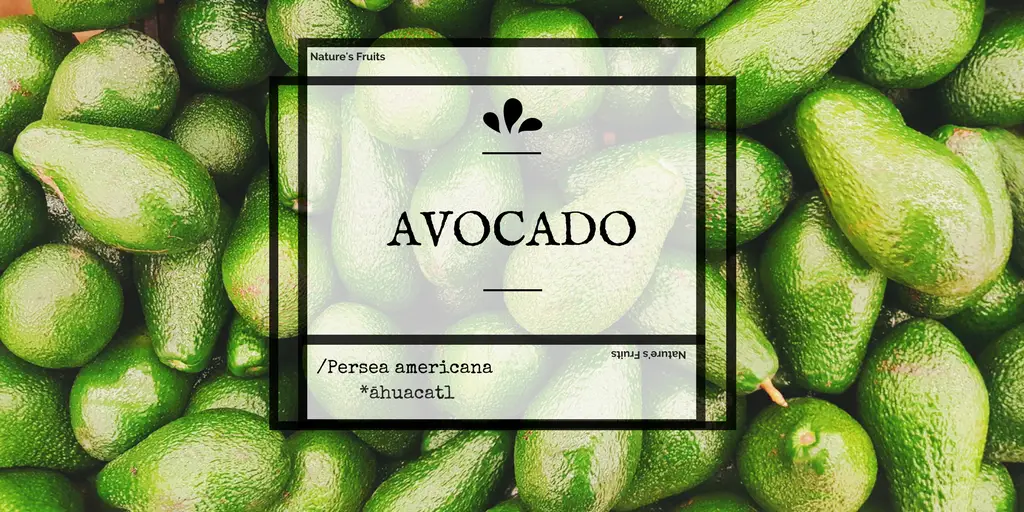 Avocado also goes by other names, such as American pear and alligator pear. It is in fact not really a vegetable, but a berry! According to botany, that is.
Otherwise, it is actually a fruit. Native to Southern Mexico, this pear-shaped well, berry, contains 25 vital nutrients (vitamins, minerals) as well as essential fatty acids. Food of the Gods? Yes, please!
Avocado is one of the healthiest fruits you can get your hands on. It contains more potassium than bananas, it aids in weight loss, skin nourishment and it slows aging.
I mean, this little green pear is rich and rich!  You can find it in the following colors: green and black, so choose your preference. (just kidding!)
Avocado as a source of nutrition
contains tons of antioxidants
rich in vitamins K and B (folate- vitamin B9)

a great source of vitamins A, C, E
loaded minerals, such as potassium, calcium, phosphorus, magnesium, iron
contains monounsaturated fats (or MOFAs, the "good fats". Other sources of MOFAs are also olive oil and macadamia nuts. These fats (in a reasonable amount) have positive effects on our health, such as reduced cholesterol level and lower risk of heart disease and stroke)
rich source of fiber
contains phytonutrients (a natural compound found in plant foods that are beneficial for our health: these nutrients give fruit and veg their wildly intense color as well as an enormous nutritional value: healthier organs, detoxification, stronger immune system. Apart from avocado, other foods rich in phytonutrients are kale, spinach, blueberries.)
contains beta-sitosterol (a substance in plants that helps lower cholesterol levels, reduces the risk of heart disease amongst others)
Avocado health benefits
keeps your heart and blood system healthy
lowers cholesterol levels
controls blood pressure (due to high potassium levels)
it is anti-inflammatory
improves eyesight
helps balance blood sugar levels
it lowers the risk of a heart stroke
helps fight free radicals (aggressive substances that destroy healthy cells and impair tissue)
helps with weight loss (it reduces food cravings)
Avocado as a beauty product
When it comes to avocado benefits for skin and hair, this butter fruit is your answer. Even though it's getting more and more popular in the beauty industry, this fruit and its uses for skin and hair go way back.
In ancient times, the Aztecs and other populations used avocado as protection from strong sun and wind, to keep their skin hydrated. Avocado acts as an emollient and it boots elasticity of the skin with its fatty acids.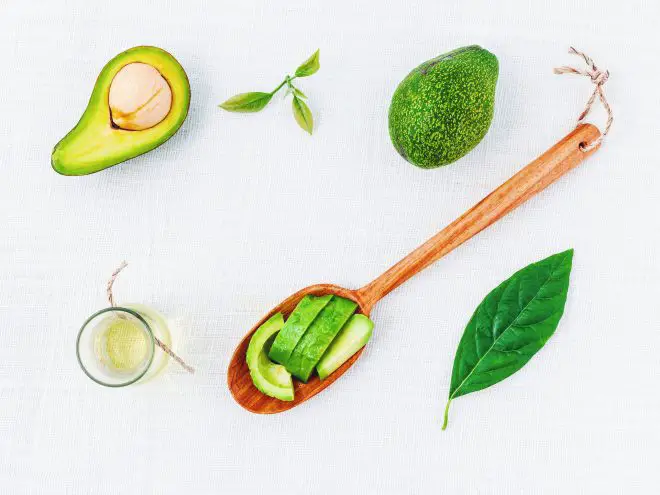 Skin benefits
Here's how to improve your skin and get a healthy glow with avocado benefits for skin:
reduces wrinkles
hydrates dry skin, which is why it is used in a lot of moisturizers and lotions
it works as a natural SPF (the oil supposedly has the SPF 15 factor, but I don't recommend it; see natural oils sun safety here)
helpful with sunburns and skin regeneration
Avocado anti-wrinkle eye mask
You know that pulp inside the avocado peel? That thin green layer, darker than the rest of the meat, has the highest concentration of vitamins and oils. Don't throw it away! Scrape it off the peel with a spoon and apply it to the area under your eyes. Leave it on for 15 minutes, then rinse with warm water.
Avocado exfoliating face mask
To make this mask you need only 2 ingredients: avocado and oatmeal. Oatmeal works as an exfoliator to remove dead skin cells, while avocado nourishes and feeds your skin with the necessary vitamins, minerals, and oils. Your skin will be hydrated and cleansed.
Ingredients:
1 ripe avocado (peeled)
1 tbsp oatmeal
Instructions: In a bowl combine oatmeal with avocado. Mash the mixture and apply to a clean face. Massage for about a minute or two. Leave the mask on for 15 minutes. Rinse with warm water.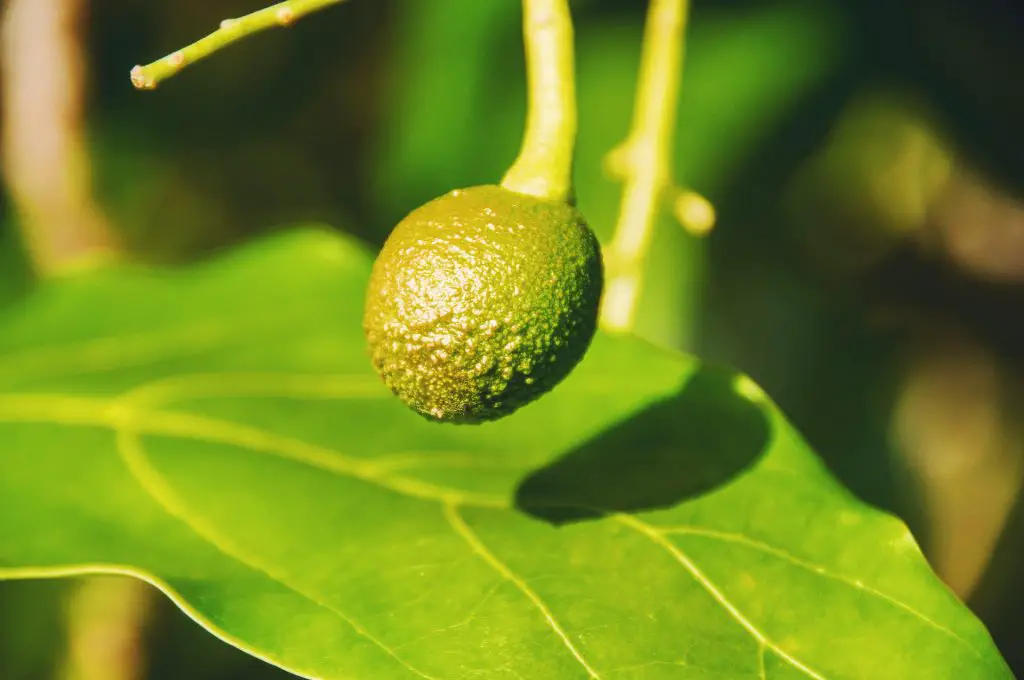 Hair benefits
works as a natural conditioner
aids to dry hair, frizzy hair, and split-ends
regulates hair growth
it moisturizes the scalp and improves its circulation (no more itchy scalp!)
prevents hair loss
Avocado hair mask
Combine coconut oil with avocado and you get one rich concoction of oils and vitamins to nourish dry hair. Add a few drops of rosemary essential oil and your hair will be shiny and moisturized.
Ingredients:
1/4 cup coconut oil
2 ripe avocados (peeled)
rosemary essential oil (10 -15 drops)
Instructions: Combine all the ingredients well and apply to your hair. Leave the mask on for about 20 minutes. Afterward, rinse thoroughly and wash as you normally would.
Avocado as a kitchen ingredient
Rich in flavor as well as the anti-oxidants, this green gold fruit makes any dish taste better, really. With its smooth texture, you can use it to make dips, smoothies, add it to salads and main meals, toasts, and sandwiches. Here are some of my favorite recipes:
Homemade spicy guacamole (vegan)
Ingredients:
1 whole avocado (peeled)
juice of 1 lemon
1 tbsp of salt
a pinch of chili flakes
generous pinch of chopped cilantro
2 garlic cloves (chopped)
a pinch of black pepper
1/2 onion (chopped in tiny pieces)
1 ripe tomato (chopped)
Instructions: put everything into a bowl (or a jar) and mash well. Leave the mixture sit for half an hour in the fridge (once flavor mix it tastes even better). Then use it as a nacho dip or a toast spread.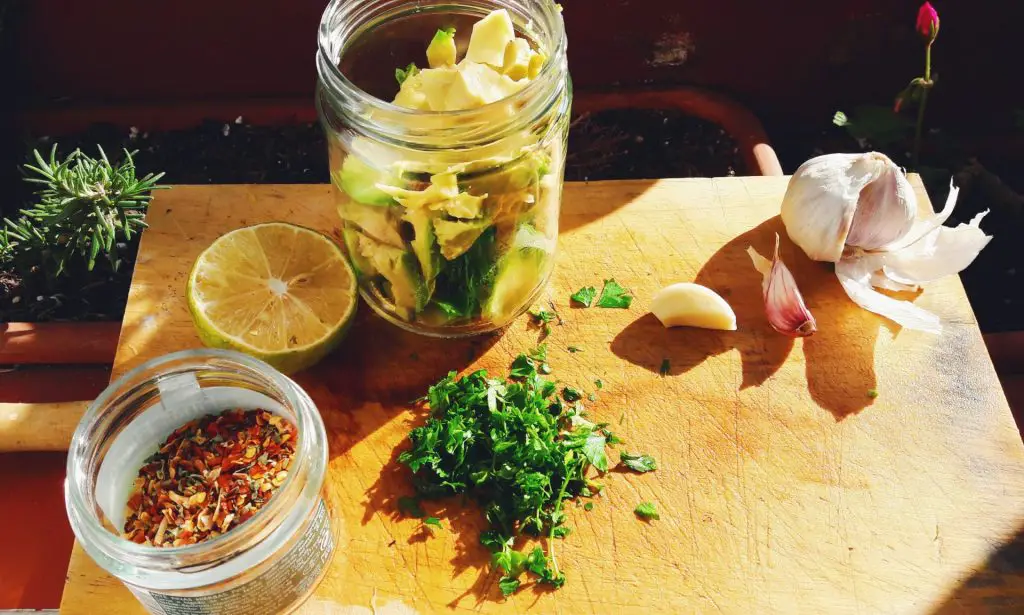 A creamy and healthy recipe, which takes only 10 minutes to make. This is delicious, filling and a perfect weeknight recipe when you're too tired to cook. (via Ahead of Thyme)
Lemon, toast, and avocado go a long way. Filling, refreshing and tasty, I'd probably have to say this butter fruit toast is probably one of my faves. Also, the arugula adds that special twist that I looove. (via What should I make for…)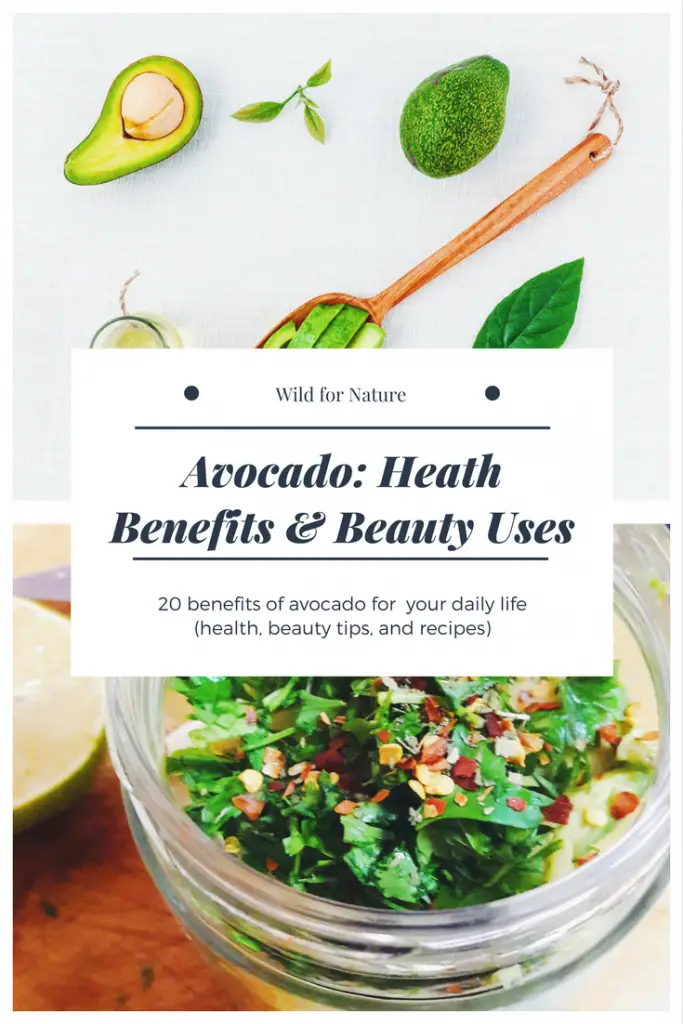 What are your favorite ways to use avocado? Are you also a fan of avocado benefits for skin and hair?
Stay wild!