What if I told you there is a luxurious oil that can help you soothe and reduce your acne problem? After all, the ancient African queens and kings of Morocco have used the oil to heal their skin and make it glow.
Argan oil used to be Moroccos' best-kept secret, but the word is out. After all, this oil hasn't been named a miracle oil for no reason!
Yes, you probably already know some facts about argan oil. But did you also know that argan oil is an excellent natural remedy when it comes to treating acne? What's more, it doesn't only help to eliminate acne, it can take care of the damaged skin that acne leaves behind!
Let's have a look at how to start using it to soothe your skin and improve your complexion!
Argan oil: balance your sebum, heal dry skin, and soothe acne
It sounds as if I'm exaggerating when I tell you that there is an exotic oil that can help you get rid of acne, heal damaged skin, and bring back the glow. It's similar to jojoba oil, only that it isn't!
Honestly, I'm not exaggerating. Ever since I used it for the first time, it turned into one of the must-haves I constantly keep in my homemade skincare cabinet. I add it to body lotions, facial serums, and hair mists. With argan oil, the overall health and appearance of my skin have improved (without any side effects), so I wanted to share this amazing oil with you!
But the not so well known secret of this yellowish liquid is that it can soothe your skin problems as well. Argan oil can help with breakouts, pimples, skin healing in case of acne scars, and with acne itself!
But first, let's talk about where argan oil comes from, and why is it beneficial for your skin.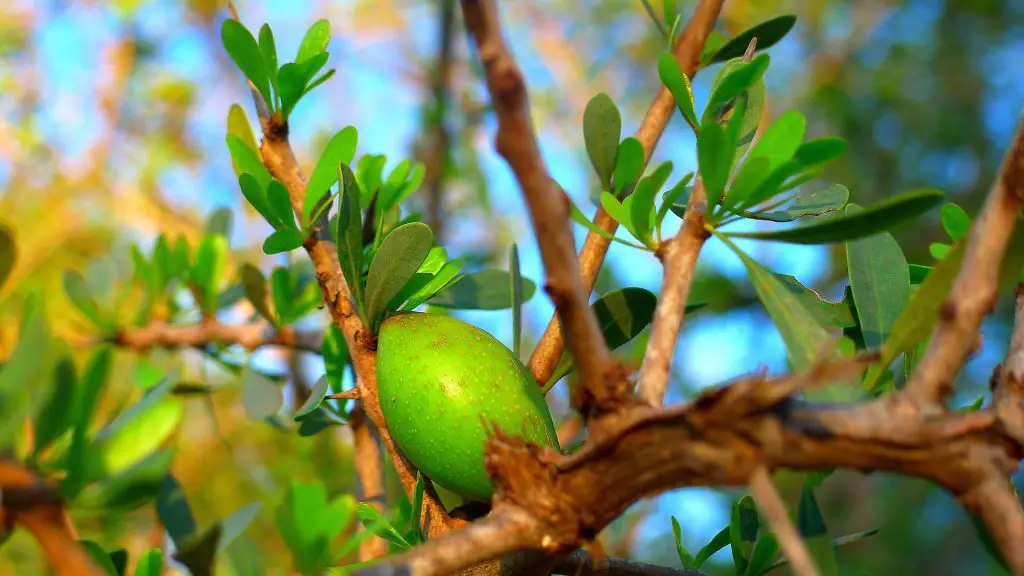 What is argan?
Argan is a tree, native to Morocco. Its fancy Latin name is Argania Spinosa L. This tree provides the nuts or fruits (whichever you prefer), and these nuts serve as a source of the rich and luxurious argan oil.
We may be slathering argan oil onto our faces, but Moroccans don't use argan oil strictly for cosmetic purposes. They pour it on their foods and drizzle it over their bread, pasta, and couscous as well!
Apparently, it's also a quite healthy oil to be consumed, but the majority of argan oil we buy to make homemade skincare is not food grade. It may be great for your skin, but not for your gut!
Anyway, argan trees are very important in Morocco. They provide food, shade, and even protect the area from turning into a desert. Argan trees and their nuts are very popular with Moroccan goats as well. In case you've never seen a bunch of goats feeding on an argan tree, it's about time that you do that right now! HuffPost even provided a video about it!
The production of argan oil is also very important for the women of Morocco. You can find out more in this article of the Guardian, but in short, a lot of the production is made by women's co-operatives. This means that the women employed in one get an income which provides them with a certain level of autonomy. That's really important because Morocco is a traditionally male-dominated society.
Have a look at how argan oil is made!
Argan oil nutrition
Argan oil has a number of beneficial properties for our hair, skin types, and even nails. It contributes to the overall health of our skin also by forming a protective barrier for the skin. Among others, some of the properties of argan oil are:
emollient (a great moisturizer)
cicatrizant (boosts the healing process of the skin in case of wounds and scars)
anti-sebum (regulates oiliness on our skin)
antioxidant (protects our skin from the free radical damage)
anti-aging (promotes healthy skin and elasticity)
antibacterial properties
The following components make argan oil what it is:
Apart from these important fatty acids, argan oil is also rich in vitamin E, phenols, carotenes (antioxidants), and squalane (emollient and natural antioxidant).
How to use argan oil for acne?
It's quite a challenge to find the perfect ingredients for your homemade skincare when you're dealing with acne. It's even more difficult to find commercial products that don't additionally irritate your skin, cause redness, dryness, and worse.
Luckily for you, argan oil and acne is the combo you might want to give a try right away, especially if you've never tried it before. Also, forget about the expensive skincare creams that claim to contain a certain argan oil along with toxic and harsh chemicals.
The best way to achieve results is to get a 100% pure and organic argan oil. You can blend it with essential oils or other non-comedogenic carrier oils, but the most important thing is to know what you put on your skin. It's even that more important when your skin is already hurt, damaged, and irritated.
And that's why I'll tell you why argan should become your best friend (or one of)!
Firstly, this luxurious exotic oil comes with nourishing and soothing properties that positively and effectively benefit acne-prone skin, promoting healing and reducing inflammation.
Argan oil is a non-greasy oil, which means that it helps to balance the skin and provide natural moisture. It has anti-sebum properties according to some reports. That means that it can reduce greasiness and oiliness on your face and improve the overall appearance of the facial skin. For maximum benefits, the report recommends a 4-week treatment.
What's more, argan oil has antioxidant properties that help to protect your skin even further from the free radical damage and oxidative stress.
People with acne seem to have lower levels of linoleic acid in their sebum. That's another point where this product comes to the rescue. Because it's very high in linoleic acid it can provide natural support to your skin.
Does argan oil help with acne?
Yes, it does. Because of the anti-sebum production effects, argan oil can help you treat different types of acne and improve your complexion at the same time.
The best thing about it is that the application is very simple! The only thing you really need is high-quality argan oil, which you apply topically (after washing your face) twice a day and continue the process for four weeks. You should be able to the results then.
Will argan oil make you break out?
Honestly, I've done a ton of research on the matter and the opinions are massively divided.
There are people who absolutely love argan oil. And then there are people who report that argan oil caused skin irritation and acne breakouts.
In some cases, this may be because the oil wasn't of the best quality. If it contains other ingredients and it isn't 100% pure, those components may cause skin irritation.
When it comes to real reviews from people suffering from acne, I discovered that Acne.org has a whole section on argan oil and acne and the overall score is positive. The majority of users report great results with argan oil. Their skin has improved, healed, and moisturized. And it's not only meant to be used for acne-prone skin; combination skin works as well!
Can argan oil clog pores?
Argan oil is lightweight and easily absorbed. It doesn't clog your pores, it promotes the healing process of the skin instead, nourishing it and soothing it.
Is argan oil non-comedogenic?
When it comes to comedogenic rating, argan oil scored 0, which means it does not clog pores and it is not comedogenic. Unlike other natural carrier oils, argan oil shouldn't make your acne problem worse.
A recipe: Soothing facial oil blend
As I've said before, you can use pure argan oil and apply it directly to your skin twice a day. You can, however, boost the basic recipe to an extent and throw in a few extra oils!
Ingredients:
2 TBSP argan oil
1 TBSP rosehip seed oil
3 drops tea tree essential oil
5 drops chamomile essential oil
Process:
Combine all the ingredients in an amber glass bottle
Slowly roll the serum between the palms of your hands
Apply twice a day to your face
Other essential oils for acne are also peppermint, lavender essential oil, clary sage, juniper berry. Read more about natural oils for oily skin here.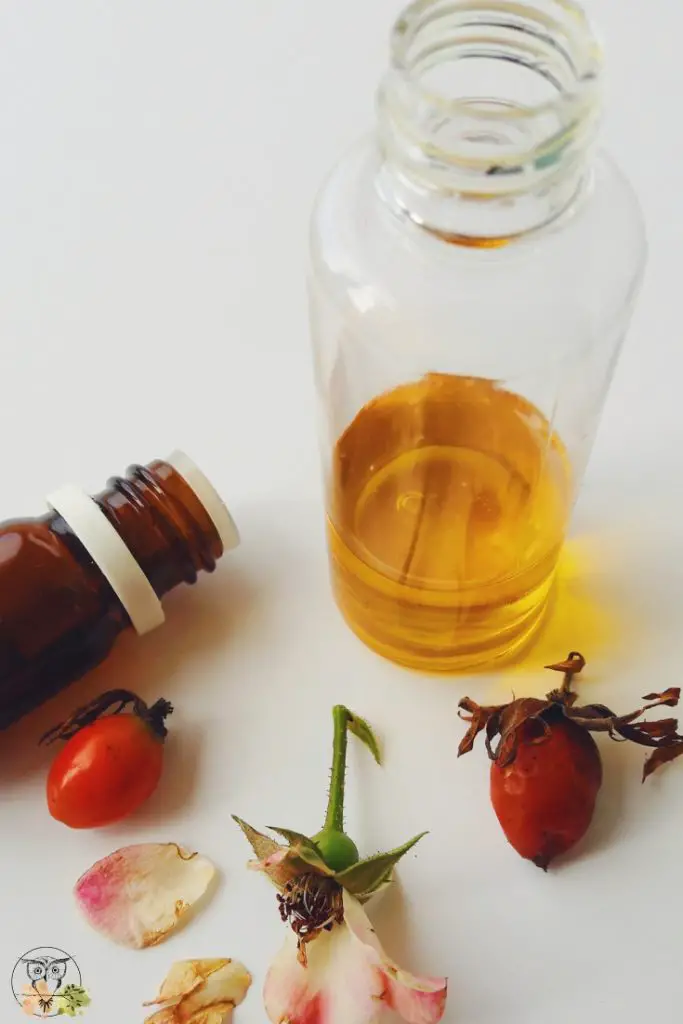 Argan oil for acne scars
Now, let's have a look at why can argan oil help you with acne scars as well.
Naturally, argan oil is not the only natural remedy for scars (my favorite is rosehip oil for acne scars); but people reported positive results after using it for acne scars.
After acne clears away, you are sometimes left with scars on the skin. They may take a long time to clear away; it depends on the healing process of your skin. Argan oil can help you soothe, minimize, and eliminate acne scars because of the high fatty acid content and vitamin E.
Even Acne.org recommends adding it to your daily skin care regimen:
Clinical studies have shown that when this oil is used every day without fail, it eases the occurrence of scars on the skin. This is enabled by Vitamin E and the essential fatty acids (omega 3 and 6) contained in it. Provided that the oil is used properly, scars will disappear on the skin after a few weeks.
Does argan oil heal acne scars?
Some online sources claim that acne scars will disappear with regular use of argan oil. I've even found this study:
Traditionally, cosmetic argan oil was used to cure all kinds of skin pimples as well as juvenile acne and chicken pox pustules scars. It is also recommended to reduce dry skin matters and slow down the appearance of wrinkles.
How to use argan oil for acne scars?
The recipe is very similar to that above:
2 TBSP argan oil
2 TBSP rosehip oil
5 drops helichrysum essential oil
5 drops sandalwood essential oil
Combine everything in an amber bottle and roll between the palms of your hands to combine the ingredients well. Use the oil twice a day.
Other essential oils that boost the healing process of the skin and would also be good for acne scars are vetiver, bergamot (phototoxic!), neroli, and lavender.
Best argan oil for face
When choosing your own argan oil, make sure to get a pure, cold-pressed product. Many merchants prefer to dilute the real thing, making the dark bottle cheaper and more available. However, cheaper isn't better when it comes to natural and organic skin care.
Now that you know how using this rich natural oil can benefit the appearance and health of your skin, let's have a look at the top 3 best argan oils that you can use.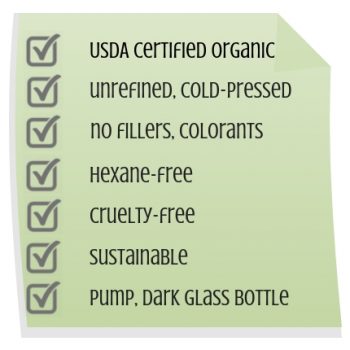 Viva Naturals make high-quality products. You may already be familiar with the company, as their coconut oil is a very popular choice on Amazon. They very specifically oversee all the steps and development of a product, from sourcing ingredients to the final result.
They believe that a healthy lifestyle is a right and not a privilege. Viva Naturals state on their website that
We spend a (some would say) ridiculous amount of time making sure our products have the labels you're looking for: all-natural, clinically proven, third-party tested, certified organic, non-GMO, free of fillers; the list goes on. We make sure you're getting nothing but Mother Nature's finest, in concentrations that really, truly get results. And we do it all sustainably, to ensure that the Earth stays as healthy as we want to keep its inhabitants.
I discovered Viva Naturals with coconut oil, and I'm so excited to see them making more carrier oils!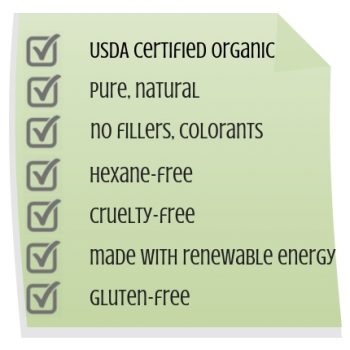 Pura D'or claims they make all their batches in the USA, in-house. They don't use contract manufacturers since they wish to bring only high-quality products to their customers.
The company doesn't have as much to say about themselves as Viva Naturals but have a look at their story here. On their website, you can also find a list of ingredients they use in their products.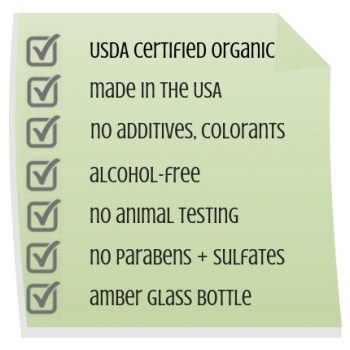 VoliaVe Organics claims it has been featured by a number of different media. VoilaVe Organics claims to make premium skin care products. They are based in Nevada and they make all their products in the USA. Their argan oil comes from Morocco.



A few last words
Argan oil is very beneficial for the skin whether we're talking about acne-prone or combination and oily skin. While it can definitely improve overall skin health and bring back the glow, this natural oil is still oil.
Before you start slathering it all over your face, test it first. But that's not only true for argan, but for many other products as well especially if you're dealing with more problematic skin.
Dozens of online reviews praise this carrier oil to the stars. I've only had very positive results using it. It's rich in nutrients, gentle to the skin, and it's a versatile ingredient that can be used just as it is, or it can easily become an ingredient in any skincare project.
What about you? Have you ever used this gorgeous Morrocan oil? Let me know how it worked for you below!
Stay Wild!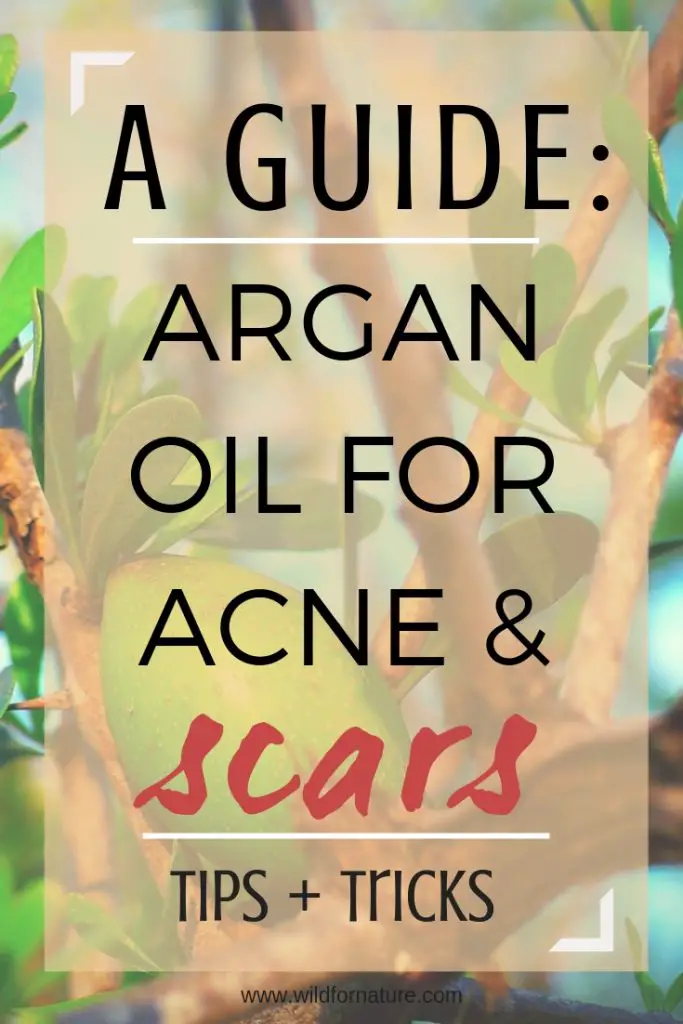 Help support Wild for Nature
Many of you have asked if there's a way to help support Wild for Nature. I've signed up for Buy Me Coffee. If you love what I do, learn from me, sell anything you made from my recipes, and want to see Wild for Nature grow even more, I'd be thrilled if you'd consider buying me a coffee! It works as a one-time or a monthly donation of $3. You can also get beautifully designed PDFs with a series of recipes and other resources I publish there, to help you learn and get creative at home! I can then use that money to further develop and grow Wild for Nature and you can help me continue with wild creations and resources!