Wild morning pretties! Today, we're making homemade micellar water, a completely natural and vegan cleanser, moisturizer, and a toner.
I have a few favorites when it comes to skin cleansing, and my DIY micellar water is definitely one of them. This recipe is very very easy to make, yet non-toxic, no alcohol, and I promise that it smells divine and it does the trick! Let's get to it!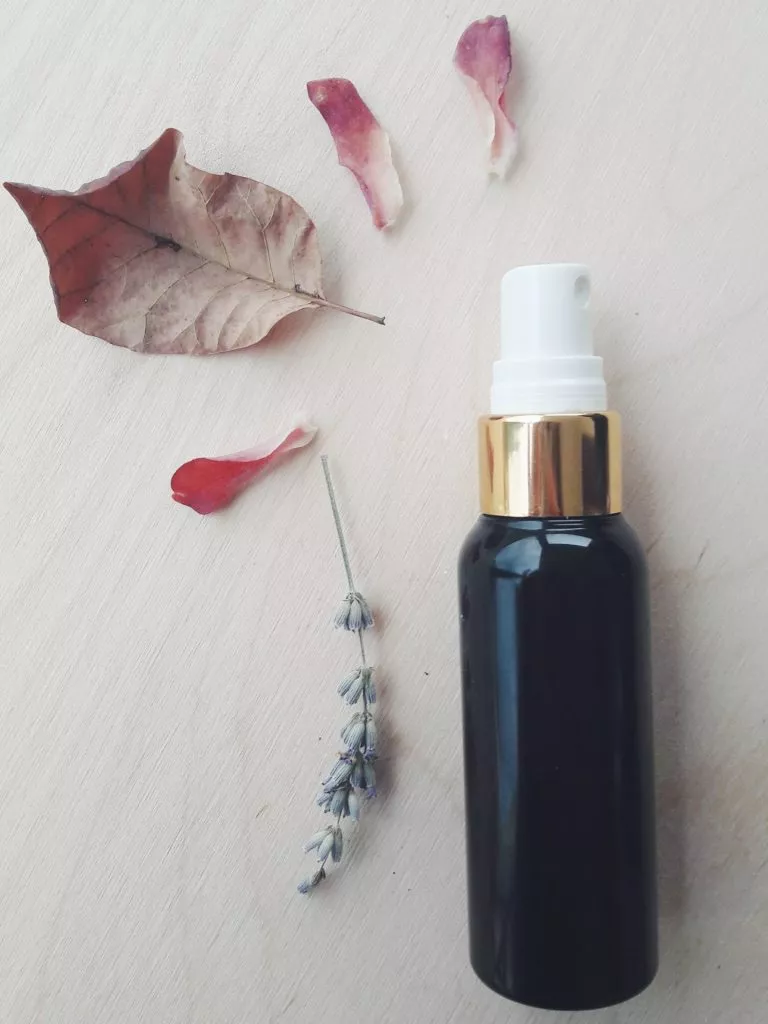 What is micellar water?
Plain and simple, micellar water is water that contains tiny oil molecules. These are attracted to impurities, dirt, and sebum on our skin. That's what makes the micellar water an excellent cleansing product. It leaves the skin moisturized and soft without drying it.
It's a product that's very handy for travel since it's somehow an all-in-one package:
a cleanser, a toner, and a moisturizer
It can work as a natural makeup remover, and it doesn't irritate skin, which is why it's perfect for sensitive skin. Even those dealing with acne can benefit from it. It's been around for more than a 100 years, supposedly invented by the French, but everyone seemed to forget about it until the recent years when it was revived into a boom.
I found it to be that ideal product I've been searching for. Either feeling lazy or on a tight on schedule, this DIY cleansing water saves the day.
What are the ingredients in micellar water?
When you look at the commercial micellar cleansing water, the idea of having a cleanser isn't as tempting anymore. It contains a lot of nasties, such as alcohol, chemicals, fillers, and a lot of other ingredients we wish to avoid.
Which is why I decided on a DIY micellar water!
Not only is the homemade micellar cleansing water completely natural and toxin-free. There are more advantages than just the question of safety and toxicity (even though this is still the main one)!
A DIY cleanser is also very flexible and cost-effective. You don't need many ingredients for this recipe and you can make quite a large batch with the ingredients required.
In short, the basic micellar water recipe is:
Water (maintains the pH of the skin balanced)
Astringent (tightens pores and cleanses the skin without stripping it of natural oils)
Humectant (moisturizes the skin, giving it a healthy and smooth appearance)
Carrier oil (for an extra kick of moisture and nourishment)
Another benefit is flexibility. Making homemade natural micellar water yourself, you can choose the ingredients based on your skin type:
Carrier oils (for dry, sensitive, oily, normal skin)
Essential oils (to soothe, to cure, to relax, to tone…)
Hydrosols (see the full list at the bottom)
How to make micellar water?
I've been on the lookout for a cleanser. Normally I'd clean my makeup with either coconut oil, any cheap facial cleansers or a konjac sponge (which I love too much!).
But, I needed something I could actually bring with me whenever I go, so I decided it's high time to make my homemade micellar water again.
I'll show you how to make your own micellar water (you'll see how simple micellar cleansing water ingredients really are). For those of you who believe your skin is already oily, use a non-comedogenic oil (the kind of oil that doesn't clog pores, see the list on the best non-comedogenic oils). In my recipe, I use argan oil, which is already non-comedogenic.
Some other non-comedogenic oils include:
At first, I was convinced that the water might feel slightly greasy due to the carrier oil, but it feels quite normal, it cleanses my skin well and it leaves it soft. In this homemade cleansing water recipe, I included the following ingredients:
Rosewater
Rosewater is a beautiful ingredient I cannot get tired of using. With its refreshing, hydrating, toning, and soothing abilities, it's one of those natural and organic ingredients which are a must. For anyone, basically (exaggerating, I know, but who can resist it!).
Rosewater helps to maintain the pH of your skin, which is also one of the reasons it's in my DIY cleansing water recipe. At the same time, rosewater is beneficial in fighting acne. Not only does it help to remove the excess oils from the skin but it also soothes the irritated skin with its anti-inflammatory properties. Rosewater has anti-aging properties and it's very convenient for sensitive skin.
 Read more on rosewater skin and hair benefits
You can substitute it with distilled water if you prefer, but I love rosewater for its toning and hydrating properties.
Witch hazel
A natural astringent, witch hazel is a natural remedy for skin conditions such as acne, eczema, and psoriasis. It is a natural toner that cleanses the skin and helps to firm the skin's elasticity.
With its antioxidant properties, witch hazel it helps to fight the free radicals, minimize cell damage, fight any signs of aging such as wrinkles and discoloration. Other benefits of witch hazel come also from its antimicrobial and anti-inflammatory properties. It shrinks pores, soothes itchy skin, and reduces puffiness.
Argan oil
This liquid gold is well-known for its amazing skin benefits. Its comedogenic rate is 0, which makes it a great oil for acne because it doesn't clog pores! Moreover, argan oil also moisturizes dry skin, making it smooth, healthy, and soft.
Rich in vitamin E, argan oil also has anti-aging properties. With its antioxidants it fights the free radicals, slowing down the signs of aging and maintaining the skin healthy. Apart from acne, argan oil is a natural aid in other skin conditions as well; it is able to soothe redness and inflammation.
Geranium essential oil
With a feminine scent that's all about balance, the geranium essential oil has antiseptic, antibacterial properties that are a natural aid in the eternal fight with acne. With a pleasant aroma, geranium oil also nourishes the cells, fights infections, and keeps the skin moisturized at the same time.
Geranium oil is able to heal inflammations, soothes irritated skin when it comes to rashes, eczema, and rosacea. It tightens pores and it can be used as a toner as well. With its antioxidant properties, it also helps to slow down the aging process: it boosts regeneration and it firms the skin with its astringent properties.
Vegetable glycerin
A popular ingredient in many skincare products, vegetable glycerin is derived from plant sources, a natural compound that is non-toxic and water-soluble.
Vegetable glycerin rarely has any side effects. Used on its own, it can draw water from the skin (it's a humectant) but not when it's diluted.
Apart from that, it is non-comedogenic, a great addition to any vegan DIY cosmetics. It is an emulsifier with soothing and moisturizing properties that have positive and beneficial effects on the skin. It helps to regulate oil production od the skin, it can be used as a toner, cleanser, and a humectant.
Natural Homemade Micellar Water
Ingredients:
Instructions:
Measure all the ingredients
Add them to a 100 ml bottle 
Apply a little bit on a cotton pad and swipe your face with it.
Notes:
1. You can substitute rosewater with another herbal hydrosol (see below).
2. Feel free to omit the essential oil or substitute it with another of your choice.
3. Use this once or twice a day.
Since this is a water-based recipe, it requires a preservative. I normally work with Cosgard, but you can use any other you know that works for you.
If you're looking for a more simple DIY micellar water recipe, you can omit several ingredients: essential oil, rose hydrosol or witch hazel, and argan oil. You'd be left with distilled water, preservative, glycerin.
Common questions and tips on DIY micellar water
Before you leave, have a look at some common and regular questions on micellar cleansing water!
Micellar water variations
I used rose hydrosol in this recipe just because I love it. I love how it feels on my skin and the scent is divine! In case you don't have it on hand, feel free to substitute it with another hydrosol:
Chamomile (great for sensitive skin, anti-inflammatory, and very gentle hydrosol)
Helichrysum(great for its anti-aging properties. It tightens the skin and boosts the healing process)
Cucumber (cooling and fresh, this hydrosol is an excellent astringent with anti-inflammatory properties)
Lavender (suitable for all skin types, this hydrosol is gentle and excellent to soothe irritations, allergies, and has great cleansing properties)
Rosemary (boosts blood circulation, great for skin conditions, and can soothe damaged skin)
Tea tree (great for acne-prone skin, it helps to reduce irritation, redness, and shrink pores)
Peppermint (cooling, refreshing, and uplifting, this hydrosol is anti-inflammatory, antibacterial, and great for oily skin)
Whenever purchasing a hydrosol, make sure it's of the highest quality, 100% pure and certified organic. My favorite hydrosols come from the Plant Therapy (I also love their essential oils).
Is micellar water good for acne?
Some claim that micellar water is excellent for acne, while others say that you can somewhat benefit from micellar water, but it doesn't specifically target your skin conditions.
When suffering from acne, breakouts, and pimples, the proper skincare routine is important. Very important. In my humble opinion, I can't see why you couldn't benefit from a proper micellar water recipe when you want to target the nasty acne.
By cleansing your skin regularly, you prevent clogged pores, remove dirt, and excess oils. Remember micelles? They tend to do that for you!
Plus, this cleanser will leave your skin hydrated (and not stripped of water and your skin's natural oils).
Plus, you don't need to rinse your skin additionally after and before you've used this cleansing water.
Plus, micellar water has the proper pH that helps to preserve the healthy skin barrier function.
Anyway, when making your homemade micellar water for acne, substitute rose hydrosol for either rosemary, tea tree, or peppermint. Geranium essential oil already is acne approved, and make sure not to substitute the carrier oil for any comedogenic oils. Argan oil works great!
Is micellar water good for dry skin?
Because it's gentle and hydrating, cleansing water is good for dry skin. I'm not sure how your dry skin handles alcohol content in skincare products, but many homemade recipes are free of alcohol. It's excellent that you can also choose witch hazel completely alcohol-free and make products that are suited specifically for your skin type (chamomile hydrosol is great for sensitive skin)!
Anyway, dry skin, go ahead and use your homemade natural micellar water!
Can micellar water be used as a toner?
Yes and no. It all depends on who you ask. Commercial micellar waters (the less natural ones) are meant to cleanse. They contain ingredients that don't have toning properties (I think). I read on the website of Garnier, where they specifically state their micellar water is not meant to be used as a toner.
What about a DIY micellar water? Well, I always use my micellar water as a toner as well. But sometimes I don't, and I make a toner instead (I mean, use one of the hydrosols as a toner). My skin loves it and I haven't had a problem yet!
How do you use micellar water?
Apply your DIY micellar water regularly to your face in only a few simple steps:
Soak a cotton ball with micellar water
Apply on your face in small circles
After you finish the first round, take another cotton ball and repeat the process until the ball comes off clean
Once done, wait for the skin to dry completely and continue with your skin care routine
Alternately, you can also spray it directly to your face and wipe it with a cotton pad. Repeat the procedure until the pad is completely clean. If this is your preferred method, mind your eyes. And mouth as well; this homemade micellar water might have a gorgeous fragrance, but the taste…not so much!
You can use this micellar water:
As a toner
As a gentle makeup remover
As a cleanser
As a facial mist
What do you think about this DIY micellar water? I absolutely adore it…what about you? Let me know in the comments below!
Stay Wild!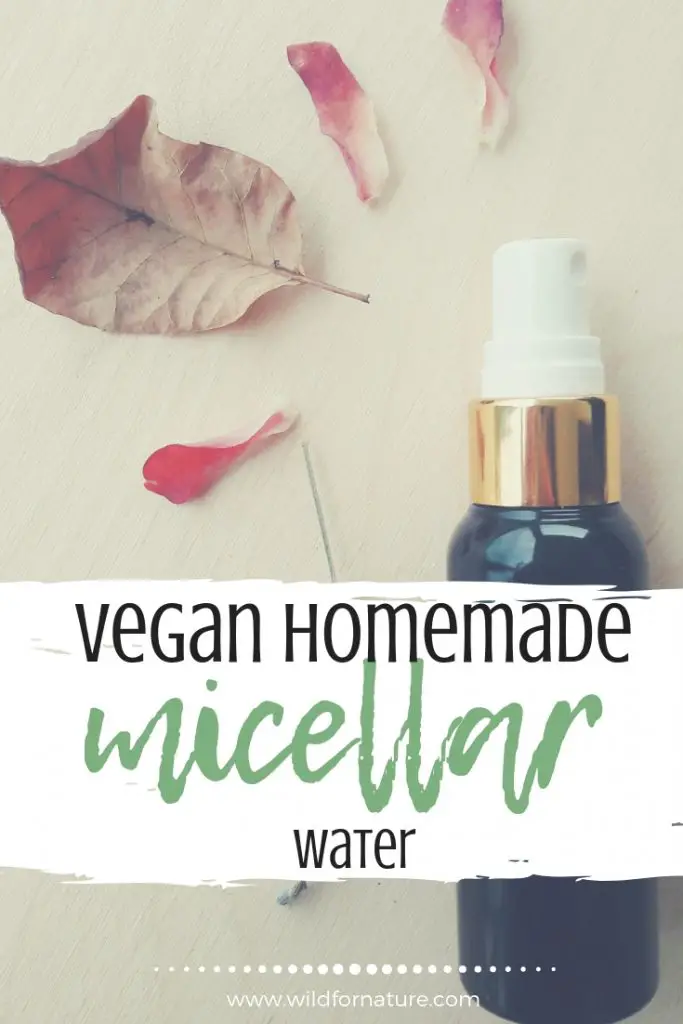 Have you made this recipe? Tag us on Instagram #wildfordiy
Help support Wild for Nature
Many of you have asked if there's a way to help support Wild for Nature. I've signed up for Buy Me Coffee. If you love what I do, learn from me, sell anything you made from my recipes, and want to see Wild for Nature grow even more, I'd be thrilled if you'd consider buying me a coffee! It works as a one-time or a monthly donation of $3. You can also get beautifully designed PDFs with a series of recipes and other resources I publish there, to help you learn and get creative at home! I can then use that money to further develop and grow Wild for Nature and you can help me continue with wild creations and resources!