Essential oils have been around for thousands of years. While they can be incredibly beneficial, it's important to know their background before we start adding them to out homemade skincare.
Essential oil quality is incredibly important since we're using it on our skin and for aromatherapy. They have to be of the highest quality to produce the best benefits and maximum safety.
I've worked with a number of essential oil brands since I've started making my own skincare and I've compiled a list of the best essential oil brands 2020 available today.
Let's have a look at the best essential oil companies out there and help you find a reliable brand you can safely use and trust!
When it comes to essential oils, there are two things that pop to mind:
Variation: from one brand to another, essential oils vary in quality, price, scent, return policy, production, country of origin, reputation of the company
Versatility: they can be used for a number of things; in aromatherapy, in DIY skincare (I provided ideas on how to use them below), for diffuser, for soap making, for bath bombs, in massage oils, in roller blends to soothe stress, uplift, and relax, for cleaning
I have used many different brands of essential oils and there are a few I love returning to as they are of higher quality and within an affordable price range.
When using essential oils for skincare, I love to keep around different oils not only for their healing properties but for their scent as well. So, I'm always looking to find those who are produced according to the high standards of a company and are affordable.
Once I discovered this brand (not MLM) which is also considered to be one of the best on Amazon, I decided to stick with. Why? I trust the brand. I've done a solid background check and it seems it's a reliable company that's both affordable and an excellent value for money.
But, I wanted to show you the minor differences that set apart high-quality brands; a hefty price tag doesn't always mean great quality!
So, when looking for the best quality of your oils, make sure to look at the company behind it first. I've tried to gather only the most acknowledged companies (that I know of), but if you believe there are others that could qualify as the most reputable essential oil companies, make sure to let me know!
While this article started out as the best essential oil brands 2018, it has now been updated a couple of times to keep up with the brands in 2020.
8 Best Essential Oils Companies
1.      Plant Therapy
Plant Therapy is considered to be one of the best and most popular out there. These essential oils come from a family business, established in 2011 in Idaho by Chris and Amanda Jones. They've strived to make a difference in the market by making high-quality oils affordable and accessible:
"Our ultimate goal is not to be the largest essential oil company; it is to positively impact the lives of as many people as humanly possible. Ultimately, I feel this is possible only by providing our customers with an exceptional experience that keeps them coming back. By selling such a high quality product at an affordable price, we not only positively affect the lives of our customers, it also gives us the financial means by which we can help those who are less fortunate to live a happier, healthier, and more productive life."
Feel free to read more about their story here.
Essential Oils
Overall, Plant Therapy offers more than 140 different single essential oils.
Plant Therapy offers KidSafe synergies, a full line of essential oils, safe and effective for children. Apart from that, many of their oils are USDA certified organic. You can download a product sheet with every essential oil they offer, with suggested use, benefits, and other oil combinations.
Their oils are not labeled as Therapeutic Grade, but the company says this term is more of a marketing term and it doesn't mean anything in particular.
You can choose from single essential oils, synergies, organic certified, and roll-ons. Apart from that, the company also offers oils that are safe for kids, essential oil sets, diffusers, and a wide range of body care (carrier oils, hydrosols, etc.)
Quality Control
Plant Therapy sends their oils to a third party for tests, which you can download from their website. They claim their oils are 100% pure and free of any additive, dilutions, and adulterants.
Return and Customer Service
The company claims to have the best customer service. They have Aromatherapists on staff that help users answer questions and offer professional support regarding the products.
The return policy: 90 days with a money-back guarantee option.
Cost and Price Range
The price range of Plant Therapy essential oil brand is quite fair. They offer a lot for a reasonable amount of money, according to my personal experience and a number of user reviews online.
I love the fact they have certified organic essential oils available, but what really convinced me in the first place to get Plant Therapy is their honesty and transparency. It's not easy to find brands that are open about their work.
In short, Plant Therapy is a popular essential oil brand on Amazon and highly rated as well.
Price comparison: Lavender: $15/15ml, $29.95/30ml
Where can you get the oils? On their official website or Amazon
2.      DoTERRA
This essential oil company was founded back in 2008 by health-care and business professionals; some of them used to work for Young Living. The headquarters are located in Utah but their offices are spread all around the world. They offer wholesale programs, but in essence, they work hard to
bring a new standard of therapeutic-grade essential oils to the world
Essential Oils
The plants for essential oils are harvested all over the world, such as Italy, Brazil, and Guatemala among others, but you can get more information about that on this website.
Their oils are considered to be pure and of high quality. They use a low-heat steam distillation and cold extraction. You can get a complete insight into the process of making the oils, from the harvest to the shop on their website.
Apart from a wide variety of essential oils, doTERRA also offer oil blends, supplements, DIY accessories, diffusers, personal care products, weight management products, storage, and literature.
Quality Control 
DoTerra claims their products are all certified therapeutic grade oils. The interesting part about that is that the CPTG trademark was invented by doTERRA itself. In other words, they say that
doTERRA's CPTG Certified Pure Therapeutic Grade®* quality protocol employs five different analytical methods to ensure doTERRA's essential oils are both pure (extracts contain only the volatile aromatic compounds of a plant), and potent (extracts have consistent chemical composition from batch to batch). The testing process includes gas chromatography, mass spectrometry, FTIR Scan (Fourier Transform Infrared Spectroscopy), microbial testing, and organoleptic testing. The CPTG quality protocol requires the use of independent laboratories for standardization and testing.
Whether all this is true or not, is very hard to tell with a flood of information online.
Return and Customer Service
Not happy with your purchase? You're able to return the products for a 100% refund or a 100% product credit. Still, that depends on the when you've ordered your product and whether you've already opened it or not.
Cost and Price Range
Doterra comes with a high price tag on their essential oils. You can easily get a starter kit of three oils for about 20$, but it's still quite expensive. This is definitely not a brand you're looking for when on a budget. I love some of the oils that I've tried, but I'd personally choose this brand over them any time.
Doterra has built a name and a reputation in the aromatherapy world and they're famous all over. While their oils are high-quality products, they somehow don't really convince me.
At the same time, they are an MLM company (multi-level marketing) which I really dislike. Also, after some digging online, I found some nasty reviews claiming doTERRA was only a scam and nothing more, but we'll talk about that some other time.
Price comparison: Lavender oil:  $28/15ml
Where can you get the oils? On Amazon or their official website.
3.      Young Living
Young Living was founded in 1994 and it's another MLM company on the list. They have offices all over the world and their mission is to
honor our stewardship to champion nature's living energy, essential oils, by fostering a community of healing and discovery while inspiring individuals to wellness, purpose, and abundance.
Apart from essential oil singles, the company also offers blends (Thieves oil being one of their most popular ones), diffusers, cleaning products, and personal care among others.
Essential Oils
Young Living company sources the plants for the oils from all over the world; they have farms in North and South America, Asia, Australia, and Europe. Just like other brands on the list, they also claim to only sell the oils of the highest quality and purity. Their essential oils are also therapeutic grade and very potent.
However, I haven't found any information on these essential oils and their USDA organic certification. To quote a YL customer service (I found the comment on Essential Oil Haven):
To provide organic products to our members is very important and we strive to use organic matter in all the steps from growing, processing, to selling. We do not use chemical fertilizers or pesticides on our farms. Young Living cannot place the word 'organic' on our labels because we occasionally import some oils from different countries and most of these countries do not have organic standards that match the US standards. This is the reason why we cannot certify them as organic. Rest assured, though, that Young Living will not accept oils or plants that do not meet our strict standards.
Quality Control
An impressive fact is that Young Living company overlooks the entire production; they control their products from the seeds, to harvest, distillation process, and the final product. They use steam extraction, cold pressing method, and a resin tapping method in order to get the best oils.
What's more, they follow the Seed to Seal production process standards.
Return and Customer Service
You can find email contacts, toll-free phone numbers, and a live chat on their website. They have different numbers according to various countries.
Cost and Price Range
Just like doTERRA, this is another essential oil brand in the high price range. You can purchase the oils from their website and other online retailers, such as Amazon. Since they're quite expensive, you'll have to decide whether you believe they are worth the money.
While they may be involved in the whole process of production, this company is quite big. They propagate their oils are a therapeutic grade, which we realized it's only a marketing term without any real meaning. I'm also not too keen on them being another MLM company. Many love their Thieves essential oil, but I have to report that YL simply isn't my cup of tea.
Price comparison: Lavender oil: $31.91/15ml
Where can you get the oils? On Amazon or their official website.
4.      Rocky Mountain Oils
Founded in 2004, Rocky Mountain Oils are a non-MLM company that is always looking to improve the customer experience, by providing the oils of the highest quality and purity.
Based in Utah, they are one of the leading brands available today. Apart from the oils, the company also offers essential oil blends, skin care, cleaning, body care, wellness, natural supplements, and various supplies.
Essential oils
RMO company offers about 77 essential oils and 60 essential oil blends. Some of their product are certified organic essential oils, others are certified Fair Trade. They also use wild grown plants as their source, which makes the oils of incredible quality.
The organic oils are orange, frankincense, lemon, lavender, tea tree, and peppermint.
Quality Control
Rocky Mountain Oils pride themselves in providing full test results, conducted by a third-party laboratory. You can find the most recent GC/MS rest results on their website next to each essential oil. You can also see the tests of a blend; just contact the customer service by phone or email for the batch number, which you then input at the bottom of this website.
What's more, the RMO company has also created its proprietary S.A.A.F.E. Promise™ which stands for
Satisfaction
Authentic
Analysis
Free of Adulterants
Effective & Pure
Return and Customer Service
Rocky Mountain Oils offers a 90-day 100% money back guarantee, even if your essential oils are opened! If you're for any reason unhappy with your order, contact them and they'll issue a refund.
At the bottom of every page, they have a phone number listed that you can contact any time from Monday to Friday from 8:00am-5:00p MST. You can also find the number and a contact form on their Contact Us page.
Cost and Price Range
With the quality and transparency they provide, this brand is quite competitive, but still expensive if you're on a budget, especially when it comes to their certified organic essential oils. Still, they are below the cost of some bigger and better-known companies, such as Young Living and doTERRA, which makes them more affordable and easily accessible to anyone looking for excellent quality.
It seems as if the RMO somehow competes with the Mountains Rose Herbs, but I actually prefer them because they're extremely transparent when it comes to sourcing, testing, and other information with their oils. They also offer free shipping on any size order, which is definitely a plus!
Price comparison: Lavender oil: $22.95/15ml
Where can you get the oils? On Amazon and their official website.
5.      Now Solutions
Supplements, natural foods, sports nutrition, essential and carrier oils, Now Foods make a ton of products that are very popular on Amazon and highly praised among their users. Some of their products are also USDA certified organic, but not all. They are one of the most affordable brands on the budget and you can see their products in many DIY skincare videos.
They are one of the oldest manufacturers of essential oils on the list; their beginnings go all the way to the late 1970s.
Essential oils
All of their essential oils are 100% pure and all natural. One of their blends is clearly marked to be synthetic (a jasmine blend), but it's the only one and well explained on their FAQ page here.
They have a wide variety of oils and they're grouped according to the scents:
Camphoraceous scented oils
Floral scented oils
Mint scented oils
Musky scented oils
Spicy-scented oils
Sweet-scented oils
Woodsy scented oils
They also offer diffusers and other aromatherapy products.
Quality Control
Now Foods put their oils through Gas Chromatography and Infrared Spectrometry, among other tests. They strive for consistency and run a full-house facility laboratory. They also use third-party testing only when necessary.
Return and Customer Service
Many essential oil companies that we've seen on the list, have a telephone number and offer customer service. Unfortunately, Now Foods have a dozen offices with phone numbers, but there isn't one single toll-free line for inquiries and customer service.
For any further assistance, you have to fill out a contact form on their website, choose the topic you're interested in and wait for them to get back to you. While this is something acceptable for some people, I believe many may find problematic and perhaps even choose a different brand over this one.
Cost and Price Range
One of the most affordable essential oils on the list, Now Foods' founder Elwood Richard says:
The question shouldn't be why are our prices so low, but rather, why do our competitors price their products so high?" We use the same quality essential oils as other companies; we just choose to price our essential oils with the best interests of the consumer in mind. By not marking up our essential oils like perfumes, as many competitors do, we can offer essential oils of comparable quality at a lower price.
While Now Foods may provide good quality essential oils, many users claim that the higher the price, the higher the quality. It would be great if they offered better customer service and specify into more detail the return policy.
They are an affordable brand, but if you're looking for USDA certified oils, you'll have to look elsewhere, as the selection of these isn't as wide. Still, for the skincare DIYers, the prices are more affordable and you're able to order larger batches that eventually enable you to save money.
Price comparison: Lavender oil: $6.82/30ml, $20.98/118ml
Where can you get the oils? On Amazon and their official website.
6.      Eden's Garden
Founded in 2009, Eden's Garden essential oil company works hard to provide the best products at an affordable price without compromising the quality of the oils.
Edens Garden is one of the best known essential oil companies, based in California and founded by Grace Martin. This is a non-MLM essential oil company and they're proud of it. Grace points out that
My dream was to build a business that valued people over profit and dealt honestly while offering direct access to the many benefits of essential oils.
You can read more about her and the mission of the company on their website.
Essential Oils
Edens Garden claims their oils are a therapeutic grade of the highest quality and purity. Similar to Plant Therapy, Edens Garden offers an organic line of their essential oils (which isn't certified) as well as the conventionally sourced products.
None of their products are tested on animals; the oils are natural and cruelty-free.
They offer essential oil singles, blends, carrier oils, oils that are OK for kids, and a number of other products both for body and aromatherapy.
Quality Control
Eden's Garden claims to follow the E.D.E.N.S. pledge, which is basically a value check:
E- effective (the oils are therapeutic grade and therefore effective in aromatherapy)
D- dedicated (customers are a #1 priority)
E- educated (certified aromatherapists are behind the project, answer questions and write blog and newsletter)
N- natural (unadulterated oils, free of nasty and harmful ingredients)
S- safe (lab-tested oils)
They perform third party testing to ensure each product is of the desired quality and fits the standards. You can request oil test results if you wish.
Since all of their oils are 100% pure, they come from natural and holistic sources that don't contain any pesticides. Their essential oils are free of carriers, paraffin, chemicals, additives, GMOs, fertilizers, and harmful chemical.
Return and Customer Service
Not happy with the product? No problem, you can return it within a 30-day no questions asked window.
Cost and Price Range
Edens Garden essential oils are similar in price to Plant Therapy. They offer good quality oils, making them affordable for all. You can easily get a set of their essential oils from Amazon, which will allow you to stack up on essential oils for all the skincare recipes you'll make!
After all, this is another popular brand on Amazon, that also offers a free U.S. shipping. One of the few negative sides is that we don't know whether they actually work with any essential oils specialists when testing the products or not.
In any case, Eden's Graden is a great value for money. Feel free to have a look at more user reviews for a better idea about the brand.
Price comparison: Lavender oil: $8.95/10ml, $18.95/30ml
Where can you get the oils? On Amazon and their official website.
7.      Anatta Marketplace
Anatta Marketplace is a relatively new essential oil brand. They started out about a year ago, in 2018. Anatta was founded by people who have previously worked in this type of business but weren't too happy with it. Their original goal was to provide better products and conditions for everyone who's involved in their business: from farmers to us, the buyers. In other words,
"we created a lean business model that plugs farmers' products directly to customers, allowing them to access pure quality at an affordable price while compensating the farmer tremendously more than he would be paid in a broker market."
Anatta is committed to improving the quality of life of the farmers and us, providing us with high-quality products, and they do it with complete transparency. If you want to know more about them, be sure to read my recent review of Anatta brand and their products here.
Essential oils
Their oils are free of fillers, artificial ingredients, or additives. Some of the oils are certified organic, but not all. You can find the list on their website. Overall, all their oils are 100% pure (I've tested many of them) and they are delivered with a small card with the country of origin and a bit of info about the farmer. What's more, when you log into your account on their website, you have access to all the essential oil documentation, including organic certification.
At the moment of writing this, the brand offers single essential oils, hydrosols, and one roll-on. With time, they're planning to expand their products to spices and teas as well. The product line isn't as extensive as with many others on this list, but their transparency, philosophy, and high-quality essential oils are more than one good reason to give this brand a try.
Quality Control
Anatta Market oils are pure, without any fillers or additives. Some of the oils are certified organic. They control the quality of their products with two methods: a Shimadzu GCMG test at the source and an impartial third party analysis. If you're a customer, you have complete access to these test results in your account.
As the CEO of Anatta explains:
"The current farmers who have organic on our site, their organic certificates are available with the matching name on the document, so customers can be confident this isn't some blanket certificate, and really represents that material they are purchasing."
Return and Customer Service
Anatta products are only available through their website. If you have any questions or concerns, you can contact them by phone or email, or a contact form on their contact page.
Cost and Price Range
Honestly, Anatta isn't the most affordable essential oil brand on the list. But I love their idea of looking after the producers as well as their customers. When I saw the cards with farmers' profiles, it definitely made a difference for me, as I was able to put the face to the product. It's a much more personal approach to business this way and I could contact a farmer if I had any questions about their product through Anatta website. And that for me, is a completely new approach to how we shop, spend, and live.
Some of their oils come in smaller sizes than others, so make sure to pay attention to that.
Overall, the mission, ideas, the values, transparency, and what they stand for is something to consider if you're looking for sustainable businesses that's trying to make a difference. You'll get high-quality products in return and get an insight into the lives of people who made them.
Price comparison: Lavender oil $14/15ml
Where can you get the oils? On their official website.
8.      Aura Cacia
A co-op company, Aura Cacia is a unique brand that was established back in 1976 in Iowa. It's a well-known brand that is easily one of the most popular companies on the market today. It's widely accessible not only online but in shops and bigger stores as well. Aura Cacia is proud of their products as well as their history:
Aura Cacia is committed to both quality of life and quality products. We offer outstanding products made from simple and pure botanical ingredients that improve the well being of those who use them. We test every shipment of essential oil we receive to verify its purity and quality.

As we travel the world to find top-quality essential oils, we encourage sustainable growing that preserves and improves land and resources for the future. And, as part of Frontier Co-op's far-reaching sustainable sourcing initiatives, we support the growers' communities with charitable projects that fundamentally improve people's lives.
Essential Oils
Their oils are free of any fillers and additives; some are certified organic but not all. In any case, they are all 100% pure essential oils, that always come with pamphlets and literature to give you an insight into oil you've purchased. What's more, the bottles have child-proof screw caps, which is definitely a welcome plus!
The brand combines single essential oils, essential oil blends, body care items, carrier oils, essential oil mists, aromatherapy accessories, and facial care products. All the product line is quite extensive and if you like their philosophy and mentality, it's one more reason to give them a try.
They strive to be responsible to both the planet and the people, the company also supports organizations that help women improve their lives all around the world. You can read more about the project here.
Quality Control
Aura Cacia oils are pure, without any additional fillers or additives. Not all their oils are certified organic. While they extensively test each batch to double check the best quality of essential oils, I haven't been able to find any test results available online.
The testing includes physical and gas chromatography testing for every oil. You can check the checkmarks next to each oil on their website:
No synthetic color or stabilizers
No synthetic fragrances
Not tested on animals
100% pure essential oils
Petroleum &paraben free
Essential oil tested for purity
What's more, just like Plant Therapy, they somehow avoid mentioning "therapeutic grade" in connection to their essential oils.
Return and Customer Service
You can return the product within the 60-day refund window from the date of the invoice. What some of you may find an advantage is that the products are sold in stores as well as online. You can get it in pharmacies, drugstores, and Target. That way, you can communicate and ask for advice more easily.
Cost and Price Range
I love how affordable Aura Cacia is; at the same time, they manage to maintain the quality and high standards of their products. Some of their oil come in smaller sizes than the standard, so make sure to pay attention to that.
Otherwise, the company's mission, their values, and what they stand for, is really something to consider if you're trying to support sustainable businesses and still be able to get products with high quality.
Price comparison: Lavender oil $28.56/59ml
Where can you get the oils? On Amazon and their official website.
How to use essential oils on skin?
Okay, you know the brands, you know what to look for in a quality essential oil. But I'm sure you'll want to use those essential oils asap; I know I'm always excited like a little kid in a candy shop whenever I get a new shipment of EOs.
The beauty of these oils is that they're incredibly versatile and you can use them for a number of things. Now, there is always caution advised when using them. Many people overdo the recommended amount of their oils, pouring them into their DIY body butters and other recipes. I'm not saying you can't use them; quite the opposite, but use them with care.
Here I've gathered some of the posts/recipes from the blog where the essential oils really shine through or are the star of the post. I hope you'll find this helpful!
Tips on purchasing an essential oil
There is no such thing as therapeutic grade essential oils. We've seen through the article that many companies do actually label their oils as such, but it's more of a marketing term than anything else.
Still, when purchasing essential oils, there are a few things to take into consideration:
·         Purity
The number one rule of the book is: before you buy essential oils, check their purity. With a flood of essential oils on the market, it's difficult to decide what's what. In any case, stick to your research.
·         Type of bottle
The essential oils you're buying should come in dark amber or blue glass bottles, which help to preserve the oil for the longest time possible. Avoid clear glass containers and steer clear of essential oils in plastic bottles as well.
·         Brand reputation
How trustworthy is the brand? Are they open about their distillation, production process, and testing? If the company is reliable, they will promote and sell only high-quality oils without any derivatives, fertilizers, pesticides, GMS, and other nasties we wish to avoid!
·         Extraction method
The extraction method plays an important role in essential oil quality. There are a few ways to get those beneficial compounds from the plants:
Steam distillation
Cold pressed
CO2 extraction
Solvent extraction
For a more detailed description, feel free to visit this post on How are essential oils extracted.
What about essential oil testing methods?
Testing the essential oils is quite important and all companies on the list that I went through, do it.
The most important test for the quality of the essential oils is Gas Chromatography and Mass Spectrometry, which can reveal additives in the oils, so you'll want to look for the GC MS tested essential oils. Some smaller companies avoid taking this test because it's quite expensive and even passing the test doesn't guarantee the quality. It is, however, a standard.
But this is not the only test, there are many others, but to name a few:
Essential Oil Companies Reviewed: A Recap
There are numerous essential oil brands available on the market. You can test and try fake, worst, top and the best brands out there until you find the one that fits your needs, no matter whether you're from the UK, India, or Australia. I've turned to Reddit many times just to double-check the background of a brand or user's experience with certain oils.
As you can see, the essential oil companies list is very long and I've only reviewed the ones I've had the chance to try myself. I don't buy all of these brands; in fact, there are three reputable companies that I like to use.
They all have products of great quality and are all non-MLM essential oil companies, which I know is very important to some of you (it matters a lot to me too!).
One of the best in terms of quality, value for money, and transparency on the list is Anatta Marketplace. This is the last brand I discovered on the list and I am a big fan of their products.
I've tested many of their oils and I was surprised by the high quality of oils. They smell amazing, I can access EO test results. What caught my eye first with this brand is that I can see who produced my essential oils. They put the face to the product, which makes them stand out from the crowd.
What's more, you can also contact the manufacturer of a specific oil you're interested in too! There are no middlemen in the Anatta brand and it's a fresh perspective on the whole relationship between producers and buyers. Read my review of Anatta for more detailed info, especially if you're new to the brand.
Now, I'd recommend Anatta to anyone who is looking for an excellent combo of quality and value for money; their transparency in sourcing and testing is something all companies should look up to. Additionally, they're not the most budget-friendly, so using their essential oils in bath bombs I something I don't recommend because it's just not cost-effective. But adding a few drops of their oils into facial products is a great way to boost their benefits and add a pure scent to the products.
If Anatta is out of your budget, but you still want quality and versatility, one of the top-rated essential oil brands (and not just by me), is Plant Therapy. They have multiple sizes of oils available and their range of products is extremely wide. Apart from single oils, they also offer blends, KidSafe EOs, carrier oils, and much more.
It's a brand I've come to trust and use regularly for most of my DIY skincare. Plant Therapy is budget-friendly and they're transparent with their products. You can find tests of their products online and they have a solid customer service that will answer any questions you may have.
Last but not least, if you're looking for a reputable brand on a tight budget, you can fill essential oil collection with Now Solutions. While I use Anatta in my premium recipes and for a diffuser, I use Plant Therapy in most other skin care recipes.
But it's the Now Solutions that is convenient for making bigger batches of recipes, such as bath bombs. Since they are cheaper, they're also a popular option for cleaning products, and all that has to do with natural home. Now Solutions has different oil sizes available, along with other skincare ingredients, such as vegetable glycerin and carrier oils. they are cost effective and definitely something to look into especially if you're completely new to DIY skincare. They are very affordable as well and online reviews definitely confirm their value.
What is your favorite essential oil company?
Stay Wild!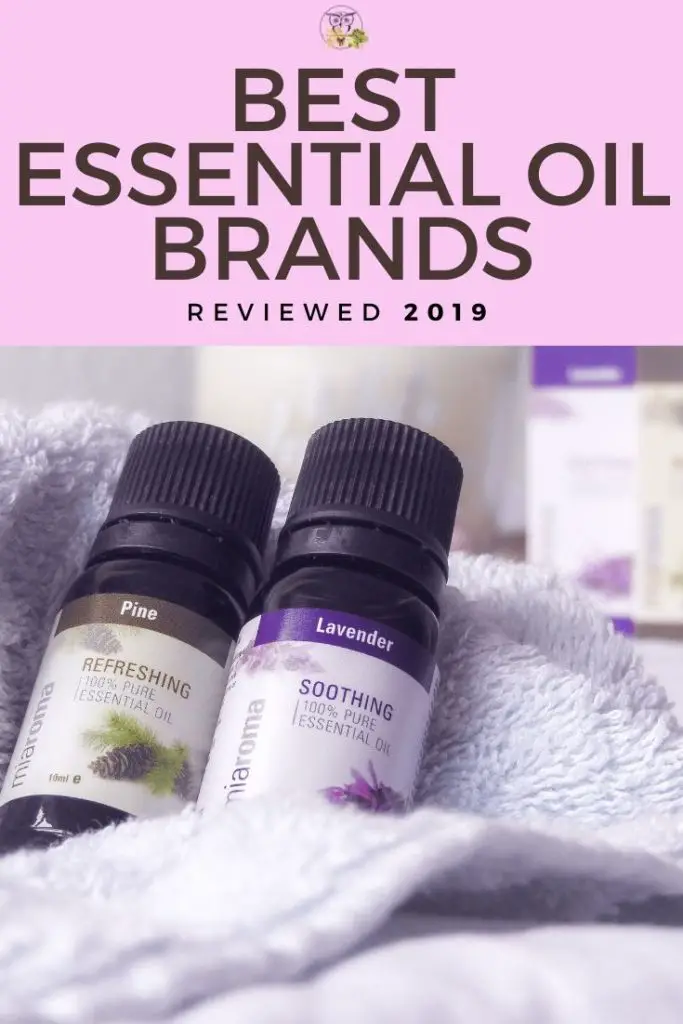 Help support Wild for Nature
Many of you have asked if there's a way to help support Wild for Nature. I've signed up for Buy Me Coffee. If you love what I do, learn from me, sell anything you made from my recipes, and want to see Wild for Nature grow even more, I'd be thrilled if you'd consider buying me a coffee! It works as a one-time or a monthly donation of $3. You can also get beautifully designed PDFs with a series of recipes and other resources I publish there, to help you learn and get creative at home! I can then use that money to further develop and grow Wild for Nature and you can help me continue with wild creations and resources!