Hey there, you wild things! Today, we're making a winter night fairytale in a jar! We're whipping up a decadent illuminating whipped body butter with a mica shimmer powder that will have you sparkling all through the dark long winter. This is a creamy body butter without coconut oil or shea butter, but it's just as nourishing and fluffy!
Ready? Let's see how to make homemade body butter for glowing skin, even if you're a complete beginner!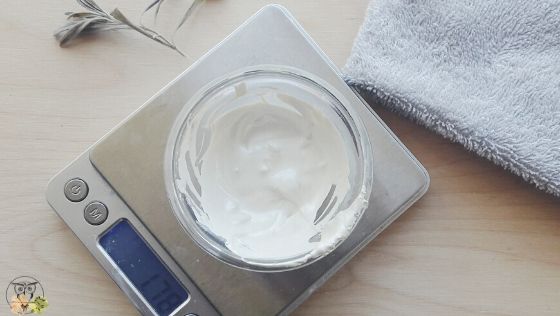 Today, we're starting with a Christmas recipe series and this illuminating butter is the first recipe of the series! You can find a few other recipes here:
Now, this is a decadent, creamy, smooth and sparkling whipped body butter that I cannot seem to get my hands off. It's rich and thick yet fluffy and the sparkling mica adds it shine and leaves my skin soft, glowing, and ready for the holiday season!
And the best part?
It's easy to make, so it's very beginner-friendly
1000% vegan
Creamy and divine
Fragrant and sparkling
Makes a perfect gift
Budget-friendly!
Great for winter
What's more, if you want to make this butter as a gift, you can easily double or even triple the ingredients and you'll find yourself swimming in a pool of sparkle and fluff.
How do you make whipped body butter that sparkles?
Forget about shea butter and coconut oil, we're trying a few completely new ingredients to the blog and to me. I recently got my hands on cupuacu butter and hazelnut oil. And I love them so!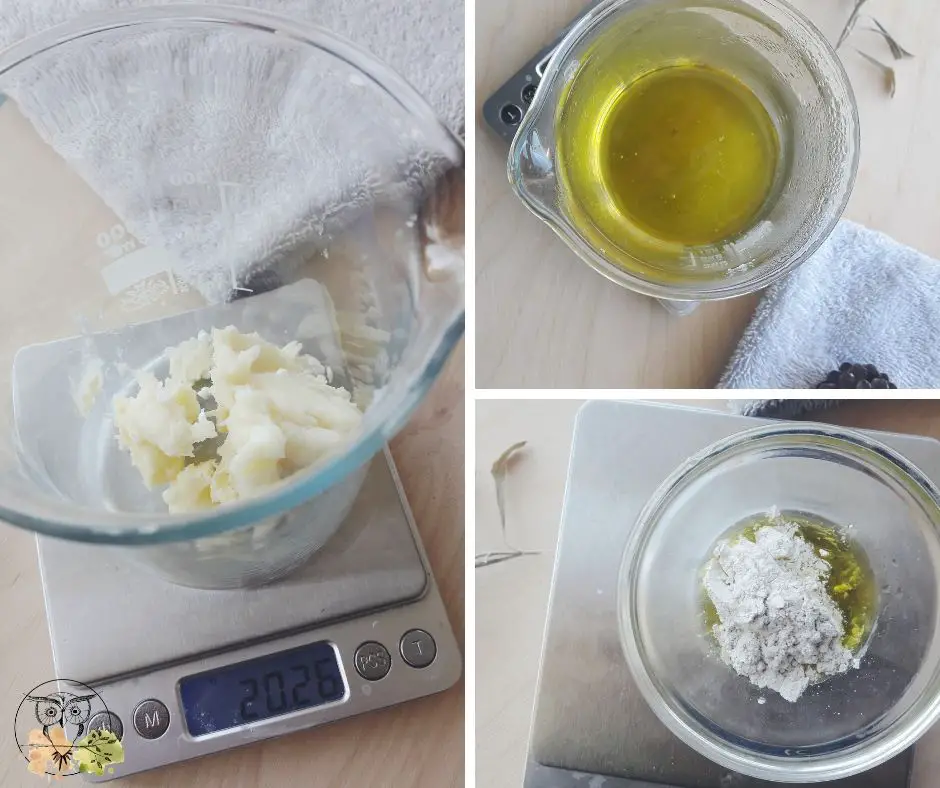 Now, cupuacu butter is very similar to mango butter, but slightly thicker (about a hair). My butter is an unrefined option and I think it complements the essential oil blend of the recipe perfectly. It has a slightly nutty scent, but a warm one, it actually reminds me of warm whiskey with nutty shea. I'm a fan!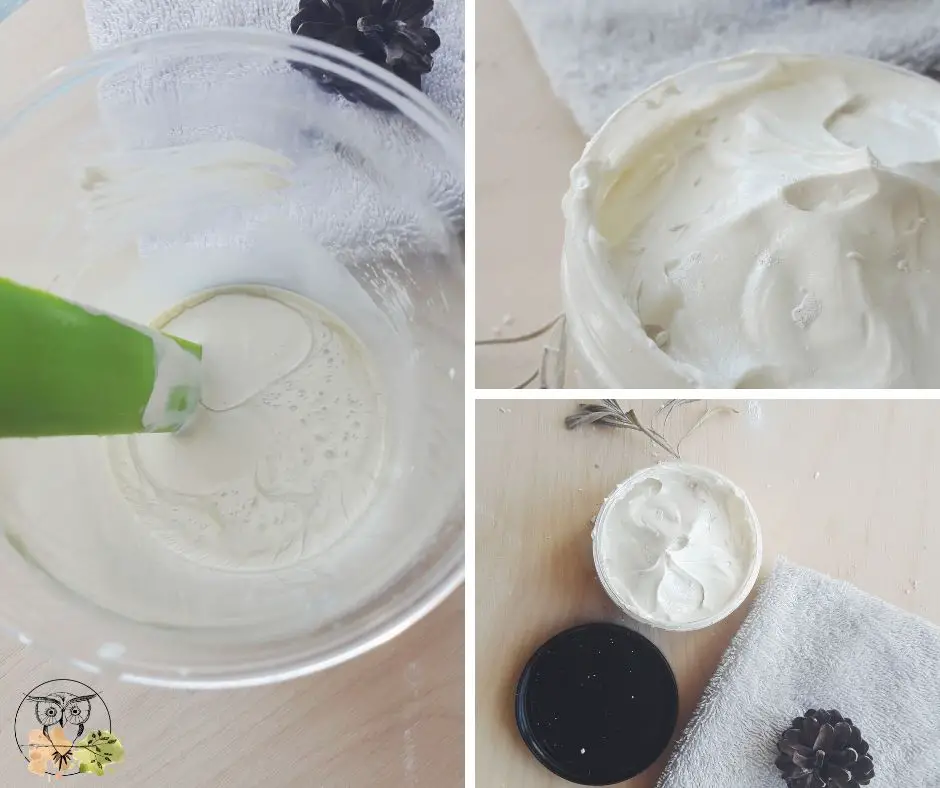 I can't stress enough how easy it is to make this recipe. We'll weigh the ingredients, melt them, freeze them, and them whip and whip and whip until we get the desired consistency, which will make even your more demanding friends swoon over it. I promise!
Ingredients in illuminating winter body butter
Let's have a look at how and why I chose these ingredients and what will they do for your skin!
Cupuacu Butter
This is a new addition to my skincare collection. Cupuacu butter is a gorgeous thing that is rich and perfect for dry and damaged skin. it helps to protect and moisturize our skin, safeguarding it from harsh weather conditions, dryness, and free radical damage. Cupuacu helps to regenerate skin cells, protects skin barrier, and boosts elasticity. It's also anti-inflammatory!
Fun fact, cupuacu butter has the ability to attract 240% water to the skin so it's a great vegan alternative to lanolin!
Mango Butter
Mango butter is a great soft butter that isn't as greasy as shea butter but loaded with nutrients that nourish the skin all year round. It has emollient properties and it protects the skin from environmental factors, such as sun damage, harsh winds and cold weather. It makes the skin smooth, soft, and it absorbs fast, which is why it's great ingredient in oil-based products since it doesn't leave the skin too greasy.
It helps to tighten skin, promote suppleness, and protect it from the free radical damage. It contains vitamins A, C, and E, which makes it a lovely buttery antioxidant cocktail for the skin.
Macadamia nut Oil
This is a lightweight oil that absorbs quite easily into the skin. I've been using it as a part of my OCM lately and I love it.
Macadamia oil helps to regenerate the skin and since it's rich in fatty acids, it's a great oil to have on hand during the cold winter months. It protects dry skin and it's anti-inflammatory and healing. It helps to regulate sebum production and it forms a barrier-protecting layer on the skin, which minimizes water loss.
Hazelnut Oil
A powerful antioxidant oil, hazelnut complements the soothing macadamia properties nicely. hazelnut oil has astringent properties and it's also lightweight. It's similar to sweet almond oil, but it absorbs into the skin much faster. It's not that greasy and it's loaded with vitamins B, E, and A. It softens the skin and helps the skin retain water.
Vitamin E Oil
In order to prolong the shelf life of this illuminating body butter, we're adding vitamin E oil to the recipe. Now, this isn't a complete or reliable preservative. It's an antioxidant that helps to extend the shelf-life of oils and oil-based products.
Arctic Essential Oil Blend
Okay, so I wanted something that would be wintery but gentle, and uplifting but warming and spicy. I love this combo and I hope you will too!
I wanted to use cardamom essential oil (which I already use in a few of my recipes, including these shower steamers) because it's my current obsession. But apart from that, cardamom oil helps to protect the skin from environmental damage, it promotes glowing skin, and it helps to tone it.
Clove essential oil compliments cardamom nicely as it's bittersweet and spicy. It's a potent oil, so a little goes a long way. Clove oil has been said to boost the skin-tightening process, minimizes wrinkles, and boosts blood circulation.
Last but not least, orange essential oil tones down spicy clove and sweet cardamom and brings the whole blend together nicely with its uplifting notes. It's anti-inflammatory and boosts collagen production in the skin. Did I mention that it smells divine?
Adding mica to body butter: how?
Last but not least, I used white pearl mica shimmer powder in the recipe to give the butter the illuminating and sparkly snow effect on a cold winter night.
The easiest way of adding mica to body butter is when the oils are completely melted but have already slightly cooled down. Add mica powder into the mix and stir with a spatula well, until mica is evenly dispersed in the mixture. I don't recommend whipping the mica into the mix as it's a fine powder that will end up in your nose, your clothes, and on the counter.
Arctic Illuminating Whipped Body Butter
Ingredients:
Process:
Prepare a water bath: add 3cm/1" of water to a wide pan. Bring the water to simmer (low-medium heat).
Weigh mango and cupuacu butter in a heat-resistant glass measuring cup
Place the cup into the water and let the butters melt
Once melted, remove the cup from heat and add hazelnut and macadamia oils
Place the cup with oils into a freezer for 10 minutes
Next take it out and prepare your hand mixer. Begin whipping the mixture for 2 minutes. Place it back into the freezer for 2 minutes.
Take it out, whip for 2 minutes and place back for 2 minutes
Take it out, whip for 2 minutes and place back for 2 minutes
Take it out, add essential oils and whip again. The butter should resemble whipped cream and appear glossy
Transform into a container/jar of choice and slather it on!
Notes:
This recipe will fill a 200g container.
You can substitute hazelnut oil with sweet almond oil.
How to make body butter not greasy?
There's one simple trick to make any body butter less greasy: use tapioca starch or arrowroot powder and add it to the oil mixture. You can see how to do it in my shimmering body butter here.
How to make body butter with preservative?
This is an oil-based product, so you don't need a preservative. We're only using vitamin E oil to prolong its shelf life, but nothing more. If you want to know more about body butters and how to make them, see this post where I explain it all.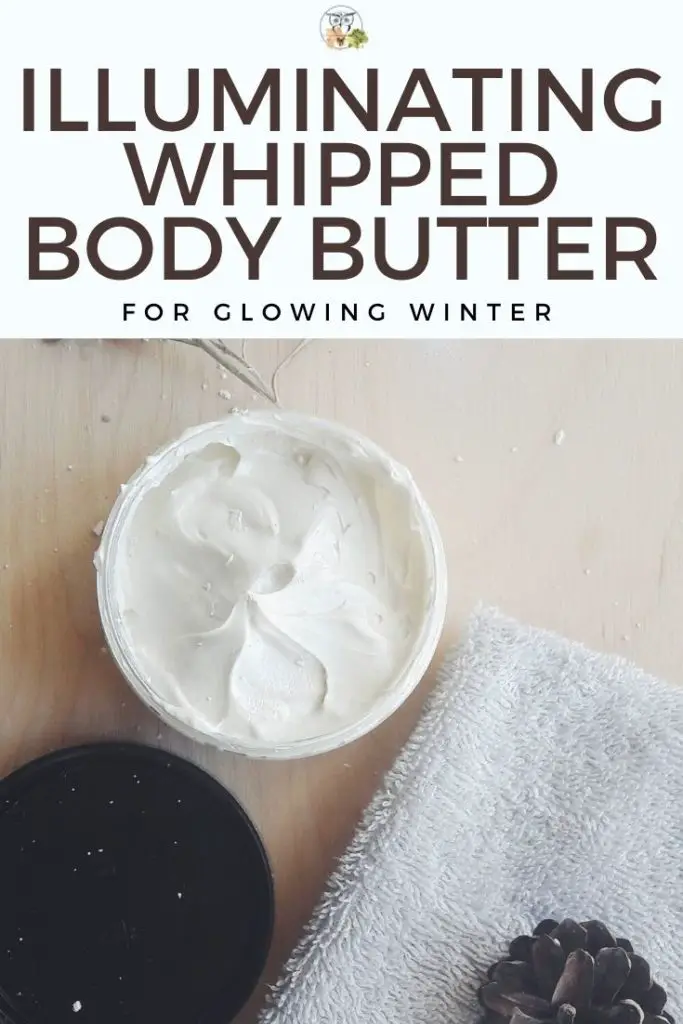 Have you made this illuminating body butter? Tag us on Instagram #wildfordiy
Help support Wild for Nature
Many of you have asked if there's a way to help support Wild for Nature. I've signed up for Buy Me Coffee. If you love what I do, learn from me, sell anything you made from my recipes, and want to see Wild for Nature grow even more, I'd be thrilled if you'd consider buying me a coffee! It works as a one-time or a monthly donation of $3. You can also get beautifully designed PDFs with a series of recipes and other resources I publish there, to help you learn and get creative at home! I can then use that money to further develop and grow Wild for Nature and you can help me continue with wild creations and resources!