Wild morning to you all! Cold season is here and so are dry skin, harsh weather, and cold winds. To nourish the skin during this sensitive time of the year, we're making something that's hydrating, healing, and great for your skin: DIY calendula facial toner!
You can whip up this recipe in a matter of minutes, it's just so easy! Ready? Let's get crafty!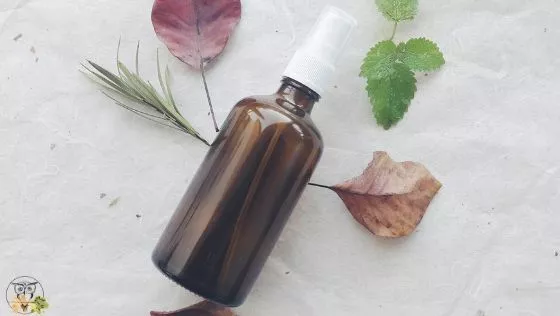 Originally, I got an idea for this recipe from my De-Puffing facial toner and this hyaluronic acid serum. Let's just say that this recipe is a mix of both in a way.
It's hydrating yet gentle with a refreshing scent that comes strictly from lemon balm hydrosol and calendula extract. I wanted to make something that will make my skin drink it easily but at the same time give it something more than just fragrant water, so to speak.
I wanted something soothing as well, which is where calendula and urea come into the picture. You'll see below, this is an easy recipe that your skin will love no matter how often you use it! Essentially, this toner is
Nourishing
Hydrating and soothing
Healing
Refreshingly fragrant
Vegan
Easy enough for beginners
Before we get to the actual recipe, let's have a look at a few technical info.
What is calendula extract?
Calendula extract is an ingredient made from calendula or the common marigold. It is very beneficial for the skin (we'll look at more details on this below) and it's easy to include it into your DIY recipes. The extract we're using in the recipe comes from the calendula flower heads and it's rich in a number of components, very beneficial for a number of skin types and ailments:
Heals damaged skin (cuts, scrapes, burns, bruises…)
Great for dry, irritated, delicate skin
Prevents skin damage
Beneficial for eczema, diaper rash, rosacea
Boosts collagen production in the skin
How do you make calendula toner?
You can make your own marigold toner at home and there are two options to do it:
Use calendula extract (this is the one we're using in this recipe): a water-soluble calendula extract is a potent ingredient that brings all the benefits of calendula flowers. It's easy to add it to your DIY skincare as you'll see below. You simply add a bit to the toner and use it whenever you feel like your skin needs a kick of nourishment.
Make your own calendula infusion. This option allows you more freedom in terms of what you make it with: it can be calendula infused witch hazel, distilled water, glycerin and much more. I haven't made any of these yet so I can't tell you for sure how to make it from experience, but there's a ton of information online on how to get started (such as this Formula Botanica article on glycerites from fresh food). I find it easier to simply buy the extract. That way, I'll know it's safe to use, stable, and properly preserved. You can easily make calendula infused oil, but oil isn't what we're after in this recipe.
Homemade marigold toner
Now, the ingredients in this DIY toner are meant to complement each other in a way that they bring the following benefits to the table:
Nourishing
Hydrating
Soothing
Lemon balm is a great base for this toner as it's both refreshing and it pairs well with the calendula extract scent.
I haven't used any essential oils in this recipe, but then I really didn't feel the need to, as I was looking for something gentle yet pleasing to the nose.
In any case, you can mix all the ingredients in a clean beaker and pour the mixture into a 100ml bottle, or you can add the ingredients straight into the bottle. Whatever you decide, this is an almost mess-free recipe and you can easily whip this DIY face toner in a matter of minutes!
And now, here are the ingredients I've used and their benefits!
Lemon balm hydrosol
Melissa or lemon balm has lovely and gentle properties for the skin, just like rose water and many others. It's a natural toner, helps to maintain the skin hydrated while keeping it soft. It's anti-inflammatory and it's also great for dry or irritated skin.
I've included lemon balm into this clay mask for oily skin because it helps to regulate excess oil. Plus, it's refreshing and a great alternative to all those DIY projects that only revolve around rose water.
Calendula extract
The star of this recipe is definitely calendula extract. It has soothing, anti-inflammatory, anti-fungal, antiviral properties that can go a long way in terms of healing and nourishing the skin.
It helps to calm the skin, stimulate the growth of new skin cells, and it's perfect when skin suffers too much from the weather conditions (harsh winds, cold weather, hot and dry spaces with all-out air-conditioning and heating). Plus, it can be a great ingredient for any anti-aging skincare as well!
Vegetable glycerine
This is a humectant, which means it keeps the skin hydrated and it improves the smoothness of the skin as well as making it appear more supple. What's more, it boosts the absorption of active ingredients, minimizes fine lines and promotes regeneration of the skin. Apart from that, it complements calendula extract by protecting the skin from harsh elements, such as cold weather and dry winds.
Urea powder
You may have noticed urea as one of the ingredients in thick, rich, and healing creams for skin ailments. It is a good moisturizer and it helps to protect the skin from dryness. I have used it before in my Mom's floral facial moisturizer and it has done wonders for her skin.
Urea is a humectant, but don't confuse it with urea derivatives, they're not the same thing! Urea helps to keep the skin moist, it improves its barrier function, maintaining the skin youthful and healthy. Similar to glycerine, it helps to promote the absorption of active ingredients into the skin. That's why it's a great tool to use if you're suffering from dry skin.
Allantoin
Another ingredient that's great for sensitive skin, allantoin promotes soothing, moisturizing, and healing properties for the skin. It helps to boost the growth of new cells while it keeps the skin hydrated.
It has calming effects and it benefits the skin by making it appear softer and suppler. It relieves skin dryness, it helps to protect and heal it, and it helps to reduce free radical damage on the skin.
Preservative
Last but not least, this is a water-based marigold toner. Just like other water-based products, this one too requires a preservative to keep this lovely facial toner safe from bacteria, mold, and other potentially nasty life that could move into your bottle and start a reproductive party.
In other words, this toner cannot be made safe without a preservative. By adding it, we prolong its shelf-life and make it safe for use. You can read more about preservatives, how to use them and why here.
In the recipe, I use Cosgard (Geogard 221), which has worked well for the majority of the products I've made with water. You can choose a different preservative if you already have experience with those, but make sure to also adjust the formulation when you do so.
DIY Calendula Facial Toner
Ingredients:
Process:
Combine all the ingredients in a clean and dry beaker
Stir well to combine
Add preservative last
Pour into a 100ml spray bottle
Use at will!
Notes:
Lemon balm is a great hydrosol to use in the recipe, but you could substitute it with another one with similar properties. Lavender, chamomile or rose hydrosol would work well instead. I don't recommend using peppermint (just because I think it's not as soothing as the other options).
I don't recommend adding essential oils to the recipe since there's no real need for that. if you really really want to and can't resist the urge, I'd recommend a few drops frankincense or neroli.
The preservative is not optional; it's a must if you want to keep this calendula face toner safe.
Have you made this? Tag us on Instagram #wildfordiy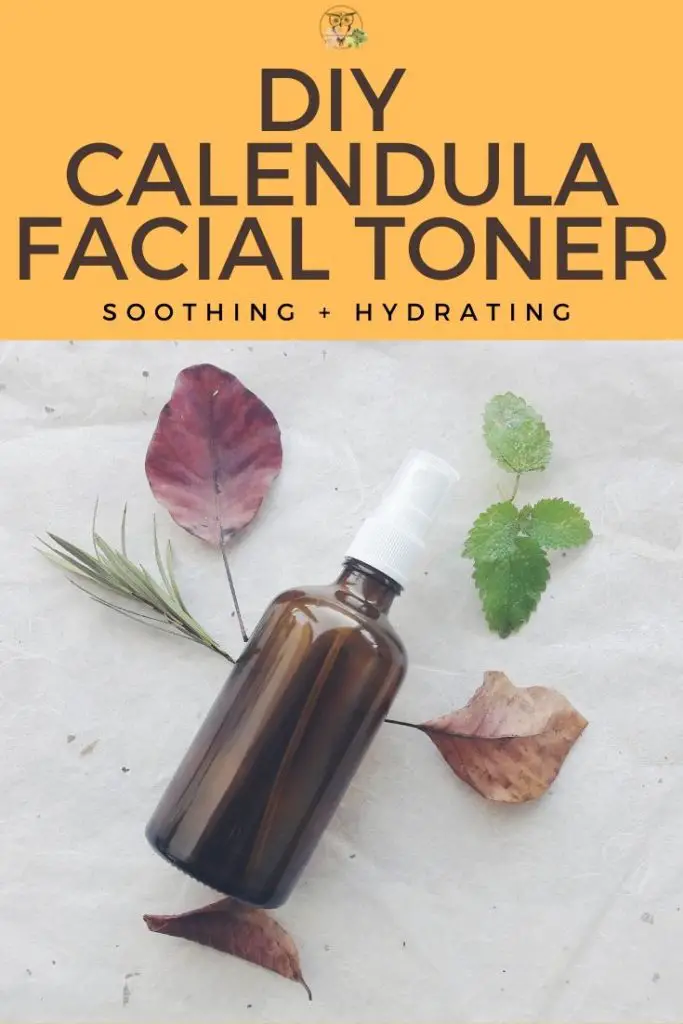 Help support Wild for Nature
Many of you have asked if there's a way to help support Wild for Nature. I've signed up for Buy Me Coffee. If you love what I do, learn from me, sell anything you made from my recipes, and want to see Wild for Nature grow even more, I'd be thrilled if you'd consider buying me a coffee! It works as a one-time or a monthly donation of $3. You can also get beautifully designed PDFs with a series of recipes and other resources I publish there, to help you learn and get creative at home! I can then use that money to further develop and grow Wild for Nature and you can help me continue with wild creations and resources!