I whipped this mask up the other day when I really wanted a hydrating yet exfoliating, and cleansing face mask (and Aztec clay mask recipes always seem to do the trick). After a long, ridiculously long day spent running around the whole day, I needed a little bit of everything to set my face, my mood, and my mind in order.
I'll show you how to beat the Monday blues! Because…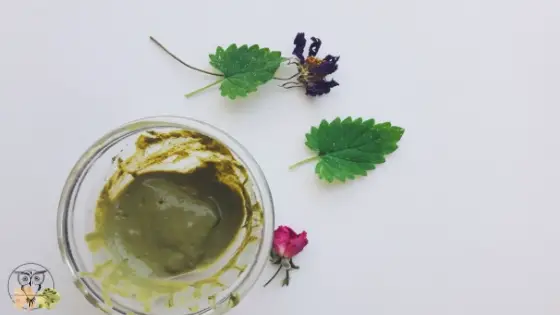 I suppose it was a Monday! Now, if you want to prevent your own Mondays being heavy on your skin, I suggest you give it a go with this mask. Plus, my all-time-favorite face masks for oily skin and acne always included bentonite clay one way or another.
Definitely, it's primarily meant for oily skin.
Yes, it's exfoliating.
Yeah, it has a pleasant lemony floral scent.
And yes, it's very easy to make!
Plus, if you have any seaweed powder left and don't know what to do with it, this is a perfect way to use it. You can mix the powders and store them for a long time. Simply add a few drops of hydrosol just before you plan to use this pore cleansing mask.
DIY face mask for oily skin
All the ingredients in this DIY face mask for oily skin work beautifully together to restore the skin's health, remove excess oil, balance the pH, and add a touch of hydration. Literally, it's just a touch of hydration. All the ingredients are meant to balance the drying properties of bentonite clay. Still, bentonite is the boss and you'll feel it in this mask.
Melissa hydrosol gives it a pleasant refreshing herbal lemony scent which I'm addicted to lately and deeply regret that I haven't used it enough before. It's gentle, refreshing and far from peppermint hydrosol.
And, the geranium oil adds the floral kick that reduces excess oil production.
While applying and rinsing this face mask, it is also meant to gently exfoliate your skin, which would be white willow bark and kaolin clay's responsibility. You can also use this mask for acne-prone skin. And the face you get after rinsing the mask- oh, so gorgeous!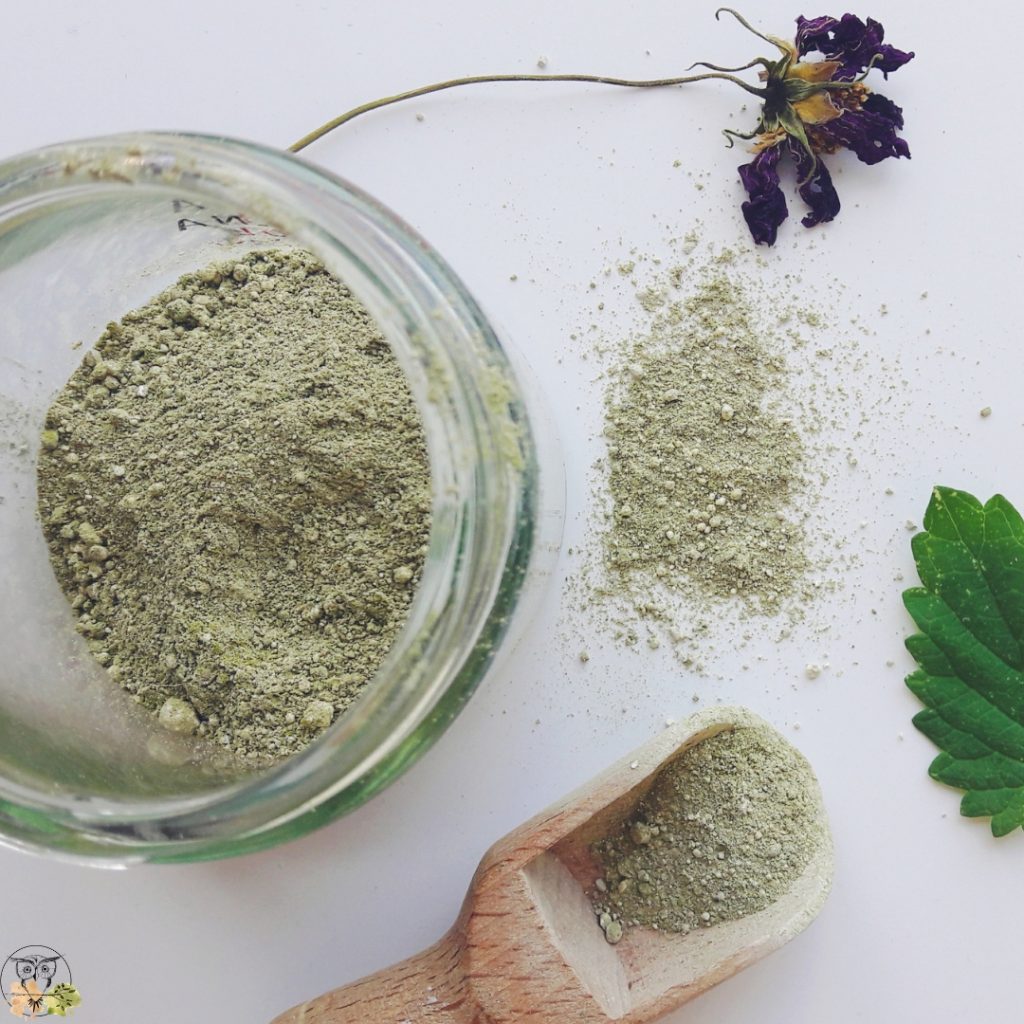 Bentonite clay
My all-time favorite. Bentonite clay is a powerful healing clay that's also incredibly versatile. I've written about it a lot (I'm a little obsessed, perhaps) on bentonite clay for oily skin and acne, a face mask for acne, and as the main ingredient in DIY face masks for different skin types.
This is a detoxifying, healing, cleansing ingredient that can be used for almost anything (but not dry and sensitive skin).
Bentonite clay is formed of volcanic ash. When it comes into contact with water, it becomes negatively charged. Toxins, free radicals, and other impurities are positively charged. That means that clay literally pulls these nasties from our skin like a magnet!
It's anti-inflammatory, antiseptic, antibacterial. It can absorb the toxins, cleanse the skin, improve the complexion, and improve the circulation (you'll feel your face being warm after you rinse the mask).
Bentonite clay absorbs the sebum, removes dirt, impurities, and unclogs pores.
Spirulina powder
Spirulina is in this DIY face mask because it's soothing, nourishing, and most importantly, helps to control the production of sebum.
Apart from that, it also reduces inflammation of the skin, boosts it with protein and improves the skin's hydration. It balances the drying properties of bentonite clay and compliments it!
If you're out of spirulina, you can substitute it with another seaweed powder; chlorella works great in this recipe as well.
White kaolin clay
While I'd recommend you use white kaolin clay for sensitive skin, it's still a must in this recipe. It is gentle yet exfoliating, and not as drying as bentonite.
What's more, white kaolin clay is calming to the skin but an effective natural remedy for acne. It helps to heal, disinfect, and improve circulation for your skin.
White willow bark
I've already written about white willow bark, but to recap shortly: white willow bark is excellent for acne and oily skin. It has strong anti-inflammatory properties and it promotes healthy skin with a radiant glow.
It can regenerate the skin when applied topically and it works as a natural exfoliator in this recipe. According to MunSkin,
salicin alleviates acne and irritation and is suitable for most skin types. Salicin's anti-inflammatory effects have also been shown to diminish wrinkles, reduce the appearance of pores, and even out skin tone while promoting increased firmness. A natural exfoliant, salicin sloughs off dead skin cells and clears pores to reveal a more radiant, clear complexion. Although extremely effective, Salicin is gentle and non-irritating, making it safe for nearly all skin types.
Melissa hydrosol
Lemon balm or Melissa hydrosol has a pleasant, herbal–ish scent. It's relaxing, refreshing and I love it too much.
But, apart from the pleasant scent, Melissa is a natural toner for oily skin. It's very gentle and it leaves the skin soft, removing any excess oil.
Apart from that, lemon balm is astringent, antifungal, and anti-inflammatory. According to this book, Melissa is soothing for irritated skin; it can also relieve breakouts.
Geranium essential oil
Geranium oil is one of those essential oils you must keep if acne and oily skin are your problem. Geranium oil is helpful when it comes to balancing the sebum production. It helps to tighten and tone your skin, boosting blood circulation, making it healthier as well!
For a toned, soft, and clean skin, go for geranium! It's antiseptic, antifungal, and antibacterial. What's more, it destroys the germs that cause acne. It is cleansing. It nourishes your skin cells. It's hydrating. And, it's a must in this DIY face mask recipe for oily skin.
There, I've said it. Now, off to the actual recipe!
Tips on making this clay mask for oily skin (which is similar to most Aztec clay mask recipes):
You can keep the powder mixture stored for a few weeks or months in a dry, clean jar in a dark place
To use, take one teaspoon of powder and mix it with 1 teaspoon of hydrosol. Add a drop or two of geranium oil and stir well until you get a lump-free paste
The mask should be creamy but not runny
Avoid using any metal utensils when working with clay
You can leave the mask on for 10-15 minutes
Rinse with lukewarm water and pat your skin dry
Follow up with a serum if necessary (I found that using a hydrosol hydrates my skin nicely and the smell is amazing)
This face mask doesn't contain any preservatives so I don't recommend mixing all the ingredients and storing it as that product wouldn't really have any shelf-life
Have you tried making this DIY face mask for oily skin? How does it work for you? Do you also love lemon balm in there? Let me know!
Stay Wild!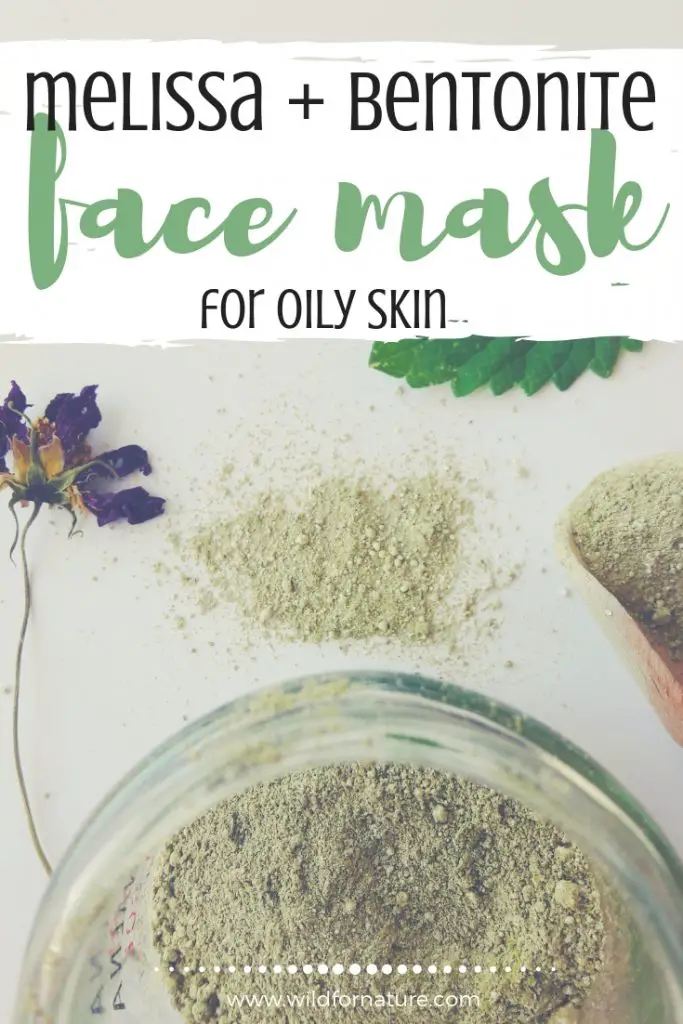 Have you made this recipe? Tag us on Instagram #wildfordiy
Help support Wild for Nature
Many of you have asked if there's a way to help support Wild for Nature. I've signed up for Buy Me Coffee. If you love what I do, learn from me, sell anything you made from my recipes, and want to see Wild for Nature grow even more, I'd be thrilled if you'd consider buying me a coffee! It works as a one-time or a monthly donation of $3. You can also get beautifully designed PDFs with a series of recipes and other resources I publish there, to help you learn and get creative at home! I can then use that money to further develop and grow Wild for Nature and you can help me continue with wild creations and resources!