We're making something beautiful today! Something you'll want to have immediately. Let me ask you; have you ever wondered how do you make lip balm at home? Well, stop wondering, click through to see the recipe of a gentle fragrant DIY lip balm without beeswax!
Honestly, I've had this project planned for a while now, but just the other day I got a large package with my new ingredients, including micas and pigments! I figured it was high time to finally get to it and whip up my own DIY vegan lipstick!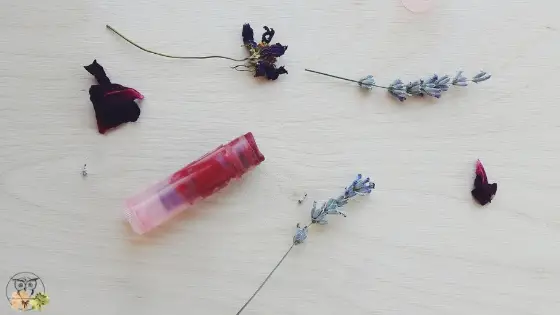 Okay, it's not a lipstick. It's more like a tinted lip balm. But! This DIY lip balm is gorgeous. It gives a gorgeous shade of red and purple, giving the lips a lovely but barely shimmering appearance.
100% vegan!
Lovely fragrant.
Perfect for the holiday season!
No beeswax!
Makes an excellent Christmas gift!
Do I have your attention? We're going to have a look at how do you make homemade tinted lip balm. It's easy to make and the best thing about it is that it's one of the last minute recipes you can make from today to tomorrow.
Homemade vegan tinted lip balm recipe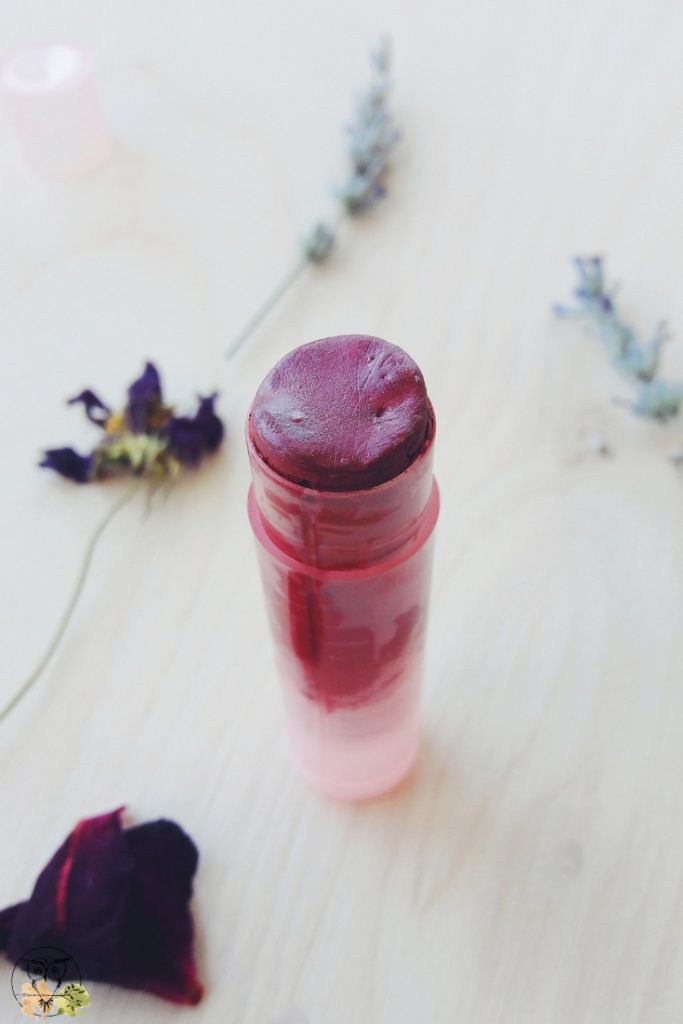 This lovely fragrant candelilla wax lip balm recipe will take you about 20 minutes to make. The recipe makes one 5g lip balm tube, so you can easily double or triple it if you want to make more.
The dark red wine mica adds a beautiful but subtle shimmering effect to the otherwise dark-ish red lip balm. I've added a few drops of geranium oil that makes this DIY tinted lip balm absolutely divine!
While I keep reapplying it when wearing now and again, it settles on the lips quite lovely and it makes you forget you're wearing anything after it dries!
This is definitely my top choice as a Christmas gift idea this year (right after this gorgeous DIY shimmering body butter)!
Mango butter gives it a nice texture that's not too greasy, shea butter nourishes the lips at the same time and together they make a beautiful combo that's easily applied to the lips without any crumbling.
Can you use food coloring to make lip balm?
Honestly, I don't have any experience with food coloring in my cosmetics. The only thing I've ever used outside of pigments was the clay; the purple, the red, and yellow. I normally added a small amount into my lip balm just enough to change the color of the product.
I've done a bit of research and the food dyes can stain your skin; turmeric, hibiscus, and beet root powder are quite potent. I don't know about you, but I don't want yellow stained skin (thank you, turmeric). I find the cosmetic pigments (micas and iron oxides) to work beautifully and the color variations are incredible.
I also don't recommend making lip balm with crayons. I mean, they're made of paraffin wax and pigments and I'm not comfortable of putting that onto my lips. It's just so much easier making homemade skincare with the colors that actually serve the purpose.
Shea butter
Well, obviously I adore shea butter. There is hardly a DIY body recipe that I make without it. It's very nourishing, my dry winter skin loves it, and it's healing abilities are incredible!
Shea butter melts at body temperature which makes it an easy butter to use. It forms a protective barrier on the skin, helping it to retain moisture. It's rich in oleic and stearic acids as well as vitamin E. Shea butter is anti-inflammatory and helps to protect the skin from toxins and pollutants.
Mango butter
Another beautiful ingredient that nourishes the skin but doesn't leave it greasy at the same time. mango butter absorbs into the skin quite quickly, regenerating it and providing it with nutrients. It's excellent for dry skin, it makes it soft, and it helps to prevent any loss of moisture.
Mango butter is similar to shea in a way, but it's less greasy (in my opinion). What's more, it helps to heal the skin (chapped lips, anyone?) and protect it with its antioxidant properties!
Peach kernel oil
It's winter, so I wanted something that adds an extra kick of nourishment for the skin. peach kernel oil is a bit heavier and perfect for dry skin since it's rich in oleic acid.
It makes the skin smooth and soft, nourishing it at the same time. Peach oil regenerates the skin, protecting the cells from oxidative stress.
Candelilla wax
A vegan alternative to beeswax, I've been using candelilla wax for a long time. While it has a mild scent that I'm not too fond of, I normally just cover it with essential oils.
Candelilla wax has emollient properties. It's easily absorbed and it helps to retain moisture in the skin as it forms a protective barrier. In case you've wanted to know how do you make lip balm with candelilla wax, let me tell you it's easy, but see more tip below in the recipe.
This vegan wax nurtures the lips with its nutrients and provides lip balms with lovely lubricity. What's more, it conditions the skin, making it smooth and soft.
In case you've worked with beeswax up to now but want to make the switch, have a look at this gorgeous DIY shimmering body butter for a better idea of how it acts in the recipes.
Geranium essential oil
I wanted this DIY vegan tinted lip balm to be simple yet effective. I've only added geranium oil to it because I got a new bottle and it smells amazing. And, because it's anti-inflammatory and antibacterial and because it also hydrates skin.
Homemade Vegan Tinted Lip Balm
Ingredients:
– 2g shea butter
– 2g mango butter 
– 2g peach kernel oil
– 2g candelilla wax
– A few drops of vitamin E oil
– 0.8 g amaranth mica powder
– 0.2 g red iron oxide
– 4 drops geranium essential oil
– an empty lip balm tube (like this)
Instructions:
Measure and weigh all the ingredients.
Dissolve mica and iron oxide in 2g peach oil. Stir well, until the color is evenly distributed in the cup.
In a double boiler, melt candelilla wax.
Once melted, add mango butter and shea butter.
Stir the mixture to speed up the melting process.
Once everything has melted, add vitamin E oil, color mixture with peach oil, and essential oil.
Stir well, until you have an evenly colored lip balm.
Pour it into lip balm container.
Close the lid, wait for it to cool down and solidify, and test it!
Notes:
1. You can substitute peach oil with apricot kernel oil.
2. Omit or substitute essential oil with a fragrance of your liking.
3. Use a flexible spatula to make the recipe more easily.
4. If making one single lip balm, you'll have to work fast. You'll notice the butter/wax mixture starts to solidify quite fast. That's why I recommend the spatula which makes the whisking and mixing easier. If your balm solidifies too much to pour it, melt it again.
Let me know how you like this homemade vegan tinted lip balm!
Stay Wild!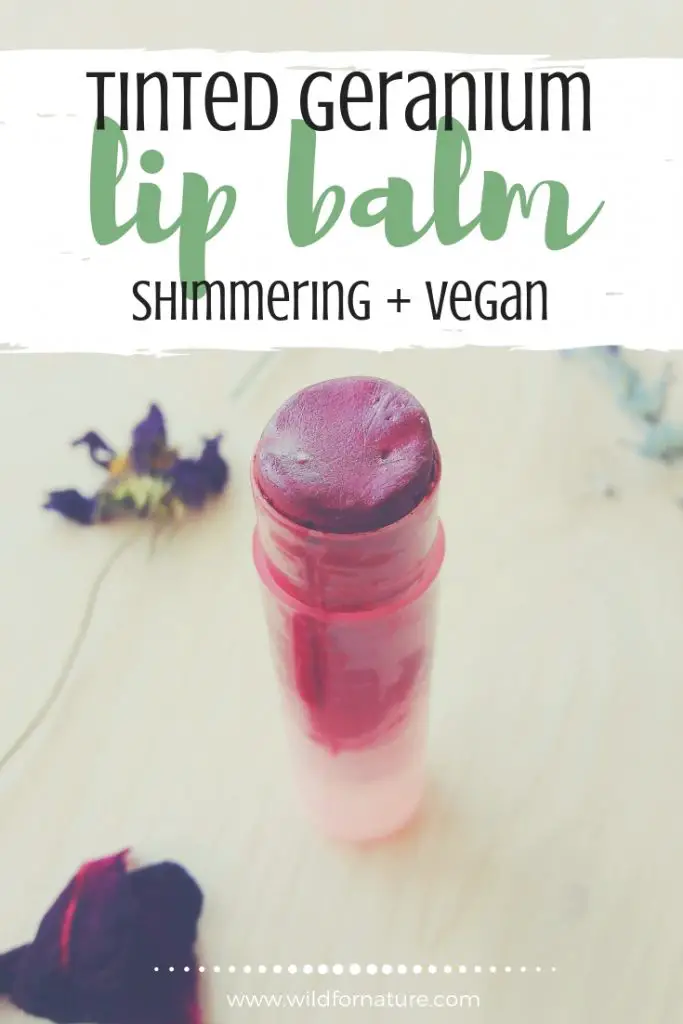 Have you made this recipe? Tag us on Instagram #wildfordiy
Help support Wild for Nature
Many of you have asked if there's a way to help support Wild for Nature. I've signed up for Buy Me Coffee. If you love what I do, learn from me, sell anything you made from my recipes, and want to see Wild for Nature grow even more, I'd be thrilled if you'd consider buying me a coffee! It works as a one-time or a monthly donation of $3. You can also get beautifully designed PDFs with a series of recipes and other resources I publish there, to help you learn and get creative at home! I can then use that money to further develop and grow Wild for Nature and you can help me continue with wild creations and resources!