Wild morning, pretties! Do you want to improve the appearance of your skin? Would you like to tone your thighs, tummy, and even reduce uneven skin and cellulite?
Have you heard of dry brushing? Well, I've tried this method the Internet is raving about and I'll answer the question does dry brushing work and why dry brushing for skin! Below, you can also find the best brush for dry brushing skin ideas and some extra tips and advice!
Now, I added this process to my skincare routine first and foremost because I've read so many testimonials on dry brush cellulite success. So I wanted to share my experience here because I know you want to know whether it really works or not!
We'll take this guide one step at a time. I've answered a lot of questions I've been getting from you guys, so I really hope you'll find this article helpful. You can find the results of my experiment below (yes, I dry-brushed for three weeks, every day!) and my tips as well.
So, if you're here looking for body brushing results, you've come to the right place! Believe me, I was very sceptical when I first started out, thinking it's another one of those Internet trending pranks that never work, but all claim they do!
We'll get to the results in a minute, but before we see whether dry brushing really works and whether it's really effective for cellulite, let's start with the basics!
What is dry brushing?
Dry brushing is a simple yet efficient trick that helps to cleanse your body and your skin. it takes 5 minutes tops and it's very beneficial.
In other words, dry brushing is exactly what you think it is: brushing your skin with a dry bristle brush. In dry mode, before you shower. No water, no oil, no lotion, no underwear, nothing involved. Just you, a brush in your hand and the privacy of your shower.
You're basically brushing your skin with a natural bristle dry brush with gentle and soft strokes towards the heart. It's best to do it in the morning and it's extremely easy to make it part of your routine.
Benefits of dry-brushing
Dry brushing can have amazing benefits for your health and the health of your skin. I've tried it for 3 weeks (see results below) and it's become a part of my routine easily because
Stimulates the lymph flow (the lymphatic system helps to remove toxins from the body)
Exfoliation (by removing dead skin cells regularly, your skin will become softer and smooth)
Boosts circulation (dry brushing naturally improves the circulation to your skin)
Cleans pores (by cleansing dead skin cells, oils, residue from the pores, and impurities, dry brushing can help your skin absorb more nutrients, promoting healthy skin that breathes)
Reduces cellulite (dry brushing helps to break down toxins from the body, eliminating them and reducing cellulite slowly. Regular massage has shown to reduce the appearance of cellulite and dry brushing has a similar effect on the body)
A natural stress relief
Even though there is not enough scientific evidence to support all the reasons of why you should dry brush, I still believe that you can just try it and see what works for you. My skin felt different after it; softer, smoother and definitely more toned, so that's good enough for me; after all, I could see the results and I felt good after the process.
Dry brushing technique: how to dry brush?
Once you've selected the best dry brush for you (I use this one but see below for ideas), you can easily get started.
The best time to dry brush is in the morning before you shower. You can also dry brush in the evening, but many recommend including it in your morning routine. The process is very simple:
brush – shower – moisturize
When it comes to the right dry brushing technique, here are the steps to follow:
Start at the toes and feet (work one leg first and then repeat with the other)
Move up to the knee area and up your thighs
Repeat on the other leg
Brush your stomach
Brush your chest
Brush the arms, towards the armpits
If you're feeling a bit confused, have a look at one of the videos on youtube on dry brushing. In any case, some tips to do it correctly:
Always brush towards the heart
You need about 7 strokes with a brush on each spot
Use more strokes for the problematic areas on your body (such as thighs)
Be gentle, apply some pressure but make it light on more sensitive areas and more pressure on thicker skin (soles of your feet)
Brush in circular wide and clockwise movements
Remember that you're not trying to rub your skin off your bones; you want to massage and exfoliate it. Apply the pressure you're comfortable with, it can be very soft when you're first starting out. Try and see what works for you.

Best dry body brush: vegan dry brush Amazon
When shopping for a dry brush, I always make sure that it's both vegan and organic (if I can). There are dozens of products available but it's not easy to find the best natural bristle body brush that's also vegan since many of them claim to be natural. Well, these natural brushes are very often natural boar brushes.
To make it easy, I've selected three best dry brushes; none of them are organic but all of them are vegan!
Firm and flexible, this body brush has two sides; one with vegan bristles and the other with cellulite massager nubs. It's made of cactus vegan bristles and wood but the handle isn't detachable so you can easily use it without any fuss!
Recommended for: those who want to reduce cellulite and promote healthy skin. It's also appropriate for sensitive areas since the brush is gentle and very soft.
Pros:
Cruelty-free and vegan
Tightly packed bristles
Optimal exfoliation
Shed-free bristles
2 in 1 brush head
Cons:
The bristles may be too soft for some
With a bamboo handle and agave plant (sisal) bristles, this is a durable dry brush for exfoliation that enables you to choose between a hard and soft option of exfoliation since it's a 2 in 1 dry brush head. An effective tool that helps to reduce cellulite and detoxify the skin.
Recommended for: anyone looking for a good-quality brush especially for beginners in dry brushing business.
Pros:
Sturdy
2 in 1 brush head
The handle isn't detachable
Eco-friendly
Cruelty-free and vegan
Cons:
Not recommended for the face
Made of sisal bristles and bamboo, this vegan dry brush set packs 5 different products that help you bring the dry brushing routine to a whole new level.
It contains a body brush, foot brush and pumice stone, loofah back scrubber, face konjac sponge, and bath gloves. It covers a complete skincare regimen, promoting all the benefits of dry brushing!
Recommended for: for more demanding users; for those who are more advanced in their dry brushing routine and want more than just one brush!
Pros:
5 in 1 kit
Vegan and cruelty-free
Suitable for face, feet, and body
Natural
Promotes relaxation and detox
Cons:
Poor-quality back scrubber
If vegan isn't your thing, you can easily find the best dry brush brand online; there is plenty of options. Many of the non-vegan brushes claim to be an organic dry body brush and a natural bristle brush for dry brushing.
I prefer to use a dry brush with a long handle because it's more practical for me. That way I can also reach the back area of my body more easily.
Dry brushes are easy to maintain: clean the brush once a week with water and leave it somewhere sunny to dry.
Dry brushing before and after
Okay, with the warmer months on my doorstep and summer approaching, I wanted to tone my legs, improve the overall health of my skin, and ideally, reduce that orange-peel looking skin on my thighs.
I browsed the web when I stumbled upon a method called dry brushing and it seemed pretty awesome. Many users praised the results, saying how they shed skin, how their skin became softer, and how other annoyances began to minimize (cellulite and bumps, and other such un-pleasantries).
And I wanted to do it too! I wanted to get that dry brushing before and after results. I got pretty excited about trying; after all, I had this brush in my bathroom collecting dust for ages. It seemed like the high time to test it!
And I did. I started dry brushing and I did it on a daily basis for three weeks. And the results?
Well, it took a while to get the results. There was nothing too obvious during the first week, apart from the fact that my skin was ridiculously thirsty all the time. During the second week, I began to notice some changes.
After three weeks of regular routine I'm happy to report the following positive results of the dry brushing:
My skin felt softer, it changed to the touch
Cellulite began to minimize and disappear, so did the bumps
My legs became more toned and even
My skin looked healthier, more glowing/radiant
I believe it could be better if I continued with the routine every day, but there were other obligations so I didn't really have the time for it. Still, I dry brush on a regular basis; I try to do it at least two times a week, sometimes three just to constantly give that extra boost to my skin and help with the detox.
I experienced no excessive skin-shedding as some girls reported. Like I said before, my skin got very thirsty so I tried to provide it with only the best. I made a nourishing body butter that would additionally help to firm and tone it (recipe follows). I also used a hydrating rose water toner on my body regularly. You can find the basic recipe for it in my rose water skin benefits post.
Anyway, should you try dry brushing? Absolutely. Even if you don't follow up daily, do it a few times a week before you have a shower; it only takes you a few minutes and it's easy enough without serious logistics behind it. make sure to get a good-quality brush and you're good to go!
Oh, and dry brushing stretch marks? Well, I have only old ones, there was no change in that area. If you have any info on the matter, you're welcome to share it with us below!
Dry brushing face – does it hurt?
My brush is soft enough that I can also brush my face along with my entire body. After I started brushing, I realized very quickly that my face was becoming drier and even thirstier than the rest of my body.
The dry brushing felt good, but I didn't do it every day. Instead, I focused more on my body and brushed the face twice a week. I already use other products that take care of cleansing (my bentonite face masks) and exfoliation (cleansing bars and konjac sponge). I just didn't feel the need to commit to dry brushing face routine too often.
Skin care after dry brushing
After you're done scraping your skin, hop into the shower to remove that excess skin and to hydrate the largest organ of your body.
Your skin will be more thirsty with time, demanding proper hydration, nourishment, and ideally products that can nurture it properly and moisturize it.
In terms of shower gel, I didn't really use my own at the time. My favorite is this one (at the moment), but whatever it is, make sure that it's as natural and organic as it can be. It'll be the first product your skin touches after dry brushing and it'll soak in the product much faster than it would otherwise.
After the shower, I normally spray my body with a hydrating rose water toner. After it dries on my skin, I apply either a body oil (here's how to make a less greasy body oil) or body butter (try this divine non-greasy butter!), depending on how I feel.
I noticed that some parts of the skin absorbed the moisturizer and the oil right away (the soles of my feet and my thighs), while others didn't need it as much and just took it in veeery slowly (such as my belly and my arms).
Best oil for dry brushing
When you get into the dry brushing business your skin will need extra attention at the beginning. It'll get greedy and it'll demand all sorts of nourishing and hydrating products. Now, you can certainly use homemade skincare; in fact, I encourage it!
When it comes to the best oils for dry brushing, there are many. It all depends on the type of your skin. I'd recommend you pay attention to two things:
Check the non-comedogenic oils here if you have acne-prone/oily skin
Use a budget (cheap) carrier oils for your body
What do I mean by cheap carrier oils? Don't take this the wrong way; I'm not saying you should buy $1/bottle canola frying oil. I mean to say that you'll need a lot of oil for your body. Using a luxurious one, such as rosehip oil makes no sense; you're throwing your money away.
There are plenty of other carrier oils that can easily become an important ingredient in the best body oil for dry brushing. Some of my favorites are:
Grapeseed oil, almond oil, sunflower oil, jojoba oil
Many people swear to combine dry brushing and coconut oil: cellulite remedy. You can definitely make a blend with coconut oil and other carrier oils to apply after dry brushing. In fact, you can use fractionated coconut oil that would easily make a homemade body oil blend.
The FAQ on dry brushing
Now, have a look at some of the most common questions regarding dry brushing.  I've tried to answer them as best as I could, I hope these will help you. If you have any more questions, feel free to leave them below!
How many times a week should you brush your skin?
Ideally, you should dry brush on a daily basis. Some even recommend it twice a day, but when I did the experiment I did it on a daily basis, every morning. In any case, your skin should be dry and your brush as well. It's best and most practical to do it in the shower, but make sure not to get the brush wet.
But, dry brushing leaves your skin a bit exposed and sensitive. If you have sensitive skin, it's recommended to do it only once every few weeks.
Is dry brushing good for your skin?
As you could see above, dry brushing brings a ton of benefits for the skin. Even if you do it a few minutes a day can already have positive effects as you boost the circulation, blood flow, and help the lymphatic system to flush out the toxins. Plus, you're exfoliating as well, making your skin softer and toned, which can help to eliminate the cellulite as well!
Does dry brushing get rid of cellulite?
Honestly, there are no official studies that would point us into this or that direction. From my own experience, I can tell you that it does help minimize the appearance of cellulite with time. Even if it doesn't completely eliminate it, it definitely reduces it. Ideally, you should dry brush 5 minutes every other day.
How long should you dry-brush?
It depends, but overall the ideal time should be between three to five minutes. It'll take you longer when you first start out, but as you get used to the routine you'll probably need just about 3 minutes.
Does dry brushing hurt?
Well, no, it doesn't. It is slightly strange at first until you get used to the brush. In any case, don't apply too much pressure and your brush shouldn't be too stiff. If you experience any pain and breakage of the skin, you're doing it wrong.
So, does dry brushing work, really?
Whew, this was a long read. But, now you know how effective dry brushing really is! It helps to tone the skin, reduce cellulite, and detoxify your body on the inside and on the outside!
It's very easy to incorporate dry brushing into your morning routine and it only takes 5 minutes!
Let's look after our largest organ and treat it well!
Do you dry brush? What's your experience? Let me know in the comments below!
Stay wild!
Kat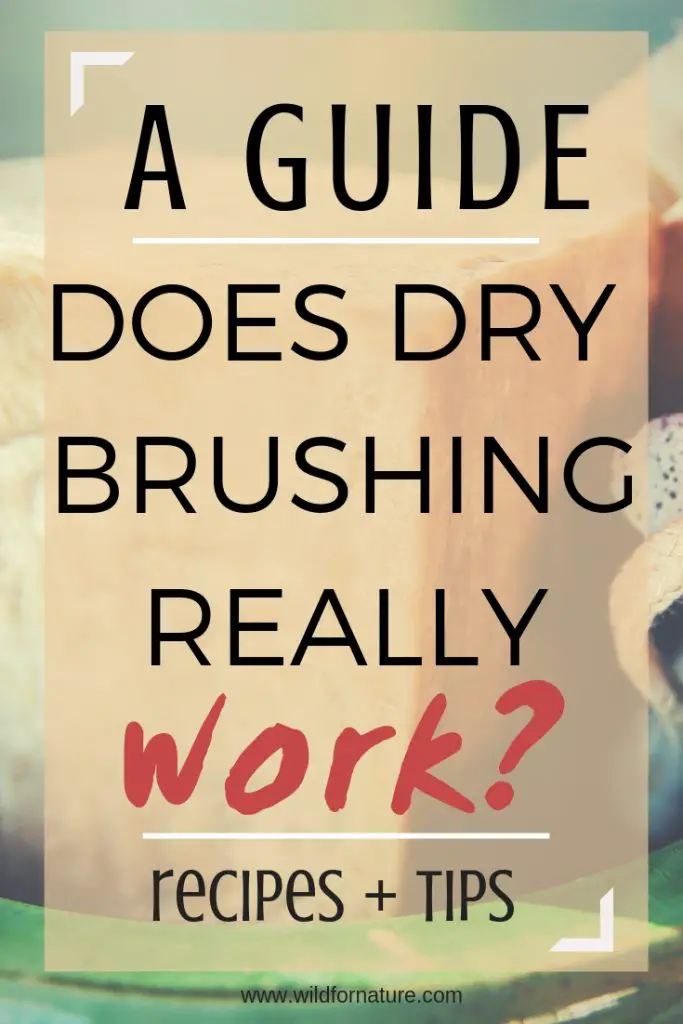 Help support Wild for Nature
Many of you have asked if there's a way to help support Wild for Nature. I've signed up for Buy Me Coffee. If you love what I do, learn from me, sell anything you made from my recipes, and want to see Wild for Nature grow even more, I'd be thrilled if you'd consider buying me a coffee! It works as a one-time or a monthly donation of $3. You can also get beautifully designed PDFs with a series of recipes and other resources I publish there, to help you learn and get creative at home! I can then use that money to further develop and grow Wild for Nature and you can help me continue with wild creations and resources!