Do you love body butters but don't know how to make one? Tired of wasting money for body butters that don't work well for your skin? Let me tell you, you're not alone!
That's why we'll dive into the creamy gorgeous world of body butters today! In this guide, you'll learn all you need to know to start whipping customized body butters for your needs at home.
Not only will homemade butters help you save money, but they'll target your skin specifically with ingredients that you'll love and benefit from.  We'll cover everything: from the basics to common problems and questions, and I'll show you some decadent recipes you can make yourself!
Are you ready to enter the beautiful fluffy and nourishing world of body butters you can start whipping up today?
Click to read on!
The body butter is probably one of the first things you learn to make when you get into homemade skincare. It was the same for me.
After all, body butters are great because:
You can whip them up in no time
You don't need many ingredients to make them gorgeous
They're easy to make
They're affordable and versatile
You can easily customize them for your needs
You can pretty them up with essential oils and micas (color pigments)
Perfect entertainment for a girl's night in
Great for a home craft party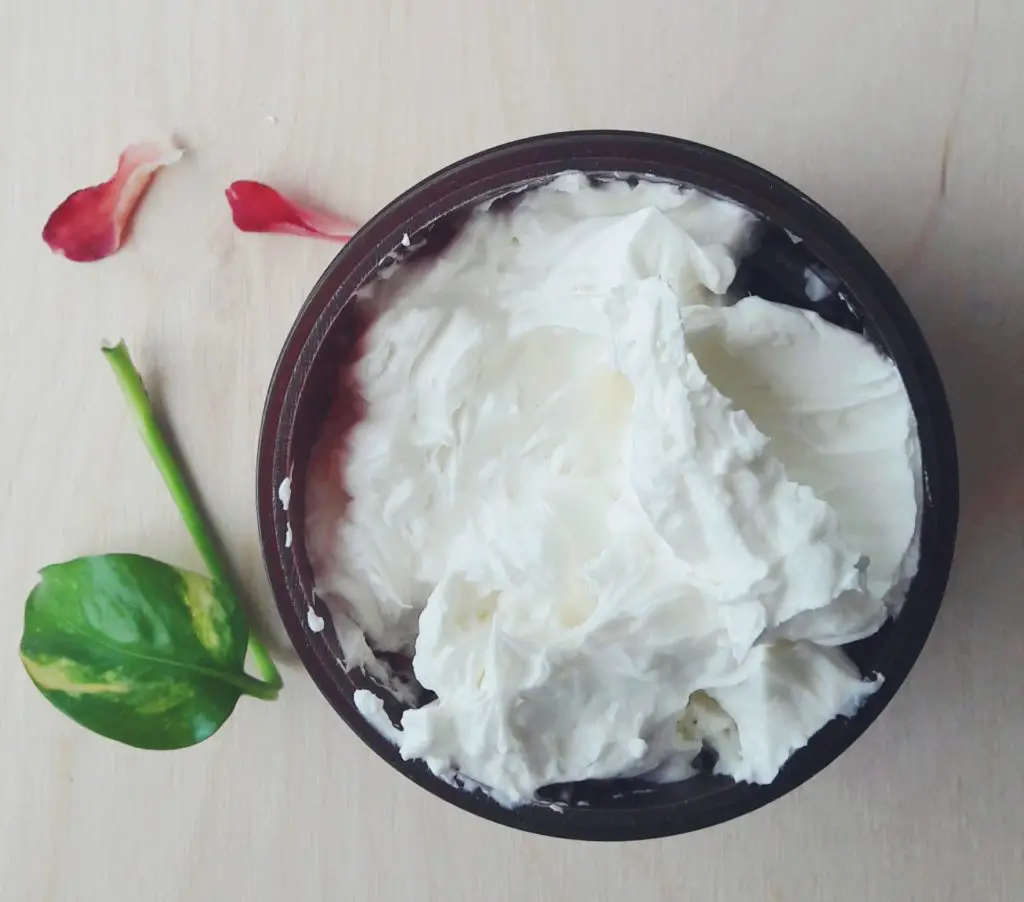 What is body butter?
The body butter is a thick product, based on a combination of oils and butters. It takes a while for the butter to penetrate the skin, so it leaves it greasy for some time. But, once the skin absorbs it, here are some amazing body butter benefits you can expect:
Creates skin-barrier and protects the skin
Prevents moisture loss from the skin
Nourishes dry skin
Provides support from harsh weather conditions (wind, cold)
Promotes soft and smooth skin
How to make Body butter?
Making body butter is easy. Seriously. You need a few butters, a few oils and you're good to go.
The process involves melting the butters, combining them with the oils and whipping the blend until it's soft, creamy, and it resembles frosting. The body butter is a thing you'll want to dive head-on into because it's oh so gorgeous.
There isn't one ideal body butter formulation for you to follow when you make butter at home. It's more of a test-and-try thing until you get it right. I've provided some recipes below where you can have a look at the oil-butter ratios.
From experience, I like to use 1-part carrier oils to 1-part butters. Then again, if I'm using a brittle oil (cocoa, kokum, tucuma) in the recipe, I'll use about 1/3 of the brittle butter and add 2/3 of a soft butter to counterweight the hardness of the first butter.
Also, if you've made your own body butter and have some issues with it, there's a FAQ section below as well.
Let's have a look at everything that you can include in the DIY butter.
What is body butter made of?
Have a look at the ingredients most commonly found in homemade body butters:
1. Choose your butters
First of all, choose your butters. While some are very popular, you can also test new butters and see how you like them. That's how I discovered mango butter and haven't been able to take my hands off it ever since!
You can choose from:
Cocoa butter
Tucuma butter
Kokum butter
Babassu buttter
Cupuacu butter
Murumuru butter
Kokum butter
Ilipe butter
Cupuacu butter
Olive butter
Avocado butter
Shea butter
Mango butter
Mowrah butter
You can use only one butter in your product, but I love to make a blend; that way you get different nutrients and effects on the skin.
Keep in mind that some butters are more solid than others. Some are creamier than others, and some are greasier than others. When you get a butter, test it and note how it feels on your skin. This is especially important if you want to avoid your butter from getting too hard, too greasy, or too soft. Oh, and don't forget to write it all down!
2. Choose your carrier oils
Second of all, choose carrier oils to combine with the butters. Again, you can choose any that you like the most or any that your skin will benefit from the most.
There are numerous carrier oils out there, so I won't list all of them. I would recommend you use oils that are affordable and not too luxurious, especially if you want to stick to budget-friendly products. Here are some of the beautiful and affordable carrier oils:
Almond
Grapeseed
apricot kernel oil
jojoba oil
avocado oil
coconut oil
macadamia oil
sunflower oil
olive oil
safflower oil
camellia oil
3. Choose your essential oils
You can add essential oils to your creamy moisturizer as well. There are dozens of essential oil brands out there, a sea of essential oil options, so choose what suits your nose best.
4. Add a splash of color
To spice things up a bit, you can choose a color for your butter. Micas are a great option when it comes to adding color and you can mix more of them in one product. Some people add food coloring to butters, I prefer to use micas since I always have some lying around.
5. Additional touches (optional)
Some people like to make body butter with beeswax (or candelilla for a vegan option). That makes the final product even richer. You can also whip it if the amount of beeswax isn't too high. However, adding beeswax to butter is more of a salve than a butter as the end result.
You can also add an emulsifier to your body butter. I'm not talking about a body lotion here, we're still in the butter section. Many DIYers add an emulsifier to their butter because it helps to add an extra kick of creaminess to it and because it can improve the slip. What's more, when applying butter to damp skin, the emulsifier links water to oil and helps it penetrate the skin more easily.
6. Don't forget vitamin E oil
Let's get one thing straight; vitamin E oil isn't a preservative. It is, however, a common ingredient in anhydrous (oil-based) products as it helps to prolong the shelf life of these oils and butters. Otherwise, vitamin E is an antioxidant that's also beneficial for the skin, but you'll only add a few drops to the final body butter.
How to make whipped body butter?
Well, you melted all the oils (and emulsifier). Now it's time to whip the melted mess of oils.
Here's what you do:
Place the cup with the melted mixture into the freezer for 10-15 minutes
Take out a hand mixer
Take the container with the mixture from the freezer (there should be a solid layer of oils on top by now)
Add mica powder, essential oils, and vitamin E oil. Stir well.
Place the mixer into the container and begin whipping
Whip 3 minutes, set back in the fridge for 3 minutes
Whip 3 minutes, set back in the fridge for 3 minutes
Whip 3 minutes, set back in the fridge for 3 minutes
By now, your body butter should resemble creamy frosting, forming firm peaks
Spoon the butter into clean and dry container(s)
How long does it take to whip body butter?
It depends. If you want a proper consistency and a fluffy, creamy body butter, I recommend you follow the steps above. It may not seem like it, but it makes a huge difference in the final product if you whip it for a few minutes and store it or if you follow the steps above. Still, if you're feeling lazy or if your coffee's getting cold, you can easily reduce that to only two whippings.
How to make body butter less greasy?
Whipped or not whipped, body conditioner is based on oils and oils alone. It is greasy and there's only little you can do about it.
But, there is a small trick that can help you reduce the feeling of greasiness: add tapioca starch or arrowroot powder into the recipe. I have tried it in my Shimmering conditioner (recipe below) and I'm pleased to say that it works. The best part about it is that you probably already have one or the other in your kitchen. Easy, right?
The only thing you should know is that by adding one of these ingredients into the mix, it might make the butter less creamy-fluffy. Once you try it, you'll know what I mean. If making it less greasy is your #1 priority, I think it won't bother you. I'm very content with it!
What essential oils are good for body butter?
When it comes to essential oils, you can use any that you like. Body butters are versatile so adding you preferred essential oils to the recipe is easy. There are only a few things to consider when adding EOs to your product:
Unrefined natural butters have a specific scent. Make sure to pair it well with essential oils to boost their natural scents. It's easy to mess up the chocolate smell of cocoa with an unfortunate blend of oils (speaking from experience here)
I love to pair essential oils with the colors I'm using to match the eye-scent ideal best
Don't go overboard with the amount of essential oils (read here how to use them safely)
Obviously, make sure you're not allergic to any essential oils you're using
Apart from these, feel free to combine the best essential oils with your recipes for the best results.
Homemade body butter recipes
I've published a few recipes that you can find on the blog: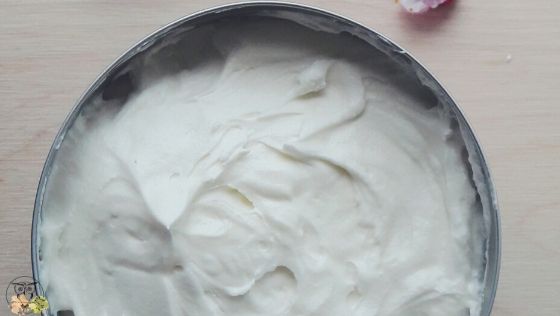 This is a great recipe for beginners where you can make a decadent body butter with only a few ingredients. Plus, it combines coconut oil and shea butter, so if you want to begin your learning process, start here!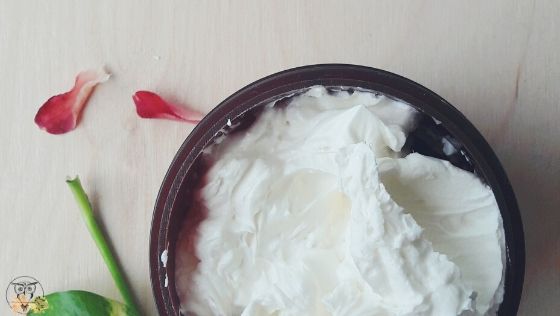 Cocoa butter is so intoxicating with its beautiful scent of chocolate. Yes, please! This butter combines all the nourishing ingredients that your skin will love. I made it during the summer, but since it's greasy, I mostly use it during the winter now.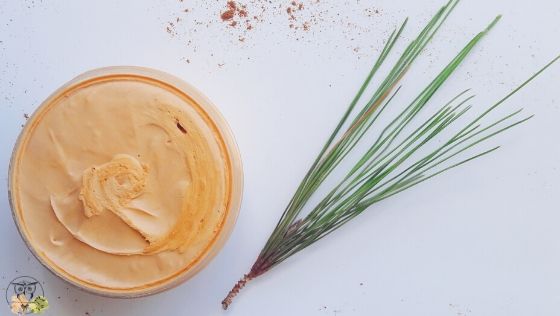 Have a look at how you can play around with mica powder. The butter shimmers and your skin will too! It combines an autumn scent blend that all cinnamon lovers will adore! It comes together easily and it's non-greasy!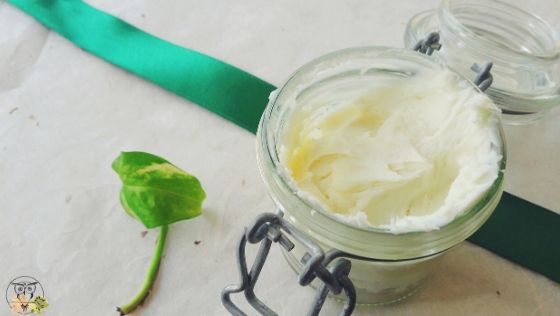 I wanted to take body butters to a whole new level with this recipe, as it demonstrates that the ingredients can produce a lovely whip and fluff while promoting incredible properties for the skin. Yep, it's skin-firming and easy to make!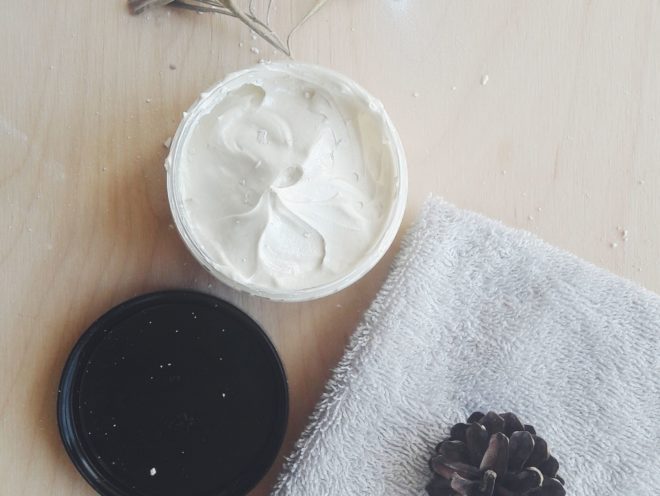 This is a part of my Arctic series that I started recently. It's divine; the fragrant vanilla with uplifting orange and toning frankincense make this butter a lovely gift, even if you make it for yourself! Prepare for your skin to illuminate with mica pearl powder!
Creamy Summer Body Butter For Glowing Skin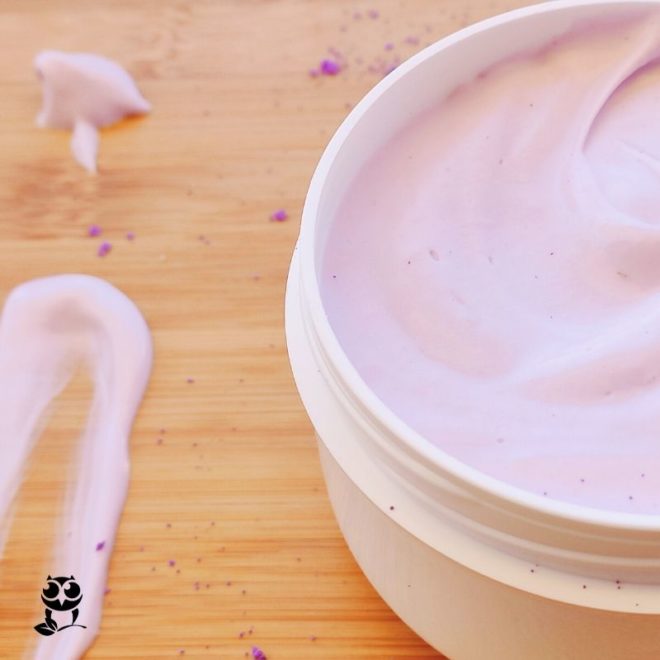 Perfect for summer, this decadent body butter is creamy, fluffy, and incredibly luxurious with a blend of carrier oils and butters that nourish summer skin, prevent further water loss and get it glowing with fragrant ylang-ylang essential oil.
How to make lavender body butter?
The lavender part in the body butter comes from the lavender essential oil. which means you can make this type of butter easily. Take any recipe for body butter and add lavender oil to it. and that's it! you'll make your butter smell lovely of lavender. For an extra kick of special, you can also color the butter with purple mica powder. That way, it'll resemble it in scent and appearance!
And the recipe? You can use any ingredients that we've listed above. Just to give you an idea, you could give this very basic recipe a try:
50% mango butter
25% safflower oil
10 drops lavender essential oil
1 TSP purple mica
Vitamin E oil
How to make peppermint body butter?
Just like in the recipe above, the peppermint part in the butter comes from the peppermint essential oil. You can also add a bit of green mica powder to match the scent with appearance. For a basic recipe, you can follow the same amount as above, but we'll change the butters and oils somewhat to give you an idea of what else to use:
50% shea butter
20% grapeseed oil
10 drops peppermint essential oil
1 TSP green mica powder
Vitamin E oil
Is body butter lotion? What's the difference between body butter and lotion?
There is an important difference between the two:
Body butter is based on butters, oils, and oils. It doesn't contain any water-based products and it also doesn't need a preservative, as the product will easily last 6 months. It's greasy by nature and it's meant to lock in moisture while nourishing the skin with its nutrients. If your skin is very dry (dehydrated), using this type of product won't be enough, as your skin needs to resupply on hydration, which body butters can't provide.
Body lotion is a blend of water- and oil-based products. It's lighter, it's absorbed into the skin more easily. But making a body lotion takes some skill, as the formulations normally require an emulsifier (an agent that helps to combine oil and water) and a preservative (that prevents your product from going bad). There are other ingredients required for the formulation as well: oils, hydrosols, active ingredients, plant extracts, powders, and many more.
Common Questions and Body Butter Problems
How do you keep body butter from hardening?
That's one single problem I haven't been able to resolve yet. Since it's all butters and oils, they act like butters and oils and there hasn't been much I could do about it.
Some claim that whipping the butter long enough should prevent it from hardening, but I found that not to be true. In winter, it'll harden no matter what I do.
Optionally, you can choose softer butters and add more liquid oils into the mix. Cocoa butter will cause the mix to harden faster in winter, while shea and mango may still remain softer. It depends on your climate, your house temperature, and many other factors. If you find a solution to the problem, please share it with us below!
How long does whipped body butter last?
I believe it's safe to say that at least 6 months. None of my butters actually lasted that long (I use them quickly), but I've even found info online that you can store them up to 8 or even 10 months. I prefer to make a smaller batch and use it faster than making a huge pot of butter and then using it forever.
But it's up to you. You can help it live longer if you only use dry and clean hands when taking it from the container. Also, store and close it properly every time and don't let any water get into the jar as that will shorten its life-span.
How to use body butter?
Apply it on your skin, your legs, tummy, hands, heels, anywhere you want. Since it's greasy, I'd recommend you use it before you go to bed and let the combo of oils do their magic during the night. Your skin will feel soft, smooth, nourished, and very pleasant to the touch and look!
You can also apply it on damp skin and massage the butter into your skin; that way you can boost the circulation, mix it with water to make the skin even softer, and enable it to soak up some water while the oils lock in moisture.
Can you use body butter on your face?
You could, even though I don't recommend it. These products are greasy in nature and not necessarily the best for the skin on your face.  They're quite heavy and some of the oils and butters are comedogenic. While you can use these on your body, you'd risk a breakout on your face.
Homemade body butter: Should You Bother?
As you can see, body conditioners are very easy to make. Also, I love them because they're versatile and very beginner-friendly as well. You don't need many ingredients, which makes them budget-friendly, and the oils are very nourishing, which makes them effective as well!
You have many creative options when it comes to whipping your own creamy fluffy piece of heaven and you can easily play around with essential oils, micas, and dyes. Who's ever said that body butter has to be boring? Go, have fun, and experiment! It's a perfect rainy day project to share with your girlfriends!
If you happen to be taking photos, feel free to tag #wildfornature, I'd love to see what you're making!
In the meantime,
Stay Wild!
Have you made any of the body butter? Tag us on Instagram #wildfordiy
Help support Wild for Nature
Many of you have asked if there's a way to help support Wild for Nature. I've signed up for Buy Me Coffee. If you love what I do, learn from me, sell anything you made from my recipes, and want to see Wild for Nature grow even more, I'd be thrilled if you'd consider buying me a coffee! It works as a one-time or a monthly donation of $3. You can also get beautifully designed PDFs with a series of recipes and other resources I publish there, to help you learn and get creative at home! I can then use that money to further develop and grow Wild for Nature and you can help me continue with wild creations and resources!