Want to learn how to make body butter? Today, we're looking at an easy recipe for a creamy deliciousness you can make even if you're a complete beginner. Winter is around the corner and this DIY whipped body butter recipe will easily nourish your skin through the cold months!
You'll need only 3 ingredients to make it and a few essential oils to make it completely yours.
Ready to get whippy? Let's get to it!
I'm not a fan of greasy skincare, but body butters are a must. My skin needs them and it regularly reminds me of that fact when it gets dry and flaky.
I mean, we've all seen photos of fluffy body butter all over Pinterest, gorgeous photos of creamy decadent recipes that look like the perfect cake frosting. But here's the funny thing: they look gorgeous but are very easy to make! Yes, body butter recipes are something you can start making at home today and save money right away!
This recipe is also great for a girls' night in as you can test different oils and customize it to your preferences. It's awesome because it
Made with all-natural ingredients
Completely vegan
Healthy and safe
Comes together quickly
Requires 3 ingredients
Creamy and nourishing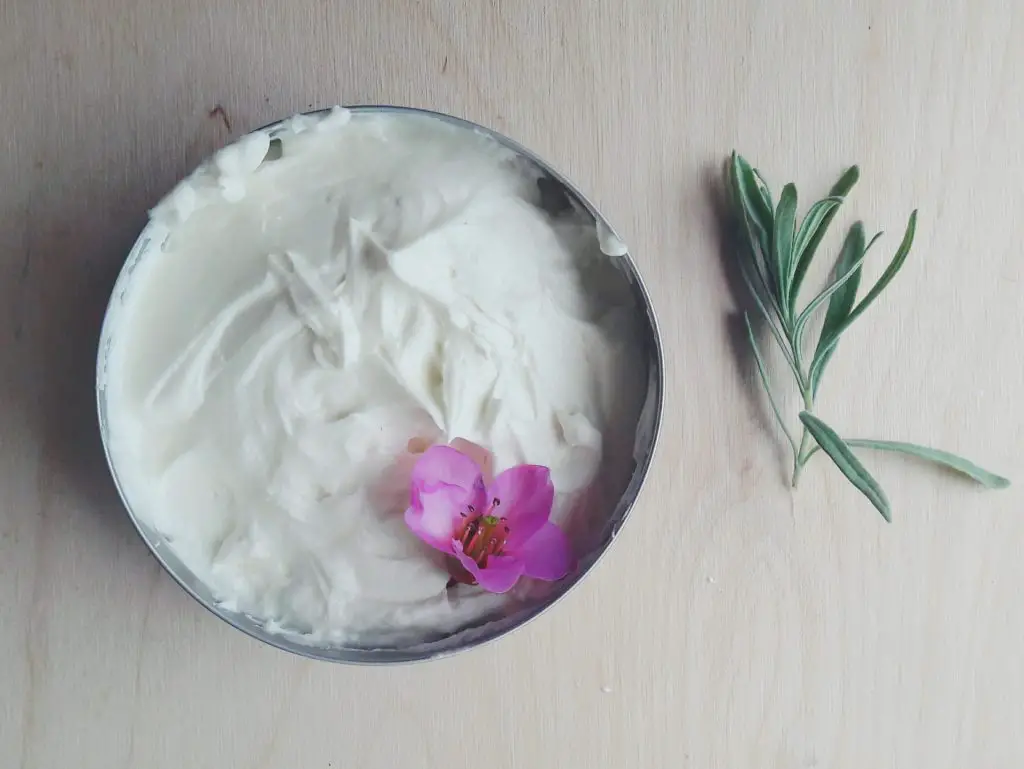 How to make your own creamy whipped body butter
So here's how we'll make this whipped goodness:
prepare the oils
melt the oils
whip the oils
And that's about it! Now, you can see a more detailed guide on how to make body butter here. In the article, you'll find ideas on different butters and oils you can use, plus many useful tips on how to whip, how to color your body butters, and a little trick on how to make it non-greasy.
Now, let'a have a look at the ingredients you'll use in this homemade whipped body butter!
Coconut oil
Okay, I know. Coconut oil everyone's favorite oil. The reason I used it in this beginner's recipe is because it's versatile, cheap, and you can get it from pretty much everywhere.
Coconut oil contains tons of benefits for our bodies and our skin and hair. It has anti-inflammatory, antibacterial properties. What's more, it boosts skin recovery, healing and it nurtures and hydrates the skin. It is a natural remedy for many a thing, so if you want to know more, have a look at how to use coconut oil as a hair mask and how to use coconut oil for better dental health with oil pulling.
Shea butter
This one has been a staple ingredient for dozens of DIY skincare recipes (lip balms, body butters, hand lotions, body scrubs, you name it!). It's healing, nourishing, and it gives products a creamy texture.
With its anti-inflammatory and antibacterial properties, shea butter is pretty much a must in anyone's pantry. It protects the skin, nourishes it and moisturizes it. It can be also used as a mild SPF or extra help with wrinkles and stretch marks. In case you have problems with dry and itchy scalp, have a look at the benefits of shea butter for damaged hair.
One note on shea butter: the unrefined option has a strong nutty scent that you may or may not like. If you think there's too much nuttiness in the shea smell, choose a refined option instead. It's odorless and you can pair it with any essential oil that you want.
Avocado oil
If you want to know more about avocado oil benefits, go here. It's very beneficial for the skin, it is a great moisturizer, and a great help with various skin conditions, such as acne, eczema, and psoriasis. Moreover, avocado oil boosts collagen, removes dark circles and it is a natural remedy for dry scalp.
Essential oils for body butter
When it comes to choosing the best essential oils for body butter, I only have one tip for you:
follow your nose: choose EOs that you love the scent of and combine them to your preference. That's how you can customize the DIY homemade whipped body butter to your tastes exactly. That way, you can save time and avoid smelling endless butters in the shop, looking for the one that will have the best ingredients and the best smell!
In this recipe, I used sweet orange as it's one of my favorite essential oils. I also noticed that it goes great with an unrefined shea butter scent. It completes it nicely and it adds that deliciously citrus yet sweet tone to the nutty shea scent. They make a lovely autumn-scent combo.
The other reason, why I like a sweet orange essential oil, is because of its anti-inflammatory properties. It also boosts circulation, aids with oily skin, reduces dark spots, acne and has anti-aging effects. And, it can be used as a natural perfume.
Homemade Whipped Body Butter
This creamy, delicious and gorgeous whipped body butter soaks right it. There was no grease, nothing heavy and sticky. It soaks right in and it leaves the skin feeling soft and smooth.
Ingredients
Instructions
Prepare a water bath: add 3cm/1" of water to a wide pan. Bring the water to simmer (low-medium heat).
Add shea butter and coconut oil to a heat-resistant glass measuring cup
Melt the ingredients until fully liquid
Remove from heat and let it cool slightly
Set in the freezer for 5-10 minutes, so that the ingredients solidify (a bit)
Once the mixture is solid, take it from the freezer and add avocado oil. Stir well with a spatula
Then, whip the mixture using a hand mixer. Here's what you do: mix the ingredients for 2 minutes. Place the mixture into the fridge for 2 minutes. Mix for 2 minutes, freeze for another 2 minutes.
Then, add essential oils and mix for another 2 minutes. Your body butter should resemble frosting; you should see the peaks and the texture is creamy and fluffy.
Spoon your freshly whipped body butter into a clean and dry container
Slather it on!
Notes:
you can use a different oil instead of avocado. I'd recommend using something budget-friendly, like apricot kernel oil, sweet almond oil, jojoba oil.
vitamin E oil helps to prolong the shelf life of oils
To use this butter: scoop it from the container with dry and clean hands. This recipe is preservative-free and can start growing bacteria if you splash it with water.
Feel free to add your own essential oil blend, but make sure to use high-quality essential oil brands that provide clean and pure products without nasty ingredients and fillers.
Homemade whipped body butter recipe: a recap
Making your own body butter at home is a great option for those, who want to save money, have control over their ingredients, and have fun.
This recipe is easy to make, perfect for beginners, and it allows a lot of space to get creative and adjust it to your preferences and needs!
How do you like your whipped body butter?
Have you made this? Tag us on Instagram: #wildfordiy
Stay wild!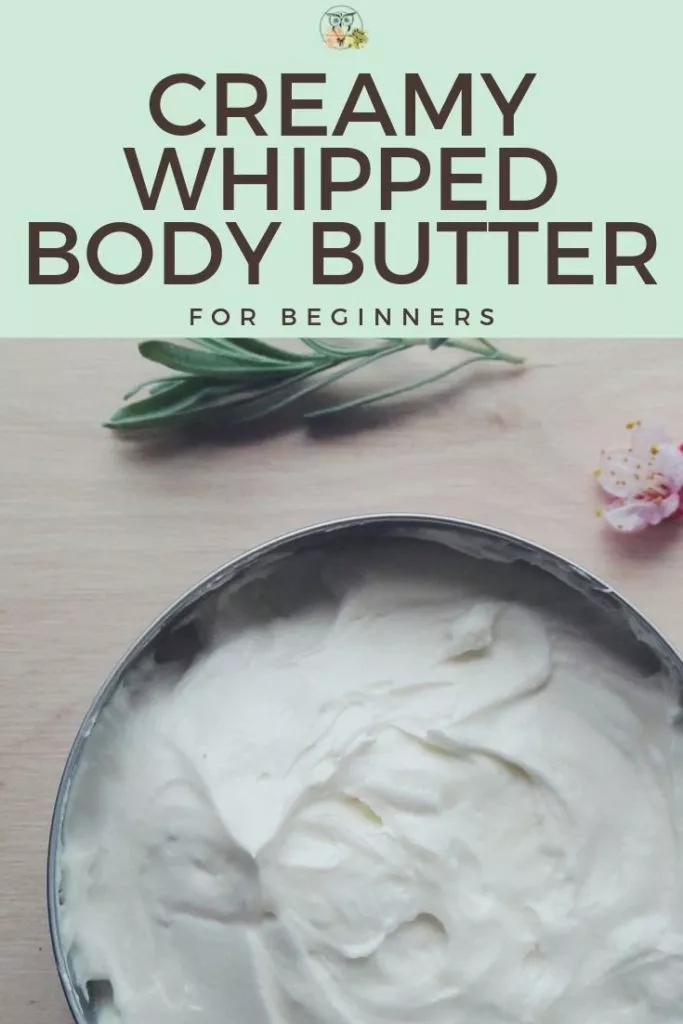 Help support Wild for Nature
Many of you have asked if there's a way to help support Wild for Nature. I've signed up for Buy Me Coffee. If you love what I do, learn from me, sell anything you made from my recipes, and want to see Wild for Nature grow even more, I'd be thrilled if you'd consider buying me a coffee! It works as a one-time or a monthly donation of $3. You can also get beautifully designed PDFs with a series of recipes and other resources I publish there, to help you learn and get creative at home! I can then use that money to further develop and grow Wild for Nature and you can help me continue with wild creations and resources!