Are your feet tired? Give them a proper pampering time with a homemade salt bath!
Yes, let's talk about sea salt bath benefits and how to make your own at home! They're easy to make, effective, and very affordable! All you need are a few ingredients and you're good to go!
Ready to be spoilt and pampered? Read on!
I used to work on my feet a lot, so there were many painful-feet days when I just had to pamper my tired feet and legs. Sure, massaging them worked great as well, but there's nothing better than a hot bath, full of minerals, essential oils, and me-time.
That's why I'll show you how to make a soothing salt bath for your feet. It's easy, on the budget, and it allows you to be as creative as you can! But before we get to it, let's say a few words about the benefits of sea salt baths first!
Sea salt bath benefits
Salt baths are a versatile way to soothe your mind and your body. They're said to provide many health benefits and it's very easy to use them.
Among other things, salt baths are great because:
detox your body (especially Epsom salts)
soothe aching muscles
relieve skin inflammation and irritation
soothe dry and itchy skin (and in case of insect bites)
eliminate the stink of the feet
relieve pain
improve healthy skin
How to make your own soothing sea salt bath?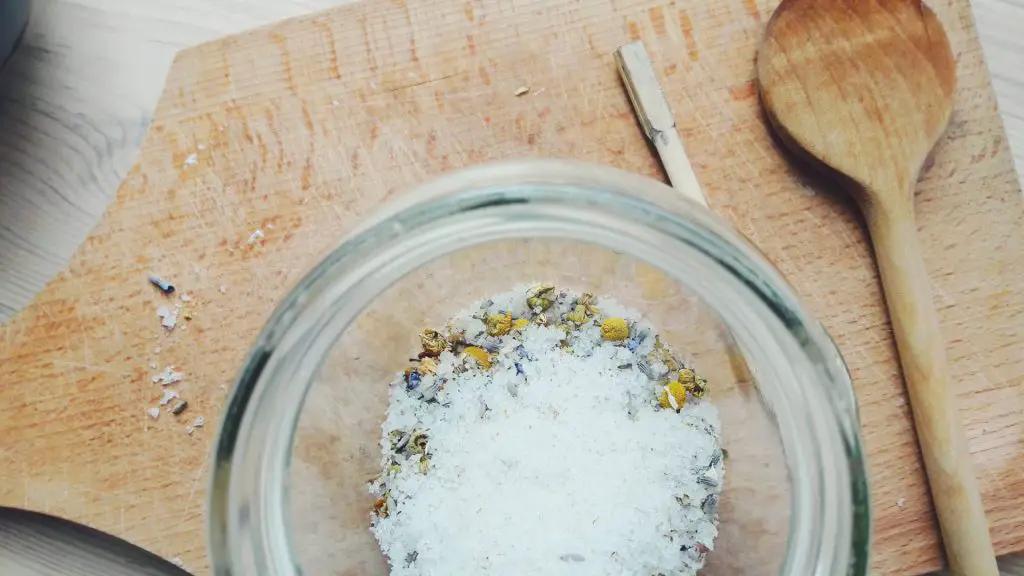 Very simple, actually. In the end, you'll want to make this sea salt bath for tired feet because of the following reasons:
It takes no time to make: in order to toss everything together, you'd need 5 minutes
The recipe is very simple: you only need 4 ingredients
Ingredients are probably already in your pantry
Vegan
Organic ingredients: you have complete control of what you put into this bath and this way you avoid any harmful chemicals
Sea salt
Sea salt is made with the process of evaporation of salt water. Unrefined sea salt is made with very little processing, which makes it possible for it to keep all the nutritional value of minerals. Since I live in the area which produces unrefined sea salt, it only made sense to make this homemade sea salt bath for feet and get its benefits not only during the summer but in the winter as well. Sea salt is nutritious and beneficial for our bodies, because it is anti-inflammatory, and it has detox effect on our bodies. It boosts circulation, it is considered a natural remedy for acne, regulates blood sugar, relieves muscle cramps and it is used because of its purifying qualities (baths with sea salt are very beneficial).
Epsom salt
Epsom salt, or magnesium sulfate (because it consists of these two) is a mineral that is anti-inflammatory and a natural remedy for muscle aches, it has healing properties that not only relax your body, but also relieves pain, and cramps since magnesium has such an important role when it comes to our health. This type of salt is a popular ingredient in homemade body scrubs because it also works as a natural exfoliator and cleanser.
Essential oils
Here you have a few examples of what kind of essential oils you can use when making this soothing homemade sea salt bath for feet. Therefore, I've only gathered the essential oils with soothing effect, but if that's not your thing, go ahead and choose your own combo:
Chamomile + orange (5 drops each)
Chamomile (5) + rose (3) + jasmine (2)
Eucalyptus (3) + grapefruit (2) + pine needle (5)
Lavender + ylang-ylang (5 drops each)
Lavender + bergamot (5 drops each)
Dried flowers and herbs
When experimenting with homemade sea salt bath for feet or for your entire body, the possibilities don't stop with essential oils. I actually started using the flowers and herbs because I was out of chamomile EO, but I wanted the calming chamomile effect. So I started adding dried herbs and flowers to my leg baths. You can also add fresh flowers, but it's November and I've dried and stored all of my stash already.
Lavender petals (read more on lavender benefits)
Rose petals
Chamomile flowers (read more on chamomile benefits)
Calendula flowers (read more on calendula benefits)
Mint (peppermint, spearmint)
Rosemary
Thyme
… whatever you have lying around and it has a positive, soothing effect on you, toss it in!
All of these flowers and herbs also provide a calming effect when drunk as tea; read how to make your own homemade herbal tea blend!
Which salt is best for bath?
Well, there is quite a variety when it comes to the best sea salt for your bath. You can choose from:
Atlantic sea salt
Crystal salt
You can make a blend of bath salts with these different types of salts to however you like (see below for amounts and other ingredients).
If you're not feeling too DIYish, you can still get yourself a premade bath soak. Some of my favorites include:
Herbivore Detox with Blue Clay and Eucalyptus
100%Pure Lavender Sea Therapy
Asutra Muscle &Joint Relief with Peppermint and Clary Sage
Foot Soak with Essential Oils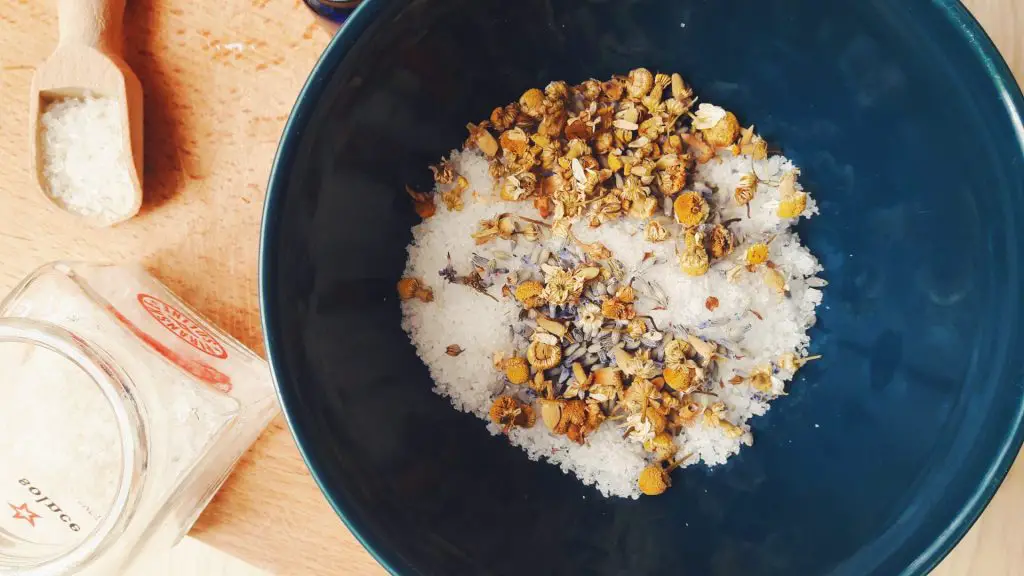 This is a very easy foot soak recipe. As the title says, you need a few essential oils, dried flowers, and salt. After that, you can adjust the recipe as much as you want!
Ingredients:
1 cup sea salt
1 cup Epsom salt
Essential oils: I normally use 10 drops (that is 5 per cup), but if you feel like it's not enough, feel free to add more. In this recipe, I used a combination of lavender and bergamot.
Dried flowers:

1 tablespoon dried chamomile
1 teaspoon dried lavender (I figured the EO wasn't enough)
1 teaspoon rosemary
Instructions:
Mix salts together in a bowl.
Add essential oils and flowers. Toss well.
Store in a glass jar, but make sure the lid is not metal (otherwise it will rust)
When using your homemade sea salt bath for feet:
Add ½ cup of salt bath mixture to warm water (as warm as you can handle)
Soak your feet for 12 minutes
Repeat the procedure 2-3 times a week
After the soak, use a moisturizer to hydrate and nourish your tired feet. You can either use a natural oil (coconut, avocado, jojoba) or make a whipped body butter by yourself (my skin and my feet love it!)
Tips on making homemade sea salt bath for feet or in general
Use only 1 type of essential oil, in case you have no other lying around; even though the combo is welcoming, it's also optional
Dried flowers are also optional, but they make a nice addition; instead of using too many, just add one or two types
Add a few drops of food coloring to your salts (for a pretty effect)
Make this homemade sea salt bath a gift (holiday season is coming up, after all!)
What's your favorite foot soak with essential oils? How often do you salt bath?
Stay Wild!