Honestly, summer may be coming to an end, but violent mosquitoes and harmful ticks are not. Also, wasps seem to love my lemonade and I've suffered through more than just one of the nasty insect bites this summer.
That's why I decided to share a list of the best essential oils for insect bites with you! I've gathered my personal favorites and I use all of them regularly (apart from the last one). Do they work? Yes, I'm very pleased with the results.
What's more, have a look at 10 easy DIY bug bite recipes that'll provide you with instant relief and heal the nasty and itchy bites!
Let's have a look at the best essential oils for insect bites and how to instantly relieve bug bites!
Best essential oils for insect bites
Essential oils never cease to amaze me (and you can learn more about them easily!). Combined with a proper carrier oil, these potent wonders of nature can do miracles in terms of our skin, overall health, wellbeing, and other problems we may face, be it polluted air, painful muscles, and even toe fungus (yuck, I know, but hey, there are essential oils for that as well).
That's why I decided to make another extensive list of these wonderful liquids, this time on the best essential oils for insect bites. As I've said before, summer may be coming to an end over here, but that doesn't mean you're ready to enter autumn as well. After all, summer is in full swing somewhere on the planet!
Now, let's have a look at what essential oils are good for insect bites. Below, I've also included some ways of how to use essential oils to instantly relieve bug bites. Before we get to the DIY bug bite recipes, let's see the oils you can benefit most from!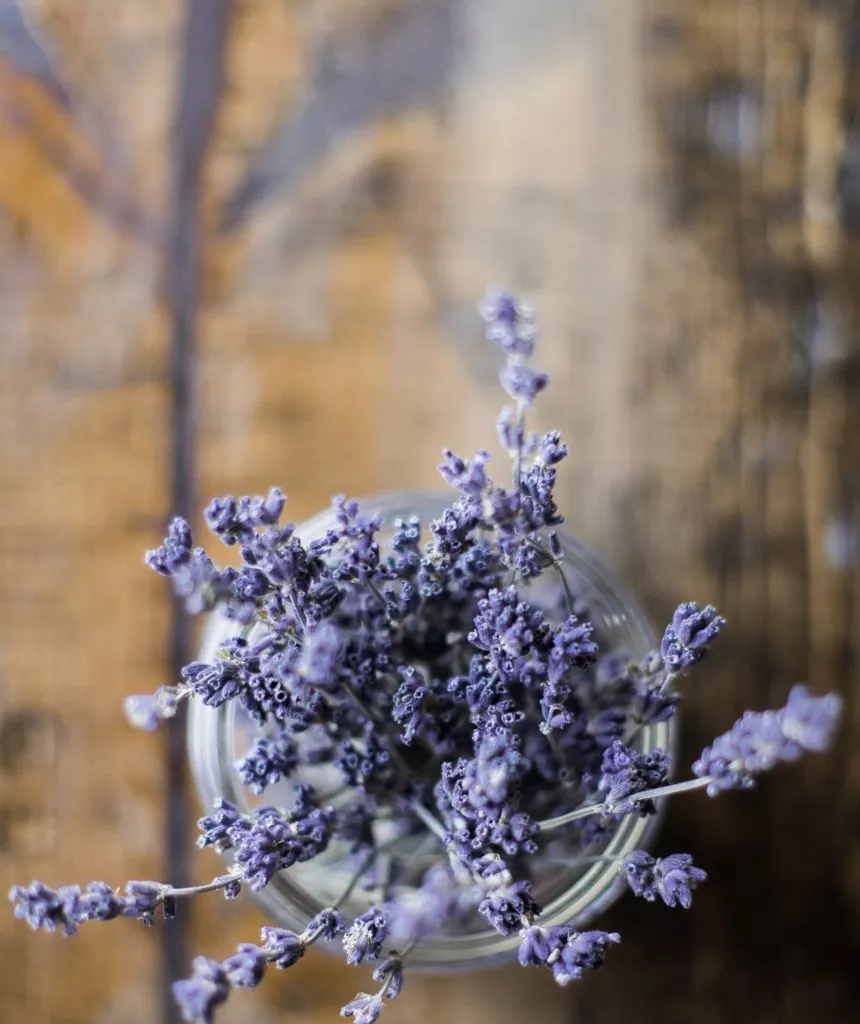 I don't know about you, but I always forget about rosemary essential oil. Rosemary in my kitchen? Sure! I even have a large pot of it growing outside. But on my skin? Never!
As it turns out, rosemary essential oil for insect bites is the first thing to get if you want to battle the annoying bug bites, swelling, and itching. What' more, it can also prevent the infection.
Rosemary is anti-inflammatory (claims this study) and analgesic. It's loaded with antioxidants which boost the healing process of the skin. What's more, rosemary oil can soothe a bug bite and can be used in an insect repellent as well!
For natural relief from itchy bug bites, try peppermint essential oil. After all, peppermint oil is very versatile (can be used to treat sunburn as well) due to the menthol content. It can soothe the damaged area of your skin, numbing it and cooling it at the same time.
Peppermint also speeds up the healing process of the skin, prevents any secondary infections, and reduces redness of the bite. If you're looking for home remedies to instantly relieve bug bite, peppermint is your oil of choice.
You can apply this oil directly to the area where you've been bitten. Generally, it's safe to use without diluting it, but make sure to do a test patch beforehand anyway.
Lemongrass is one of my all-time favorites. Not only because I'm in love with its fragrance, but because it's very beneficial as well:
Lemongrass's antimicrobial properties suppress the growth of bacteria and fungi. Apart from that, lemongrass can serve as a natural tick and flea repellent but don't use it on your animal pets (as they might lick themselves and the oil with it). What's more, lemongrass is also antiseptic, anti-inflammatory, and analgesic, which means it can reduce pain or an itch from a bite.
Basil plant is a regular companion to my rosemary pot. As an essential oil that helps with bug bites, it's a complete novelty. I had no idea basil essential oil even exists until a while ago. And it's extremely beneficial as it a very effective essential oil for bug bite swelling.
In any case, basil oil is another natural remedy for bug bites on this list. It can soothe a damaged area that suffers from an insect bite. Basically, it can reduce the swelling, the itch, and the size of a bug bite due to its anti-inflammatory, antibacterial, and astringent properties.
At the same time, it boosts the healing process of the skin around the wound as well.
Seriously, what's lavender oil not useful for, right? This one is the best natural remedy for more or less anything! Also, it's one of the best oils to instantly relieve insect bites.
Lavender can help reduce and soothe painful and itchy bug bites. It can be used for fire ants and bees as well, due to its anti-inflammatory properties which reduce the redness of the bite, cool the hurt area, and calm it at the same time.
I could go on with lavender properties forever, but I decided not to do that. Have a look at how you can use it in case of sunburn and even problems with dark circles!
One last thing: this oil can be applied undiluted to the hurt area, just make sure to test the skin first for any possible allergic reactions. I use it undiluted regularly, and I've never had any problems with it.
One of the best essential oils for insect bites, tea tree oil is as useful as is lavender. It's my favorite to use for acne and itchy scalp, but it's applicable to a number of other ailments as well. This one can be applied undiluted as well, directly on the bug bite spots to prevent any potential infections and relieve the itch, burn, and pain of the bite.
Tea tree is anti-inflammatory, anti-fungal, and antibacterial. It can eliminate pain, reduce swelling, and it can be used to fight spiders, fire ants, mosquitoes, ticks, and even fleas!
Oh, tea tree oil also boosts your immune system and promotes skin health as well! Just make sure to use high-quality essential oils for the best effects.
Chamomile is another all-star ingredient on the list of best essential oils for insect bites. It's very versatile in its use and this is another area where it shines.
Chamomile is very calming and relaxing (goes great with lavender) but when it comes to a remedy for bug bites, it seems to soothe painful and inflamed area on your skin.
Chamomile is one of my all-time favorite home remedies, also because of its antiseptic and analgesic properties. What's more, it can also protect you from further infections and soothe the itching. A great thing about it is that it's also safe for young children and sensitive skin!
Another one of my preferred oils, Melissa or lemon balm has antiviral and antibacterial properties that are very important when it comes to dealing with insect bites. Melissa oil can keep infections at bay and improve the immune system at the same time.
What's more, lemon balm also has anti-inflammatory properties and it's another essential oil for bug bite swelling. What's more, it helps to reduce itching in bites you suffer from. Melissa also promotes skin health, improves the healing process of the skin, and clears the conditions that are caused by bacteria and fungi.
Camphor, huh? Well, I've never really heard of this essential oil until I started the research on the best essential oils for bug bites. I've used all the other oils on this list, apart from this one. But I figured it was interesting and I really wanted to share it with you.
Anyway, camphor is a relative of cinnamon. So it can't really be harmful, can it? Camphor is known for its tingling yet cooling sensation it leaves on the skin when applied. That's what makes it a great natural remedy that can help soothe the itchy bug bites, calming the skin at the same time, and preventing any further infections.
Apart from that, camphor is anti-inflammatory, antioxidant, detoxifying, analgesic, antibacterial, and antifungal. This oil works great when reducing and soothing inflammation, soreness, and redness. It's excellent for insect bites, itching, and irritated skin.
How do you stop a bug bite from itching?
In the next part of the article, I'll show you how to make homemade bug bite recipes to soothe itching, pain, and swelling.
In short, you can stop bug bites from itching with:
Essential oils (direct application or in combination with carrier oils)
Toothpaste (peppermint flavor can soothe and cool the painful or itching area)
Ice (rub the bite with an ice cube or a frozen vegetable bag. The area will itch less!)
Cool tea bags (when making iced tea, don't toss the tea bags. Place them in the fridge and keep them stored for any potential bug bites of that afternoon.)
Apple cider vinegar (the one and only, apple cider vinegar works for so many other things as well, no wonder it can be used as an insect bite relief is one more of its many benefits.)
Aloe vera gel (or use fresh from the plant, but put it in the fridge before applying. A cooled gel will help with the itchy area even sooner.)
How to use essential oils for bug bites
Let's have a look at how to use essential oils to instantly relieve bug bites. These recipes are very easy and can be made in no time. My favorite is definitely the recipe with bentonite clay, but any of these will do when it comes to the need to heal insect bites!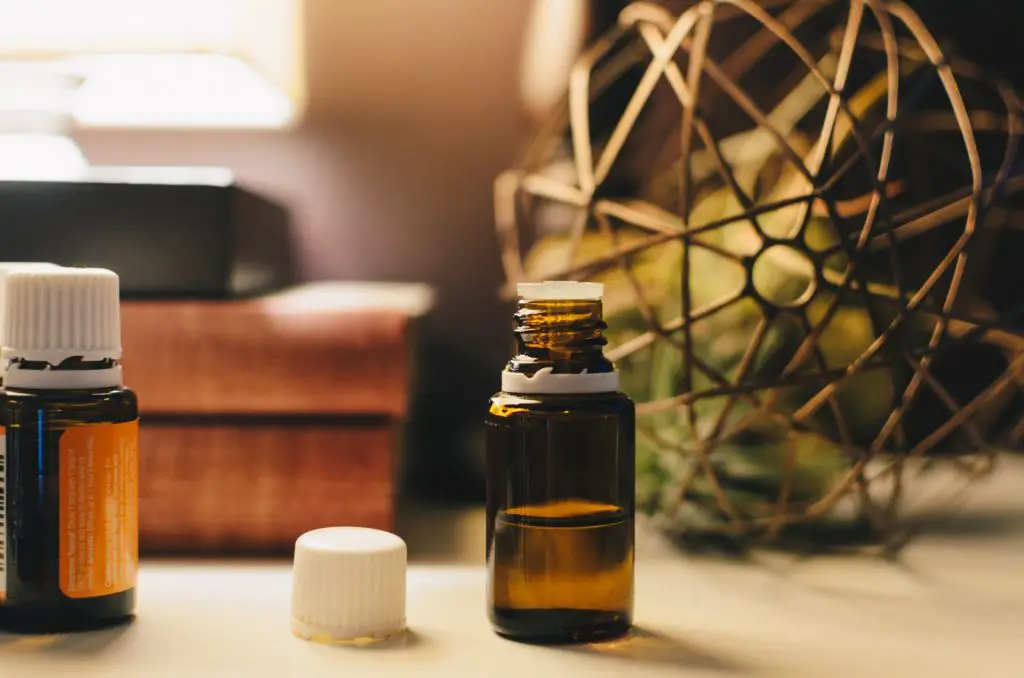 1.      A cold compress with hydrosol
Take a clean piece of white cloth (a sterile pad) and soak it in chamomile hydrosol (helichrysum or lavender will work as well). Make sure that hydrosol was refrigerated and it's now cold.
Place the compress on the irritated area of your skin. Reapply as often as needed, until the swelling disappears.
2.      Cotton ball press with vinegar (wasp stings)
Ingredients:
1 TBSP apple cider vinegar
5 drops lavender essential oil
Cotton ball
Process:
Combine vinegar with lavender essential oil in a bottle
Add a few drops of mixture to a cotton ball
Apply to the problematic area whenever you feel the pain/itch come back (once or twice an hour)
PS: feel free to use a blend of essential oils here (but stick to the 1 TBSP vinegar -5 drops EO ratio) if you wish. Also, you can use peppermint or tea tree oil for insect bites instead of lavender.
3.      Topical essential oil application
You can freely apply any essential oil topically (the ones I recommend), to maximally benefit from its positive soothing, calming, and healing effects.
I normally add a few drops to an ear cotton swipe and dab the problematic area. You can also directly drop oils to the affected area, but whatever method you choose, make sure to test the oil first for any allergic and other reactions to the skin you may potentially experience.
4.      Baking soda paste with hydrosol
Not my favorite recipe, but it works in any case. You can substitute distilled water for the hydrosol.
Ingredients:
1 TSP baking soda
2 drops lavender essential oil
2 drops Melissa essential oil
Rosemary hydrosol (or any herbal hydrosol will do- mint, lavender, Melissa…)
Process:
Combine baking soda, essential oils, and hydrosol in a bowl
You want to get a soft paste (but not runny)
Apply on the affected area regularly until the itch/pain/soreness has vanished and skin is healed
5.      Essential oil roller for mosquito bites
An easy thing to make, this essential oil blend in a roller bottle makes it even easier to bring with you wherever you go. Add equal parts of essential oils with a carrier oil of choice (fractioned coconut, sweet almond, grapeseed oil…).
Ingredients:
8 drops rosemary essential oil
8 drops lemongrass essential oil
8 drops peppermint essential oil
Carrier oil of choice (I use jojoba oil)
Process:
Add essential oils to a roller bottle (10 ml will do)
Top up with a carrier oil of choice (should be about 2 TBSP, perhaps a little less)
Close and roll the bottle between your palms
Apply when needed
6.      Roller with

essential oil for bee sting
Another easy recipe to make and keep around you all the time, this essential roller with chamomile hydrosol is truly soothing and can help with a bee sting if you're looking for a DIY remedy for bee stings. Hopefully, you experience none of them, but just in case it's useful to have a recipe ready. Oh, and don't forget to remove the stinger.
Ingredients:
2 TBSP chamomile hydrosol
4 drops lavender essential oil
4 drops peppermint essential oil
Process:
Add essential oils to a roller bottle (10 ml)
Top up with chamomile hydrosol
Close and shake well (also shake before using)
Apply as necessary
7.      Aloe vera + essential oil combo of choice
For best results, store the gel in the fridge before applying; it works great as an anti itching method! .That way, you'll cool and soothe the damaged skin even more.
Ingredients:
1 TBSP aloe Vera gel (or fresh aloe juice if you grow the plant)
2 drops basil essential oil
3 drops tea tree essential oil
Process:
Combine and stir all ingredients
Keep in a clean jar
For best effect, store in the fridge
Apply repeatedly to the damaged area (once every half hour, depending on how severe is the itch or pain)
8.      Activated charcoal paste with bentonite clay
This one is a bit more on the messy side. Charcoal leaves stains where it can, so make sure not to drop it anywhere but on the intended spot on the skin. It can also leave minor black stains on your skin but they will disappear (with washing and showering).
Ingredients:
1 TBSP bentonite clay
3 TSP activated charcoal
3 drops essential oil
5 drops essential oil
Lemon balm hydrosol (distilled water)
Process:
Combine charcoal and bentonite clay
Add essential oils
Slowly add hydrosol/distilled water until you get a thick and creamy paste
Apply to the damaged area repeatedly until the irritation disappears
Leave the paste on your skin until dried completely
Rinse with lukewarm water (gently, without scratching) and reapply if needed
PS: don't use any metal utensils when working with clay! Use ceramic /plastic/wooden bowls and spoons instead.
9.      Neem oil for ticks
Now, I've found information online that the best way to remove a tick is to grab it and pull it straight out. I have to say I very much disagree with this process. There's a chance a part of it gets left in the skin and that's exactly what we don't want here.
What I've always done with ticks (and it has always worked) is the following:
Drown the tick in oil! I found out that neem oil is perfect for this. I've written about neem oil skin benefits here, but in short, neem oil is a great oil for dry skin. What's more, it's also excellent when it comes to skin conditions. It's great for itchy and irritated skin.
Okay, let me get back to ticks. Anyway, I drown the tick in oil (add a few drops of neem oil on the insect). After a while (when it's swollen, drowned, and playing dead) I remove it with tweezers. I have found info that using any kind of (essential) oil can agitate the tick and make it salivate more, which means there's a greater chance for you to get a disease. There isn't any evidence to actually support this claim (let me know if you find any). Here's only a suggested post on the best way to remove ticks.
Alternately, after you've removed the entire tick, apply essential oils to the area, to soothe the skin, the itch, and to avoid any infection (between you and me, I still think that Lyme-disease-carrying thick will pass it on with or without the essential oils. In my personal opinion, I believe you can prevent and skin infections on the surface with essential oils, but not the disease the nasty insect is carrying).
Anyway, apply essential oils to soothe the hurt, itchy, or irritated area of the skin and not to remove the tick itself.
10.      Spray relief for bug bites (mosquitoes)
I normally make larger batches (about 4 oz) of this spray, since we use it quite fast. You can halve the ingredients if you prefer, but I use a lot of this for mosquito bites, and there's a lot of them on my terrace regularly.
Ingredients:
Carrier oil of choice (I used fractioned coconut oil)
5 drops rosemary essential oil
10 drops peppermint essential oil
10 drops lemon balm essential oil
5 drops lavender essential oil
Process:
Add all the essential oils to a spray bottle (120 ml, or 4 oz.)
Top the bottle with a carrier oil
Roll between your palms
Apply when needed
Tips and notes on using essential oils for insect bites:
I collected the list of these best essential oils for insect bites and the recommended DIY recipes for the usual mosquito bites and other summertime annoyances. This advice is not meant for people who are allergic to insect bites. In case you're allergic, head over to the emergency room right away!
Essential oils don't work for the very venomous creatures such as brown recluse and black widows.
Essential oils will help the itchy and swollen area where you've been bitten/stung. However, you should be aware that the oils will not prevent any infections or diseases that the insects carry. What do I mean by that? If you live in an area where there's a greater chance for you to get Lyme disease from a tick, the oil won't prevent the disease even though they may help soothe the irritated area on the skin.
If you wish to not overcomplicate your life, you can easily keep coconut oil or shea butter on hand, just soften it, add a few drops of essential oils and apply to the damaged area.
To make your life even less complicated, think essential oil + carrier oil combination (1 TBSP carrier oil is enough for max 5 drops of essential oil)
Essential oils are beneficial but they're very potent. Don't forget that especially when you're using them on a sensitive or even children's skin. Always test before using for any potential allergic reactions.
Not all essential oils are created equal. You may find many of them on the market, but make sure to get only pure best therapeutic grade essential oils with the highest quality and a possible USDA certificate.
What's your usual practice with itchy bug bites? What do you think are the best essential oils for insect bites (based on your experience)? Let me know!
Stay Wild!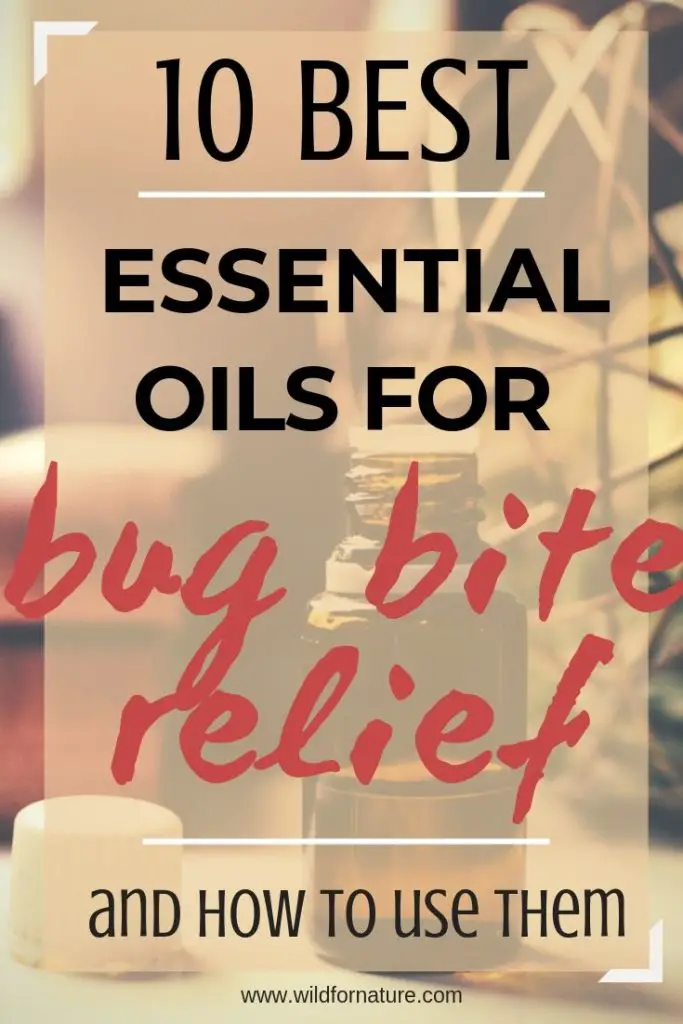 Have you made any of the recipes? Tag us on Instagram #wildfordiy