Do you want a healthy and glowing this summer? Think cocoa body mousse for smooth skin. Fragrant, rejuvenating, and nourishing, this cocoa body mousse recipe only requires three ingredients. And it smells divine! Summer feeling, here we go come!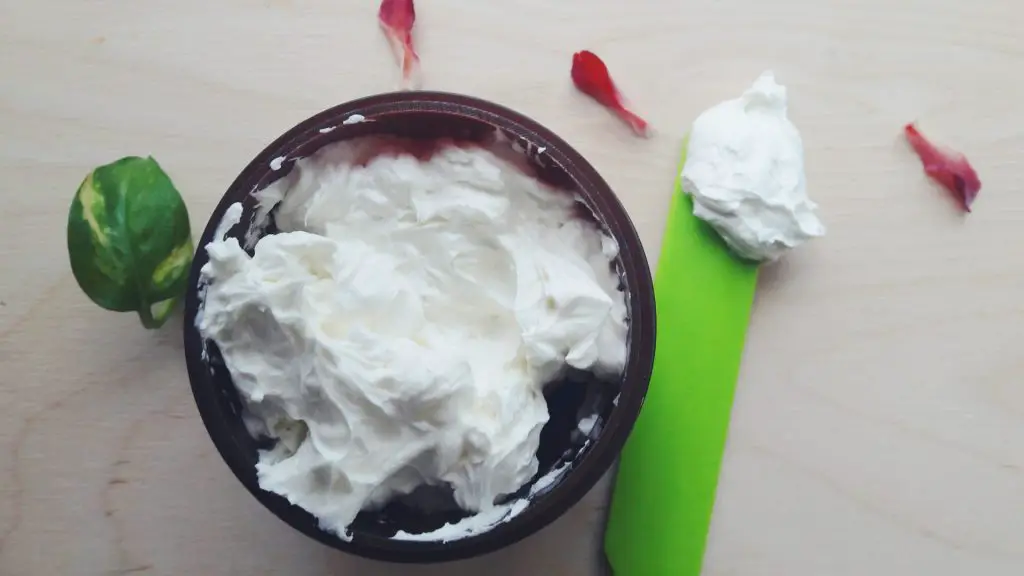 Summer cocoa body mousse for smooth skin
This is a very easy recipe you can make quite quickly. Slather it on after your skin has been exposed to the sun. I've selected all the ingredients with that specific goal in mind. Namely, to provide the best soothing mousse that will nourish your skin, maintaining it healthy, glowing, and smooth!
All of these ingredients will moisturize and nurture your skin, beautifying it, and making the tan you already have look great. If you're looking for a lighter version of this creamy and fluffy body butter, try making my summer grapefruit cocoa lotion instead!
Here is a list of natural and organic ingredients I used in my cocoa body mousse:
Cocoa butter
While there are some claims online that cocoa butter has an SPF factor, I wouldn't really take a chance or be willing to risk it. But, cocoa butter has been proven (by me, at least) that it's very soothing as a post-sun treatment; either after a whole day at the beach, or after some other exposure (Sunday hikes, etc.). Cocoa butter will give your skin a natural glow, firming it at the same time.
Cocoa butter is very nutritional and soothing for the skin. It has been used in Mexico and many southern American countries as a natural skin care remedy for centuries. Cocoa butter helps the skin to retain moisture, boost the healing process of the skin, and making it soft at the same time. It creates a protective barrier on the surface of the skin with its antioxidant and nutritious content. Plus, it smells divine!
Avocado oil
Avodaco oil is a rich and beneficial moisturizer. It boosts the healing process of the skin also in case of sun exposure. At the same time, it slows down the signs of aging and boosts the elasticity of the skin due to the fatty acid content.
With its anti-inflammatory properties, avocado oil soothes and heals sun damaged skin. It protects the skin from the free radical damage and relieves an irritated skin. With so many positive skin benefits, it only makes sense to add avocado to this recipe of cocoa body mousse for smooth skin!
You can read more about avocado health and skin benefits here.
Raspberry seed oil
Packed with beneficial nutrients, raspberry seed oil heals a UV damaged skin, repairs skin cells, and boosts the regeneration and healing process of the skin. While a lot of people make homemade sunscreen with this oil (along with a list of these), I wouldn't recommend doing that, if you're a beginner.
On the other hand, as an ingredient in this cocoa body mousse recipe, raspberry seed oil can greatly contribute to the overall health and nourishment of your skin. It contains antioxidant and anti-inflammatory properties that are very beneficial for the overall health and appearance of your skin. Feel free to apply it directly to your skin, but don't do it before you head out to the sun. I also believe this oil is not a proper sunscreen substitute.
Vitamin E oil
Antioxidant, boosts skin healing, a natural moisturizer. Vitamin E oil is a useful ingredient in many homemade skin care products. Mind you, it is not a preservative, vitamin E oil does not prolong the life of your homemade cosmetics. You can find more on vitamin E oil skin benefits here.
I have not tested this cocoa body mousse recipe on my face. I only use it for the rest of my body (it's too heavy for my face).
What essential oil goes well with cocoa butter?
This time I made this cocoa body mousse without any essential oils. I already like the aroma as it is. In case you'd like to add an additional boost of fragrance into this recipe, here are my suggestions as to what essential oil goes well with cocoa butter:
wild orange
sweet orange
vanilla
coffee
mint
In general, in my opinion, food scents are the best. I really like cocoa butter with its own fragrance, but if I had to choose, I'd go for an orange and vanilla scent.
Fragrant Cocoa Body Mousse for Smooth Skin
Ingredients:
– 3 TBSP cocoa butter
– 2,5 TBSP avocado oil
– 1,5 TBSP raspberry seed oil
– 8- 10 drops essential oils (optional: add any essential oils you like; I'd go for sweet orange EO)
– 2 drops vitamin E oil (optional)
Instructions:
Melt cocoa butter in a double boiler
Once it's completely melted, set aside and wait for it to cool down
Add the rest of the ingredients (avocado, raspberry oils, vitamin E, and EOs)
Whip the ingredients with an electric whisk or a hand blender (a minute or two)
Set in a fridge for 10-15 minutes (or until you get a thicker layer of oil on the surface)
Whip again until soft and creamy (this may take anywhere between 5 to 10 minutes, but it depends on the blender/whisk)
Slather on and enjoy your new glow!
What's your fave use of cocoa butter? Let me know below!
Stay Wild!
Help support Wild for Nature
Many of you have asked if there's a way to help support Wild for Nature. I've signed up for Buy Me Coffee. If you love what I do, learn from me, sell anything you made from my recipes, and want to see Wild for Nature grow even more, I'd be thrilled if you'd consider buying me a coffee! It works as a one-time or a monthly donation of $3. You can also get beautifully designed PDFs with a series of recipes and other resources I publish there, to help you learn and get creative at home! I can then use that money to further develop and grow Wild for Nature and you can help me continue with wild creations and resources!