Are you struggling with old and fresh acne scars? Does your skin lack radiance and you've tried it all? Today we're talking about rosehip oil for acne scars.
One of the extremely popular natural ingredients on the list of Native American remedies, rosehip oil seems to have it all. Whether you're looking for a natural anti-aging oil or something that will boost the health of your skin, giving you a healthy glow. Rosehip oil has taken the beauty world by the storm and it seems it's here to stay!
Let's have a look at acne scars rosehip oil connection: can you really benefit from this gorgeous amber oil?
Rosehip oil: acne scars, healthy skin, and nourished cells
Today we're talking about rosehip oil: acne scars remedy. Rosehip oil has a number of other benefits and you should consider adding it to your skincare regime even if you're not dealing with acne or any other serious skin conditions.
This seed oil can help you smooth fine lines, aid with wrinkles, dry or damaged skin. It's even recommended for sensitive skin! There has even been a word on the street that it can help minimize stretch marks as well! Definitely add it to the list for next time you'll need a nourishing and multi-functional oil.
We'll talk about using rosehip seed oil below, but due to all the positive benefits of rosehip, it's no wonder it became one of the extremely popular ingredients in all sorts of beauty process.
What is rosehip?
Rosehip or rosehip seed oil is a natural oil obtained from Rosa Rubiginosa or Rosa Moschata wild rose bush by cold pressing the fruits and the seeds of the plant. You know, the red berry-like fruits that pop up everywhere in the autumn? Well, that's rosehip fruit!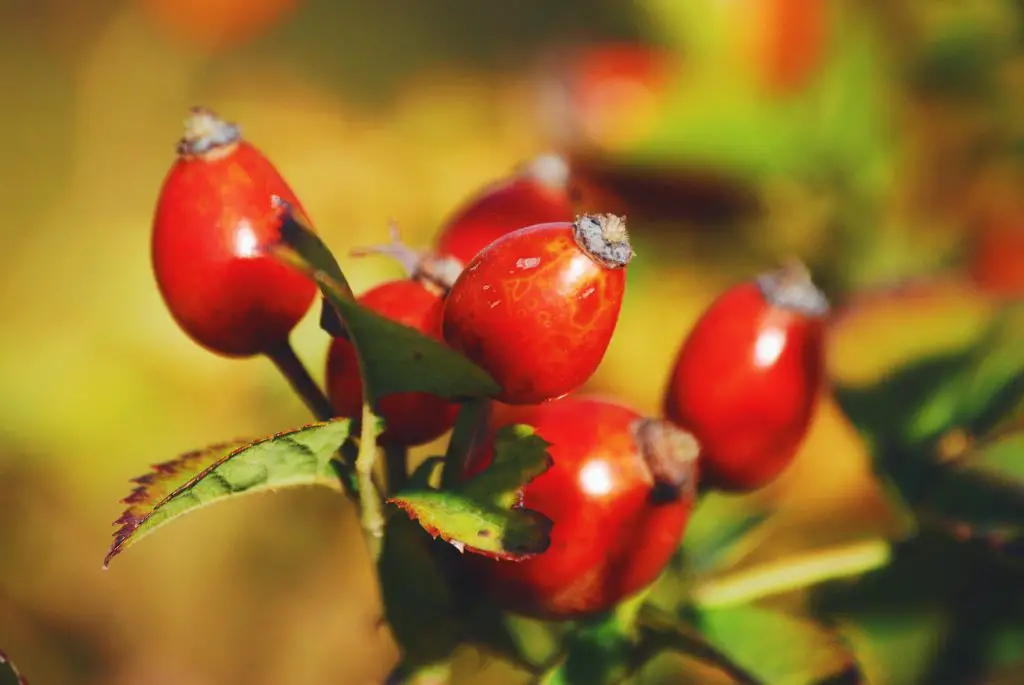 Both very beneficial and very valued oil, rosehip is a red-golden elixir of youth that possesses a number of healing powers. Think of a magic potion. Even if you browse rosehip oil reviews, people cannot seem to get enough of it. It's a must in my DIY skincare cabinet as well! As if that's not enough, rosehip oil for face scars has turned into a thing everyone wants to try.
Rosehip oil nutrition
Rosehip oil contains a provitamin A, which is an antioxidant, beta-carotene. Apart from that it also contains vitamin E. On the contrary to the general misconception, rosehip seed oil doesn't contain any vitamin C. The fruits themselves are loaded with it, which is why the rosehip tea is very beneficial, but the oil does not.
Moreover, rosehip oil is rich in essential fatty acids, such as omega-9 (oleic) omega-3 (alpha-linolenic acid) and omega-6 (read why linoleic acid is important for our skin here) as well as a trans-retinoic acid, which is tretinoin, a topical form of vitamin A.
Due to high antioxidant consistency, rosehip oil successfully protects the skin from the free-radical damage. All the essential fatty acids (oleic, palmitic, linoleic, and gamma linoleic acids) help to regenerate skin cells and slow down the signs of aging.
Rosehip oil for acne scars on face
Natural remedy lovers, followers, and organic skincare aficionados, all recommend and praise rosehip oil for its magical and anti-inflammatory, antioxidant and antibacterial properties.
But, does rosehip oil help acne scars? All of the claims about the amber oil and scars aren't made out of thin air. There have been studies and research to prove its effectiveness (see below for more info). One of the most sourced studies on rosehip oil acne scars problem is a study from the early 1980s conducted by a doctor Fabiola Carbajal Montiel in Chile. I was not able to find the whole study online, but you can have a look at the summary (and photos) here.
In her study, the doctor tested rosehip oil for the scar problem, deep wrinkles, UV damage, burn and surgical scars, dermatitis, and other skin problems.
Over 4 months of rosehip seed oil application, the results were amazing. Minimized scars, healthy and rejuvenated skin, and much more. If you have tried everything else, this amber liquid is definitely worth a shot!
So, what are the benefits of rosehip oil? Well, it's very useful for the following:
Problematic, sensitive, and irritated skin
Various skin conditions: acne, eczema, psoriasis, and dermatitis
Minimizing scars (in general) as well as stretch marks
Anti-aging benefits
With regular use of rosehip oil, the skin becomes smoother. Also, the scars fade with time. This amber liquid helps to tone the skin, minimizes flakiness, and soothes irritation.
How long does it take for rosehip oil to remove scars? Some users say the skin begins to heal within/ after two to three weeks. For some older scars, it might take longer. In any case, the overall results are impressive.
Many online skincare blogs and websites praise this magic liquid. It definitely can make an amazing improvement, but make sure not to give up right away. With the natural products, it sometimes takes time to see the changes, but just think about how many beneficial nutrients you are adding to your skin!
Can rosehip seed oil remove old scars?
Due to a high fatty acid content that boosts the rejuvenation of the skin, as well as regeneration, rosehip seed oil has become a popular natural remedy for scar treatment.
This golden reddish oil has the ability to restore your skin's health and boost its healing process. There have been some scientific studies and research on the influence of rosehip oil on post-surgical scars (you can get the whole pdf of this study here) as well as studies on the premature aging of the skin. In all cases, rosehip seed oil helped to regenerate the skin.
If you want more proof, head online and search numerous online reviews with rosehip oil for acne scars before and after photos. There are many people who claim rosehip oil has drastically improved their skin and its overall health.
How to use rosehip oil for scars?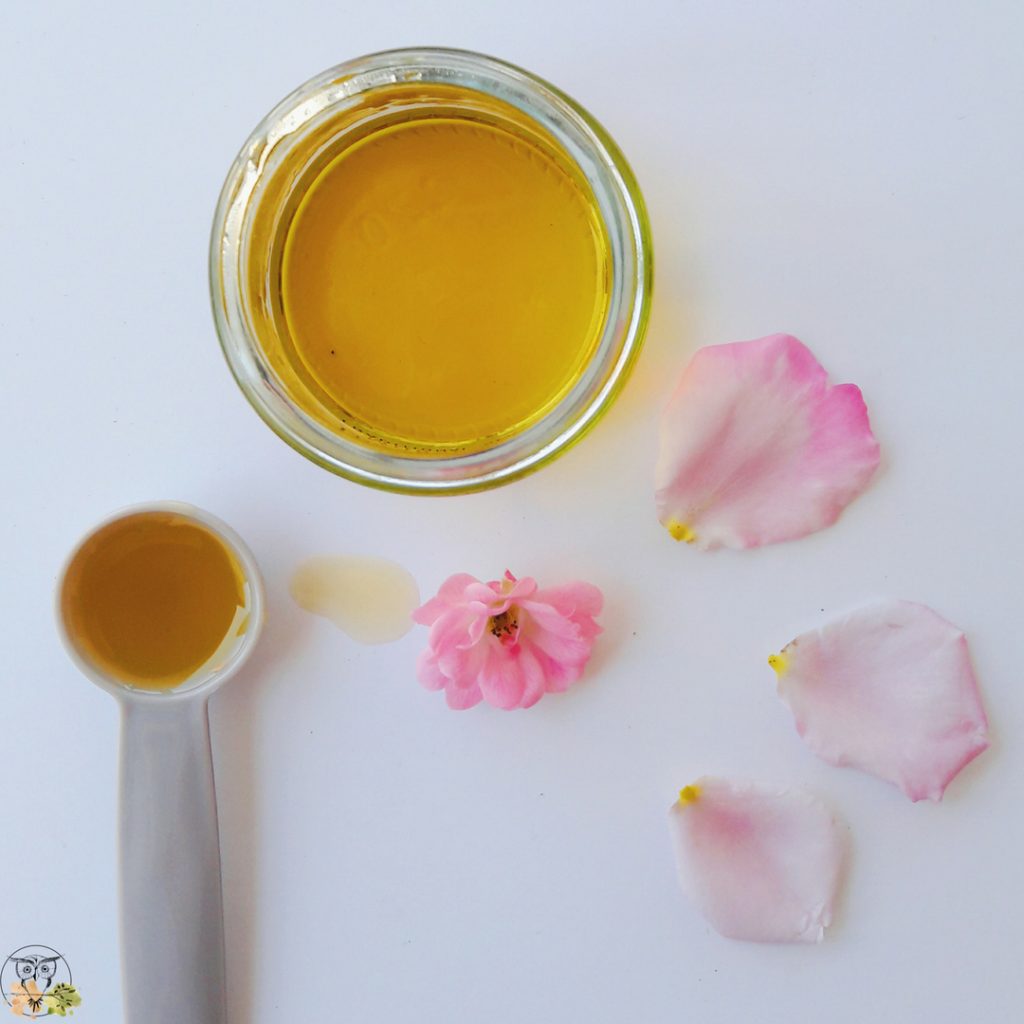 When applied topically, rosehip seed oil is a great addition to any homemade skin care recipe.
You can apply rosehip oil neat, just as it is, on a cleansed and clean skin. The best way to do so would be before bed, so the oil can work its magic during the night.
Another idea would be to combine rosehip oil with essential oils with properties that help to heal the skin, boost regeneration process, and reduce inflammation. The best essential oils for acne scars would be:
Neroli
Sandalwood
Lavender
Bergamot
Helichrysum
For an additional boost, you can also make a natural skin serum for acne scars. By combining other carrier oils with rosehip oil, the scars should disappear even more effectively. Other carrier oils you could use would be castor, grapeseed oil and hemp seed oil, something similar to this lightweight grapeseed facial oil.
Does rosehip oil clog pores?
Rosehip oil has a comedogenic rating of 1. That means it's not likely to clog pores, but that depends on your skin. It may or may not clog them. Personally, I've never had any problems with this oil. It probably shouldn't clog them, but you want to make sure before slathering it all over your face.
What you can do is try it on a small patch of skin for a few days and see what happens. If you don't break out, it's probably safe for you to use.
Best rosehip seed oil for acne scars
When buying rosehip seed oil, keep two things in mind:
Rosehip seed oil does not smell like roses. It's not made from the flowers but extracted from the seeds. People smell of sorts of things in it, but it should be somewhere between cold tea, straw or hay smell, even a bit like autumn leaves, or nutty.
Rosehip oil should come amber, reddish or orange in color. The color indicates a high vitamin A content. If the oil is pale (argan or castor oil color) it's either oxidized or a low-quality oil.
Rosehip oil for acne scars: Results?
So, it all comes down to this: does rosehip oil work for acne scars? Let's get one thing straight: rosehip seed oil is nourishing and beneficial for the skin whether you're dealing with aging, mature skin or acne and scars.
After all, there have been studies that showed how rosehip oil successfully minimized acne scars, improved overall complexion, and promoted healthier skin.
Acne scars rosehip combo can prove incredibly useful and beneficial if you stick to the routine and regular application!
Stay Wild!