Looking for a natural, vegan, and cruelty-free lip balm? Did you know you can easily make it yourself at home? There's only one trick in making any regular lip balm into a vegan version.
Stick around as we're making homemade lip balm recipe! It'll make your lips soft, nourished, and prevent any harsh winter conditions to get to them!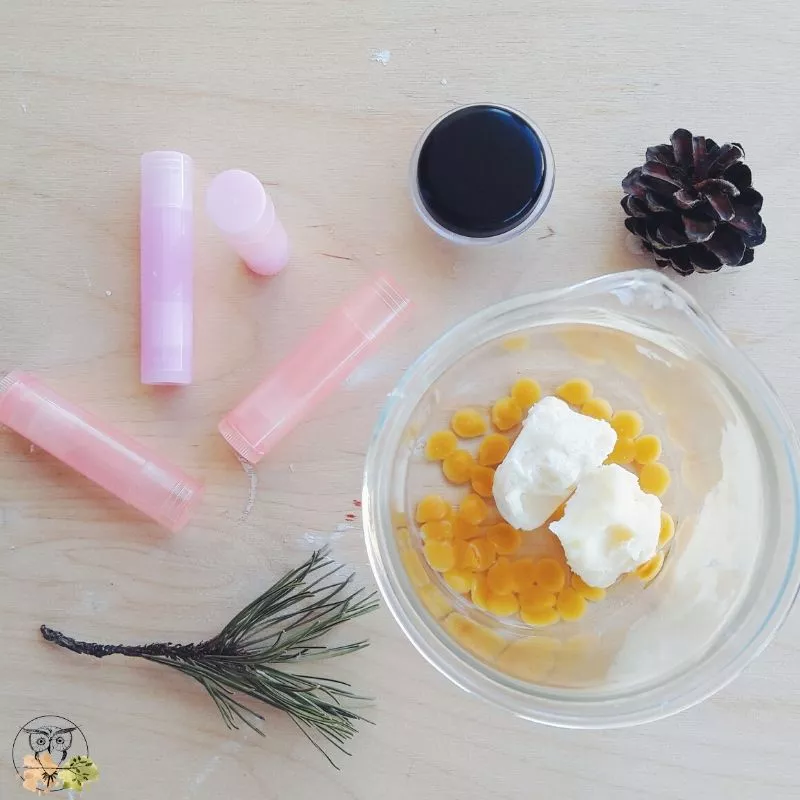 In today's macadamia nut oil and cupuacu butter lip balm, we're continuing with the Arctic series of recipes. So far, we've made
We're using more or less the same ingredients in this recipe. The balm is easy to make and it applies to the lips nicely. With a gentle blend of essential oils, it will make your lips smell like orange; rich butters and oils will help to protect them from cold weather conditions.
The balm applies nicely; it has a slip and it's soft enough to melt into contact with skin, yet it stays firm on warmer temperatures. It won't go hard-solid outside as long as you keep it in your pocket!
Great Christmas stocking filler
Completely vegan
Easy to make
Affordable
Fragrant
Gentle and nourishing
How do you make cupuacu butter lip balm?
The process is easy and it's also beginner-friendly. The only thing to keep in mind is that candelilla wax begins to solidify quite quickly, so you'll have to work a bit faster to get everything into the lip balm tubes on time.
Essentially, we begin by melting all the ingredients apart from essential oils, mica powder, and vitamin E oil.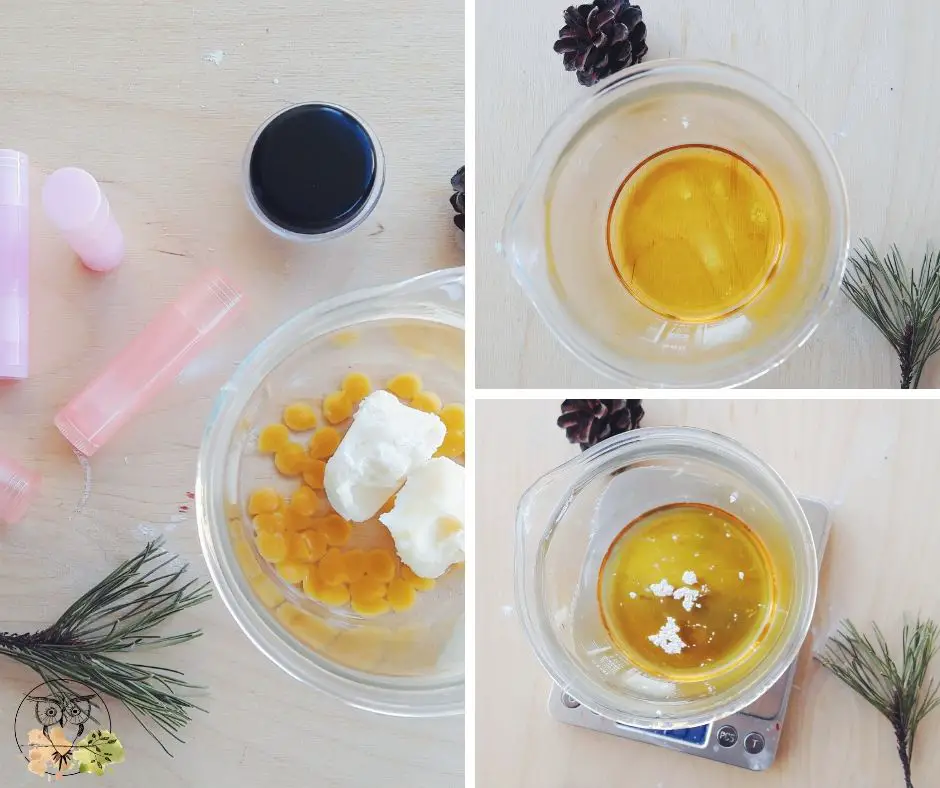 The process takes about 10-15 minutes; candelilla loves to take its time. Once all is melted, we add in mica and stir well until it's evenly incorporated.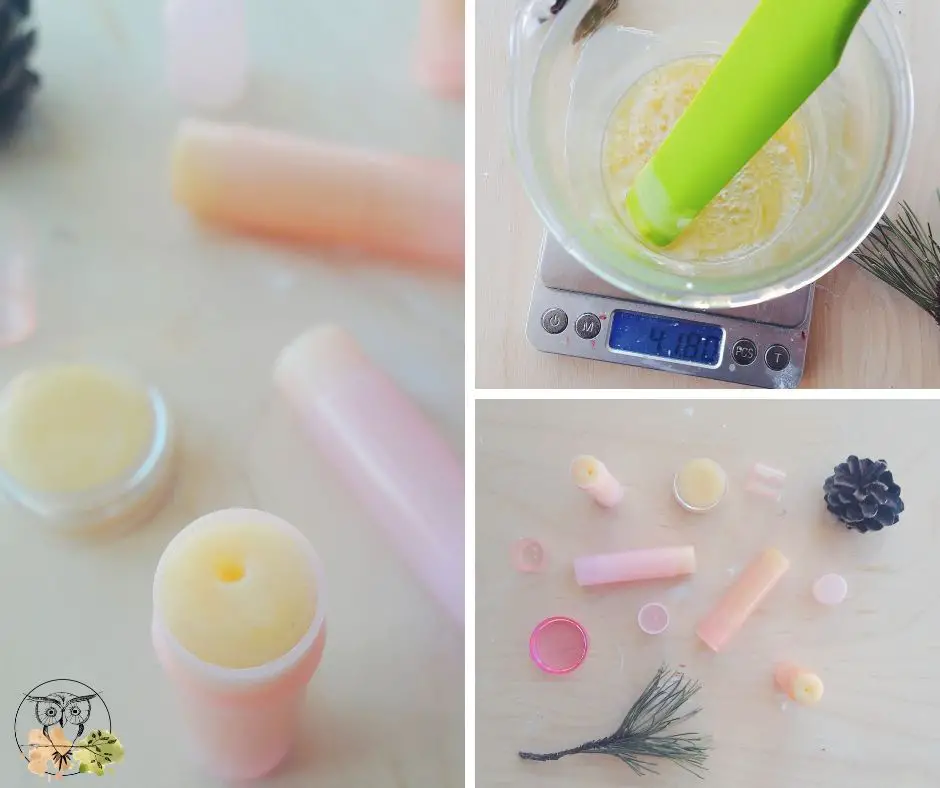 Lastly, we add essential oils and vitamin E oil. Stir well and pour into the lip balm containers. That's it!
How do you make lip balm without beeswax?
For those who want to make lip balm without beeswax, you can easily substitute beeswax with a plant-based wax. Some of these alternatives are:
Candelilla wax (I've only used this one and I'm pretty used to it, but you have to know that it's harder than beeswax and you'll need to use less if replacing beeswax in a recipe)
Carnauba wax (another hard wax, similar to candelila and you'll also need less than beeswax)
Rice bran wax (has a high melting point and it is great for cold weather as it protects the lips nicely)
Jasmine wax, rose wax
Almond wax
Soy wax
There are many different plant-based alternatives to beeswax, but if you'll have to test them to see how they work in a recipe if you've never used them before.
Overall, this homemade balm recipe will make 5 balms of 5g each. You can halve the ingredients or double them if you wish.
I do have to warn you that making only one single lip balm will result in a mess and a nightmare as candelilla wax begins to harden as soon as it's out of the water bath. You'll have to work even more quickly to pour the balm in one go on time.
Arctic Creamy DIY Vegan Lip Balm
Ingredients:
Process:
Prepare a water bath: add 3cm/1" of water to a wide pan. Bring the water to simmer (low-medium heat).
Weigh the first 4 ingredients in a heat-resistant glass measuring cup
Place the cup into the water and let the ingredients melt completely (10-15 minutes)
Once everything is melted, take the beaker from the pan and add other ingredients (mica, essential oils, and vitamin E oil)
Stir well and pour the mixture into the lip balm tubes or containers. Leave them to solidify before capping them.
Enjoy!
Notes:
You can omit essential oils if you so wish. I only used orange and cardamom, as clove is too potent for my taste. Even one drop is too strong for my liking.
You can add more mica powder if you want the balm to be more illuminating for the lips.
I used these types of lip balm tubes and one smallish container to store the balms in.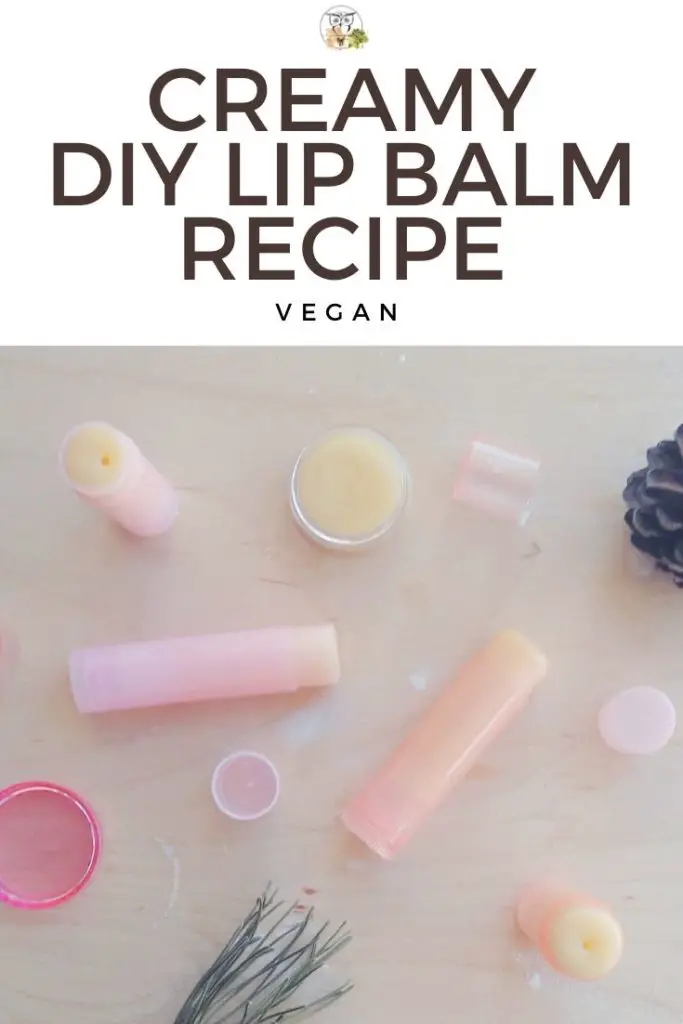 Help support Wild for Nature
Many of you have asked if there's a way to help support Wild for Nature. I've signed up for Buy Me Coffee. If you love what I do, learn from me, sell anything you made from my recipes, and want to see Wild for Nature grow even more, I'd be thrilled if you'd consider buying me a coffee! It works as a one-time or a monthly donation of $3. You can also get beautifully designed PDFs with a series of recipes and other resources I publish there, to help you learn and get creative at home! I can then use that money to further develop and grow Wild for Nature and you can help me continue with wild creations and resources!