Looking for natural remedies for dry skin? Do you know you can effectively nourish your skin at home with affordable ways that are also quite fun? Today, I'll show you how to make a gorgeously creamy whipped body scrub with Epsom salt!
Who said that skincare is tiresome and boring? We're adding a bit of mica into the mix to sparkle things up for glowing skin and a kick of shimmer! A perfect project for cold winter evenings…
Ready? Let's get whipping!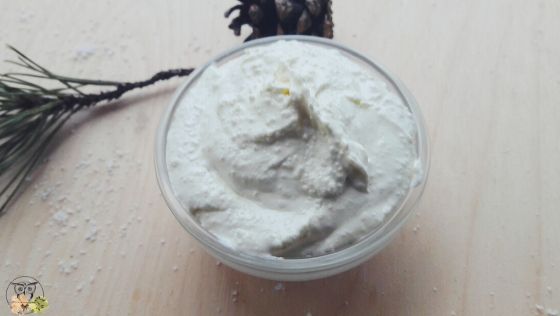 The last recipe of the Arctic Illuminating series is an easy and affordable Epsom salt body scrub. It makes a lovely gift and it complements other recipes in the series perfectly, as we've focused on nourishing ingredients for dry skin in winter and we've made the recipes for glowing skin.
What's more, the series is beginner-friendly and a combo of its recipes also makes great products for the holiday season! Apart from this Epsom salt body scrub, we've also make
I hope you've enjoyed the recipes so far; I have mine packed and prepared to be gifted in the following week! The last recipe of the series is
Vegan-friendly
Creamy
Decadent
Fragrant
Gently illuminating
Perfect for glowing skin
Makes a great gift
How do you make a body scrub?
Essentially, making your own body scrub is easy.
The basic oil to exfoliator ratio is 1:1. You can add more Epsom salt if you want the recipe thicker, or add less if you want it a bit thinner. It's up to you!
We're using the creamy mango butter, nourishing and gorgeous cupuacu butter, and macadamia nut oil to bring it all together. White pearl mica powder adds a kick of glow to the skin and Epsom salt, along with sea salt provide exfoliating properties that will leave your skin smooth, soft, and beautiful!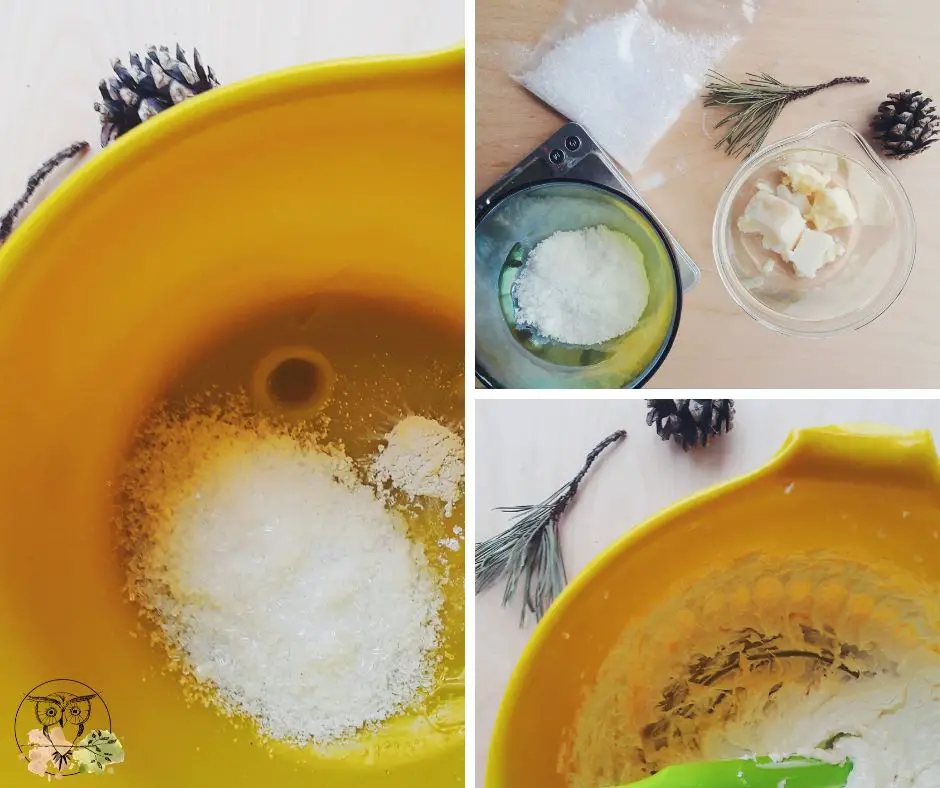 Since it's made without coconut oil, this scrub is less oily. The essential oil blend is uplifting, slightly spicy and warm, resembling a winter night and it pairs great with this year's holiday theme.
We begin by weighing all the ingredients. Once they've melted, we cool the mixture. We add the exfoliator and begin whipping it.
Then, we whip it and whip it until it looks like a creamy frosting for cupcakes.
Just a quick note: this DIY body scrub doesn't contain any preservatives. Vitamin E oil prolongs the shelf life of oils, preventing them from going rancid. But, this oil isn't a preservative. It won't keep this scrub safe from mold, bacteria, and other nasties that start growing in preservative-free water products.
OPTION #1: add an oil-based preservative to be safe.
OPTION #2: keep this scrub in a clean and dry jar, away from water sources. That way you don't need a preservative. To use it in the shower, scoop the wanted amount into a shower-safe jar container and bring it with you. Keep the rest of the scrub stored away from water. It's a great trick I love to use all the time. That way, I don't have any need to put a preservative in most of my oil-based products!
And that's it! The recipe will make about 200g; you can easily double that if you so wish! Let's have a look at the recipe!
Arctic Creamy Whipped Body Scrub Recipe
Ingredients:
Process:
Prepare a water bath: add 3cm/1" of water to a wide pan. Bring the water to simmer (low-medium heat).
Weigh mango and cupuacu butter in a heat-resistant glass measuring cup
Place the cup into the water and let the butters melt
Once melted, remove the cup from heat and add macadamia oil
Place the cup with oils into a freezer for 10 minutes (or until solid; see photo above)
Once the oils have solidified, remove from freezer, weight in the essential oils, vitamin E oil, salts and mica powder.
Prepare your hand mixer. Begin whipping the mixture for 2 minutes. Place it back into the freezer for 2 minutes.
Take it out, whip for 2 minutes and place back for 2 minutes
Take it out, whip for 2 minutes and place back for 2 minutes
Take it out, add essential oils and salts, and whip again. The butter should resemble whipped cream and appear glossy
Transform into a container/jar of choice
To use, spoon a small amount from the jar, place it into a shower-safe container and bring that with you into the shower. Apply with slow circular movements all over your body
Notes:
This recipe will fill a 200g container
You can substitute mica powder with another color of choice
This body scrub recipe doesn't contain any preservatives. Make sure you keep it in a clean, dry place. Don't let any water come into contact with the jar or you'll have mold and other nasties growing in there quickly!
How long does homemade body scrub last?
With proper storage, this scrub should last about 6 months.
Do body scrubs clog drains?
This one won't clog your drain as salt melts in water and you can use it safely in the shower. Dry flowers, coffee, shells, and other ingredients may clog drains, so be careful when including those things into your recipe.
Do you use body scrub before or after shower?
For best effects, use the scrub on a clean skin. that means you have a shower first, wash with soap and then apply the scrub.
Stay Wild,
-Kat
Have you made this Epsom salt body scrub? Tag us on Instagram #wildfordiy
Help support Wild for Nature
Many of you have asked if there's a way to help support Wild for Nature. I've signed up for Buy Me Coffee. If you love what I do, learn from me, sell anything you made from my recipes, and want to see Wild for Nature grow even more, I'd be thrilled if you'd consider buying me a coffee! It works as a one-time or a monthly donation of $3. You can also get beautifully designed PDFs with a series of recipes and other resources I publish there, to help you learn and get creative at home! I can then use that money to further develop and grow Wild for Nature and you can help me continue with wild creations and resources!