Looking for a deep conditioning hair mask to nourish, boost, and shine? There is one butter that can help you get there!
Shea butter is incredibly versatile and nourishing. Today, we're talking about how to use shea butter for hair (with a lovely creamy deep conditioning hair mask)! Because, it will make it oh-so luscious, soft, and healthy!
Let's have a look at how shea can help you condition your hair and keep it safe, nourished, and smooth! I mean…is shea butter good for hair after all?
What is shea butter?
Shea butter is extracted from nuts of the shea tree, which is native to Africa. It is a moisturizer, very popular in the beauty industry. It is very nourishing for the skin and hair. Yellow in color when raw, shea butter has ivory-ish or white color when unrefined or processed.
Shea butter comes from the name of the tree, on which the nuts grow. It has many different names among different parts of Africa: you may have heard of karité, or perhaps kaɗanya or kaɗe.
Apparently, the use of shea butter goes way back into the history, back to the Ancient Egypt and the beauty queen Cleopatra. It has been ever since used as a skin and hair moisturizer, a natural protection from the hot sun and dry winds and a natural remedy for dry and damaged hair and skin.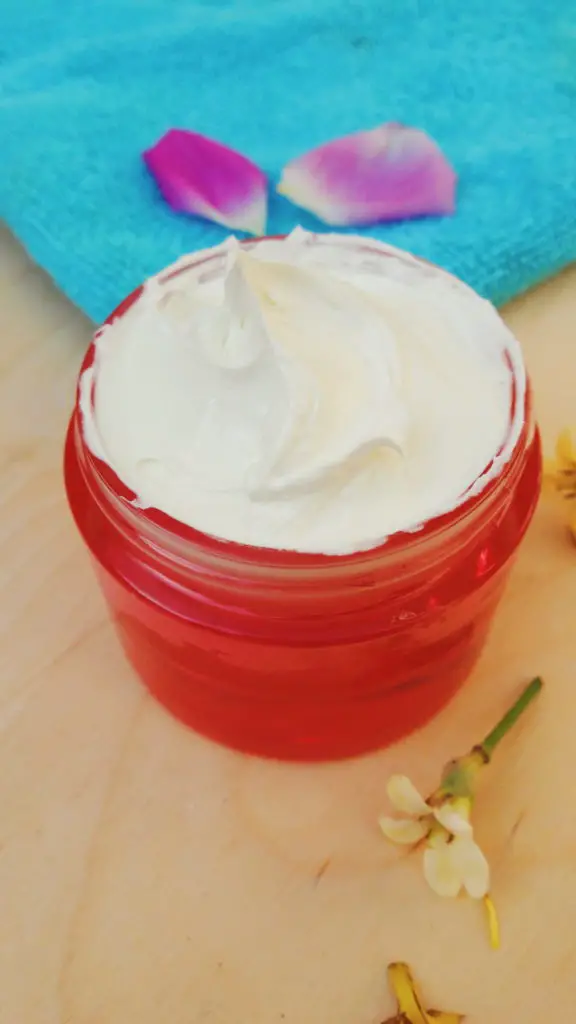 Does shea butter have any hair health benefits?
Well, if ancient Egypt was all crazy about shea butter, I believe there's something to it, right? It is also known as the superfood for the skin, and it's easy to see why with all these shea butter properties and qualities:
Anti-inflammatory, antioxidant, and antibacterial properties
Rich in antioxidants
Rich in vitamin E (softens the skin, prevents moisture loss, boosts circulation)
 Rich in vitamin A (slows the appearance of aging, boosts collagen production and skin healing process)
Loaded with fatty acids (oleic, stearic, palmitic, linoleic fatty acids, and allantoin)
Shea butter is nourishing and healing at the same time.
I use it as a natural remedy, in skincare and haircare products.
It's also a natural emollient and it nourishes the skin.
It helps to balance the oil production and it supposedly doesn't cause any breakouts.
It improves the health of the hair from the root to the tip, scalp included.
Hello there, you! Want to understand your skin better? Heal it and glow it with useful tips, free knowledge base, and fun recipes?
Join me in my Free Private Facebook Group, dedicated to natural skincare lovers and DIY aficionados! We'll discuss ingredients, tackle skin problems, and share our favorite recipes!
Join my Natural Beauty & Skincare Group HERE!
Benefits of shea butter for damaged hair and itchy scalp
Is shea butter good for your hair? Well, not just good, it's excellent actually! It moisturizes the hair, nourishes the scalp, and it can help repair damaged hair. Overall, it makes it stronger, healthier, and shinier!
1-Reduces scalp inflammation
Shea butter is reported to have anti-inflammatory properties for the skin, which means that it offers a healing and soothing relief to an inflamed and irritated skin or scalp.
2-Natural deep conditioner
With its emollient properties, apply shea butter for damaged hair twice a week, especially if your hair is curly, brittle or dry. My hair is curly and it adores shea butter because it softens it, and the consistency at the same time is not too greasy, which I like a lot; much more, in fact, than with the coconut oil. I do use coconut oil on my hair quite regularly as well; if you want to know more about coconut oil as a hair treatment, have a look at this post.
3-Natural remedy for damaged hair
Let's face it; we use a lot of shampoos, conditioners, hair products, and blow-dryers, and all the rest of the products that damage hair on a daily basis. With a little patience, you can soon observe the wonders of shea butter for damaged hair, as it helps restore the hair moisture, protect the hair from dry winds, strong sun and other harsh weather conditions.
4-Soothing for itchy scalp
With its anti-inflammatory properties, shea butter is a natural remedy when it comes to an itchy scalp. The butter gets absorbed into the skin without any traces of residue.
5-Nourishes split ends
Shea butter's regenerative effect on your hair and scalp give a natural shine to the hair, making them look healthy and strong. This study Use shea butter for damaged hair or split ends regularly and enjoy the results.
6-Supports hair growth
The fatty acids (namely omega-9 or oleic acids) are responsible for maintaining the hair healthy, the skin supple. They help to boost hair growth, making it thicker and longer. They also improve hair health by eliminating dandruff along with linoleic acid.
What is the best quality shea butter?
There are plenty of options on the market to choose from the best shea butter. You can opt for unrefined and refined version. Keep in mind that unrefined version has a strong smell not everyone likes. The unrefined version, on the other hand, lacks certain nutrients that unrefined has.
I've listed my favorite shea butters below, have a look!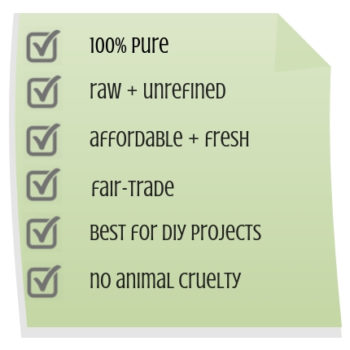 If you're looking for a bulk shea butter you want to use in your DIY projects, look no further. Essential Depot sells high-quality unrefined shea butter. It has an amazing nutty and earthy scent that gives a little extra to the recipes. If you're not a fan of shea scent, see the next product!
This shea is an organic product without any fillers, additives, colorants, perfumes, or deodorizers. It doesn't contain any chemicals or other nasties that could damage the health of your skin.
It's meant for cosmetic use only, so I don't recommend you start adding it to your salads. It will make your skin glow though, and it will become incredibly soft. It goes on the skin smoothly and you can also apply it directly to treat burns, and damaged skin.
Color: yellow, similar to the photo
Use it for: body butters and lotions, soaps, lip balms, hair masks…
Shelf life: 18-24 months (store it in a dark cool place away from direct heat and sunlight)
Product of: Ghana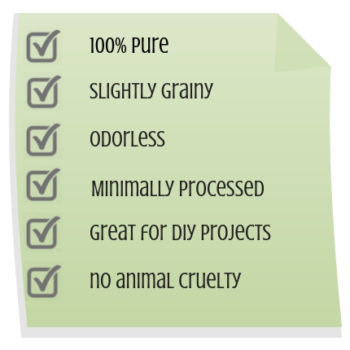 Also available in bulk sizes, this reined shea is pure and perfect for DIY projects as well. It has a creamy consistency and there's hardly any scent to it! You can also use this one directly on the skin if you so desire, as it's very moisturizing. It'll give you soft and smooth skin!
The supplier of this shea butter is organic certified, but Wild Herb Soap is not, that's why the butter lacks certification.
Color: white
Use it for: lotions, body butters, lip balms, soaps, body scrubs…
Shelf-life: a year
Product of: Ghana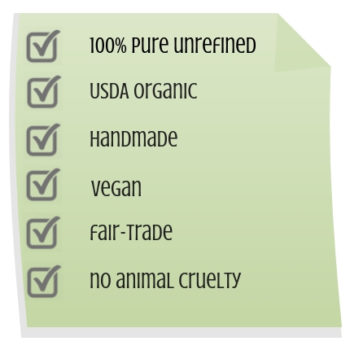 As an unrefined African shea butter, this product is free of any nasties, chemicals, parabens, GMOs, additives, and perfumes. You can add it to DIY skincare or use it just as it is to soothe irritated or damaged skin.
Just like the other two, this one is also made in Ghana, and it leaves the skin soft and nourished. It absorbs well, whether you use it on your lips, your legs, or anywhere else. It's unrefined, so the smell is unrefined as well!
Color: ivory, off-white
Use it for: soaps, ointments, body butters…
Shelf-life: about a year
Product of: Ghana
How can I use shea butter?
There are a number of ways to use butyrospermum parkii shea butter in skincare and haircare; you can use it as a main ingredient when making homemade products, but it is widely used in store-bought products as well: lotions, lip balms, body butters, hair conditioners, hair masks, and even soaps.
Since shea is so rich and nourishing, it's often used as a natural moisturizer for dry skin and brittle hair. I use it for any skin problem you can think of; I love applying it on burns whenever I touch hot pans and oven (purely by accident since I'm a complete clutz). I use it for bruises, extremely dry skin, lips, and much much more.
You can find shea on this blog in these recipes:
In some countries, shea butter is used to make candles, ointments and in some cases, it is even used as a cooking oil. Here and today, it'll become gorgeous whipped shea butter for hair!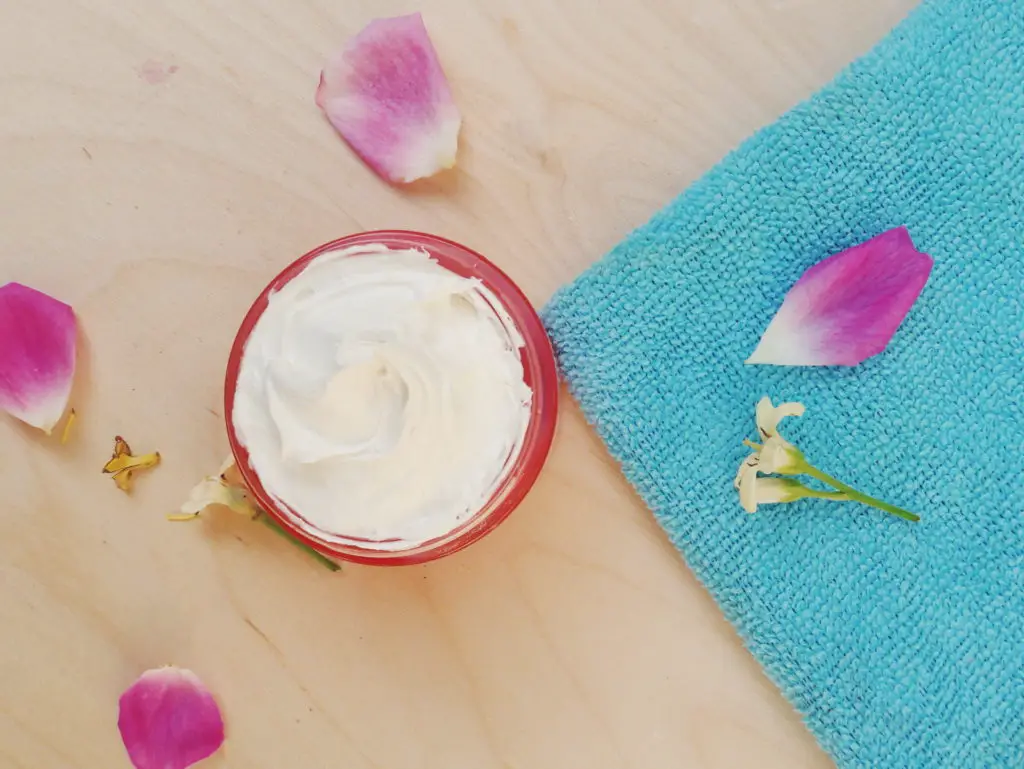 DIY shea butter hair mask
I wanted the recipe to be simple yet effective. It's deep conditioning which may not be the best for all types of hair out there, so check that before you go dunking your head into a bucket of whipped shea hair mask. I'm hair type 3B and my hair soaks up plain old coconut oil mask in no time. It also loves Aztec clay mask but I don't do that one often enough. Just because I'm a bit lazy. Or something.
In any case, the reason behind this shea butter hair mask DIY is that I wanted something that's:
Powerfully conditioning
Nourishing
Easy to make
Easy to use
Can be left overnight or not, depending on my fussiness
Fragrantly pleasant
And we've established that shea is incredibly nourishing. I wanted to combine it with other oils (as it doesn't work so well on hair when used on its own- see more below).
Coconut oil can penetrate inside the hair shaft, help with dandruff, and prevent hair damage and breakage.
Argan oil packs fatty acids, antioxidants, and vitamin E. It moisturizes the hair and it prevents skin conditions with its anti-inflammatory and antioxidant properties. This research shows that argan oil supposedly also improves hair growth.
Deep Conditioning Lemongrass Shea Butter Hair Mask
Ingredients:
Procedure:
Prepare a water bath: add 3cm/1" of water to a wide pan. Bring the water to simmer (low-medium heat).
Weigh coconut oil in a heat-resistant glass measuring cup
Place the cup into the water and let the oil melt
Remove the cup from heat and add shea butter. By whisking and mixing let shea melt completely (you can put the cup back into the bath for a few seconds while dissolving it in coconut oil)- but don't overheat it.
Once melted, remove the cup from heat and let the mixture cool down
Once cool, add argan oil. Take your hand mixer and begin whipping the mixture until it resembles a creamy frosting. But that's not all. You'll repeat the process a few more times:

Whip for a few minutes and set into the fridge for 2 minutes
Whip for a few minutes, set into the fridge for 2 minutes
Add essential oils and vitamin E oil, and whip again. The butter should resemble whipped cream and appear glossy

Transform into a container/jar of choice and slather it on!
Apply to dry hair, working bit by bit. Massage the scalp well as you go, until you've covered the entire head. Cover your head with a plastic cap, place over a towel
Let the mask sit for as long as you can. Ideally, I leave it on somewhere between 2 and 3 hours. I wash my hair before I go out and it usually smells divine (that was when I added wild orange essential oil to the mix).
Notes:
Other essential oils that work great for hair health are also tea tree, ylang-ylang, cedarwood, lemongrass, juniper, and peppermint.
Don't overheat shea butter or it loses its nutrients. Cutting it in small pieces and adding it to coconut oil will help melt it faster at a lower temperature.
This isn't a leave-in conditioner; yes, you can leave it in as long as you'd like (overnight works as well), but you'll have to wash it out at some point.
Can you leave shea butter in hair overnight?
When using shea butter as a hair mask (recipe above), you can leave shea butter in hair overnight. Cover your head once you've applied the mask with a plastic shower cap. Top that with a towel to keep the heat in. you can sleep with or without the towel, but keep the cap on otherwise your pillow will have lovely stains of greasy shea and coconut. Wash your hair in the morning as you normally would.
Can shea butter make your hair grow?
Shea butter nourishes the scalp, conditions the hair, and reduces inflammation. By making the "hair environment" healthier, it can consequently also boost the growth of your hair. It also helps to rejuvenate hair follicles and overall improves the health and look of your hair. So shea butter for hair growth? Yes, it may be!
Is refined or unrefined shea butter better for skin?
Unrefined or raw shea contains the purest value and nutrition of shea that you can get. I always use unrefined shea, but you have to know it comes with a cost: the nutty earthy smell of raw shea butter isn't pleasant to anyone. If you can bear or like the smell, choose unrefined shea.
Refined shea doesn't contain as many nutrients as the unrefined option. It is also mostly odorless since it undergoes a deodorizing process.
Can you use raw shea butter for hair?
Yes, you can but I would advise it against it. In other words, I don't recommend you use only raw shea butter on your hair without any additional oil blends/recipe. I've tried using only raw shea on my hair alone and it was a disaster.
I melted shea, applied it on damp hair and after a while, my hair got incredibly sticky; sort of like a waxed paper. It was horrible! Shea alone was very very VERY difficult to wash out. It was once-in-a-life failed try, no matter the many shea butter benefits for hair. The butter turned itno a sticky mess on my hair, making it very difficult to wash out.
I don't recommend you try this and I don't want you to suffer through it either. Stick to whipped shea butter hair masks or lotions, but not pure shea!
Shea butter for hair: does it really work?
As you can see, shea butter is very beneficial for hair and skin. What's more, shea butter for damaged hair is one of my personal top favorite hair treatments (no matter what the Internet says). Plus, I really like its nutty smell!
You can easily incorporate it into your hair masks and it brings amazing results. It can soothe dandruff, itchy scalp (along with other natural remedies).
What's your fave way to use shea butter?
Stay Wild!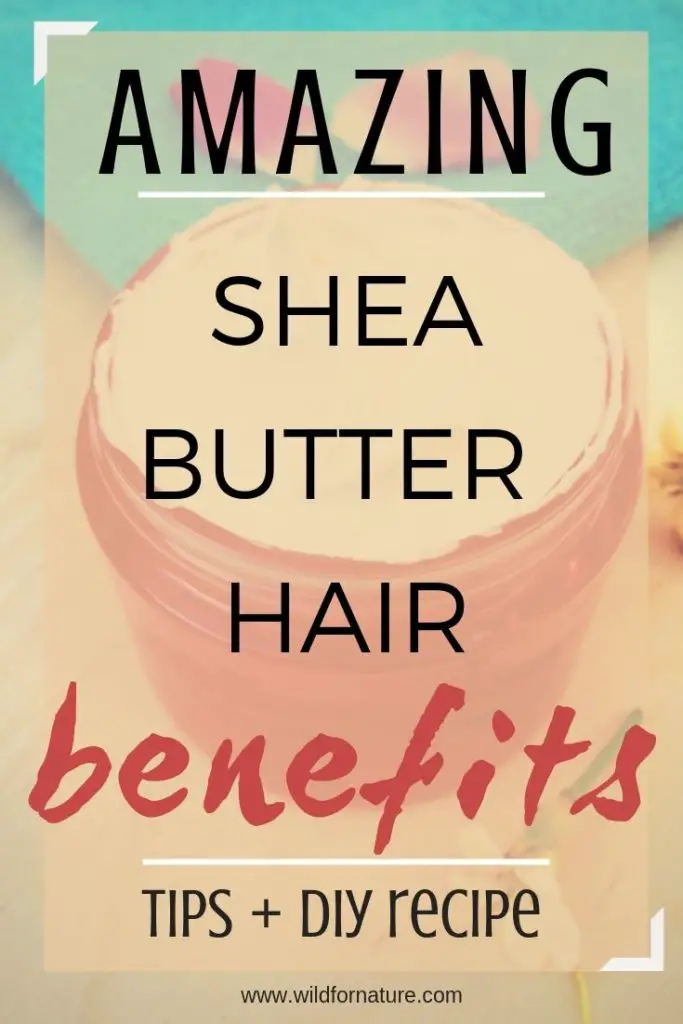 Help support Wild for Nature
Many of you have asked if there's a way to help support Wild for Nature. I've signed up for Buy Me Coffee. If you love what I do, learn from me, sell anything you made from my recipes, and want to see Wild for Nature grow even more, I'd be thrilled if you'd consider buying me a coffee! It works as a one-time or a monthly donation of $3. You can also get beautifully designed PDFs with a series of recipes and other resources I publish there, to help you learn and get creative at home! I can then use that money to further develop and grow Wild for Nature and you can help me continue with wild creations and resources!