Well, I took the bullet for you. I tried the Indian clay mask for hair. Why? Because I really wanted to try a bentonite clay hair wash. And my hair just needed some pampering. And because I see amazing bentonite clay hair before and after all over the Internet.
Anyway, I've used bentonite clay in a number of other possible ways that the only thing left for me to do was the Aztec clay mask for hair.
Why Aztec? Because it's the most popular and most loved and most used bentonite clay you can find online. Everyone's going crazy about it.
Why hair? Because it supposedly boosts the health and helps curly hair and natural hair.
Ready? Let's have a look at what exactly is clay mask for hair and does it really work.
What is Aztec Secret?
Aztec Secret or Aztec Secret Indian Healing Clay is a brand of bentonite clay. It's ridiculously popular. As I'm writing this, Aztec Healing clay has 18,301 reviews and all of these very good.
I have been a propagate of bentonite clay as long as I can remember. It was only logical to try the final bentonite step in my life: An Aztec Clay hair mask recipe.
Bentonite clay is powerful, healing, detoxifying. Bentonite clay is also known as Montmorillonite clay, as it was first discovered in France, in the region with the same name. It is formed from volcanic ash and it's an excellent, awesome, and a very welcome ingredient in any skincare regimen (unless your skin is very dry and sensitive).
Anyway, between you and me, I thought a bentonite clay hair mask  was strange. Who would want to use bentonite clay hair wash…And this coming from me, right? When I drink the thing and slather it to my skin, and everything.
But still…bentonite clay can get slightly messy and putting it on my hair just seemed like the last thing I'd want to do. I was sure the curls would never wash out.
But, I caved in and went with it anyway. But have a look at the bentonite clay hair benefits before I tell you the rest. Because, yes, it can!
What it Aztec clay good for: benefits of bentonite clay for hair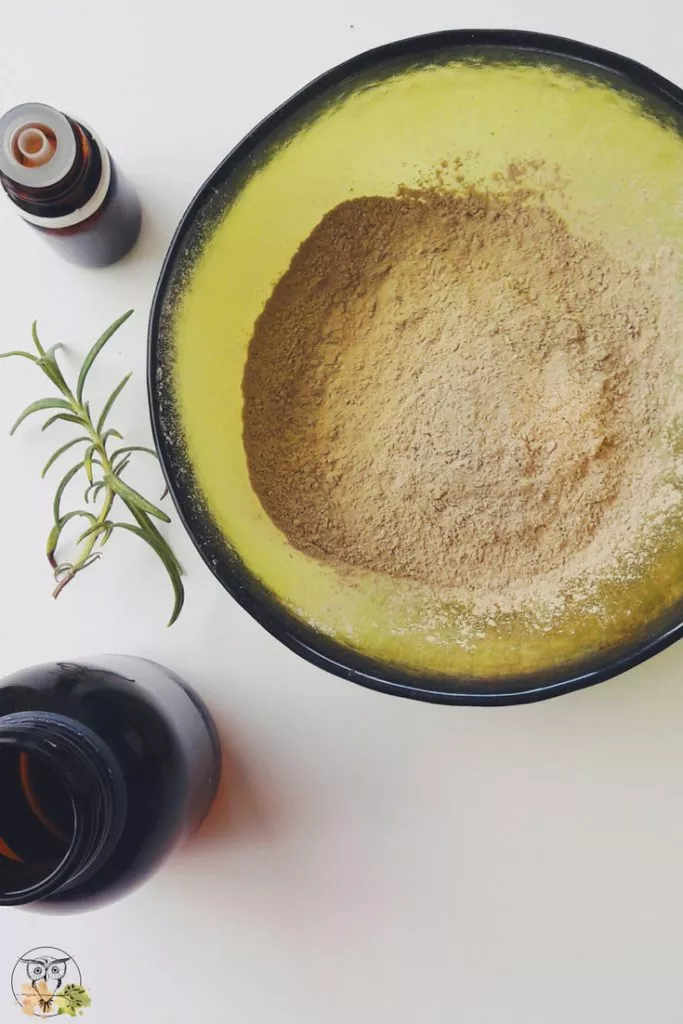 Since I haven't written a lot about hair care, this article/try/test was a must. Bentonite clay is especially beneficial for curly hair, but that doesn't mean the rest of you should avoid it. All hair types can greatly benefit from an occasional ACV clay hair mask. And it's quite obvious if you browse bentonite clay hair before and after!
Aztec clay for hair promotes healthy and strong hair and scalp. Your newly rejuvenated hair will shine, but that's not all! Let's have a look at the Aztec clay mask hair benefits:
1.      Detoxifies scalp and hair
Bentonite clay has powerful detoxifying properties. As it removes impurities, sebum, dirt, oils, and toxins from your face, it does the same with your scalp and detox your hair. Once you wash it off your hair, you also wash all these components with it.
The best thing about it is that it doesn't strip your scalp and hair of natural moisture. Clean? Yes, but not dry.
2.      A natural aid with dandruff
For the same reasons as above, bentonite clay can help you with dandruff. It doesn't just reduce it; it actually helps to remove it altogether.
I haven't tried this bit because I don't have a dandruff problem anymore, but many online claims support this benefit. What's more, they also recommend using bentonite clay hair mask for dandruff twice a week. I do wish I knew about this years ago, it would have spared me a lot of trouble!
3.      Boosts hair growth
Supposedly bentonite clay for hair loss is another natural remedy if you're running out of other options. Clay doesn't have any magical powers, although it would make sense that by clearing the scalp and improving the overall health of the scalp and the hair, it should boost hair growth.
4.      Tames frizzy hair
For those of you dealing with frizzy hair, this may come as a welcoming benefit. With regular use of a bentonite clay hair mask, you can tame that frizz and annoying flyaways.
5.      Helps to soothe scalp infections (Itchy scalp, dry scalp)
Itchy scalp, dandruff, oily scalp, and a number of other problems can be resolved with bentonite clay. It helps to cleanse your scalp of oil and buildup. I don't think there are any official studies that would confirm all these claims.
But! There are thousands of satisfied bentonite clay users that prove these benefits (like those bentonite clay hair before and after photos!).
Is it safe to use bentonite clay?
Absolutely. Healthline says that you should do a test patch first, to make sure you don't experience any itchiness and no rashes.
You may experience mid itchiness when the mask is drying. If you've ever put bentonite clay on your face, you know what I'm talking about. The skin begins to itch as the mask is drying. It's normal. If you experience anything more than that (a seriously unbearable itch with a purple-brown-green patch of a rash), stop using clay right away. I wouldn't worry about it though.
Another thing: if your scalp is as super dry and sensitive and the rest of your skin, don't use bentonite clay. It's too powerful so you may be better off by trying white kaolin clay instead.
Rejuvenating Aztec Clay Mask for Hair Recipe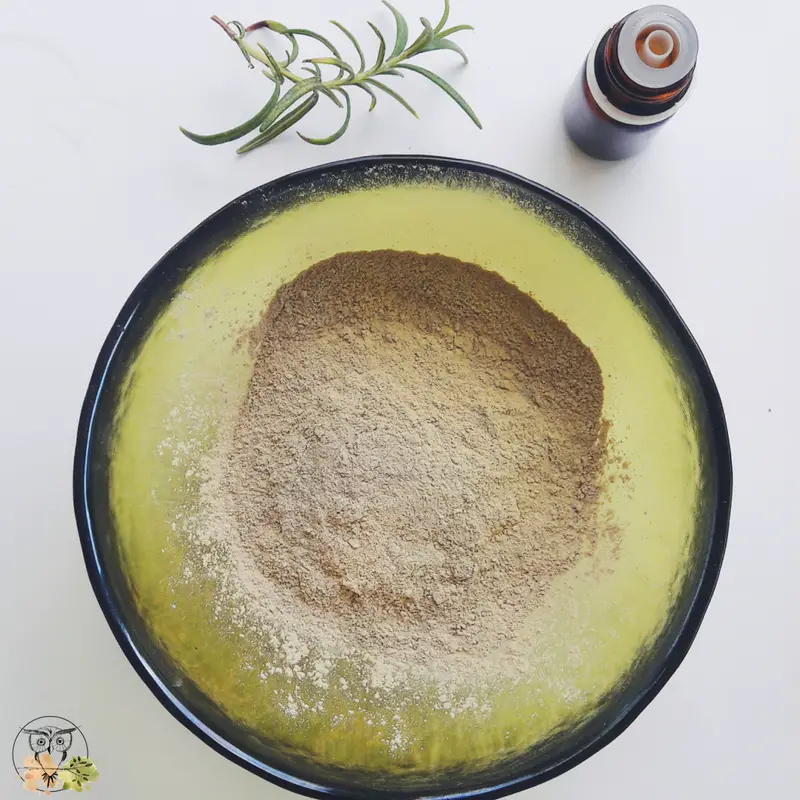 Now, when you make this apple cider vinegar and clay hair mask, you'll need a different amount of ingredients than I do. That's why I have not set the exact amount of ingredients.
The mask should be creamy but not too runny. You're making a mask, not hair wash. That's why you need to adjust the clay and liquids to get the proper ratio.
Why do I love this bentonite clay hair mask? Because it's amazing. It leaves my hair soft and nourished. I wasn't particularly thrilled about slathering dirt onto my hair, but I'm glad I gave it a try.
Whenever I have the time, I apply this mask, rinse it off, use my conditioner (recipe follows) and rinse that too. I don't use any shampoo and to my (great) surprise, nothing bad has happened. My hair is exhilarated and so am I! I mean, this is a completely natural hair product you can make at home in no time. Let's have a look at the ingredients:
Bentonite clay
It's powerful, cleansing, detoxifying, and it can help remove hair and scalp build-up. It can also remove impurities, chemicals, while defining your hair, giving them shine and softness.
Apple cider vinegar
ACV helps to remove flakiness and itchiness from the scalp (it's antimicrobial!). It gives the hair shine and helps to balance the pH of the scalp. What's more, it supposedly minimizes dandruff due to its anti-inflammatory properties.
Rosewater
While there isn't any official research to confirm rosewater hair benefits, I added it for its fragrance and because it can tame frizz and add shine to the hair. It may help with itchy scalp and even dandruff. I can't tell, but I love the smell!
Rosemary essential oil
Rosemary comes with anti-inflammatory properties and it also helps to improve circulation. And that's something we definitely want for the scalp. Consequently, it could boost hair growth and prevent malnourished hair follicles. What's more, it can also prevent dandruff and itchy scalp.
Argan oil
A common ingredient in hair products, argan oil packs a number of benefits for the hair: tames frizz, boosts shine, promotes healthy and soft hair. It conditions hair and moisturizes them while keeping the scalp healthy.
How do you make a bentonite clay mask?
Easily. You can have a look at a more extensive post on bentonite clay face mask recipes, but the general and the most basic recipe is bentonite clay mixed with water. The most popular is the version with apple cider vinegar.
I wanted to take the mask beyond the classic ACV recipe, so I added a few extra ingredients that naturally nourish and nurture both, your hair and your scalp.
Have a look at the ideal consistency of this bentonite clay hair mask:
How long do you leave the Aztec clay hair mask on for?
Leave the mask on as long as you would a clay face mask. To get the best effects of bentonite clay for hair, leave it on for 15 minutes and rinse your hair. You can leave it for a bit longer (up to 20 minutes), but once it's dry, you're free to wash it off.
Also, don't overdo it. 15 minutes is more than enough, bentonite clay is powerful! You don't want to end up with a ridiculously dry hair and irritated, itchy scalp afterward. I've recently read a review of Aztec Secret clay by a girl who said it ruined her skin. But then, she left the mask on for 30 minutes every time she used it (among other things). Lesson learned, stick with 15 minutes!
How often to use Aztec clay mask on hair?
Some of you have been asking if you can use bentonite maks every day. I wouldn't recommend using it that often. Bentonite is very powerful; so twice a week would be okay, but you can even minimize that once the health of your hair has improved. If you use it too frequently, it can cause dryness of your scalp and irritation. I started with once a week and now I only use this aztec clay mask on hair once a month.
Rejuvenating Aztec Clay Mask for Hair
Ingredients:
– 8 TBSP bentonite clay
– 2 TBSP apple cider vinegar
– 2 TBSP rose hydrosol (or distilled water)
– 4 TBSP water
– 10 drops rosemary essential oil
– 1 TBSP argan oil
Instructions:
Add bentonite clay to a bowl
Add argan and rosemary oil
Measure vinegar and hydrosol
Slowly add the liquids into the bowl
Stir well until you get a creamy texture of a concoction
The mask should be lump-free
If you believe it's too runny, add more clay. If it's too thick, add more water
Apply the mask to your damp rather than wet hair, working slowly, bit by bit
Leave it on for 15 minutes
Rinse well with lukewarm or warm water, you'll want to get the crunch of clay all out
Apply a nourishing deep-conditioning mask
Wash the deep conditioner off your hair (you can leave it on as long as you'd like. I normally go between 15 to 30 minutes, but some people wash it after 5 minutes and some after a few hours)
Enjoy your new shiny hair!
Notes:
These measures are approximate. I don't know how much you need for your hair. I wanted to give you an idea of how to measure all the ingredients; the ratio and the amount. Feel free to adjust the recipe according to your hair. Try making the mask once and write it all down so that you'll know what to add/omit the next time you make it.
Optionally, you can also add a TBSP of aloe vera into the mix for extra hydration or vegetable glycerin.
Below, you can see how to apply this clay hair mask effectively at home:
Tips on using Aztec secret clay mask on hair:
Use only plastic/wooden/ceramic utensils when working with bentonite clay. It should not come into contact with metal!
Skip the shampoo whenever applying this mask; the clay will leave your hair cleansed and clean without any additional washing
Apply a rich and nourishing mask after you thoroughly rinse the bentonite clay mask
Repeat once a week tops (twice if dandruff is severe)
Leave the mask for 15 minutes (try not to overdo the time)
Clay – water ratio: 1 part clay – 1 part water (approximately). This ratio will give you a runnier consistency which you can apply to your hair more easily. If you believe it's still too thick, add more liquid until you get a mixture you can easily apply to your hair.
Water – apple cider vinegar ratio: 1 part ACV – 8 part water. Try not to overdo the ratio without testing it first. If you've been a regular ACV user, then you already know your ideal ratio. Stick to that. If you're new, stick with this ratio. Some people have reported their scalp drying out when they add too much ACV. Start small and build the amount of vinegar with time. I normally use 1 TBS of vinegar for every 3 TBSP of water. Sometimes I'd add a bit more, sometimes a bit less.
Substitute rosemary essential oil with other essential oils if you wish, but make sure to stick to the ratio: 1 TBSP liquid (water, hydrosol…) to 5 drops EO. For hair health, growth, scalp health, I recommend lavender, clary sage, peppermint, chamomile, cedarwood, and lemongrass. You can also make a blend (5 drops lemongrass, 5 drops lavender).
And now it's your turn!
Let me know how this bentonite clay hair mask recipe worked for you. Can you feel bentonite clay for hair benefits?
Stay Wild!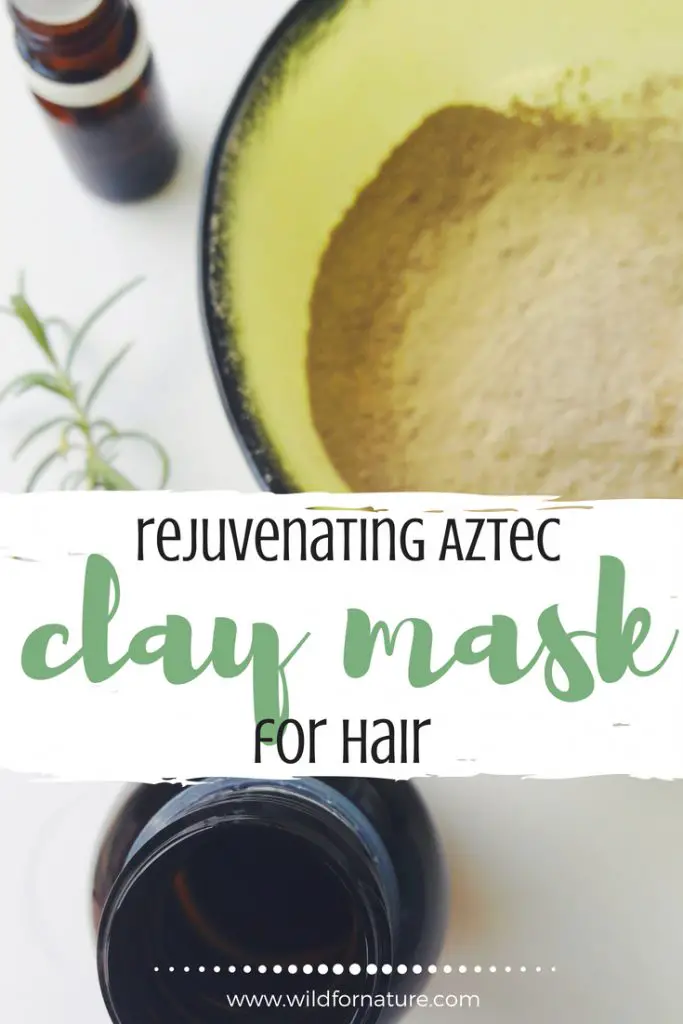 Help support Wild for Nature
Many of you have asked if there's a way to help support Wild for Nature. I've signed up for Buy Me Coffee. If you love what I do, learn from me, sell anything you made from my recipes, and want to see Wild for Nature grow even more, I'd be thrilled if you'd consider buying me a coffee! It works as a one-time or a monthly donation of $3. You can also get beautifully designed PDFs with a series of recipes and other resources I publish there, to help you learn and get creative at home! I can then use that money to further develop and grow Wild for Nature and you can help me continue with wild creations and resources!