Hello there! Today we're making a soothing homemade aftershave balm for men! I know we have some male readers and I'm sorry I've been neglecting you for such a long time! Hopefully, you'll enjoy the recipe!
I also know that we, the girls, like to make homemade skincare for the males in our lives as well- be it a brother, a boyfriend, a father, and a husband. So, you can make yourself or your man happy with this natural aftershave balm recipe.
Let's get to it!
*Some of the links in this post might be affiliate links. Affiliate links come at no extra cost to you. These links allow me to share the products I authentically recommend (and use) and support Wild for Nature by receiving a small commission.
Soothing DIY Aftershave Balm for Men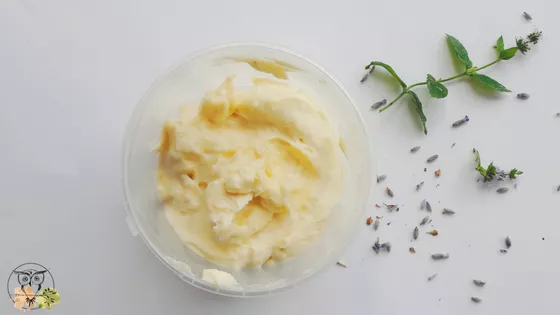 Now, this balm is more like a lotion or a cream, to be honest. Still, it's incredibly soothing and perfect for any skin type, including sensitive skin. I promise you, face after shaving will love it!
I made this after looking at dozens of aftershave recipes; some included witch hazel and vegetable glycerine, others jojoba oil, but I wanted something simple that nourishes the skin (and razor burn problems) and is still alcohol free.
It's creamy, rich, and smooth, What's more, this aftershave balm doesn't have to be male-specific, ladies are welcome to use it too! Change essential oils to your liking and you can enjoy it as well!
Let's have a look at the ingredients and how they benefit your skin!
Shea butter
This one is easily a must in this recipe. I don't like to put coconut oil on my face, so I automatically assume no one does. But I have zero problems with doing the same when it comes to shea butter.
Shea butter is very moisturizing. It heals and nourishes the skin, protecting it from harsh weather conditions to a sunburn, a rash, and irritated skin. What's more, it leaves the skin soft and smooth.
Above all, shea has anti-aging properties and helps to boost the skin's elasticity.
Comedogenic rating: 0-2
Sweet almond oil
Promoting a smooth and flawless skin, sweet almond oil is perfect for you if you suffer from sensitive or dry skin. It's a mild oil that is full of antioxidants that generally benefit your skin in terms of healing, smoothing, and anti-aging.
It can also remove dark circles and soothe irritated skin.
Comedogenic rating: 2
If your skin is prone to acne, feel free to substitute almond oil with camellia oil, hemp seed oil, raspberry seed oil, or rosehip seed oil.
Argan oil
You know I'm a fan. Like, a huge fan! So there's hardly any recipe without argan oil that I make!
Argan oil is very moisturizing, high in vitamin E, which gives a natural kick to your skin. it's easily absorbed as well.
With its anti-aging benefits, argan oil is also excellent for dry and irritated skin.
Argan oil promotes the healing of the skin, protects it, reduces inflammation, and gives it a healthy glow with its dose of antioxidants.
Comedogenic rating: 0
Aloe vera gel
You're not the only one if aloe vera gel is your favorite and a must-have remedy in summer. It's great for sunburn, rashes, itchy skin, and inflammation.
Aloe vera promotes the healing process of the skin, hydrates it, and has anti-infection properties. the best thing about it (among other things) is that it doesn't leave any greasy film over your skin. it softens it but doesn't clog pores.
It's useful both for various skin conditions (acne and eczema) as well as acne scars and stretch marks.
Eucalyptus essential oil
I've neglected this oil for quite a long time, but I figured it would do great in this manly balm recipe. Eucalyptus oil is anti-inflammatory, disinfectant, antiseptic, and antibacterial among other things.
It's very effective when it comes to healing small wounds, cuts, acne, and skin infections. All of these makes it an excellent addition to the recipe.
Yes, it has a refreshing smell, but it also boosts the healing process of the skin. Since there are always potential razor cuts when shaving, eucalyptus is there to heal it all! eucalyptus is in this recipe also because it soothes irritated skin and skin may get irritated after shaving.
Wild orange essential oil
For an extra kick of energy, there's orange essential oil. The uplifting scent of this oil is one of the reasons I added it to the recipe. Because men need an energy boost as well!
Orange oil is also antifungal, antioxidant, anti-inflammatory, and antibacterial. It cleanses the skin and has anti-aging properties.
Wild orange oil can be phototoxic. Don't use it before you face the sun. My boyfriend always shaves in the late afternoon/evening, so this oil doesn't really matter. If you shave in the morning before heading out, omit this essential oil or substitute it with a non-phototoxic oil (bergamot FCF or steam distilled, blood orange, lemon, lime, and mandarin, all steam-distilled).
Lavender essential oil
Lavender has detoxifying properties for the skin along with skin-toning properties. It boosts circulation, promoting healthy and glowing skin.
Lavender oil can also disinfect the skin, that's how it's found its way into this balm for men. Manly or not, lavender helps to heal the skin, treats acne, is anti-inflammatory, and can help reduce redness and irritated skin.
Cedarwood essential oil
Antiseptic, tonic, astringent properties of cedarwood essential oil make it very beneficial for your skin. It prevents infections, reduces inflammation, and improves skin conditions.
Cedarwood supposedly treats acne scars and brightens the skin. It's also moisturizing for the skin, which is why a lot of people choose to add it to their homemade skincare recipes for winter.
I simply adore its smell among other thing but you also may like the fact that cedarwood oil can minimize the appearance of pores!
Homemade Aftershave Balm Recipe
This is an easy recipe. Ever since I've made one for my boyfriend earlier this year, he can't seem to get enough of it. And I'm very happy about it because his skin is quite sensitive and he's always been using violent aftershaves that only made the post-shaving face worse.
Also, the essential oils are in there according to what I had at home (to his approval of course), but feel free to go with whatever you or your man prefers. You can also try DIY bay rum aftershave balm with the blend of essential oils you can find in this DIY beard balm recipe.
Let me know in the comments below, how the guy in your life is happy with this aftershave balm! (You've tried it too, haven't you?)
Stay Wild!