Tired of irritated and dry skin on your face? Did you know there's a natural and affordable option to commercial aftershave balms that you can make at home?
Today we're making a beautiful yet soothing homemade after shave balm for men! I'll show you how to make aftershave balm in a few easy steps and what are the best essential oils for men's aftershave balm. The best thing about it is that you girls can use it too!
Let's get to it!
Soothing DIY Aftershave Balm for Men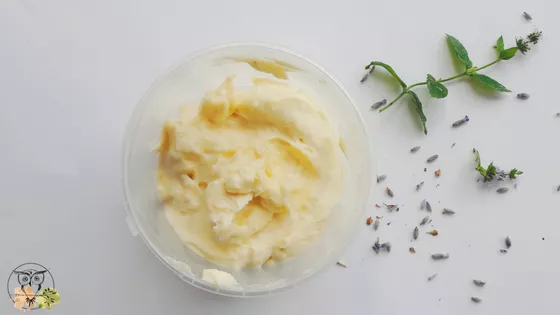 DIY post shave balm was something I had on my to-do list but for some reason waited a long time to make.
But one morning, I realized that we ran out of body lotions and aftershave balms, and all other body products apart from washing stuff. I have no idea how did that happen, but it was winter and my legs were very dry and my boyfriend's face, freshly shaved, was irritated and annoyed. And that's how this DIY men's aftershave balm came to be.
Mind you, I still use this on my legs every time I shave because it's luxuriously creamy, gorgeous, and leaves the skin calm, gently fragrant, and nourished!
Keep in mind though that it contains oils and butters mostly, so it leaves the skin greasy. I call it a balm because it contains aloe vera gel, but if you omit that, you'll get a creamy body butter that makes the skin greasy!
After all, this is…
Vegan aftershave balm
Easy to make
Resembles the creamiest frosting
Budget-friendly
Versatile
What is an aftershave balm?
Generally, an aftershave balm, unlike the lotion or a splash, doesn't contain any alcohol. Its purpose is to nourish and moisturize the skin.
An aftershave balm formulation normally contains carrier oils, such as coconut, castor, and argan. What's more, it also contains vitamin E oil for skincare benefits and to help prevent the carrier oils from going rancid.
Overall, after shave balms are oil-based and while they can be emulsions, our recipe isn't.
How do you make aftershave balm?
This is an easy recipe that's great for any level of DIY, apart from the "serious formulator" level, because in that case you'll just go and make a real pro-like balm. We'll make it here someday too. Someday.
Now, like I said, this balm can easily become a butter if you omit aloe vera gel, and I don't recommend doing that. Still, it's incredibly soothing and perfect for any skin type, including sensitive skin. I promise you, face after shaving will love it!
I made this after looking at dozens of aftershave recipes; some included witch hazel and vegetable glycerine, others jojoba oil, but I wanted something simple that nourishes the skin (and razor burn problems) and is still alcohol-free.
The recipe for this balm is very easy. All you need to do is prepare the ingredients, soften (or melt) shea butter, and throw them all into a bowl, where you turn on your hand blender and whip the mixture until it forms soft peaks and resembles frosting. And that's it!
Let's have a look at the ingredients in the after shave balm recipe and how they benefit your skin!
Shea butter
This one is easily a must in this recipe. I don't like to put coconut oil on my face, so I automatically assume no one does. But I have zero problems with doing the same when it comes to shea butter.
Shea butter is very moisturizing. It heals and nourishes the skin, protecting it from harsh weather conditions to a sunburn, a rash, and irritated skin. What's more, it leaves the skin soft and smooth.
Above all, shea has anti-aging properties and helps to boost the skin's elasticity.
Comedogenic rating: 0-2
Sweet almond oil
Promoting a smooth and flawless skin, sweet almond oil is perfect for you if you suffer from sensitive or dry skin. It's a mild oil that is full of antioxidants that generally benefit your skin in terms of healing, smoothing, and anti-aging.
It can also remove dark circles and soothe irritated skin.
Comedogenic rating: 2
If your skin is prone to acne, feel free to substitute almond oil with hazelnut oil, hemp seed oil, or rosehip seed oil.
Argan oil
Argan oil is very moisturizing, high in vitamin E, which gives a natural kick to your skin. it's easily absorbed as well.
With its anti-aging benefits, argan oil is also excellent for dry and irritated skin.
Argan oil promotes the healing of the skin, protects it, reduces inflammation, and gives it a healthy glow with its dose of antioxidants.
Comedogenic rating: 0
Aloe vera gel
This is a must-have in my house. I use it in summer all the time since it's great for sunburn, rashes, itchy skin, and inflammation.
Aloe vera promotes the healing process of the skin, hydrates it, and has anti-infection properties. the best thing about it (among other things) is that it doesn't leave any greasy film over your skin. It softens it but doesn't clog pores.
It's useful both for various skin conditions (acne and eczema) as well as acne scars and even stretch marks (although it's most effective when eaten).
Eucalyptus essential oil
I've neglected this oil for quite a long time, but I figured it would do great in this manly balm recipe. Eucalyptus oil is anti-inflammatory, disinfectant, antiseptic, and antibacterial among other things.
It's very effective when it comes to healing small wounds, cuts, acne, and skin infections. All of these make it an excellent addition to the recipe.
Yes, it has a refreshing smell, but it also boosts the healing process of the skin. Since there are always potential razor cuts when shaving, eucalyptus is there to heal it all! eucalyptus is in this recipe also because it soothes irritated skin and skin may get irritated after shaving.
Sweet Wild orange essential oil
For an extra kick of energy, there's orange essential oil. The uplifting scent of this oil is one of the reasons I added it to the recipe. Because men need an energy boost as well!
Orange oil is also antifungal, antioxidant, anti-inflammatory, and antibacterial. It cleanses the skin and has anti-aging properties.
Lavender essential oil
Lavender has detoxifying properties for the skin along with skin-toning properties. It boosts circulation, promoting healthy and glowing skin.
Lavender oil can also disinfect the skin, that's how it's found its way into this balm for men. Manly or not, lavender helps to heal the skin, treats acne, is anti-inflammatory, and can help reduce redness and irritated skin.
Cedarwood essential oil
Antiseptic, tonic, astringent properties of cedarwood essential oil make it very beneficial for your skin. It prevents infections, reduces inflammation, and improves skin conditions.
Cedarwood supposedly treats acne scars and brightens the skin. It's also moisturizing for the skin, which is why a lot of people choose to add it to their homemade skincare recipes for winter.
I simply adore its smell among other thing but you also may like the fact that cedarwood oil can minimize the appearance of pores!
Soothing DIY Aftershave Balm for Men
Ingredients:
Instructions:
Melt shea butter on low temperature
Once melted, add carrier oils (almond, argan, and apricot) and aloe vera gel
Add essential oils and vitamin E
Stir the concoction well
Set in the fridge for 15 to 20 minutes
Once the upper layer has hardened a bit, take it from the fridge
Whip the lotion for a few minutes, until runny and fluffy
Set aside for 10 minutes and repeat the whipping again
Apply after shaving and prepare for ridiculously nourished and smooth skin!
Notes:
Make sure aloe vera gel is already preserved. By using a preserved water-based ingredient you'll avoid mold and bacteria growing in your balm. You can't use fresh aloe vera plant gel or aloe vera juice instead of the gel in the recipe.
What essential oils are good for after shaving?
Apart from the oils already used in the recipe, you can change the scent of your shea butter aftershave balm to your own (or your guy's) preferences, if you're not happy with essential oils I chose for the recipe. Here are some of the best oils to use in an aftershave balm:
Blue cypress oil
Blue tansy essential oil
sandalwood oil
German chamomile
Frankincense oil
Patchouli essential oil
Tea tree essential oil
This is a simple aftershave balm that anyone can make. Combine and whip the ingredients and your skin will love it, especially in winter!
DIY Men's skin care recipes
I don't have that much in terms of DIY men's beauty products, but you can find a complete list of the best oils for beard here. Also, men's skincare recipes:
Let me know in the comments below, how the guy in your life is happy with this aftershave balm! (You've tried it too, haven't you?)
Stay Wild!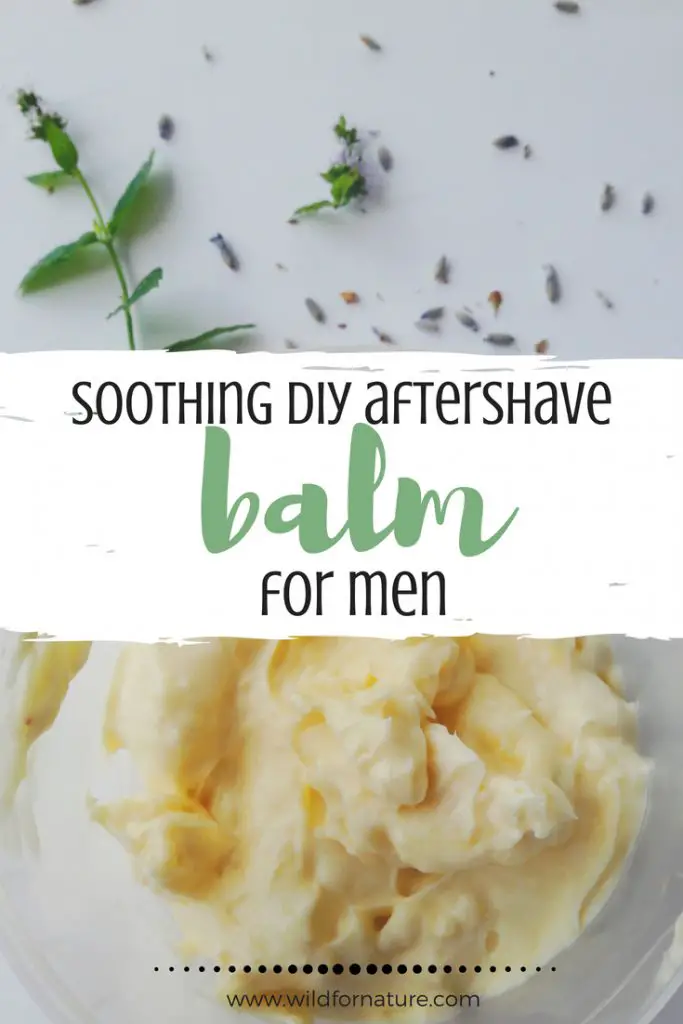 Have you made this recipe? Tag us on Instagram #wildfordiy
Help support Wild for Nature
Many of you have asked if there's a way to help support Wild for Nature. I've signed up for Buy Me Coffee. If you love what I do, learn from me, sell anything you made from my recipes, and want to see Wild for Nature grow even more, I'd be thrilled if you'd consider buying me a coffee! It works as a one-time or a monthly donation of $3. You can also get beautifully designed PDFs with a series of recipes and other resources I publish there, to help you learn and get creative at home! I can then use that money to further develop and grow Wild for Nature and you can help me continue with wild creations and resources!