Hey there, pretty! I want to tell you about an exotic ingredient that comes to us straight from the depths of the Brazilian Amazon Rainforest. This seed butter is highly emollient and promises to nurture dry skin and tame the frizz out of your hair!
I love it, my hair loves it, and now I want to you get to know it! A natural creamy butter can be used for skin and hair since it's ridiculously rich in lauric acid!
In case you've been wondering (like, ever) what is murumuru butter good for, let's have a look at what this moisturizing creamy butter can do for your skin and hair!
What is Astrocaryum Murumuru seed butter?
Murumuru butter or murumuru seed butter comes from the Brazilian Amazon region. More specifically, from the Astrocaryum murumuru palm tree, which is native to Amazon Rainforest vegetation. The butter is extracted from the murumuru seeds.
This butter was quite popular in the US and Europe in the 1940s and 50s; people actually ate it and loved it in their vegetable soups and creams!
Now, I'm not sure if people still do that (my guess is we rather stick it in nourishing lotions instead), but murumuru plant fruits are a very important source of food for the locals in the Amazon region.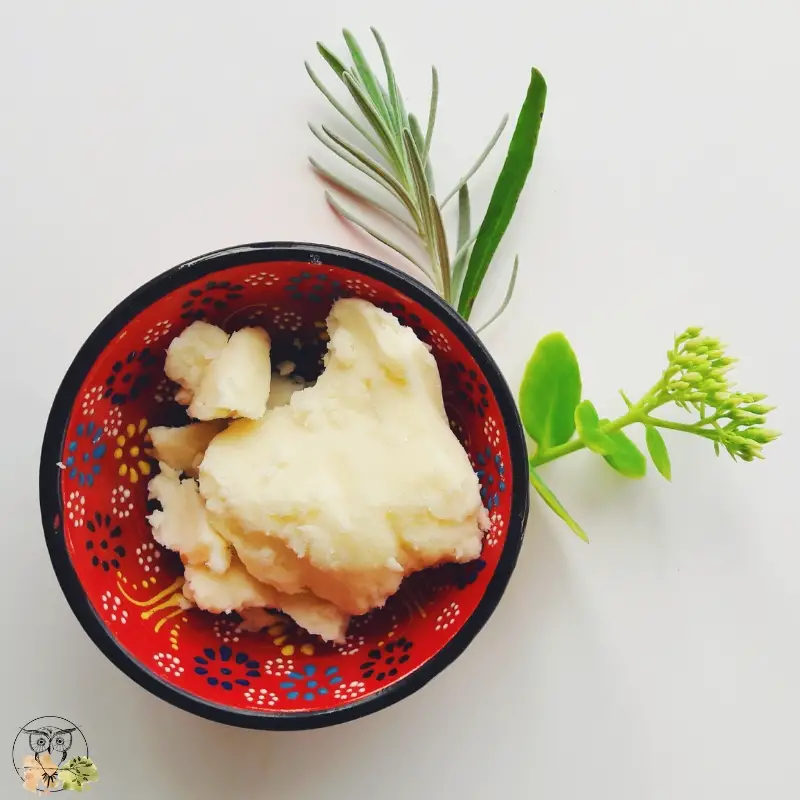 What does murumuru butter look like?
This seed butter is of creamy, off-white color, yellowish white, pale brown. Whichever nuance you prefer. It's of creamy texture, a bit softer than cocoa butter.
What does murumuru butter smell like?
Unrefined butter has a nutty and earthy scent. Think in the range of shea butter. I personally love nutty butter scent (it makes homemade body butters smell great), but in case unrefined shea butter scent bothers you, you may not be very happy about the scent of this exotic butter either.
What can I use murumuru butter for?
Add it to lip balms, creams, body butters, and lotions. It can be used to make hair masks and even body scrubs! In any case, murumuru can be also combined with other ingredients when making homemade skincare or used plain as it is.
After all, it slowly melts when it comes into contact with skin. Applying it is easy and there's no greasy mess or extra dripping from the butter!
Murumuru seed butter nutrition
The gorgeous benefits for your skin and hair all come from its rich and nourishing composition. Among other properties, Astrocaryum butter is:
anti-inflammatory
antiallergenic
antibacterial
antiviral
mild antiseptic
What's more, it contains the following:
Lauric acid 47%
Myristic acid
Oleic acid
Palmitic acid
Linoleic acid
Apart from being rich in fatty acids, this butter is also loaded with pro-vitamin A.
Its quality is similar to tucuma and coconut oil, but some consider it superior to the other two because of its higher melting point at 91.4 F /33o C, while than of tucuma is at 30 o C and that of coconut palm at 22.7 o C.
Murumuru butter benefits for skin
While this exotic butter can promise to keep our skin hydrated, its properties seem to extend well beyond that! Murumuru seed butter has incredible nourishing properties you can benefit from greatly!
What's more, it's is highly moisturizing, a natural emollient, and it absorbs quite quickly. Its naturally glossy structure helps to repair and protect skin and hair. It's able to penetrate into deep layers of the skin and restore it from the inside out.
Because it's hypoallergenic, this butter can be used by those of you with sensitive skin! I'd recommend you make a test patch first, but it's highly unlikely that murumuru would cause any allergic reactions. Apart from that, all those with mature skin can also greatly benefit from Astrocaryum butter.
A natural remedy for dry skin
Since murumuru penetrates the deep layers of your skin, it's able to repair it and provide the necessary nutrients and protection from the free-radical damage, dryness, and sun damage.
Essential fatty acids present in the butter help to improve the complexion of the skin as well, by locking in moisture and forming a protective layer on the skin.
Natural help for skin conditions
As a butter that soothes the skin and nourishes it at the same time, murumuru is great for those suffering from eczema and psoriasis. It's unlikely to cause any further irritation or damage to the skin since it actually promotes the healing process!
It's abilities to soothe skin conditions lie in the fact that it contains high lauric content. What's more, it's incredible properties, such as antioxidant and antibacterial, help to fight acne, soothe psoriasis, and work as a natural remedy for eczema.
Anti-aging properties
Because of oleic acid and its vitamin K content, this butter helps to boost collagen production in your skin. In other words, it helps to boost the elasticity of the skin and minimize the appearance of wrinkles and fine lines.
Murumuru butter for face
While it has been traditionally used to protect, soften, and nourish hair that doesn't mean it can't positively affect the skin on your face as well. We've seen that it can soothe skin conditions and naturally hydrate dry, damaged, and mature skin.
Now, let's have a look at the two most important questions for all of you, dealing with acne and oily skin!
Does murumuru butter clog pores?
We've established by now that this butter is rich in lauric acid. This acid is apparently also found in human breast milk and it's quite an important fatty acid. It supposedly has antiviral, antifungal, antimicrobial and even antibacterial properties.
Because of the antimicrobial properties, lauric acid could be seen as a natural remedy to fight acne. Well, this same acid is also found in coconut oil, but coconut oil is comedogenic and I've seen some bad results of that oil as a natural acne healer. Try argan oil for acne instead!
In short, it provides you with a similar amount of lauric acid, but without the side effects. in other words, murumuru seed butter doesn't clog your pores.
Is murumuru butter comedogenic?
I have not found any specific information on the murumuru comedogenic rating. I have only found information that it's not comedogenic and recommended for those with acne-prone skin. I'd suggest you ask around before making the final step.
I did find this research you might be interested in. Apparently, people that have low levels of linoleic acid in their skin, tend to suffer more from acne and breakouts. If that's true, it would only make sense to boost the topical application of oils that are high in linoleic acid!
Overall, since one of the its benefits is also a fact that it doesn't clog pores, it should only nourish and improve the overall health of your skin!
Murumuru butter hair benefits
Murumuru can naturally moisturize your hair, as well as it can your skin. It helps to maintain your hair hydrated, which is why it's sometimes used in hair care products. You can easily make a DIY hair mask this creamy ingredient, but before you do that, let's have a look at the other murumuru seed butter benefits:
A natural remedy for dry and damaged hair
Murumuru penetrates into your hair, nourishing it and repairing it from the inside out. It locks in moisture, making your hair strong and healthy.
Adds gloss and shine to your hair
Because this Amazon butter isn't too heavy, it boosts smooth hair and shiny appearance. It can soften and protect hair but without any extra weight of the feeling or any appearance of greasiness. It helps to recover your hair, giving it a glossy and shiny look!
Helps you manage your hair more easily
Dealing with frizzy hair can be a nuisance. That's why it's always an incredible treat to discover something that can tame, repair, and make your hair shine at the same time!
Murumuru butter Amazon: which one to get?
In case you're wondering where to buy this exotic ingredient, your question totally makes sense as the butter hasn't become so popular to be widely available wherever you turn.
I have three different merchants of the (organic) Astrocaryum butter from Amazon, and we'll have a look at which one could be best for you.
And you and the murumuru butter benefits? Have you ever tried this butter in your homemade skincare routine? Let me know below!
Stay Wild!