Looking for a nourishing body lotion with simple ingredients that give your skin an extra boost these days?
Look no further because this hemp seed hand and body lotion has it all: simple ingredients, straightforward process of making, and a creamy result that feeds the skin goodies, leaving it soft and smooth!
Let's get whippy!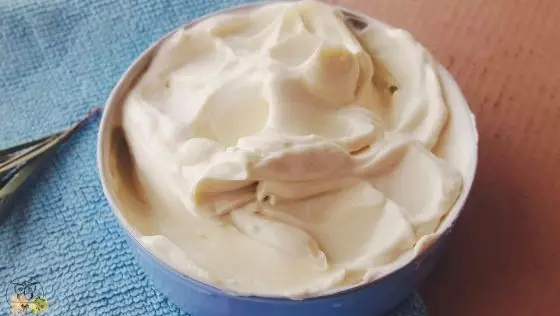 In the spirit of our nourishing Shea & Hemp Series, we're whipping another gorgeously creamy recipe that leaves the skin soft. It's a proper moisturizer I can't seem to get enough of. You don't need any new fancy ingredients for this recipe as you've already used them to make other recipes from the series, but I'll say a few words about the ingredients below anyhow.
If you're new to the blog, here are the other recipes from the series so far:
Beginning with his hemp oil body lotion, we're heading into slightly more advanced DIY waters as some of the recipes will include the heating and emulsifying process.
But don't let that scare you away! We're still using simple ingredients and not too many of them either. I wanted to keep the recipe simple and effective, so that anyone can give it a go. If you've been DIYing skincare at home but haven't had a chance to make a real lotion, this recipe is a great way to get started!
My skin loves it and I do as well, especially for its creamy and uplifting properties. Apart from that it's also
Vegan-friendly
Relatively easy to make
Creamy and nourishing
Lemongrass-y
Moisturizing
Skin-softening
Resembles frosting!
How to make hemp and shea lotion for body?
The recipe for this body lotion is pretty basic and a simple one to pull off. Simply follow the procedure and you'll surely whip up a thick creamy fragrant goodness that'll keep your skin nourished and smooth during the next couple of months! For more info, you can have a look at this detailed post on how to make a lotion at home.
Here's how we make homemade hemp body lotion: weigh water-based ingredients in one beaker. In the other beaker, weigh oil-based ingredients (see recipe below for more details).
Pop them both in a water bath for about 20 minutes until the oil phase has completely melted.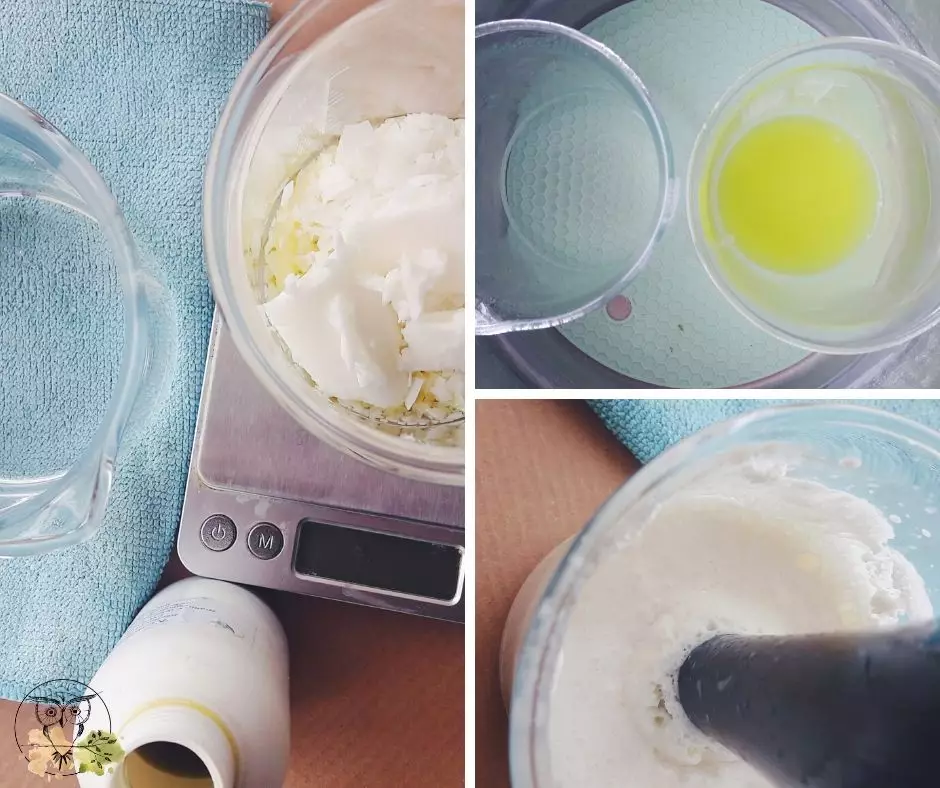 Next, remove both beakers from the pot and wipe them with a clean cloth. Pour water mixture into the oil mixture and stir well with a spatula.
Prepare your immersion blender, stick it into the concoction and begin blending for a couple of minutes. You'll already notice a faint scent from the chamomiles here, it smells soothingly and gently calming!
Then, leave your mixture to cool down. In about 5-10 minutes you should notice it thicken up and already get the right creamy consistency.
Lastly, we'll add hemp and essential oils, with our preservative being the last ingredient on the list.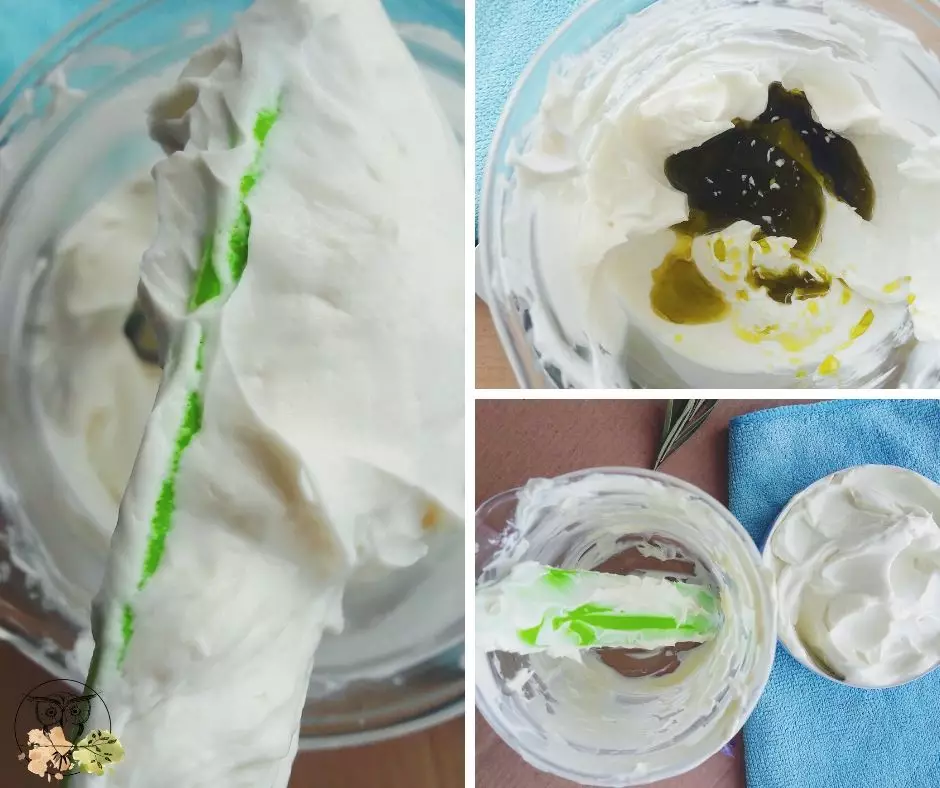 After you're done stirring and mixing, you can transform your freshly made hemp body lotion into a clean container!
Hemp seed oil lotion recipe: new ingredients
So far, we've worked with all the ingredients on the list, apart from three:
Distilled water: a base for water-phase
Vegetable glycerin: a moisturizer, vegetable glycerine helps to attract and lock moisture into the skin. You can substitute it with another moisturizer if you want, but we're using glycerine because I started out with it, and it's affordable and easily accessible. What's more, glycerin helps to soften the skin and smooth the complexion.
Cosgard or Geogard 221 is a preservative, which is a must in all water-based products. Without the preservative, this recipe would have a shelf-life of a day or two. Also, it'd begin to grow bacteria, mold, and other nasties you don't want in a creamy fragrant hand and body lotion. You can use a different preservative (Liquid Germall plus would work too) but make sure you're using a broad-spectrum preservative.
As written below, the recipe makes about 128g of lotion and I store it in a 160g container.
Lemongrass Hemp And Shea Body Lotion
Ingredients:
Water-phase
Oil-phase
Cool-down phase:
Process:
Prepare a water bath: add 3cm/1" of water to a wide pan. Bring the water to simmer (low-medium heat).
Weigh water phase ingredients in a heat-resistant glass measuring cup
Weigh the oil ingredients in a second heat-resistant glass measuring cup
Place both beakers in a pan to melt all the ingredients (about 15-20 minutes)
Next, take both beakers from the water (all ingredients should be melted and dissolved fully by this point).
Pour the water phase into the oil phase. Take your immersion blender and begin blending the lotion. Blend for about 5 minutes and leave the lotion to cool down. You'll want it to be below 104F/40C degrees before you continue with the last, cool down, phase. The emulsion has to be below 40C or the heat can damage the final few ingredients.
Once your lotion has reached the desired temperature, add hemp seed oil, essential oil blend, and stir well.
Add cosgard as the final ingredient. Stir with a spatula well for a minute or two, until it's evenly incorporated into the lotion.
Transfer the body lotion to a clean (sterilized) container.
Pack it nicely and enjoy it!
Notes:
You can omit glycerin and substitute it with more water
You can substitute essential oil blend with scents of your choice
I used refined shea butter but feel free to use unrefined if that's what you have on hand
You can substitute Olivem1000 with Emulsifying wax NF
Have you made this hemp seed oil body lotion? Tag us on Instagram #wildfordiy
Help support Wild for Nature
Many of you have asked if there's a way to help support Wild for Nature. I've signed up for Buy Me Coffee. If you love what I do, learn from me, sell anything you made from my recipes, and want to see Wild for Nature grow even more, I'd be thrilled if you'd consider buying me a coffee! It works as a one-time or a monthly donation of $3. You can also get beautifully designed PDFs with a series of recipes and other resources I publish there, to help you learn and get creative at home! I can then use that money to further develop and grow Wild for Nature and you can help me continue with wild creations and resources!