Hemp lip balms have been all the hype recently. Everywhere I turn, there's a hemp oil lip balm here and there, and everywhere. And while lip balms are affordable, they can easily be made at home.
Today, we're making lemongrass hemp seed oil lip balm! It's an easy recipe that leaves the lips smooth, kissable, and well-moisturized. The best part? They're only a fraction of a cost you'd use to repurchasing commercial lip balms!
Ready? Let's get balming!
Today, we're continuing with our Nourishing hemp&shea series. The first recipe of the series was this creamy Lemongrass Emulsified cleansing balm. I've been going through jars of that and my skin has been feeling very happy with it. How does it work for you?
As I said before, store-bought balms can be a great thing, but if you decide to hop on this Nourishing series and DIY 8 recipes with me, you're buying a bulk of ingredients as it is! Making this lip balm will cost you less than a dollar and it comes together easily!
I know what you may say; Earthly Balm or Burt's Bees, or even the Body Shop already have decent and functioning hemp lip balm. But then, we're making ours with fewer ingredients and at a fraction of the price!
Apart from being budget-friendly, this hemp lip balm…
Moisturizing and nourishing
Easy to make
Vegan-friendly
Creamy
How to make hemp seed oil lip balm?
Making DIY lip balms is very easy. All you have to do it weigh, melt, and pour. Altogether, the process of preparing and weighing takes about 5 minutes, 5-10 more minutes to melt everything, and you're done!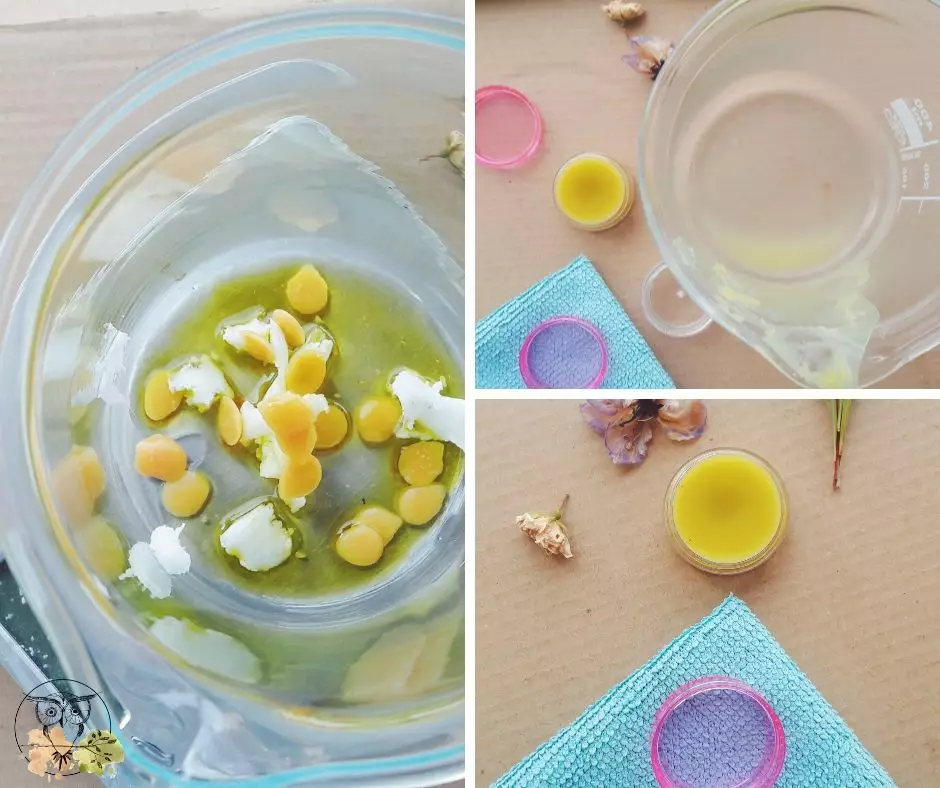 We'll combine shea butter and candelilla wax first. Once they melt completely, we'll add hemp seed oil, vitamin E oil, and lemongrass. That's pretty much it!
If you wish, you can easily turn this balm into a hemp chapstick by using a lip balm tube instead of the smallish container I'm using for my lip balms.
Hemp lip balm benefits
I've already extensively talked about hemp seed oil skin benefits here. Let's recap in a few words:
Hemp seed oil is great for any type of skin because it's gentle and powerfully nourishing with its amazing properties. It's rich in vitamin E compounds, so it helps to protect our skin from environmental damage and free radicals. It's an antioxidant, anti-inflammatory oil that has emollient properties.
Apart from that, this balm keeps the lips nourished, moisturized, and super soft. Since this series is all about fighting the dreadful winter conditions, we're doing all we can to keep our skin smooth, healthy, and soft! Hemp helps to soothe the skin and protect the lips; it's great for dry lips since it provides protection and all that goodness that we're looking for in a lip balm!
Shea butter
Nothing calls nourishment, right here! as much as shea butter does, at least in my experience. It gives a creamy texture to our lip balm and protects the skin with its soothing and calming effects. Shea butter is a common ingredient in lip balms since it keeps the skin moisturized and soft. It heals dry skin and minimizes irritation, peeling (caused by dryness).
Chamomile infused oil
Olive oil boasts with its own skin benefits, but when combined with chamomile, it makes a healing bomb that your skin will love. This oil boosts the healing of the skin and lips, it minimizes cracks, provides moisturizing effects for dry skin, and it's very gentle.
Candelilla wax
A vegan alternative to beeswax, this wax thickens the lip balm, but there's more to it. Candelilla helps to form a protective barrier on the skin, preventing it from further moisture loss. What's more, it's an emollient, and it absorbs fast. It's nourishing and helps to improve the smoothness and softness of the skin.
Vitamin E oil
This oil helps to prolong the shelf life of the oils in the recipe. Apart from that, it helps to minimize free radical damage and improve skin healing among other things. That's why it's an important ingredient in this homemade lip balm!
Lemongrass Hemp Seed Oil Lip Balm Recipe
Ingredients:
Process:
Prepare a water bath: add 3cm/1" of water to a wide pan. Bring the water to simmer (low-medium heat).
Weigh the ingredients in a heat-resistant glass measuring cup
Place the cup into the water and let the ingredients melt completely (10-15 minutes)
Once everything is melted, take the beaker from the pan and add other ingredients (essential oil and vitamin E oil)
Stir well and pour the mixture into the lip balm tube or container. Leave it to solidify before capping it
Notes:
Essential oil is optional, feel free to omit or substitute it
I've used refined shea butter, but use unrefined if that's what you prefer
Chamomile infused oil is made with olive oil.
You can easily double or triple the batch to make more lip balms
Is hemp seed oil good for lips?
Hemp seed oil is good for the skin and lips. It's rich in fatty acids (omega-3 and omega-6), vitamin E oil as well as anti-oxidants. It helps to protect the skin from environmental damage (think dry winter, cold winds) and it keeps the lips soft, smooth, and moisturized.
Have you made this recipe? Tag us on Instagram #wildfordiy!
Stay Wild!
-Kat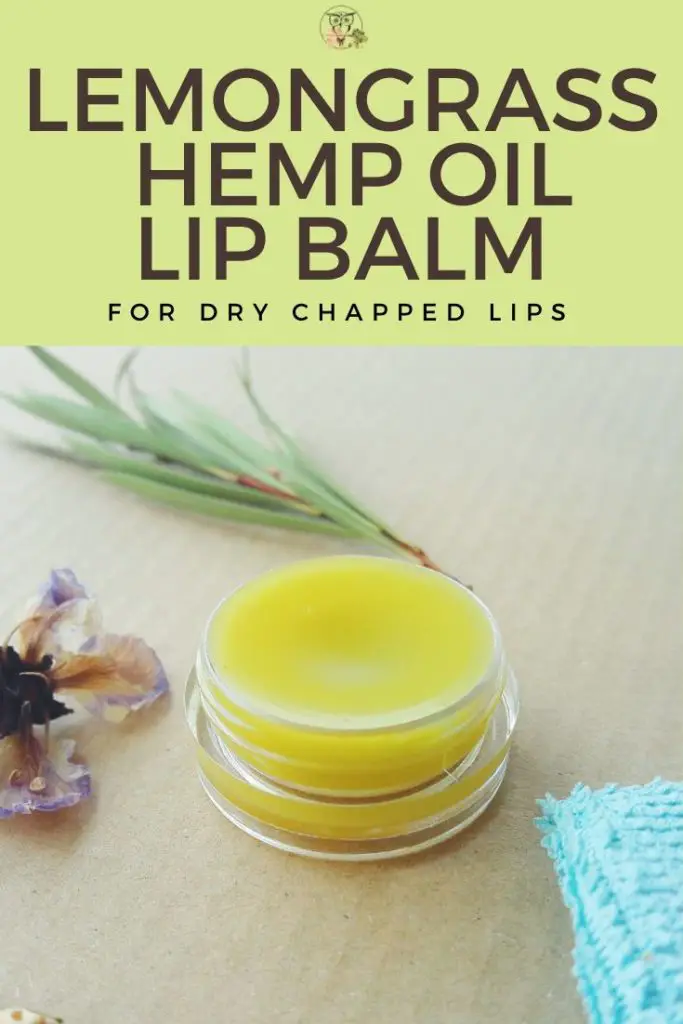 Help support Wild for Nature
Many of you have asked if there's a way to help support Wild for Nature. I've signed up for Buy Me Coffee. If you love what I do, learn from me, sell anything you made from my recipes, and want to see Wild for Nature grow even more, I'd be thrilled if you'd consider buying me a coffee! It works as a one-time or a monthly donation of $3. You can also get beautifully designed PDFs with a series of recipes and other resources I publish there, to help you learn and get creative at home! I can then use that money to further develop and grow Wild for Nature and you can help me continue with wild creations and resources!