Cleansing your face with oil has become incredibly popular. While it can be very beneficial for your skin, it's not everyone's cup of tea. If you're one of those people who tends to stay away from oily cleansers, I have a treat for you!
Not all cleansers based on oil have to be oily. In fact, we're making a DIY emulsified cleansing oil today! It'll remove impurities from your skin effectively, but the best part is that you'll be able to completely wash it off your face, without an oily trace!
Ready to make your own hemp seed oil makeup remover? Let's get cooking!
I have a very easy recipe for you today and I'm really excited to share it! It's the third recipe in the Nourishing Hemp&Shea series. In case you missed the first two, you can find the DIY emulsifying cleansing balm here and Lemongrass Hemp Lip Balm here.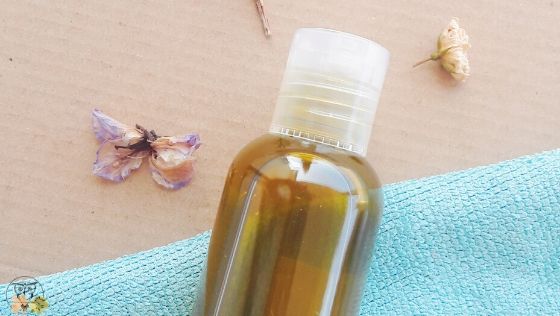 Today, we're making a homemade hemp cleansing oil! the best part? This DIY oil cleanser washes away with water!
I've been using it for a few weeks now and I love it as much as the balm! What's more, the bottle I store it in prevents the oil to come into contact with water, so it's straightforward to use and pretty carefree! If you're wondering whether you can make your own oil cleanser (and I'm not talking about the OCM here), the answer is an absolute yes, and I'll show you how to do it!
Apart from that, this hemp cleansing oil is
Great for beginners
Comes together very quickly
Gentle to the skin
Uplifting with a splash of lemongrass
Removes makeup
A little goes a long way!
What is cleansing oil?
The cleansing oil is a gentle way to remove dirt, impurities and excess sebum from your skin. The advantage of such oils is that they don't dry It out excessively or disturb its natural barrier. Our cleansing oil goes a step further, as it also contains a solubilizer.
That means that the oil mixture rinses easily with water since the solubilizer has an oil-loving end and a water-loving end. In other words, the oil in the cleanser helps to dissolve sebum, dirt, and impurities (like dissolves like, remember). When you throw water into the mix, the solubilizer helps to wash your skin clean, and rinsing nasties away with water, flushing them down the drain.
How do you make cleansing oil?
The process of making this emulsifying cleansing oil is easy. So easy, you'll see. There's no heating or melting involved. All you have to do is grab a beaker, weigh all the ingredients into that, and then pour them into a container that you'll be using. That's it!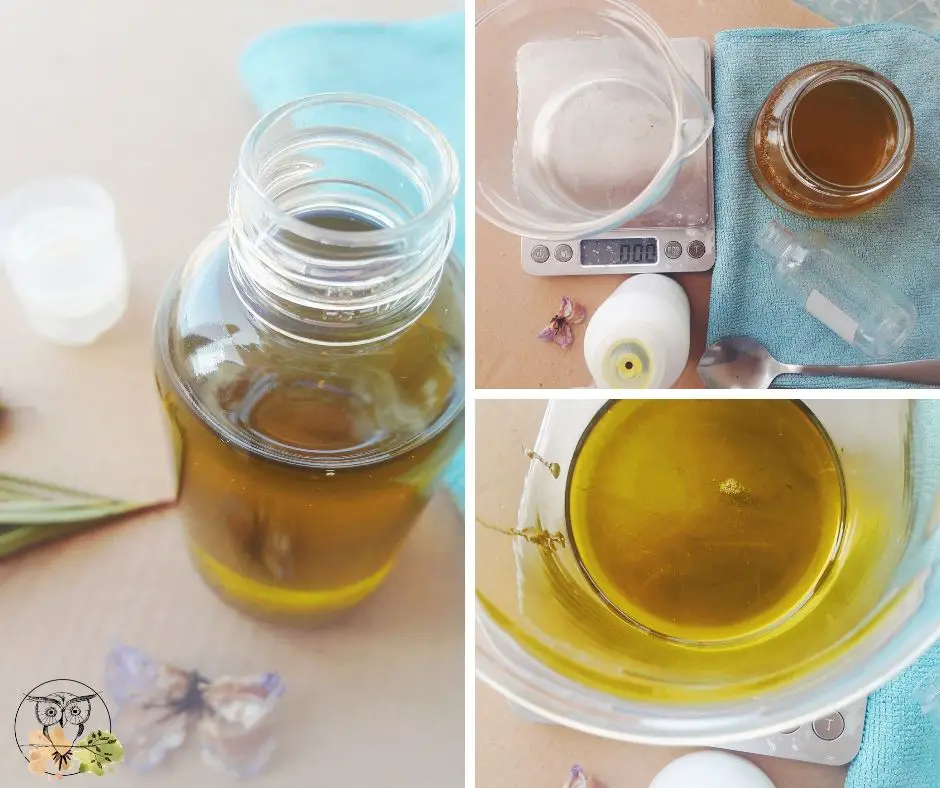 This is definitely and by far one of the easiest recipes on the blog and if you were looking to getting into homemade skincare, this is a no-fail recipe you can easily begin with.
What's more, making an oil cleanser at home is a great way to use all the carrier oils that are on the verge of going rancid. In the recipe, I used hemp oil and chamomile infused olive oil, along with Polysortabe 80, a few drops lemongrass, and vitamin E oil. There's nothing more that you need here.
From experience, a flip-top bottle works best and creates the least mess. You can use whatever works best for you though.
Does this cleansing oil remove makeup?
My hemp oil cleanser has been tested with an eyeliner, minimal layer of liquid powder, and a mascara. It was very effective when removing all three. Keep in mind that I don't use a lot of makeup, so removing that little what I apply isn't too much of a challenge. It has removed my makeup every time so it's safe to say that it's an effective makeup remover (with chamomile infused oil for extra skin care).
I store the cleanser in a 60ml/ 2oz. bottle.
DIY Emulsifying Hemp Cleansing Oil
Ingredients:
Process:
Take a glass beaker and prepare your ingredients
Using a scale, weigh all the ingredients into the beaker
Stir well and pour the mixture into a flip-top bottle
Roll the mixture between your palms
That's it! You've made an emulsifying oil cleanser!
To use: I wet my face and add a splash of cleanser onto my palm. I massage my face with it gently for a little bit. Next, I rinse the cleanser off with warm water or wipe off with a washcloth. I follow with a face cream.
Notes:
You can omit lemongrass or substitute it with another essential oil of choice
The flip-top bottle works best for this cleanser, but feel free to use a pump bottle or a squeeze bottle
You can substitute chamomile infused oil with plain olive oil, or optionally with sunflower or almond oil
Can you use hemp seed oil to remove makeup?
Hemp seed oil works as an effective makeup remover on its own, or part of an oil cleansing method. In this recipe, it's combined with an emulsifier. That way, you can wash the oil off without it leaving any greasy residue (that you'd get by using pure carrier oil).
After all, hemp seed oil has nourishing and regenerating skin properties, which make it very beneficial for the skin. Since it's one of the safe carriers for oily skin, it won't clog pores.
DIY cleansing oil emulsifier: what to use?
In the recipe, as well as the entire Hemp series uses a combination of a solubilizer Polysorbate 80 and an emulsifier Olivem1000. You can substitute Polysorbate 80 for a Cromollient SCE, another solubilizer, which is suitable also for sensitive skin. You can get it on LotionCrafter and a few other online DIY ingredient suppliers.
Surfactant for cleansing oil: is it the same as solubilizer?
Solubilizers belong to the surfactant family. They're bipolar, which means they're made of two parts. Their heads love water and their tails love oil. This combination makes it possible to pick up excess oil and impurities and help them slip off your skin with water.
Cleansing oils are made of oil and an emulsifier (a solubilizer). The oil part dissolves oil-based stuff on your skin (excess oils, oil-based makeup). While oil doesn't dissolve in water, it's this solubilizer/emulsifier that does the job for it instead. Its composition helps the cleansing oil to dissolve in water faster, leaving your skin clean, like a mild soap.
Have you made this recipe? Tag us on Instagram #wildfordiy!
– Kat
Help support Wild for Nature
Many of you have asked if there's a way to help support Wild for Nature. I've signed up for Buy Me Coffee. If you love what I do, learn from me, sell anything you made from my recipes, and want to see Wild for Nature grow even more, I'd be thrilled if you'd consider buying me a coffee! It works as a one-time or a monthly donation of $3. You can also get beautifully designed PDFs with a series of recipes and other resources I publish there, to help you learn and get creative at home! I can then use that money to further develop and grow Wild for Nature and you can help me continue with wild creations and resources!