Facial moisturizers don't have to be loaded with ingredients and complicated to be effective. They can provide moisture and nutrients to the skin with only a few ingredients, leaving the skin hydrated, smooth and soft.
If you're looking for a simple hemp seed oil face moisturizer, I've got a treat for you! Today, we're making an easy facial cream recipe. Let's get started!
As a part of our nourishing hemp and shea series, we're whipping a creamy and moisturizing facial cream today! It comes together easily enough and what I love about it is that it leaves my skin soft and smooth.
Since it's made with simple ingredients, we're not adding any goodies for face wrinkles, but you can if you want to (see recipe below for tips on how to do that).
If you're just joining us now, I encourage you to have a look at the other recipes from this series that we've made so far:
Overall, I'm a huge fan of the recipe and I hope you'll be too! Because…
Completely vegan
Easy enough to make
Natural ingredients
Gently fragrant
Moisturizing
How to make hemp oil face cream?
Just like the hemp body lotion, this is another basic emulsion recipe that comes together easily. All you have to do is weigh your ingredients carefully and the rest of the process is pretty simple!
This facial cream is thick and hydrating and nourishing; it'll make your skin soft and smooth in no time. I've been using it for a few months now and my skin loves it dearly!
If you've never made an emulsified product before, have a look at this detailed post on how to make lotion at home; I describe the process into detail, along with photos each step of the way!
Now, about this facial cream with hemp: you can do it too! This is a perfect DIY for all who've been considering making a lotion for a while but haven't gathered the courage yet. Here's your chance!
First of all, take two heat-resistant beakers. Weigh water-based ingredients in one and oil-based ingredients in the other (see the recipe for more details).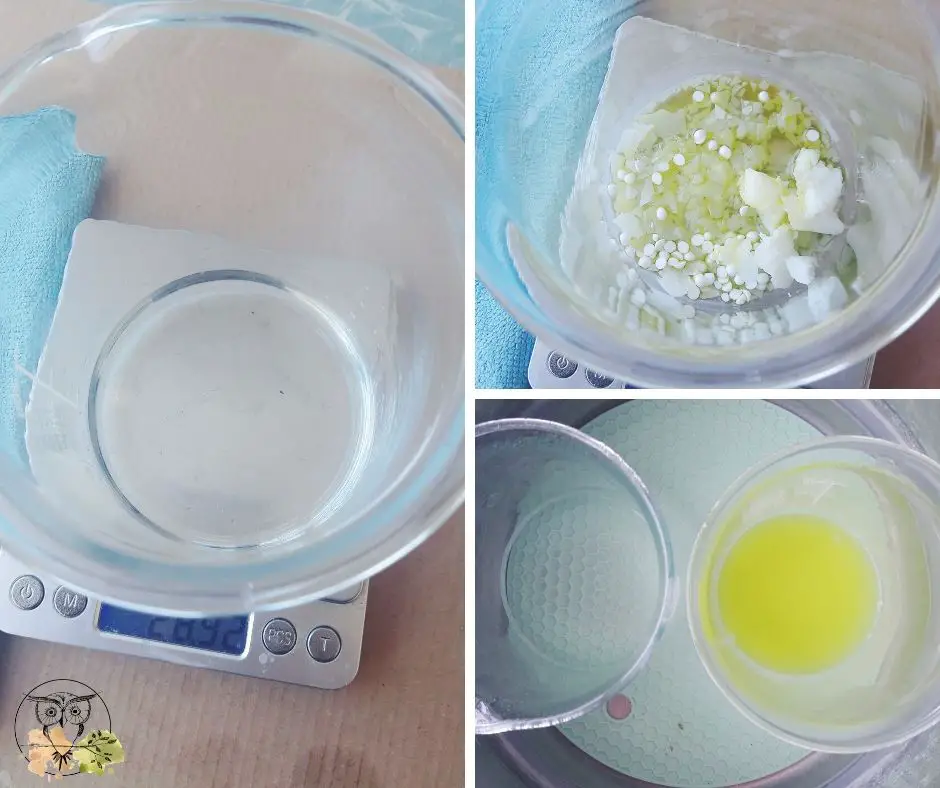 Pop both beakers into a water bath and wait until the ingredients have melted completely (you'll need to wait about 20 minutes).
Then, you'll remove the beakers from the water bath, pour the water mixture into the oil mixture, and begin mixing the concoction with an immersion blender.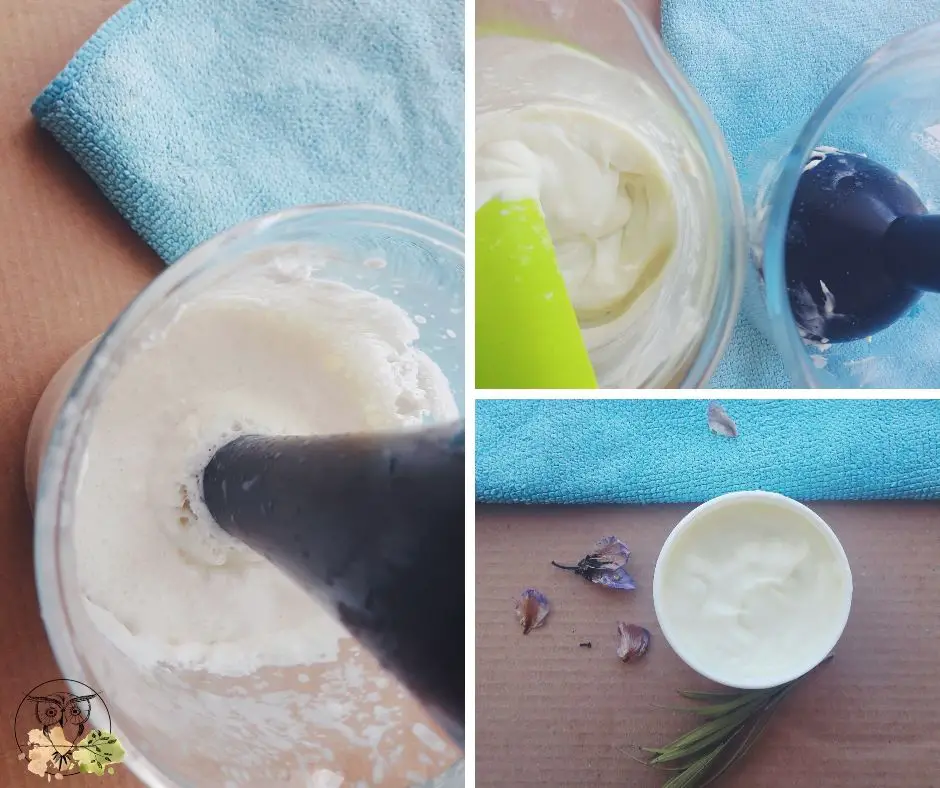 That's it! We'll leave the cream to cool down and you'll notice it thicken up quite quickly! Just before we pack it, we'll add cool-down ingredients into the mix, stir well and voila!
Feel free to use this moisturizer as often as you'd like. I apply it once in the morning and once in the evening, and sometimes I use it for my hands as well; it leaves them soft, just like my face!
Want to make this cream more hydrating?
You can switch a portion of distilled water for a hyaluronic acid solution. You can see how to make that here (it's quite easy).
In the recipe, we're using 52g distilled water. You can replace a part of that with HA solution. Example: use 35g distilled water and 17g HA solution. Simply add it to the water phase (as you would distilled water) and continue with the rest of the recipe as written in the instructions below.
Now, without further ado, let's have a look at the recipe!
As written below, this recipe makes about 45g of cream; I store it in a 50g container.
Lemongrass Facial Hemp Oil Moisturizer Recipe
Ingredients:
Water-phase
Oil-phase
Cool-down phase:
Process:
Prepare a water bath: add 3cm/1" of water to a wide pan. Bring the water to simmer (low-medium heat).
Weigh water phase ingredients in a heat-resistant glass measuring cup, including HA solution if using
Weigh the oil ingredients in a second heat-resistant glass measuring cup
Place both beakers in a pan to melt all the ingredients (about 15-20 minutes)
Next, take both beakers from the water (all ingredients should be melted and dissolved fully by this point).
Pour the water phase into the oil phase. Take your immersion blender and begin blending the lotion. Blend for about 5 minutes (with short pauses in between) and leave the lotion to cool down. You'll want it to be below 104F/40C degrees before you continue with the last, cool down, phase. The emulsion has to be below 40C or the heat can damage the final few ingredients.
Once your lotion has reached the desired temperature, add hemp seed oil, essential oil blend, and stir well.
Add cosgard as the final ingredient. Stir with a spatula well for a minute or two, until it's evenly incorporated into the lotion.
Transfer the body lotion to a clean (sterilized) container.
Pack it and apply as needed!
Notes:
You can omit glycerin and substitute it with more water
You can substitute essential oil blend with scents of your choice or omit them altogether
I used refined shea butter but feel free to use unrefined if that's what you have on hand
You can substitute Olivem1000 with Emulsifying wax NF
Is hemp oil good for your skin?
Hemp seed oil is a lovely carrier oil that works well for most skin types. It's loaded in essential fatty acids and it has antioxidant, regenerative, anti-inflammatory, emollient, and antibacterial properties.
Hemp seed oil can minimize the signs of aging, strengthen and revive the skin, and tone the complexion. It improves skin's texture and complexion, and can even boost collagen production.
Since it's a versatile natural oil, there are many options on how to use hemp seed oil for skin. The moisturizer that we whipped up today is just one of the many recipes you can add it to.
Have you made this hemp seed oil moisturizer? Tag us on Instagram #wildfordiy
Help support Wild for Nature
Many of you have asked if there's a way to help support Wild for Nature. I've signed up for Buy Me Coffee. If you love what I do, learn from me, sell anything you made from my recipes, and want to see Wild for Nature grow even more, I'd be thrilled if you'd consider buying me a coffee! It works as a one-time or a monthly donation of $3. You can also get beautifully designed PDFs with a series of recipes and other resources I publish there, to help you learn and get creative at home! I can then use that money to further develop and grow Wild for Nature and you can help me continue with wild creations and resources!